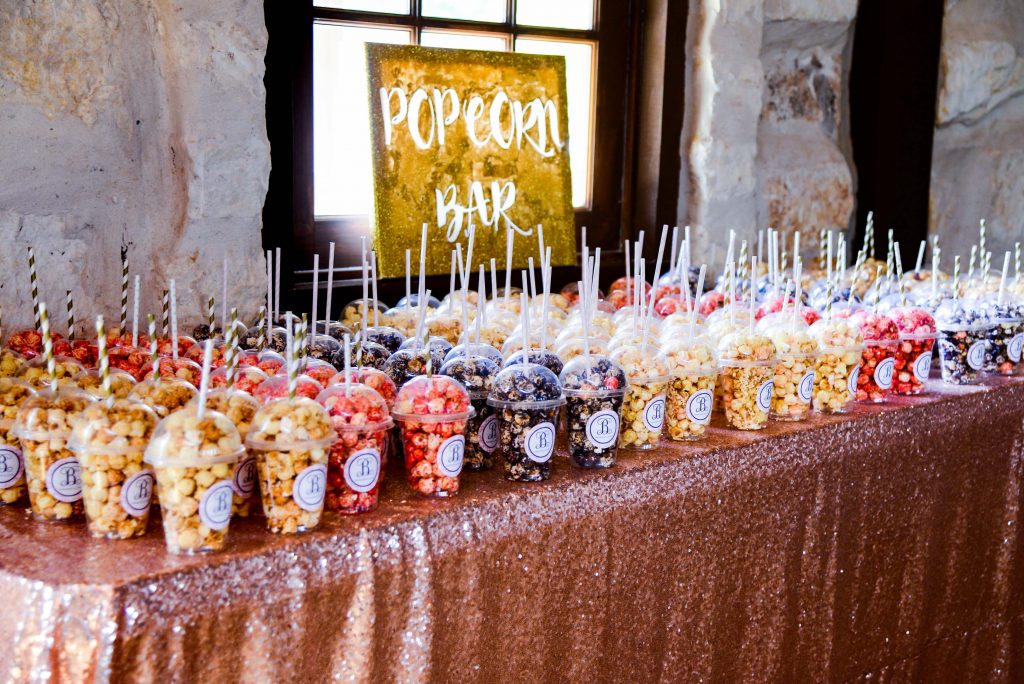 Over the years, weddings have definitely had their trendy and chic decorations, unique themes, mouth-watering food, and endless dancing! Everything from surprise-yet-rehearsed wedding party dances, to modern and rustic country wedding themes, we have seen it all over the last decade!
One such aspect of weddings that never comes to a halt is the food! With every year's something new and unique is getting added to the wedding food! When it comes to food at weddings, these days, the latest trend is focusing on the wedding day dessert table! These days our millennial couples are more focused on showcasing and offering more than just the usual wedding cake! At present, the biggest wedding day dessert trend is popcorn bars! They are gaining popularity in no time as every other couple is considering having a popcorn barn at their wedding!
Popcorn is indeed a great and fantastic treat that nearly every person enjoys and it also makes the perfect display at any wedding, regardless of the wedding theme, color, or dietary restriction. The best thing about popcorn is that it can be colorful, flavorful and it makes great wedding favors. And a popcorn bar is nothing but a great choice for vegans! Everybody just loves popcorn, no matter whether it's salty or sweet. We can assure you that your friends and all your wedding guests will be thankful to you for this tasty and light wedding snack! And dancing the night away can make your wedding guests hungry! So, why not fuel them up to dance again with some delicious and flavored popped popcorn! Your wedding guests will love having this as a late-night snack, and leftover bags of popcorn make for cute wedding favors!
So, before we go ahead and tell you about all the incredible and unique popcorn bar ideas for your wedding day, which will not only elevate your wedding day snacking game but will also leave your wedding guests enchanted and mesmerized, here are some of the general questions that every couple face while they plan for popcorn bar for their wedding day! The idea of creating a popcorn bar usually starts with endless questions popping into the minds of couples. In that case, you don't need to stress away as we have got you and all the questions that might be coming into your head covered!
Here are some of the simple yet important questions whose answers will help you in creating a perfect popcorn bar for your big and special day! All these questions will not only elevate your wedding day decor game but will also give our professional wedding photographers and videographers endless possibilities to capture mind-blowing wedding decor photos in the best of frames! Our experienced and talented wedding photographers have keen eyes for the details, and when with them by your side on your wedding day, we can assure you that none of the wedding details will be spared in getting documented in the most creative frames!
How many gallons of popcorn will I need for _____ number of wedding guests for my wedding day?
Well, the factor of ordering the number of popcorns depends a little bit on how much food and the varieties you are putting down on your wedding menu! If you are planning a complete sit-down meal with lots of finger food, then you might consider ordering 1.5 to 2 cups of popcorn per wedding guest! But, if you are planning to have the popcorn bar as the star of your wedding celebration, then you must go with 2 to 3 cups of popcorn per guest! Just keep in mind that some of your wedding guests might not eat popcorn and the kids will have some extra. So, just plan in a way that you may want to have more than you think you need!
Just some maths here, that will help you with your question! On average, a 2-gallon bulk bag of popcorns will serve 32-1 cup servings. Whereas, a 4-gallon bulk popcorn bulk bag will have about 64-1 cup serving!
Just for an example, if you are planning on a grand celebration with about 128 to 200 of your wedding guests, as per the above-mentioned details, you will want to purchase a minimum of 8 gallons for each guest to have one-1 cup serving of popcorn!
What is the usual serving size?
Talking about the serving size, then you must plan that your wedding guests will eat an average of 1 to 2 cups of popped corn per person! But, if you want to be more precise and don't wanna waste any food, then you can determine the amount of popcorn (by volume) the individual containers will hold in order to determine an individual serving size for your popcorn bar at your wedding!
To get a brief and generic idea, you can fill one of your containers for your wedding guests with popped popcorn, and then pour the popped popcorn into a measuring cup to actually determine the volume (preferably in cups) that the container will hold!
This simple and easy method will help you to get an approximate idea about the typical serving size of popped popcorn on your wedding day. And this way you won't be wasting any food and your wedding guests will have enough popcorn to savor!
How long before my wedding should I order my popcorn?
You can always place an order for popcorn for your wedding day as early as you would like! When you will submit the order you will be asked to specify your preferred shipping date, and you can choose whatever you find the best! Most brides and wedding planners prefer to get the popcorn delivered about 3-4 days before the wedding to alleviate any kind of last-minute stress and chaos! Or you can always schedule a future shipping date for your popcorn to arrive!
If you don't want to schedule a future shipping date then we will suggest you place an order a week and a half to two weeks before your wedding day so that the popcorns arrive on time and also stay as fresh as possible for your big and special day!
What kind of theme should I consider for my wedding day popcorn bar?
It's your wedding day and we are sure that you have already planned every inch of your wedding day in your head! But, if you ask us, all we will say is whatever inspires you and your sweetheart! You can coordinate the decoration with your wedding day color palette. Or you can also draw inspiration from something in your life (like a romantic movie, perhaps?). If you still need some inspiration, we have some ideas for your wedding day popcorn bar-
An Art-Deco Theme
Something rustic yet chic and elegant

What are the basic things that I may need to create a popcorn bar for my wedding day?
Well, you need a lot of stuff to create a fantastic and eye-catching popcorn bar for your wedding day celebration! All you will ever need are-
Popcorn (of course!)
Chic and unique containers to hold the popcorns. When it comes to choosing the holders for popcorn, the sky's the limit! If you want everything to be extraordinary, then you will need to think outside of the box (or bowl), when trying to figure ways to hold your popcorn snacks! You can always try the tin buckets, large Mason jars, or even baskets!
Scoops for scooping out the popcorn.
Containers that your wedding guests will use to fill with the popped popcorns! Consider adding bring in favors bags or treat cones are the unique containers to fill in the popcorns!
Various kinds of toppings or seasonings. From delicious and mouth-watering chocolate bits and chunks of bacon to seasoning both classic (Kettle Corn, Caramel, Buttery Garlic) to the unusual and scrumptious (Pizza, Sriracha, Chilli Lime), you can allow your wedding guests to mix and match the flavors of their choice to please their own taste buds!
And lastly, the napkins!
So, now all the important questions related to Popcorn Bar are answered in the above section, let us enlighten you on some really incredible and fantastic popcorn bar ideas which are popping. These unique ideas will surely leave a lasting impression on the hearts, minds, and in the mouth of all your wedding guests, and will also offer ample photography and videography opportunities to our professional and experienced wedding photographers and videographers!
Pick a Theme for Your Popcorn Bar
The initial step that comes into play when you are planning to have a popcorn bar at your wedding is deciding upon a theme! Make sure you are choosing a theme that matches your wedding theme or the style of your wedding! Like a rustic popcorn bar setup if you are planning a rustic wedding, modern and chic for a contemporary wedding style, vintage, retro, colorful and fun, and so on! If you are planning an outdoor wedding or a spring wedding celebration, then make sure your popcorn bar should have all the beautiful colors of the spring wedding palette! The options are endless for you to choose from! The reason we are saying it matches your wedding theme or style is that it will make your wedding photos look stunning!
Here are some popcorn bar theme ideas for choose based on your wedding theme-

If a rustic and vintage theme wedding is on your mind, you can have your popcorn bar set up on a wooden trolly to bring in the rustic vibe and adorn it with kraft paper. You can keep the popped popcorn in a bucket, or paper bags, and place them alongside a large chalkboard sign mentioning "Popcorn Bar is Waiting!" this style of the rustic popcorn barn will undoubtedly leave your wedding guests enchanted and wanting for more! And of course, it will be a great photography opportunity to capture!
In case, it's your spring wedding, and we all know that when it's spring season it's all about colors! Especially the poppy colors! If spring is your wedding theme, you can consider a fun and bright popcorn bar made of a wagon on wheels with colorful popcorn in glass bowls and in sacks!
Opt For Proper Decor For Your Popcorn Bar
Once you are through with the theme of the popcorn bar for your wedding day, the next step is to choose the base of your popcorn bar! Like, will it be a classic vintage dresser or the cabinets? Or will you go for a cart or trolley that screams retro at its best? Or you want things to be simple, elegant, and classy, so just want to go with a minimalist console table? Or maybe you will try something fun like a couple of ladders and a vintage door as a shelf between them? Whatever you prefer, we can assure you that it will offer a great setting for your popcorn bar! Once you decide upon the setting, it's time to put all the popped popcorn into proper containers, like the clear glass jars or bowls for a modern and chic wedding! Elegant glass jars with beautiful lids will make a perfect container for a vintage-themed wedding! Choose it as per your choice and then add a table cloth or a runner and pair it with some blooms and greenery if you want! The choice is completely all yours! You never know, maybe a well-decorated popcorn bar becomes the centerpiece of your wedding day!
Signage
No bar or food station goes without a sign on a wedding day! So, you will need at least one large signage to point at the bar and some cute little smaller tags or signs to mark each type of popcorn you display on the popcorn bar! To make your signages more attractive and alluring, you can also consider hanging banners or can bring in some string lights to accentuate the station! Choose the style of signage that perfectly fits your wedding theme and style. If you ask us, chalkboards are the most popular signages these days! Well, you can also try something vintage, modern and chic, along with many other styles, looks, and frames depending on your wedding day theme!
So, whether you are planning a grand wedding celebration or an intimate celebration with your loved ones only, adding a popcorn bar to your wedding day will be a crowd-pleasing treat that will surely delight all your wedding guests as it offers enough of a tasty snack without being overly filling!