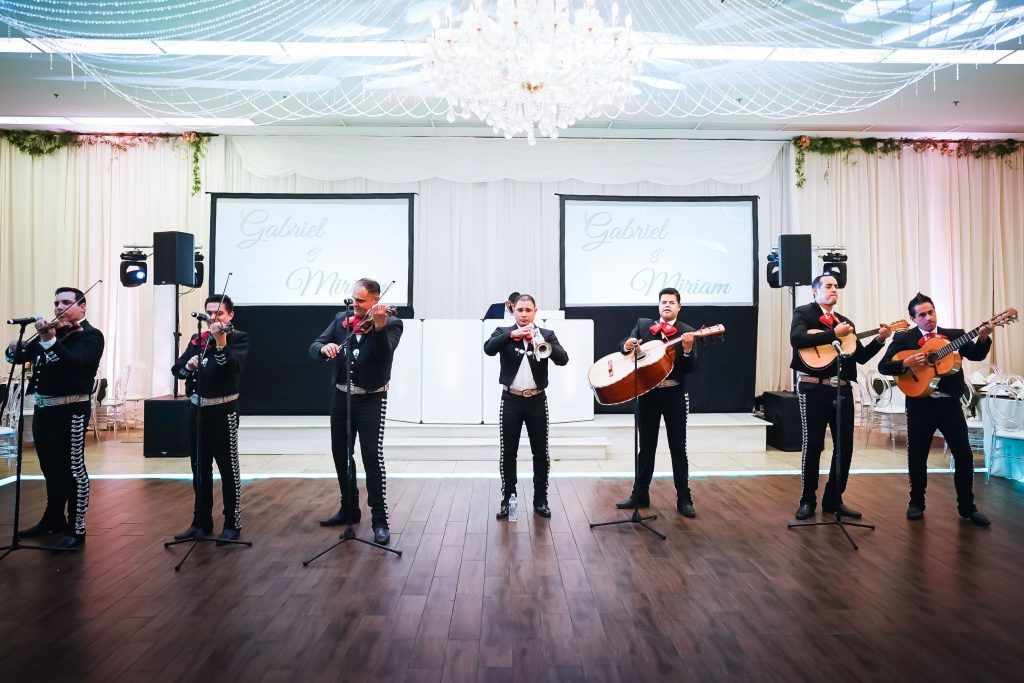 Surely your wedding day is something that you and your partner look forward to with all the anticipation and love in your hearts. However, your wedding guests make your wedding reception the celebration that it is. They not only bring with them the good wishes for your happily-ever-after to start with all the positive vibes, but they also bring to the table the happy glow of pleasant company and the iridescent promise of a good time. When you look back at your wedding day decades from now, you will think back to the way your guest cheered as you kissed your lover after you said "I do", how your aunt made that funny toast or how your college girlfriends rocked the dance floor! After all, it's all about the warm glow of the people which envelops you and makes your wedding day such a joy, isn't it?
While the precious names who made it to your guest list add such a precious touch to your special day, you might want to make your wedding reception equally memorable for them! While all wedding receptions are a pleasure to attend, it's the ones that truly wow the guests over which are remembered forever, the anecdotes of which live on far beyond the wedding day flowers! Here are some amazing ways that you can wow your wedding guests and leave them feeling warm, welcome, and a little mind-blown! It's all about going big or going home here!
Welcome them with a drink
There is something about a welcome drink that instantly makes one feel special! Consider offering out glasses of champagne as wedding escort cards in addition to your standard welcome drink. Replace traditional escort cards with individually named champagne flutes, which will ensure that everyone arrives at their tables and is ready to toast in one step. This will make a terrific first impression on your guests!
Exit with a bang
What better way to end a wedding reception than with a fireworks display? A jubilant firework show will add excitement to your ceremony exit or nighttime reception. Alternatively, give your guests sparklers and champagne to hold while they accompany you to your getaway car at the end of the night. Remember to check with your location to see if pyrotechnics and sparklers are permitted.
Consider a quick change!
For the wedding reception, the bride and groom dress in a contemporary style. Because all eyes will be on you at the reception, it'll be a pleasant surprise when you switch from your traditional wedding gown to a shorter, flirtier second dress. You can go for completely different dresses or two-in-one wedding dresses which can be easily transformed. If you wish to keep your wedding gown, make additional style modifications such as letting your hair down, swapping shoes, or adding a few fresh items of jewelry.
Hand out kits!
With wedding favor kits, you can anticipate their needs! Your guests will enjoy it, whether it's hangover kit wedding favors or a cute emergency kit for the morning after. You might include hangover remedies such as aspirin, water, and energy snacks to help them get back on their feet after a night of celebrating. You can also have summer essential kits, or themed kits as they arrive to get them excited about your chosen venue, theme, or activities!
Add drama with flowers
Big is more when it comes to flowers which impress! How about using cabbage roses as table centerpieces for your wedding reception? On your reception tables, go big with tall, over-the-top centerpieces. Cabbage roses and ranunculus, for example, create a bold impact when paired with a neutral color palette. You can have them arranged in clear glass vases for a clean yet impactful look. If big flowers are not your style, go for flower installations instead! We have a soft spot for Baby's breath cloud-like overhead installations over here, and it will surely get all the guests to go "wow!"
Provide luxe lounge areas
With a hint of effortless luxury, set up your outdoor lounge area for your wedding reception. Create a lounge space with comfortable couches, chairs, and enough pillows for visitors to mingle between dance breaks. It's the ideal technique to keep everyone involved in the celebration, even if they're not dancing. Set up luxe poufs, velvet pillows, and comfy throws, and the more mismatched it looks, the better the effect. This can also be a great area for some dramatic group photography!
Hang low chandeliers
It's true! A chandelier adds that luxe element to any event! There is something about the intricately cut glasses and crystals that reflect light most gloriously, and makes any setting elegant! If you are hosting an outdoor wedding reception, consider handing low chandeliers and watch your setting light up! When it comes to planning your outdoor event, the options are unlimited. Low-hanging chandeliers and delicate blooms can be used to decorate the space. You can have it glam, gothic, or vintage as you would like, depending on the chandelier you choose. Instead of circular tables, arrange everyone at banquet tables to create a more intimate setting.
A feast for the eyes
Sure, the wedding feast will fill the stomach, but it's the winning display that makes half the impression! So go all out with your food displays, whether that's creative salad bars, charming dessert tables, or wow-inducing chocolate fountains and fondue arrangements! This also holds for vintage champagne towers with cascading champagnes making quite the scene! You might also go for a vintage wedding cake presentation with details all around the cake. Use glittering lights, loads of blooms, and a unique stand to dress up your cake presentation. You can also go for cute ice cream trucks, cotton candy carts, and popcorn carts which are not just for utility but hugely add to the aesthetic!
A groom's cake that impresses
After all, why not? A groom's cake, whether it's a Red Sox–themed one or a Star Wars-themed one, will undoubtedly make your guests' jaws drop. Choose a second cake that appears too genuine to eat and collaborate with your spouse on a theme that best suits you both. Include a non-cake delicacy like doughnuts, varied pies, cookies, or an ice cream bar, as well as an inside joke, a favorite activity, or a favorite hobby.
Late-night bites
Who doesn't like late-night snacks after hours of dancing, drinking, and socializing? Treat the guests who survive the after-hours and linger a bit longer to prolong the party a bit. Serve them special after-hours bites, whether it is mini ice cream cones, s'mores, or milk and cookies! When everyone thinks the celebration is over, liven it up with late-night goodies that will get guests ready for the after-party. Your guests will adore you for your midnight nibbles, which include ice cream bites, fresh chocolate chip cookies, milk shooters, or a fully stocked taco bar. The extra details will immediately land your special day firmly as your guests' favorite wedding reception!
Plan games and activities
At your reception, keep your guests, especially the younger ones, amused with the fun and interactive activities. Set up a game of cornhole at your outdoor ceremony, or set up a coloring station at one of your reception tables. You can choose from a variety of wedding games and activities, such as bride and groom trivia, picture scavenger hunts, ring tosses, or good old karaoke! Keeping your wedding guests occupied with wedding activities not only keeps them entertained but also helps to alleviate any nervousness or anxiousness as you transition from the wedding ceremony to the reception.
Have a fun "guest book" to sign
Think beyond the typical guest book, and choose fun instead! You can ask guests to leave a message on a vintage surfboard at your tropical destination wedding, or create a jigsaw puzzle of your photo and let guests sign each piece. You can also have them fill up paper notes filled with advice and wedding tips in wine bottles, which can be opened on your forthcoming anniversaries! You can have a couple of different bottles to be opened in 2 years, 5 years, or 10 years of your wedding anniversaries! Guest book activities are not only fun, but it also lets your guest know that you appreciate their input in your life!
Photo backdrops to remember
A picture speaks in memories and holds the secret of the day for you to treasure. Having the perfect photo booth is a surefire method to catch those candid, silly moments that your photographer might miss. For a summer wedding, use snorkel gear or opera masks and monocles, and for a formal occasion, use opera masks and monocles. This is the perfect way to make a themed wedding truly be remembered as intended. At a bucolic wedding, a vintage Volkswagen photo booth can be the perfect addition, while you can go full flapper girl for a 1920s-inspired wedding! The options are endless, and it's a fun way for your guest to indulge and have fun!
Wow with lighting
Lighting speaks louder than most of your other wedding decors. Revolutionize your venue with jaw-dropping lighting which will wow your guests. You can go for decadent chandeliers for a touch of eclectic elegance or go modern and sassy with neon light signage! You can have hanging lanterns from a tree that act as the perfect ceremony backdrop or photo backdrop, or you can go full-on romantic with dripping candles lining the stairways as you walk down the stairs! And all things said and done, do not underestimate the brilliance of fairy lights!
Gorgeous installations
Installations that defy gravity or stand out looking all dramatic are something that will have your guest's attention as soon as they walk in! Whether it is a quaint art installation or a floral installation, there is plenty you can do here! Lush installations, and more specifically floral installations, are a current trend. You can incorporate this trend into your wedding decor in a variety of ways to achieve a chic look, whether it's with a stunning and jaw-dropping wedding backdrop, edgy and dramatic overhead installations, a modern wedding seating chart with moss, greenery, and candles, or a jaw-dropping art installation that cascades down the stairs looking like a piece of art!
Display towering tiers
It's either go big or go home! With a vast guest list, you have the perfect excuse to go all out with your cake. Consult your cake baker about constructing a multi-tiered work of art that will wow your guests. For a beautiful wedding, a multi-tiered elegant wedding cake will command all of the attention. When it comes to towering layers, you can go for tall chocolate fountains, champagne towers, or even just your table centerpieces! It will quickly give your big day an opulent feel!
Set up an awesome satellite bar
Offer your guests a celebratory surprise with a cigar rolling station during cocktail hour. If cigars aren't your thing, any creative, personal satellite bar idea works too, like a make-your-own prosecco drink station or a tequila tasting bar. This is not only a fun activity that your guest can partake in, but it also makes your wedding reception that much extra special!
Unique reception performers
Entertain your wedding guests with style, whether it is with live painters, fire breathers in the evening, an aerialist performer to perform a full in-the-air dance routine, or casually floating above loved ones to give your guest a wow-factor experience! While there is a DJ or a band at every wedding, having a wedding reception performance that is unique and wow-inducing can leave the impression of your wedding in your guests' minds forever! You can also have unique traditional dance routines performed by professionals or drink servers which will light up the cocktail hour significantly!
Extraordinary wedding favor
Let your wedding guests leave with more than just memories from the day! When you hand out your wedding favors, consider going that extra mile. Whether it is a cocktail kit for a drink after the ride home or a polaroid that captures the guest's experience perfectly, whether it is a personalized wine glass or the satisfaction of going back knowing that a tree will be planted in the guest's name, wedding favors which lingers on for that extra time truly makes your wedding day memorable! While things that induce great memories forever are much appreciated, you can also go for wedding favors that are plain old fun, like a mini champagne bottle with a personalized label!
Light up the stars
How about a Tangled-inspired paper lantern ceremony for you and your guests to enjoy? You can do this after the reception is almost over and before you set off towards your happily-ever-after. You and your sweetheart can first light the paper lanterns together and set them off in the night sky, and your wedding guests can follow suit. The whole sky will light up most gloriously, and it will surely leave your guest enchanted! It also sets the scene for some lovely photo opportunities!
Going that extra mile for your guest is worth the effort when you see the look in their eyes which is filled with awe and wonder as if they have just walked into a carnival! They will still be talking about your amazing reception party a month from now, and slowly those awe-struck memories will transform into warm and fuzzy feel-good vibes which will forever be attached to your special day! Isn't that a lovely thought? So go ahead and treat your guests to a wedding experience that they will take home with them and hold close for a long while!