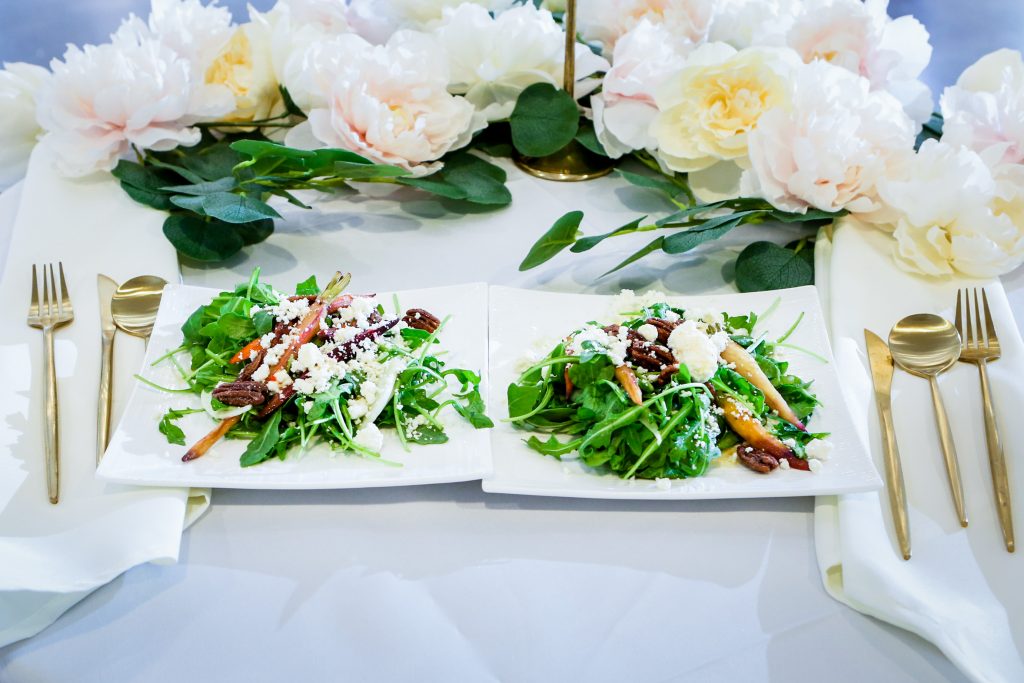 When you think of weddings, the first thing that comes to mind is a massive celebration of love with the people who are close and dear to your heart. And when we think about wedding planning, wedding menu planning is an integral part of the planning process. The sole reason for this is quite evident and logical. A dazzling wedding will only be complete when you have a feast that every person on your wedding guest list will enjoy. A wedding guest list is a mixed roster of people, some may enjoy meat, while others may be completely vegetarian, and some may be vegan. That being the case, there's always a chance for you to create a wedding menu that probably won't be perfect for the different flavors that your guests may have. To avoid this you can come up with an amazing idea to help your guests enjoy the food that they love with a wedding BBQ!
BBQ for Weddings: The Perfect Way to Enjoy a Wedding
Before we get into the details and wedding BBQ ideas you can try, let's talk about the brilliant versatility of the idea for your wedding! One of the reasons why we love wedding BBQs is that regardless of the season, wedding BBQs bring a summer vibe to your wedding. Apart from this, another reason why love wedding BBQs is that it is something that your guests and you can enjoy together! A good way to have a BBQ on your wedding day is by adding a BBQ station to your wedding venue, along with some pre-planned menu items. Or better yet, you could simply make your wedding a personal affair with your guests without pre-planned food or menu for your wedding guests. If a wedding BBQ is something that you want to try with your guests, then here are some amazing wedding BBQ ideas for you to try:
Burger Grill! 
Let's start with a super common idea! Burger BBQs are an amazing way to bring people together. Also, burger BBQs are popular and something that everyone simply loves! A burger grill bar is something that will add a pleasant mix of smells and flavors to your wedding. You can have a prepare a burger patty for your guests to quickly grill their desired burgers. To add a touch of customization to your burger grill BBQ bar, you can add a station where your guests can make a burger patty as per their liking! You can have a spread of toppings, different kinds of cheese, and burger buns for your guests to enjoy and have fun with!  What's more, you can have different recipes that are not just meat. You can create a burger menu that caters to the flavors of every person. Try adding some classic burger recipes with vegetarian and vegan burger options!
However, to improve your burger grill experience for your wedding guests you can decide on some amazing sides to serve with your burgers that are not fries! You can pair your burger grill with tomato and avocado salad, fired sweet potatoes with buttermilk, coleslaw or melon, and cucumber salad. A burger BBQ station can be paired with your wedding theme! To make your wedding BBQ station stand out, you can have a beautiful tent surrounding the BBQ station, and decorate it with twinkle lights. Another idea that we love is to create a faux tent for your BBQ burger station! You can also have signage or use burger props to attract your guests to the BBQ station!
Vegan Skewers! 
Vegan food menu planning can seem daunting at first, but once you look into the options it is exceptionally easy. You can have a vegan station for your weddings guests to enjoy! You can create a station and call it The Vegan-Nation or something quirky that speaks to you! For the vegan station, you can have multiple options, with vegan skewers as the primary attraction. Skewers are versatile and will give your guests something different to try out, instead of the same prepared food. With skewers, your wedding guests can try different vegan options and vegetables, which will give them a new flavor to try every time they have a skewer. You can have a glorious spread of vegetables and tofu, this will give your guests to try out something different and give them more options to choose from.
To improve your guests' vegan BBQ experience, you can add a beautiful wall of sauces and toppings. You can have tiny jars, with delicate stickers, in the color of your wedding theme. Also, you can have chalkboard signage, helping your guests understand the sauces and different toppings at their disposal. Furthermore, you can add some more wedding decor details to make your vegan station look the part. You can pair the BBQ station with an elaborate table set-up so that your guests can find a spot to sit down and enjoy their vegan skewers perfectly well. You can add your wedding's chosen theme or chosen reception party decor near your vegan station. Better yet, you can set up a bonfire space for your guests to enjoy their vegan skewers. A bonfire will add more colors to your wedding day's celebrations and will add a better summer vibe to the day.
BBQ and Beer! 
BBQ and beer are eternal siblings and an all-time favorite! Regardless of the season and time, beer and BBQ lift spirits and make everyone exceptionally happy. And when it comes to adding a wonderful touch to your wedding, nothing beats a BBQ station and beer or cocktail table. The best thing about BBQ station and beer is that you can pretty much create whatever you want. Since we've already covered skewers and burgers, how about another all-time favorite? Yes, you guessed it, how about BBQ chicken or veggies and outdoor pizza ovens? You can make use of your beautiful outdoor wedding venue to have a BBQ station for vegetables and meats. To make the BBQ experience perfect you can add a table for beer and cocktails that you will serve at your wedding. A BBQ pizza with drinks is the perfect way to enjoy your outdoor wedding.
What's more, you can add a seating area around the BBQ area for your wedding. You can have BBQ variations, for example, add your wedding's burger grill, vegan station, and an outdoor pizza oven in the same area for your wedding. You can create a small area that steps away from the synchronized wedding theme you've chosen for your wedding. You can follow the rules of throwing an elated backyard BBQ. To create a wonderful area that suits your BBQ area, you should ditch the idea of keeping everything in sync, and add wooden benches and tables. Also, add some wonderful lights as wedding decorations. Also, you can make use of some lantern-inspired wedding decor ideas to light up the area. You can add some wedding cottage-core ideas for the area as well! For example, if you're throwing a regal wedding, you can still create a separate area, which has a woven greenery entryway for your guests to welcome to the astoundingly wonderful BBQ area.
To add the final touches to your BBQ and beer idea for your wedding, you can easily make use of a beer dispenser, apart from serving beer pints at your wedding bar. But in the end, you can also have a beer keg or a dispenser for your wedding table set-up. This will help your guests to fill up their glasses whenever they want to. This idea works especially well for couples who love to brew their own beer. You can have a custom craft beer station next to the vegan station. For a wedding beer station, make sure that you consider the number of taps you will need, and the ideas to create a custom station. That said, you can easily decorate the custom beer station at your wedding with beautiful tinsels, and signboards. Or, you can make use of neon signage to make the beer station look attractive.
Peruvian Grilled BBQ 
Is any BBQ complete without citrusy flavors? Peruvian grilled chicken is the perfect addition to your wedding menu for a few reasons. Firstly, Peruvian grilled chicken is paired with a flavorful green sauce, called Aji Verde, and a delicious tomato and cucumber salad. And lastly, it is the perfect choice for a mixed guest list! The grilled chicken can be substituted with portobellos! This recipe is perfect for a wedding because it is easy to make and adds different tones of flavors to your wedding menu. If you're going for an elegant wedding BBQ, then make sure that the choice of chicken pieces is well-thought-out, make sure that you choose the pieces that are easy to consume. You can pair the dish with some traditional Peruvian sides, like Peruvian mixed bean salad, anise bread, or fried plantains, as well to make your grilled chicken or portobellos taste amazing. To have a Peruvian BBQ, with chicken or portobellos, you can create an open stall. To decorate the BBQ stall, you can have anise bread, napkins, and cutlery displayed on the table. Another way to add a decorative twist to your BBQ stall is to have a small arch with greenery and seasonal flowers with a beautiful mirror sign for the BBQ stall. To add the finishing touch to your wedding BBQ stall you can create an elaborate display with mason jars with the green sauce, and the salads for your guests. Better yet, you can serve the salad options for grilled chicken or portobello in mason jars!
Grilled Tacos! 
Tacos are the perfect addition to your wedding menu, especially if you love Mexican food! Tacos make for the perfect addition to your wedding menu solely because they are easy to consume. Tacos are exceptionally customizable as well, which gives your guests room to enjoy different flavors easily. What we love about a taco BBQ is that you can have two ideas with one dish, and we're not even counting the numerous customization options! If you already have a BBQ stall at your wedding, then executing a grilled taco stall will become easier. All you need to do is have the taco station close to your BBQ station. You can have a wedding taco truck, which will serve delicious tacos for your guests. You can come up with some pre-planned recipes that will be readily available to your guests. Then you can speak to the caterers and add some customizable options, including vegan and vegetarian taco ideas. To showcase the option of grilling tacos, you can simply add a sign to let your guests know of the option. Your wedding menu can include a deliciously flavorful recipe, such as a grilled steak taco with chimichurri sauce, which can even have a vegan substitute! What's more, you can add some decor ideas to the taco truck, for example, you can add string lights to create a faux tent, or add flower arrangements similar to your wedding decor on the truck!
Grilled Romaine Salad! 
Another fun addition to your BBQ wedding ideas is a grilled romaine salad! What we love the most about this BBQ recipe is that it is tremendously customizable. The recipe includes grilled lettuce leaves. The lettuce is charred, but it is the right kind of crunchy and right kind of soft, which adds a lot of texture to the leaves. In its simplest form, romaine salad can be just about the grilled lettuce leaves, with a dressing of vinegar, parmesan cheese, and olive oil. However, to make the recipe luxurious, you can simply add some boiled eggs, lemon, meat skewers, or vegan options. Other than this, you can add more toppings to the recipe to make it a completely new dish! For example, you can add bacon, blue cheese, miso butter, or pork! What we love the most about the salad is that it is amazing how you can pair the salad with other food items. For example, if you already have grilled chicken on your wedding menu, then this salad can be paired with it. Apart from this, you can make some changes to the salad dressing.
The ideas above will help you to add bright flavors to your wedding menu. You can either use one of the ideas we've listed out, or you can have all of them for your wedding BBQ corner. However, before you decide to throw a wedding party with outdoor BBQ ideas, you should consider the wedding menu. Ask yourself if you want an entire BBQ wedding menu, complete with entrees, sides, and starters, or would you like to add a few BBQ options to enjoy the pretty outdoors? For an outdoor wedding idea, you should ensure that the wedding decor and reception party seating arrangement are taken care of. That said, you should consider talking to your wedding planner if you have one, and discuss your ideas for the reception party with your partner before solidifying the plans.