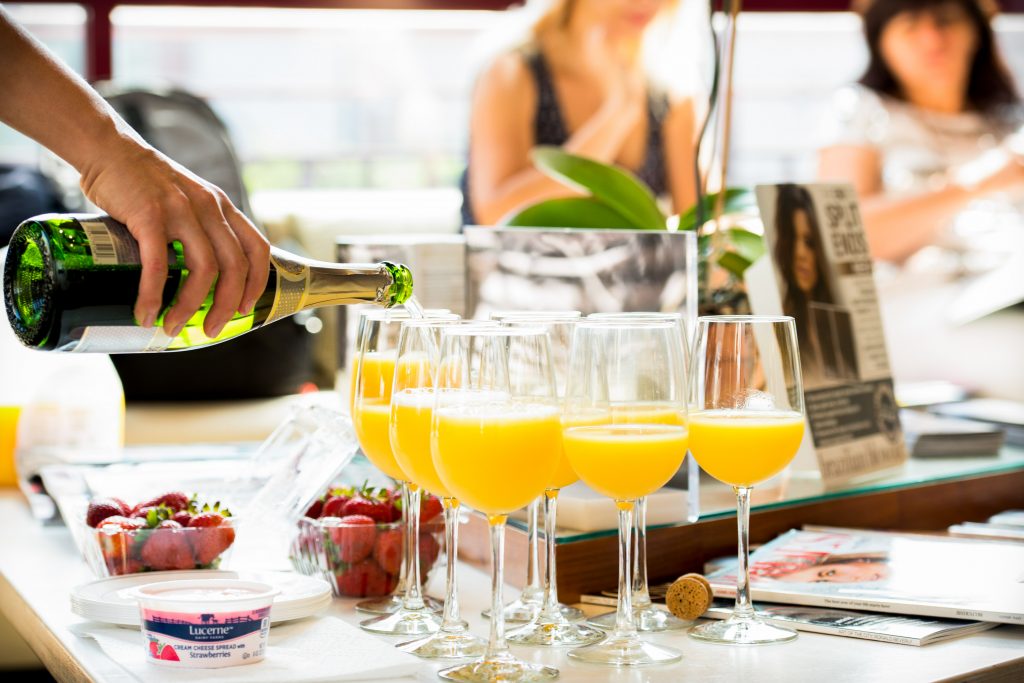 No matter how incredibly skilled you are at hosting cocktail parties, when it comes to wedding day cocktail hour, trust us it is not a cakewalk! There are endless things that need to be considered amongst the long list in order to host a memorable and perfect wedding cocktail hour celebration! Apart from deciding on the vendors and finalizing your wedding guest lists, there are other things that you need to consider. The most important part, when it will be your cocktail hour, is that you won't be even there for most of it (or maybe any of it) completely depending on your professional photography timeline! So, in short, you won't be able to play host(ess) the way you would do for any other cocktail hour celebration!
But, you need not stress away! We have got you covered! With just a little pre-planning and nice personalized and simple pro tips, hosting a perfect cocktail hour will surely be an easy-peasy task for you. All you have to do is to employ these easy points mentioned below, and we can assure you that you will have an easy-breezy cocktail hour that your wedding guests will enjoy and remember for the rest of their lives!
Go, Al Fresco, If You Can
If your wedding reception venue has a unique annex or a lovely outdoor space, then congratulations you are in luck! All you have to do is to use the entire space mainly during your cocktail hour! Your cocktail hour is the best time to make use of the entire venue space in every possible way! Well, your cocktail hour is the perfect time for all your wedding guests to mingle and catch up, relish the ambiance, adore the settings, and take a chill pill before the party kicks into full gear! So, make use of all the expansive space that your reception wedding venue has to offer! Balconies, patios, rooftops, poolside… every space can be utilized to the best and to the fullest to have a perfect wedding cocktail hour! If you are planning a romantic and classic outdoor wedding reception celebration then you just got lucky. An outdoor celebration immediately sets the entire party tone while making the entire setting more inviting and romantic! Keep the space available throughout the celebration, so that all your wedding guests can step out for some fresh air or a quick phone call later on!
Comfy Seating Is a Big "YES"
Well, for many of your wedding guests, your wedding cocktail hour will be all about standing and walking around while mingling and having some interesting convos, but some of your wedding guests will want to take a comfy seat while savoring every sip of the fine wine or whisky in their glasses! To offer the perfect combination of both the words, all you have to do is not overcrowd your wedding cocktail hour space with chairs all over the place! Just leave enough space for standing spots and for walking while adding some really comfy seats or by creating a lounge area!
When it comes to seating, there are endless and creative ways to do it! Not only will these creative ideas definitely elevate the entire seating arrangement in order to make your cocktail hour a perfect celebration but will also look stunning in all your wedding videos and photos! You can create some really unique and yes, of course, comfortable seating, just by using the combination of high tops and regular height tables, along with some lounge furniture, low chairs, barstools, floor pillows, and poofs! This way you will be able to give your cocktail hour a different feel than your classic sit-down reception dinner! If you are planning a winter wedding and looking ahead to adding a cozier vibe, you can consider building a virtual outdoor living room with comfy armchairs, rugs, and vintage end tables!
Music To Soothe the Ambiance
As most of your wedding guests will be busy talking, sipping, and snacking during your cocktail hour, bringing in some mood music will surely elevate the mood of the entire ambiance and the crowd too! Adding some soulful music is another simple yet classic way to have a perfect cocktail celebration on your wedding day! Since it is not a casual and upbeat dance party yet, keep the volume turned down and the vibe mellow so that all your wedding guests can chat with ease and savor every sip of the wine in full delight! It does not matter whether you have planned a lively DJ to keep the vibe and energy high throughout your wedding reception, but just for the cocktail hour, slow it a bit down to resonate with the calm and composed ambiance of the cocktail hour! You can consider hiring a jazz trio, quartet, or acoustic guitarist to set a completely unique, distinct, and intensely romantic mood for your memorable cocktail hour! Summing everything up, providing your wedding guests with some really delightful mood music is surely an integral part of hosting a really fabulous cocktail hour that your wedding guests will never forget!
Over-Stocking the Bar & Hiring Plenty of Bartenders is a Good Move
A perfect cocktail hour is all about enjoying drinks and having a good time with each other! With cocktails all around, we are pretty much sure that your wedding guests would be able to get their drinks quickly and without a hassle! It will be an easy breeze for them! The reason we are emphasizing so much on hiring more bartenders is if you won't hire enough bartenders and don't stock the bar, there might be chances that your cocktail hour celebration might fall flat pretty quickly! Just imagine the scenario of waiting in a long bar line for an entire hour? Not a good-looking scene, right? As we all know, bad bar service always results in unhappy wedding guests! So, in order to avoid this rookie mistake, all you have to do is to hire two bartenders for about every 75 wedding guests and stock the bar with plenty of liquors, mixers, and supplies! As it never hurts to have some extra, because running out is quite embarrassing, which we are pretty sure you don't want if you have a planned perfect cocktail celebration in your mind!
If you have planned to serve bottled beer to all your wedding guests, we wanna recommend that you consider placing individual bottles in a big and fancy tub with different shapes of ice cubes and leaving plenty of beer keys for all your wedding guests giving them the option of self-serving! There should not be any reason for your wedding guests to wait in line for a bartender to pop open a bottle of beer! If you're serving beer from kegs, however, leave it to the pros behind the counter.
Stylish Cocktail Hour Celebration is a "GO"!
We can't deny the fact that you and your sweetheart had spent ages choosing the reception venue and then some good time to finalize the reception decor to have a memorable and picture-worthy celebration! With these things sorted, don't let your cocktail hour celebration go by the wayside, especially if you have planned it in a separate and panoramic space! Consider bringing in small centerpieces and some aromatic votive candles to style the ambiance as the combination of these two together offers a great way to finish off the room on a romantic note! For example, if you are planning a cocktail hour under the striking city skyline, followed by an indoor wedding reception in an opulent ballroom, don't be afraid to vary the decor of the ambiance! Take advantage and make the best use of the natural foliage offered by mother nature. Bring in some string wide ribbons and colorful banners with some lovely string lights from the tree branches to illuminate the entire setting making it cozier and extremely romantic! Well, you can also consider setting up some chic and unique floral installations near the entrance to make a that will leave all your wedding guests in great amazement! These kinds of unique ideas will also give our professional wedding photographers and videographers endless opportunities to capture your wedding day in the best and most creative frames!
A Resonating Cocktail Hour Decor Theme is Must!
Well, the color palette, centerpieces, and the entire table setting always set the theme for a wedding celebration and also the wedding reception! But, if you are planning to host your cocktail hour in a separate location or outdoors, you must try something different when it comes to the decor! You definitely do not need to make all your wedding guests wear leis and Hawaiian-themed shirts, but you can consider serving the tropical cocktails out of coconuts, and some chips with fresh papaya and mango salsa! All your need to do is take your cocktail hour celebration theme to the next level just by expanding it to your music and decor! Step up and twist your decor game and experience the magic through naked eyes and also in the wedding photos and videos! Ease out the whole decor game and just hire a mariachi band and set up some handmade guacamole and churro stations for some extraordinary elements to the overall decor! Or you can simply just have a jazz pianist and singer perform throughout the celebration and consider decorating with some different and chic art deco-style chandeliers and a bold black and white color palette! All-time classic and chic!
Don't Forget about Signature Cocktails and Non-Alcoholic Drinks!
Well, it is absolutely true that having on-demand liquors behind the bar is important, but don't forget about those of your wedding guests who prefer non-alcoholic drinks! Make sure there are enough signature cocktails and non-alcoholic beverages for everyone so that they don't miss out on any moment of your cocktail hour celebration! If you are planning an outdoor summer wedding, make sure you have got a few drink selections for non-drinkers, too! For summer weddings, try water infused with cucumber, melon, and mint with lots of ice to allow everyone to relish the summer vibes in full swing! If a winter wedding celebration is on your mind, try serving cozy and seasonal, like hot apple cider with some cinnamon sticks! The bottom line is that just offer more than just water and soda to all your wedding guests by having at least one mocktail on the menu! All you need to do is work with your caterer or mixologist to come up with something inventive and really chic like a mix of grapefruit and orange juices, or a little coconut milk and a small scoop of orange sherbet on top!
Scrumptious Bites Are a Must Add On!
We know that it's your cocktail hour menu, but we just want to say that make sure it must be diverse enough so that all your wedding guests can enjoy at least one appetizer to the fullest! If you think you just got lost where to begin, touch on the major tastes: just serve something slightly salty, sweet, bitter, and savory! Keep on offering various other dishes to complement the signature cocktail drinks! Make sure you have kept a note of all the special diets or allergies ahead of time to ensure that everyone has something to enjoy! As a twist and something different, you can consider going ahead and offering all your wedding guests something sweet before they all sit down for the reception dinner! You don't need to spoil their appetite for what's to come (so save the chocolate ganache for later), but don't forget to offer a seasonally sweet treat, like a fruit tart or lemon sorbet, which could be the perfect palate cleanser before the final dinner. You can also forgo typical utensils entirely by offering all bites on edible spoons or in mini crispy cones.
Source of Entertainment is Mandatory to Keep the Celebration Alive
It's your cocktail hour celebration, so, don't let the name cocktail hour get you or anyone on the guestlist confused! This part of your wedding day celebration can also include fun activities, games, and endless entertainment along with cocktails and conversations! In fact, it is a great way to keep your wedding guests entertained throughout the celebration. Fun activities and games will give all your wedding guests something to do, especially to those who are quite less comfortable in social situations or just don't know anyone at the wedding! If you are planning your memorable cocktail hour celebration in the great outdoors, you can consider lawn games such as horseshoes, corn hole, and some others that you think your guests will enjoy to the fullest. And if you are thinking of having your cocktail hour inside, you can consider bringing in a photo booth or a caricature artist on hand to create some really unique and hilarious portraits. Just one thing to remember, don't be afraid to get creative in order to find something that perfectly fits your style and budget and can make your cocktail hour a memorable celebration for all your wedding guests!
Bring on Personalized Details and Touches
Personalize, personalize, and personalize and don't let these words go out of your mind if you actually want to host a memorable and perfect cocktail hour for all your wedding guests to remember for years to come! From monogrammed napkins to personalized koozies, or straws with DIY flags, there are indeed endless ways through which you can incorporate personal touches and also bring in your personality or your wedding theme into the cocktail hour celebration alive in the best way possible. Just because it is the in-between time between the two main celebrations on your wedding day, that simply does not mean that it should be generic and not extraordinary! Adding your personalized details and personal touches is nothing but a great way to give all your wedding guests a little peek at what's coming during the wedding reception celebration!
Summing up, everything! These unique and simple ideas will definitely elevate and step up your cocktail hour celebration game. We can assure you that with these tips, not only you will be able to host a memorable cocktail hour, but your wedding guests will have something to actually talk about for years to come! Cheers!