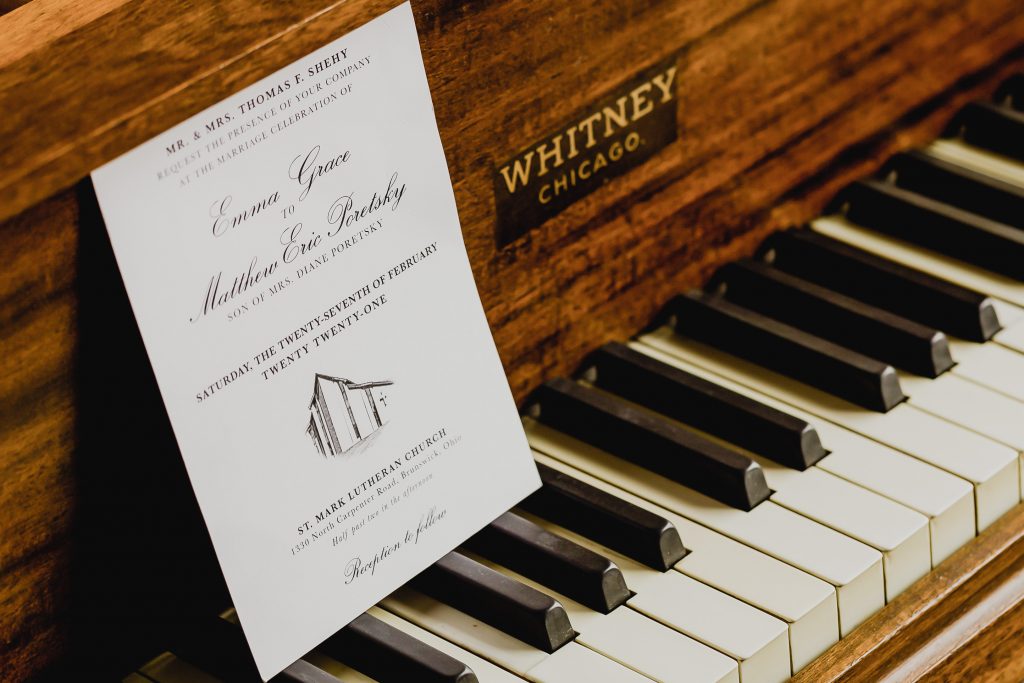 "Music can change the world because it can change people!" Music holds the power to transform our mood just in the blink of an eye! Music can make you happy and can also make you relax after a tiring day at work! Listening to some soulful music allows people to get lost in their own world of imagination and thoughts! Some people are so passionate, or we say addicted to music, that they just cannot live without it! There is something so different and unique about music that it directly connects with the souls! If you are a music lover you will truly understand that you will be able to run with music, dance with music, hum with music, and lastly express your love to the love of your life with some great romantic music! As a music lover, you can benefit a lot from music! If you know how to play any kind of musical instrument, trust us, we're sure you love music even more! So, if you are a bride who has a great inclination towards music and believes in the saying "life is a song and love is the music" then this blog is especially for you!
Music, romance, and weddings have always gone hand in hand! We think that it came from the rom-com movies or series of all the time! You know, when Alison met John at the bar and the most romantic song played in the background and voilà the magic happened! That was the very exact moment when they fell in love at first sight and then lived happily ever after! See, we told you that the music had the power to make two people fall deeply and madly in love with each other and end up being together for the rest of their lives! If you also share the love for music with your better half, all you have to do is just hit the right note with a music-themed wedding for your big and special day! As a team of professional wedding photographers and videographers, we think that it is such a unique theme to play off on your wedding day, sure to bring out emotions! And trust us there are endless ways to incorporate some of your favorite musical touches into your wedding day to woo all your wedding guests without any hitch!
No matter whether you are a rock and roll bride? Or an old soul music lover? Or a hardcore country music fan? We hear you and your deep love for music! And that is why we have curated this special blog for all those couples who are looking out for unique details to incorporate music into their wedding day in the best way possible! Snagging a great musical band is not the only way to infiltrate your wedding day with some amazing music! There are endless great and unique ways to weave in your favorite song, lyrics, artist, or genre into the fabric of your wedding day! We are pretty much sure that there is a song for every date and occasion! From the most romantic and beautiful lyrics in your wedding song to an old and all-time favorite from your first date, we know that there are some memorable songs out there in your list that may just pull on your heartstrings! It's not only us, but our creative wedding photographers and videographers also love the idea of adding musical notes as a part of a wedding decor through various crafty displays and endless DIY ideas! The details look gorgeous in photos! Music-lovers, this is absolutely a great idea to bring in all your favorite lyrics and songs to your wedding day and make your wedding celebration an out-of-the-ordinary experience for everyone! After all, many of the most unforgettable and iconic wedding moments are set to music! From processional songs that well up your parents' eyes during your walk down the aisle moment to the peppy reception tunes that keep all your wedding guests dancing and tapping their feet all night long, music is indeed the sole core of a wedding celebration! There are endless ways and ideas to plan a music-themed wedding! Your choice of music can be visually showcased through so many different wedding elements including the wedding invitations, centerpieces for your table settings, seating charts, wedding vows, and much more, while still playing into overarching rustic, modern, classic wedding celebration styles! It's your wedding day and everything is possible if you want! From guest books to reception table arrangements, to wedding cakes, we can assure you that we will help you with some of the most incredible and great ideas to rock the wedding day with your favorite music and lyrics! No matter where you are planning to host your musical wedding, we can assure you that your wedding day will be remembered and cherished for decades to come by your wedding guests with all the music notes and fun you are planning to add to your wedding day!
So, let's get lost in the world of music and check out some really cool and unique details for the music lovers who just want their wedding day to be a melodious song that everyone can hum for the rest of their lives!
Hand-Written Lyrics
We know that there are favorite lyrics that always make a person tear up, or actually evoke love and their feeling in the best possible way! So, if you also have a favorite lyric in your mind that invokes the true meaning of your relationship, all you have to do is put them where all your wedding guests can witness it the moment they enter your wedding venue! Like, it should be the first thing that must catch your attendee's attention within a blink of an eye! You can consider adding some DIY signs like writing the lyrics of your all-time favorite song on a huge piece of paper and get it glass-framed and hang it on the wall that witnesses the maximum amount of attention! This will definitely be a special feature of your wedding day as it will gracefully tie your musical theme wedding while telling the romantic love story of your and your sweetheart's! If you want, you can fit this kind of song-lyrics frame anywhere! From your table card display to your dessert bar, they are indeed very flexible to incorporate into your wedding decor!
Album-Style Wedding Invitations
Thinking of unique ideas and ways to blow away your guests with some seriously stunning music wedding details even before they set foot at your wedding venue, try something out-of-the-box! Here is an idea, try sending out your "save the date" cards in the form of vintage vinyl record invites! You can keep the actual authentic label on one side of the record, while using the other side of the record to put all your wedding day information! Trust us, this kind of music-inspired wedding invitation will be a truly customized and delightful experience for all your wedding guests!
The Wedding Gift
We are definitely smitten and head over heels in love with the idea of you gifting the beautiful lyrics of your wedding song to your darling! You can create a DIY wedding gift for your sweetheart by using the sheet music of a wedding song. You can use it as a decor piece to hang proudly in your new home as a sweet and romantic reminder of one of the most amazing and incredible days in your relationship! If by any chance you think that this kind of gift is more for you than your partner, then no worries, give it to yourself as a wedding day gift and feel every word of the lyrics! Ideally, we think that it makes a beautifully romantic gift on the day of your wedding! Well, it is true that it is technically not a way to bring the music to your wedding day, but trust us, we could not resist the suggestion! But you can do one thing if you want to introduce it to your wedding day, you can gift it to your spouse before the wedding day, and by that way, you will be able to display the frame and make it a part of your wedding day decor.
Musical-Style Guest Book
How about the idea of walking away from your wedding day with a beautiful guest book that you can actually put on the display in your newlywed love nest? Great idea, right! You can ask your wedding guests to use a thumbprint and sign the oversized piece of sheet music that you especially got designed to match with your music-theme music so that you can later frame and display it in the form of instant art!
A Duet Wedding Cake
Ask your baker to design a note-filled wedding cake that must blend gracefully and harmoniously with your music-inspired wedding! When it comes to music-themed cake toppers, there are endless options available in the market for you to choose from! So, if you and your honey are singers, guitarists, drummers, or any other kind of combination, trust us, you can completely rock a rock-star wedding cake topper! These kinds of creative wedding cake ideas will look incredible in your wedding photos and videos!
Song Request Response Cards
Looking out for some really unique and creative ideas for your wedding day response cards? Well, here they are! You can put a creative spin on them and create some DIY response cards so that your wedding guests can put the list of the songs of their choice that will make them get up and groove! Think of the moment, when your wedding guests will be waiting for their favorite song to get played and the moment it's played, we can assure you that they will be on the dance floor!
Sweet Musical-Shaped Treats
Adding some music-themed cookies and biscuits to your wedding day dessert table is definitely a great way to show your love for music and allow all your wedding guests to witness it! If you need some ideas or inspiration, Pinterest boards and Instagram are full of it! You can also try asking your bakery to make some cute little ukulele-shaped biscuits for your wedding day sweet treats! They will not only be delicious but also will perfectly match up with your music-themed wedding and will guarantee to make your wedding guests smile when the dessert rolls around!
Musical-Themed Wedding Table Numbers
Well, above, we have mentioned a few different variations of including sheet music into your wedding day decor! You can also use them to create table numbers to guide your wedding guests! Using sheet music to create table numbers is definitely a big yes. It is super-duper easy to create, budget-friendly, and will bring the rustic vibe to the overall setting of your wedding day decor!
Music for Meal
Well, it is absolutely true that none of your wedding guests are going to notice if you don't have napkins rings at your reception dinner place setting (except the nosy ones, hahaha!), but we can assure you that your wedding guests will be totally tickled and blown away to see the thoughtfully done musical note napkin rings! It is indeed one of the great and creative ways to introduce music to your wedding day decor! You can use the kraft paper as it will give the napkin rings a rustic feel. If you are planning a summer or winter wedding in a barn, it will be a perfect fit to elevate your tablescape setting and will bring in the real essence of a barn wedding!
Decorative Antiques
Have you thought of filling a gramophone with fresh wedding flowers from your florist? Well, if not, then you must try this unique idea, and we can assure you that you and all your wedding guests will be in love with this incredible idea! If you and your darling are die-hard fans of the history of music, a classic and vintage gramophone is undoubtedly the best way to nod to music's past in your wedding celebration! Plus, there are hardly a very few people who don't love a great antique find! Right? So, go with this idea for your wedding day and leave your wedding guests in great amazement!
Soulful Unique Chimes
How about fancy and DIY lace tambourines? Swoon-worthy and pretty, right? If you are a super crafty and creative bride, you can consider these easy and extremely distinct and beautiful wedding favors for your wedding guests. Trust us, these kinds of items will be a perfect addition to your musical-themed wedding! Just put them on guests' chairs along with your program and watch out for their reactions! In lieu of clapping, they can actually chime in with these at the conclusion of your wedding ceremony. Or they can use them as a signal whenever they all want you to kiss (how cute and impressive!).
Paper Hearts as Confetti
And finally, for a memorable and dramatic exit, how about heart-shaped confetti made of sheet music? Different and amazing idea, right? Heart-shaped confetti made with sheet music is indeed a great alternative for sparklers! Apart from offering great photo opportunities, it is really a very extraordinary and poetic way for you and your sweetheart to make a memorable wedding exit and start your happily ever after! After all, your wedding guests will be actually tossing lyrics of love all your way!
No matter what your wedding style or genre is, a music-themed wedding is and will always be a guaranteed hit amongst your wedding guests and will surely set a new trend for all the soon-to-be-married couples in your circle! Music always ignites a kind of passionate energy and will do the same throughout your wedding day that will strongly resonate with your wedding guests' mood in every possible way! Choose some of the great and unique ideas mentioned above to find an ideal fit for your music-themed wedding! Trust us, they are guaranteed to go platinum!