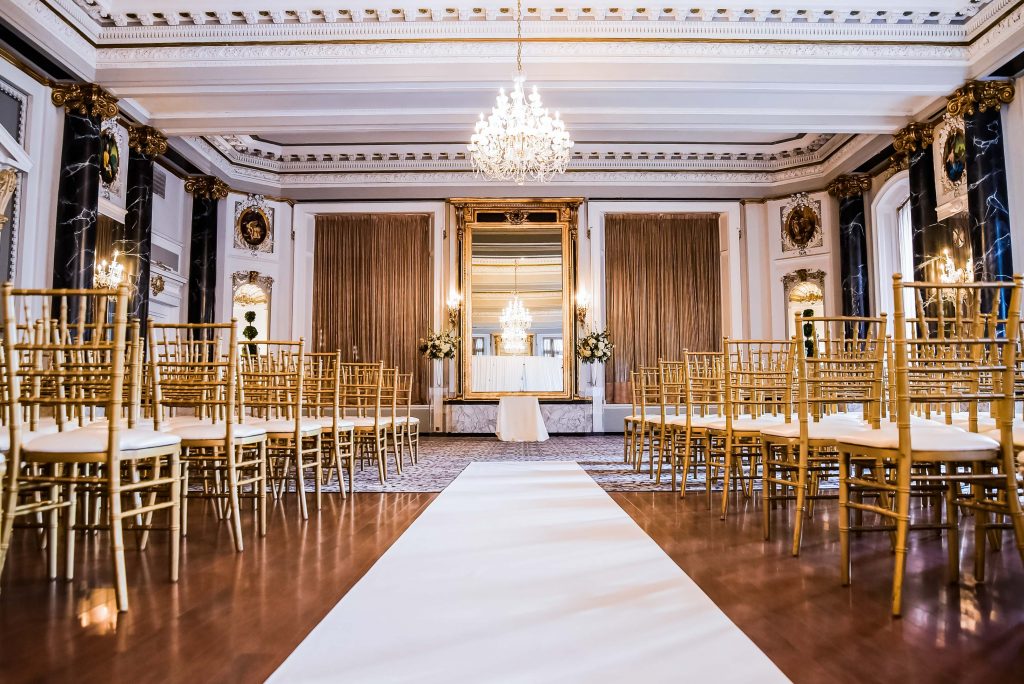 As a young girl did you also always imagine yourself getting married to your Prince Charming in a faraway castle while wearing a royal wedding gown? It will not be wrong to say that every little girl once dreamt of finding her Prince and getting married in a grand Irish Castle while being surrounded by celestial ideas and details. For every fairytale wedding, there is a bride, a groom, and a grand castle that can sweep anybody's feet with its splendid and magnificent beauty! Old Irish castles have an intimate feeling associated with them and centuries of history which makes them one of the most coveted places to get married in the entire world. Castle wedding venues are becoming one of the most sought after of venues for their breathtaking look and feel along with the sparkling woodland gardens and gleaming lakes that often surround them.
A beautiful castle will tick all your boxes if you're looking for a fairytale feel for your big day. Castle wedding venues are the stuff of many brides' dreams, and with good reason: these stunning historic buildings have plenty of wow factor while still maintaining a charming, cozy feel, and you and your guests will be treated like royalty. Just like gorgeous golf wedding venues and coastal wedding destinations, castle weddings venues often have fairytale-like vibes to the big wedding days that take place in them. If you are looking for a breathtaking fairytale wedding steeped with sweeping surroundings, Ireland is the place to be. Apart from being home to nature's abundance Ireland is home to majestic castles that can take you back in time and epitomize romance, grandeur, and fairytale charm for your big day details. We have no shortage of amazing castle wedding venues in Ireland, with all kinds of gorgeous styles dotted all over the country.
You'll have plenty of options for your big day in this region, which is known for its historic castles. We're frequently asked for recommendations for Irish wedding castles, and we have to admit, it's easy for us to make suggestions because there are so many gorgeous, romantic, and historic castle wedding venues to choose from! Of course, we have favorites, which we've compiled in this handy guide. Our list includes everything from iconic countryside estates to luxurious coastal wedding hideaways, spanning eight centuries and as many counties as there are counties in the United States. Without further ado, here is a list of the best castles in Ireland for your wedding from all over Ireland and Northern Ireland to help you narrow down your options.
Some of our favorite Irish Castle wedding venues:

Luttrellstown Castle
Luttrellstown Castle is a private castle wedding venue in Ireland that can accommodate up to 180 people. A historic castle with a striking Gothic facade perched on a 560-acre estate in Dublin 15, it's the kind of place you usually only see on TV or in movies! Despite the fact that Luttrellstown Castle wedding venue is the pinnacle of luxury, it has an unexpectedly welcoming atmosphere, so whether you're entertaining 20 or 180 people, your guests will feel right at home. Couples can look forward to customizing their wedding day to meet their specific requirements. From the elegant dining halls to the atmospheric library, you'll be spoilt for choice when it comes to where to hold your wedding ceremony, drinks reception, and wedding feast! Being the perfect place for all your over-the-top wedding ideas, this Irish castle wedding venue can be your one-stop-shop! From the majestic facade to the idyllic walled gardens to the sumptuous interiors, this historic castle is sure to impress.
Belleek Castle Hotel
Belleek Castle, a 19th-century Neo Gothic-style castle surrounded by a fairytale-worthy forest, is perched on the picturesque banks of the River Moy. The versatility of this castle wedding venue in Ireland is one of its best features. The intricate and cozy details can keep your wedding guests warm and comfortable even on the harshest winter days! There are many wedding event spaces to choose from, each with a different look and vibe, from the medieval drama of the Great Hall, which boasts an open fire and intricate wood paneling, to the rustic romance of the restored 19th-century stables, which boast exposed beams and brickwork. With award-winning fine-dining cuisine and a warm, West-of-Ireland welcome, the magnificent Belleek Castle Hotel wedding venue is easily one of the best in the country.  The castle's medieval banqueting hall and award-winning food will astound couples looking for an authentic castle experience. "You really have to come to Belleek Castle if you want authenticity and somewhere filled with warmth and romance, a team who gives 100 percent and dedication to your special day," the team says. If you're looking for a unique experience for your guests, the castle also offers guided tours of their onsite museum.
Kilkea Castle
This beautiful 12th-century Ireland castle wedding venue, set on 180 acres of woodlands and gardens, blends its historic past with contemporary elegance. The castle, which was once the medieval stronghold of the FitzGeralds, Earls of Kildare, is now available for your hosting your big day in Ireland in its entirety, including 11 decadent bedrooms, your very own cozy castle bar, a beautifully appointed drawing-room, and the magnificent Baronial Hall, which boasts elegant chandeliers and a traditional feature stone wall. With the help of the renowned wedding team at Kilkea Castle, you can live out your princess wedding dreams and turn your glamorous wedding ideas into reality. Kilkea Castle wedding venue, which dates from 1180, combines the allure of a 12th-century castle with the sophistication and decadence of style. The castle, which underwent a major renovation only a few years ago, elegantly blends the old and new. Kilkea Castle is located in Castledermot, Co. Kildare, and is only an hour's drive from Dublin.
Waterford Castle Hotel & Golf Resort
How romantic is it that Waterford Castle is situated on a 310-acre private island? It is one of Ireland's most renowned hotels for honeymoon stays and weddings, which is situated on the River Suir and accessible via a private car ferry across the King's Channel. It's an opulent 16th-century castle on its own island in the River Suir. The 310-acre estate wedding venue is full of old-world charm and provides couples with complete privacy. The dedicated team will see to it that all of your needs are met, making your wedding dreams a reality. Waterford Castle wedding venue offers a variety of activities to keep you and your guests entertained for up to three days, including an intimate rehearsal dinner, clay pigeon shooting, lawn games, golf, and falconry, as well as a hog roast in the relaxed elegance of their King's Channel Clubhouse to cap off your wedding celebrations!
Darver Castle
Darver Castle is an Irish wedding castle venue which is set on 50 acres of beautiful parkland in the rolling countryside of Co. Louth, and exudes old-world elegance. Dating back to the 15th-century castle wedding venue offers the perfect backdrop for your unforgettable wedding photography session. The Darver Castle wedding venue is a truly unique option for your big day, as it is a hopelessly romantic 15th-century castle located less than an hour from Dublin. It features gorgeous period furniture and finishes, but thanks to the lovely family, who run the show, it still manages to retain an intimate feel. You can exchange vows in the newly renovated ceremony room or outside in the private courtyard The Carville family has lovingly restored it, and they offer a one-wedding-per-day policy so that couples can fully immerse themselves in the castle's unique splendor and hence it can be yours in its entirety for your wedding day. Couples can exchange vows in the castle's beautiful ceremony room before retiring to the magnificent banqueting suite Brabazon Hall, which features stone-cut walls and beamed ceilings and can accommodate up to 280 guests.
Ballygally Castle
Ballygally Castle is an enchanting 17th-century wedding venue overlooking Ballygally Bay, located in County Antrim along the breathtakingly beautiful Causeway Coastal Route. The historic and enchanting Ballygally Castle wedding venue is bursting with natural beauty, with uninterrupted views across the Irish Sea (which can be enjoyed from the chic Kintyre Ballroom) and a beach literally on its doorstep. The warm and welcoming staff has been hosting weddings for over 60 years, so you can expect top-notch service from the moment you walk in. Best of all, because only one wedding is held per day, you and your guests will have complete access to the venue! Your wedding will be set against a stunning and unforgettably romantic backdrop which means that the scene is much more than a backdrop; it's a place where memories are made.
Bellingham Castle
Bellingham Castle is a 17th-century castle with a lot of character and charm, set on 17 acres of mature woodlands and gardens. It is a private and romantic Irish retreat where you and your guests can spend a truly magical day in total privacy. This exclusive venue is just 45 minutes from Dublin and is located in the heart of the medieval village of Castlebellingham. Bellingham takes pride in its exclusive homey setting and meticulous attention to detail, with their team providing 100 percent dedication from start to finish. The tranquil surroundings, friendly staff, sumptuous Bute Suite, 19 luxury bedrooms (ideal for traveling guests), and, of course, fine food and wine will ensure an unforgettable stay. The accommodating wedding packages also make it a great glamping site for your pre-wedding celebrations in Ireland. Weddings are just as lovely in the summer when the sun shines and guests wander the grounds as they are in the winter when candles, fires, and mulled wine create a warm atmosphere.
Castle Leslie Estate 
Castle Leslie is a stunningly beautiful secluded estate in Monaghan, only 80 minutes from Dublin and 60 minutes from Belfast, nestled on 1,000 acres of the lush Irish countryside, dotted with ancient woodlands and glittering lakes. This Irish castle wedding venue is one of Ireland's most sought-after wedding venues for a reason, with exquisite food, stunning interiors, and plenty of accommodations for you and your guests. Castle Leslie wedding venue, which has remained in the hands of its founding family since the mid-seventeenth century, is steeped in history and romance. It is a magical setting for your special wedding celebration, as it is a truly private rural escape. The castle and 1,000-acre estate are equally charming whether your guest list is 70 or 260, thanks to the abundance of atmospheric, antique-filled spaces for ceremonies and receptions, and it's easy to reach wherever your guests are coming from, as it's only 80 minutes from Dublin Airport.
Fitzpatrick Castle
Fitzpatrick Castle is the kind of wedding venue you wouldn't expect to find in Dublin, with stylish surroundings, friendly service, and breathtaking views overlooking Dublin Bay! The family-owned Fitzpatrick Castle Hotel wedding venue in Dublin's lovely leafy suburb of Killiney is surrounded by the impressive Killiney Hill woodland. The exterior of the 18th-century castle is strikingly white-tipped, while the interiors transport you to another era with deep wood furnishings and tapestries, elegant fireplaces, sparkling chandeliers, and silver candelabras. This castle venue's team is exceptional at what they do, with over 40 years of experience hosting weddings large and small, and they're happy to collaborate with couples to create a wedding day that's truly personal to them. The venue's beautiful gardens make for stunning wedding portraits, and the interior spaces are equally impressive – it'll be difficult to choose between the Victorian interiors of the castle suites and the breathtaking coastal view of the elegant Royal Suite that awaits you and your guests.
Dromoland Castle
The historic wedding venue Dromoland Castle in beautiful County Clare has been welcoming guests since the 16th century and offers stunning scenery, plush interiors, and world-class cuisine. History buffs will love this wedding venue, which has ties to Ireland's last high kings, but so will couples who appreciate the finer things in life. If your ideal wedding day includes a ceremony in a meticulously maintained walled garden, an outdoor Champagne reception in the style of a garden party, or a once-in-a-lifetime feast in opulent surroundings, you've come to the right place!
Clontarf Castle
Clontarf Castle is a 12th-century castle, which is located just outside of Dublin's city center is an eclectic mix of old and new. Many of the original features, such as stained glass windows, dramatic high ceilings, and the beautiful original staircase, have been preserved, but a recent refurbishment has brought it into the twenty-first century with modern luxuries and facilities. This award-winning castle wedding venue in Ireland also has dedicated art galleries, landscaped gardens, and a romantic outdoor terrace, all of which are perfect for memorable wedding photos. Clontarf Castle has over 800 years of history pulsing through its walls, ensuring an atmospheric wedding day regardless of the type of party you've planned. Whether you're planning a lavish celebration in the regal Great Hall or an intimate gathering in the medieval dining room, the day will be opulent and memorable in every way!
Ireland is known for its Celtic history, folklore, and beautiful landscape dotted with castles. Destination weddings in Ireland practically beg to be held in historic locations, and there are a plethora of luxury Irish castles that provide guests with the ideal blend of old-world romance, culture, and timeless elegance.  A truly magical place to celebrate love, and couples and their guests will never forget a wedding weekend spent in an Irish castle.