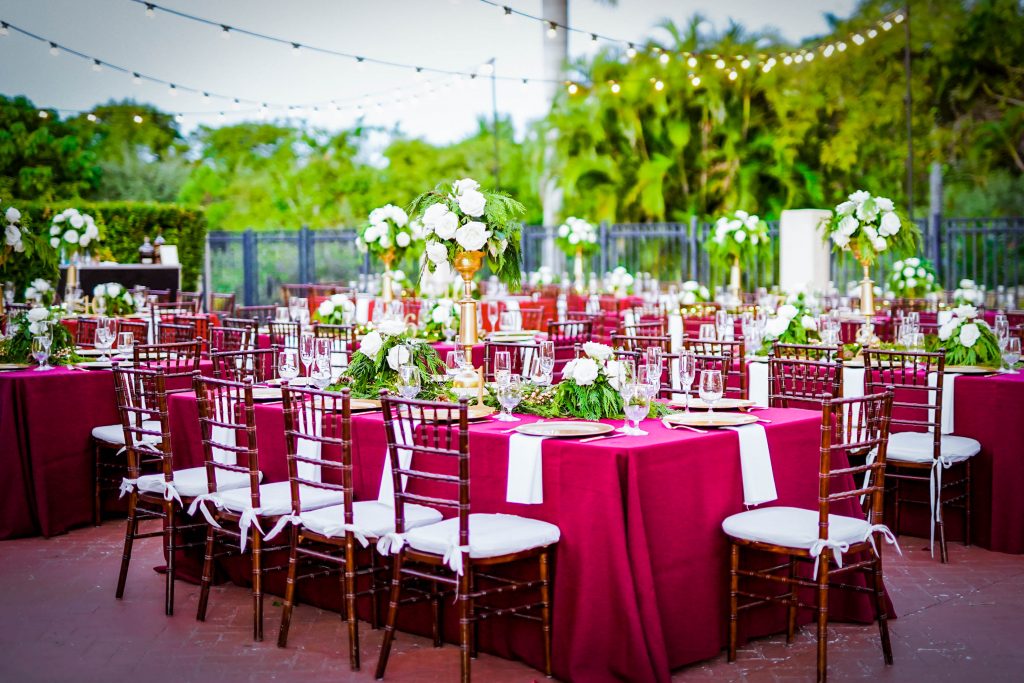 We are sure that you are going to agree with us that Italy is a beautiful country full of passion, romance, dreams, and endless love. As more and more couples give preference to a lovely and extremely romantic wedding based in Tuscany, the region in which you can effortlessly fall in love without even thinking about it. Everything about this region is just mesmerizing and breathtaking including the lovely green rolling hills, the tall cypress, beautiful olive trees, and incredible grapevines which result in the most delicious wines. Weddings in Italy are nothing but a romantic fairytale story. So, if you are also planning to have your wedding day celebration in Italy, or want to bring all the romantic and beautiful Italian vibes to your Italian-themed wedding, then we have got you covered. We have curated some incredible ideas and inspirations for you to host an incredible Italian-inspired wedding that will make all your wedding guests go all "wow"! So, what are you waiting for, check out the ideas below and have a lavish and wonderful Italian-themed wedding of your dreams!
Give Your Wedding Invitation Suite an Italian Makeover
There is no denying that a wedding day invitation sets the overall tone of the wedding day and also gives heads up about the wedding theme and style to all your wedding guests. So, it does not matter whether you are planning to have a romantic and stunning destination wedding in Italy or just thinking of hosting a luxurious Italian-themed wedding celebration closer to your home, your wedding invitation is indeed the perfect place to incorporate your fantastic and desired Italian-theme for your wedding day. So, just convey your Italian theme through all aspects of your wedding and every other wedding-related celebration simply by integrating details in your invitation. Consider adding sophisticated and elegant details like whimsical and exquisite calligraphy and vintage wax seals to your wedding day stationery suite to elevate your wedding day invitation design. These kinds of little wedding details will look stunning and glorious when captured by our professional wedding photographers and videographers. To make it more authentic and give your wedding guests the feel that you are getting hitched in Italy only, you can also think of adding some greenery, florals, and lemons into your wedding stationery to foreshadow a classic and whimsical Italian-inspired wedding.
Go for An Outdoor Wedding Venues
Well, suppose you have decided that you are not going to have a traditional wedding ceremony in a house of worship, as you have planned to host an Italian-themed wedding and want to go all Italian even with your wedding venue. In that case, you must look for wedding venues that offer incredible and panoramic vistas. It will be a cherry on the cake if your outdoor wedding venue overlooks the Italian countryside, this way your wedding guests will experience the genuine and authentic Italian vibes on your wedding day. With a classic outdoor wedding venue with endless greens and mind-blowing wedding photography opportunities, keep your wedding ceremony decor to the minimum, in order to bring in the exquisite effect to the setting. You can work around bringing in folding wooden chairs and a simple backdrop so neither your wedding guests nor our talented wedding photographers and videographers get detracted from the lavish and breathtaking scenery.
Get Wed By the Waters to have The True Italian Vibe Added To Your Wedding Day
Of course, getting hitched to the love of your life overlooking mesmerizing and sparkling waters makes even a low-key wedding celebration a luxurious and incredibly romantic celebration. And if we talk about the waterfront wedding locations that give the full Italian vibes, then the Amalfi Coast is widely known for its charming and exquisite seaside views. Gracefully lining the Tyrrhenian Sea, this lovely seaside wedding location is nothing but short of picturesque with enchanting views of turquoise-hued water as far as the eye can see. Offering endless romantic and fantastic wedding photography and videography opportunities, getting hitched on a sea is indeed a beautiful idea in order to bring endless Italian vibes to your Italian-themed wedding.
Embrace the Old-World Details For a Perfect Italian-Themed Wedding
Of course, Italy is full of classic and enchanting old-world details, so it will be a great idea if you are considering adding all those elegant old-world details to your Italian-themed wedding to make it more authentic and relatable. You can think of bringing in luxe gold touch throughout the wedding decor, such as your wedding day cake stand, even into your server, and flatware, to help create the feel of classic and enchanting old-world Italy. These kinds of detailing will definitely transport all your wedding guests to the old and glamorous era of Italy.
How Much Bougainvillea is Enough Bougainvillea?
Bougainvillea and a classic Italian-themed wedding go hand-in-hand! These lovely and vibrant flowers thrive on the Amalfi Coast, which is why this lovely, bright, and vibrant fuchsia-hued plant will be seen blooming in full swing all throughout the area. So, if you are planning your Italian-themed wedding celebration at this location, then it will be a blissful experience for your creative wedding photographers and videographers to document your wedding in great and colorful frames. Beautifully lining the walkways, and crawling up buildings, bougainvillea indeed adds a romantic and shape vibrance to this famous Italian wedding destination. The greatest perk of getting hitched at this location is that it does not need much adoration as the bougainvillea has already worked its magic in the best possible way giving this location the best decoration that anyone can ask for. You can also work with your florist to have a wedding ceremony arch made with lovely and colorful bougainvillea or can even consider adding them to your wedding day bridal bouquet or wedding day centerpieces!
Shop for Lace Wedding Dress to Be the Best Italian Bride on Your Wedding Day
We all know that Italy is known for its trendsetting fashion houses with the latest fashion statement-making attires. But a conservative yet stunning and elegant attire is preferred for weddings, majorly when they are taking place in a house of worship. So, if you are also planning to have an indoor wedding ceremony at a house of worship, consider going for a lavish and exquisite fitted lace wedding dress to not only make a statement on your wedding day but also look sexy by flaunting your curves without showing a ton of skin. This kind of wedding dress will be a great addition to your Italian-bridal look on your wedding day!
Choose Ornate High Heels For Your Wedding Shoes
Just like a wedding dress, a bride's wedding shoes are also an important part of her bridal look and bridal accessories. And if you are planning a romantic Italian-themed wedding for your big day celebration, consider going for ornate high heels. We all know that Italy is home to some of the biggest fashion and couture houses in the world including famous and lavish designers like Missoni, Versace, Gucci, Prada, and Valentino. So, when it comes to your big day celebration, it is always a great and perfect idea to bring your fashion A-game. One of the easiest ways to add glamor to your overall bridal look is to bring in dramatic accessories. And some ornate heels with glitters and certain embellishments will surely bring out the best when you walk down the aisle. Your wedding shoes will also give great photography opportunities to our wedding photographers to capture detailed shots of your bridal accessories.
Wines and Greenery Should Be a Must-Add Element to Your Wedding Day Decor
So, now it is decided that you are going for a classic and splendid Italian-themed wedding, how can you not add greens and vines to your wedding day decor? An authentic Italian-themed wedding is all about beautiful greens and vines. And the best way to bring greens and vines together in the perfect combination to your wedding day decor is simply by adding them to your wedding reception table setting. While going for this classic Italian table setting combination, you can consider opting out of a traditional table runner. You can consider garnishing the reception tables for your wedding reception with vines, grape leaves, or even garlands of lush greenery. Ample foliage, along with some aromatic votive candles, and gold flatware, will definitely make for a beautiful and enchanting complement to a memorable and elegant Italian-inspired display. This kind of table setting will lend great photography options to our affordable wedding photographers.
Bring in Delicious Tasty Food For Your Wedding Guests Delight
Now that you are in the full mood to have a classic and romantic Italian-themed wedding for your special day, so, why not take authentic yet delicious Italian cuisine and put it at the forefront of your wedding day menu to delight your wedding guests? There is absolutely no denying the fact that Italy is widely known for the incredible cheeses and cured meats, and yet there are endless and also delicious ways to bring these yummy food elements into your Italian-themed wedding day menu. It's not us but we can assure you that all your wedding guests will surely love the idea of setting up an eye-pleasing and mouth-watering station for them to relish and also to build their own Italy-inspired charcuterie board.
Celebrating With Citrus and Herbs is Always a Great Idea to Bring In Italian Vibes to Wedding Day
The beautiful region of Capri is well known for its fresh citrus. And certainly, lemons are at the top of that list. One more fact about the Capri region is that it is also a fruitful location for growing herbs, such as thyme. So, why not bring all these beautiful natural elements to your wedding day decor to evoke the feeling of the region in the best possible way. We can assure you that your wedding guests will have something really unique and out-of-the-ordinary to witness on your wedding day and so will our creative wedding photographers in terms of wedding decor.
Grapes and Tablescape Always Make a Perfect Combination for an Italian-Inspired Wedding Table Setting
While talking about Italy, the one that comes to everyone's mind is wine. It is quite impossible for someone to talk about Italy and not think of wine anytime. After all, Italy is one of the world's biggest producing regions when it comes to wine, and we are pretty much sure that there are various wineries turning grapes into wine on the Amalfi Coast. So, when it comes to wedding day tablescape setting, it is quite easy and also a creative way to bring in this element to your wedding day decor without going over the board. You can consider adding a fine and delicate touch of fresh grapes alongside greenery will definitely make your wedding reception table setting feel all the more inspired.
Allow Your Wedding Guests to Dine in Family-Style
Well, of course, your wedding day is nothing but a grand celebration and it is the time for all your loved and close ones to be together at the same fun and have all the fun of their time together. So, consider bringing everyone together just like they are a big family. You can consider bringing in one long reception table as it is indeed a great way to make everyone feel included and to facilitate conversation. If you opt for this setup, just be sure your centerpieces aren't too tall to block the view of the people sitting in front of each other.
Don't Forget to Get Playful With the All-Time Favorite Italian Dish- Pizza!
It goes without even saying that pizza is an Italian tradition. So, when you are planning to have an Italian-themed wedding it will be a great, perfect, and of course, an extremely delicious way to bring a taste of Italy to your wedding day menu. All you have to do is to work with your caterer to choose classic options and majorly loved by the majority, such as Margherita or Neapolitan, for a playful and fun wedding day menu addition!
Toast With Prosecco For The Ideal Italian Vibes
If you can't get to Italy for your Italian-themed wedding, you can always bring Italy to you! All you have to do is to get a bottle of champagne from France's Champagne region to be considered real, prosecco must be produced in the Veneto region of Italy, north of the Amalfi Coast. While having the finest wine, all you have to do is raise a toast to the inspiration behind your classic Italian-themed wedding simply just by popping the top off a bottle of prosecco and sipping it with all your wedding guests.
Don't Forget the Traditional Italian Dessert for Your Italian-Themed Wedding
Well, there is no denying that it is always a great idea to celebrate your special day with a cake adorned with citrus, as it will always make a beautiful choice if you are going in for an Italian-themed wedding. But, as you are going in for a true and authentic Italian wedding and paying attention even to the smallest details, it is always a great idea to bring in a more traditional Italian dessert to your wedding day dessert table for your wedding guests to relish the true taste of Italian dessert. For the best Italian dessert, you can consider bringing in the layered mille-feuille, traditionally prepared with Chantilly cream and plenty of berries for a mouth-watering taste.
Consider Gifting Limoncello As Wedding Favors to Your Wedding Guests
While limoncello is being so popular all over Italy, much of this liqueur is produced throughout the Amalfi Coast region. The beautiful citrus lemons in this exemplary area are just unique in the way they hang on the tree longer and ultimately produce fruit double in size. So, while you are planning an Italian-themed wedding, try your best to embrace the tradition of turning these beautiful lemons into limoncello and thus offer mini bottles to all your wedding guests in a beautiful welcome bag or as a unique escort card so that they can give it a try or you can also consider giving them as the wedding favors!
Summing everything up in a nutshell, all we wanna say is that the goal of hosting a classic and romantic Italian-inspired wedding, should highly focus on creating an upbeat, welcoming ambiance that bridges the gap between elegance and playfulness! As much as Italians love their traditions and sophistication, they also go all grand and huge on having fun and living in the moment—so don't worry about taking things too seriously, when you are planning your Italian-themed wedding while not being in Italy!