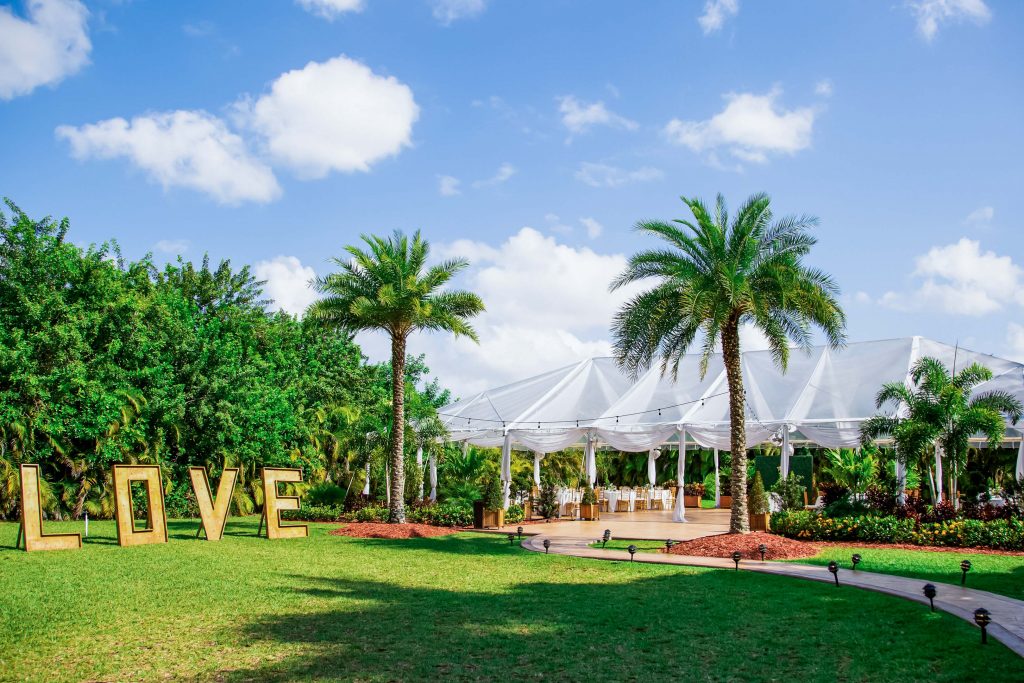 Wedding planning sessions entail a host of important wedding decisions that go on to ultimately tie together the details and ideas of the big day. There goes a lot of planning and preparation while choosing the perfect wedding venue for yourself. This particular wedding decision is considered to be one of the most crucial ones as it dictates the kind of wedding theme and vibes your wedding is going to exude. From pristine golf course wedding venues to venues for exotic destination weddings, there is no dearth of options if you love open spaces and have always wanted to get married in one. And what can be more romantic than hosting a garden wedding in a fairytale-like setting? It is true that nothing screams romance and intimacy like a lush and lovely garden wedding venue. Garden wedding venues offer both space and scenery, and hence they are a popular big day venue choice. Offering natural décor and unique landscapes, garden wedding venues can offer sparkling fountains, glistening ponds, and roaring waterfalls! Can anything be more magical than this?
Gardens are inherently ideal for weddings, and often need little décor because of their natural beauty. Steeped in acres of blooming bushes, quaint little bridges, and majestic statuaries, garden venues are one of the most irresistible wedding venue choices for couples who love all things romantic and whimsical. If you have a romantic outdoor wedding celebration in your mind, we have come up with a list of gorgeous garden wedding venues that can be the ultimate destination for the beginning of your "forever!" These garden and outdoor wedding venues are generally considered to be great for warmer weather months, but there are many which come with indoor wedding event spaces and conservatories that look and feel great throughout the year.
Exquisite Victorian garden wedding venues from around the world:
Haiku Mill in Maui, Hawaii
Of course, we'd be remiss if we didn't mention Hawaii, one of America's most beautiful wedding destinations. While the tropical islands have an abundance of beach wedding venues, we love the Haiku Mill, a converted sugar mill on Maui's island. The lush greenery gives the impression of being in a hidden enchanted forest, adding to the allure of your special day. Make sure you leave time in your schedule to take special portraits with your wedding photographer all over this beautiful location. The end result will be truly magical.
Villa Cetinale in Sovicille, Italy
Villa Cetinale wedding venue is a 17th-century villa near Siena, Italy, in the Ancaiano district. The Italian villa wedding venue was built in 1680 by Cardinal Flavio Chigi for Pope Alexander VII- Fabio Chigi and was designed by architect Carlo Fontana in the Roman Baroque style. The garden wedding event spaces at Villa Cetinale are regarded as some of Italy's most beautiful places to tie the knot. Villa Cetinale is conveniently located near Florence, Siena, Pisa, and Rome, making it ideal for sightseeing, shopping, dining, or simply relaxing in the beautiful Tuscan countryside. This is the ultimate spot to host your dream Tuscan wedding!
Phipps Conservatory & Botanical Gardens in Pittsburgh, Pennsylvania 
The Phipps Conservatory, one of the country's oldest and largest Victorian greenhouses, is the ideal setting for all kinds of wedding events. Host your ceremony or cocktail reception in one of their outdoor gardens, each with its own distinct theme, and end the night in their glass-encased special events hall. While sipping champagne and watching the sunset through the greenhouse's glass walls, guests can meander through the many rooms of plants, florals, butterflies, and more. This exclusive garden wedding venue in Pittsburgh can be the ultimate destination for your fairytale wedding in a quaint garden setting!
Oheka Castle in Huntington, New York
You don't have to travel to a faraway location to marry in a castle! Oheka Castle in Huntington, New York, is the perfect location for your fairytale wedding. It's the ideal choice for a glamorous couple looking for their dream outdoor wedding venue, with its grand exterior, sprawling courtyard, gorgeous greenery, and old-world charm. Before heading inside to this New York wedding venue's elegant dining areas, say "I do" in the stunning courtyard. As an added bonus, this venue provides lodging for your most special VIP guests, making logistical wedding planning much easier. With the help of your wedding photographer, scout the property for the best photo opportunities.
NIZUC Resort & Spa in Cancún, Mexico
This slice of paradise, nestled on a lush 29-acre nature preserve, offers an escape unlike any other on Mexico's stunning Caribbean coast. NIZUC Resort & Spa redefines the standard of luxury in Mexico and around the world, located in the secluded enclave of Punta NIZUC, less than a 15-minute drive from Cancun International Airport. This luxury resort and spa wedding venue in Mexico provides guests with an unforgettable stay complete with highly personalized service, crystal-clear waters, and pristine beaches. You'll never want to leave the plethora of chic restaurants and live Cuban jazz that this luxurious resort wedding venue in Mexico has to offer.
Franciscan Gardens in San Juan Capistrano, California
This exotic garden wedding venue in California features Spanish terracotta architecture and majestic, castle-like doors that lead to a beautiful outdoor rose garden. The air changes when you walk through its reclaimed wood doors. The living, lush 18-foot garden walls not only provide complete privacy and shade from the California sun during ceremonies but also add a sense of mystery and magic to any wedding event held here.
The Little Nell in Aspen, Colorado
Is a mountain hike or skiing adventure part of your typical date? The Little Nell could be the perfect location for your outdoor wedding in Colorado. The views of the mountains from this venue, which is located atop a high peak in Aspen, Colorado, will provide a breath-taking backdrop for your wedding ceremony. This mountain-top Colorado wedding venue's unique location makes you feel as if you and your partner are on top of the world (which is perfect for any adrenaline junkies or thrill-seekers out there). Additionally, while the sun is out, the surrounding trees will help keep guests cool and comfortable.
Chelsea Psychic Garden in London, United Kingdom
Create a stunning gala at London's oldest botanic garden, which was founded in 1673. Chelsea Physic Garden, tucked away behind the Thames, offers beautiful gardens, greens, or a gallery, graciously sprawling grounds, and a quaint feel to suit both low-key and lavish wedding events. The Worshipful Society of Apothecaries established this walled garden wedding venue in London in 1673 for its apprentices to study the medicinal qualities of plants. It grew into one of the world's most important botany and plant exchange centers. The high walls give it a magical, secluded feel, and guests and visitors are transported into a glorious, inspirational oasis away from the hustle and bustle of the city when they enter through the historic iron gate on Swan Walk.
Hotel Villa Cimbrone in Ravello, Italy
This 11th-century villa and garden wedding venue in Italy has stunning views of the Mediterranean, making it ideal for couples looking for a romantic setting for their wedding. Hotel Villa Cimbrone is one of the most prestigious Hotels de Charme in the Mediterranean. This 12th-century Italian wedding venue in residence exudes the opulence and atmosphere of a bygone era. With generations of hotel experience, the Vuilleumier family preserves and protects the original architectural and decorative features. Famous politicians and aristocrats have sought refuge in the vibrant atmosphere, which has served as a source of inspiration for many artists and a gathering place for the Bloomsbury Group's literati.
Misty Farm in Ann Arbor, Michigan
Consider an indoor-outdoor wedding space if you're unsure about fully committing to an outdoor wedding, which is a major 2021 wedding venue trend. According to our research, barns and gardens continue to be some of the most popular wedding venue choices. Misty Farm wedding venue in Michigan, is both charming and grand. Take in the breathtaking views while admiring the rustic aesthetic of the property's barns. Don't miss out on the beautiful golden hour photos. During cocktail hour, take a break to snap a few photos that will get you all the likes on Instagram.
Domaine des Evis in La Chapelle-Fortin, France
A 15th-century farm that feels a world away despite being only 1.5 hours from Paris. The French garden wedding venue in France consists of a lovely B&B with charming rooms, as well as a former barn that is used for wedding events. The main house consists of two medieval structures and is surrounded by picturesque grounds, farm animals, and a medieval moat. This is a true dream wedding location in France! Every nook and cranny of this property makes for a stunning wedding portrait and a memorable experience.
Pippin Hill Farm & Vineyards in North Garden, Virginia
At this vibrant vineyard wedding venue in Virginia, you can have a winery wedding or a fabulous farm-to-table event. With 3,600 square feet and wood-beamed ceilings, the stunning granary pays homage to historic agricultural architecture while accommodating 250 guests. Pippin Hill Farm & Vineyards stands out among Virginia's Monticello Wine Trail's growing number of fine wineries. This is the place to go if you want top-notch service and the fast-paced nature of a wedding day. Pippin Hill Farm, located in the Monticello AVA (American Viticultural Area), offers pristine valley views and a variety of event venues, making it ideal for a Charlottesville wedding, rehearsal dinner, or private events.
Emerald Lake Lodge in British Columbia, Canada
Consider a Canadian wedding if you want to have a destination wedding but don't want to travel far. Emerald Lake Lodge in British Columbia is a popular choice due to its stunning scenery (think snow-capped mountains, reflective water, and plenty of trees) and cozy cabins. Plus, there are so many Instagram-worthy wedding photo opportunities at this outdoor wedding venue. Take a canoe out on the turquoise waters with your partner or go exploring in the park together. Your wedding photographs will appear to be taken from a fairytale. Couples seeking a more opulent experience can rent their own island and have the entire Emerald Lake Lodge to themselves.
Stout's Island Lodge in Birchwood, Wisconsin
Stout's Island Lodge in Birchwood, Wisconsin is the place to go if you want a relaxed, natural, and rustic wedding. This outdoor wedding venue on Red Cedar Lake offers sweeping views and the serenity of being surrounded by nature. Couples can rent out the entire island for a completely private experience, or they can allow other guests to stay on the island while they marry. It's the ideal setting for a lakeside wedding for couples who want to keep things simple. While some couples choose to jump into the lake post-wedding, others simply enjoy the island's activities, which include hiking, canoeing, fishing, and lawn games.
Garden wedding venues make it easy to design a wedding ceremony and reception on their grounds because of their own inherent décor and breathtaking landscapes. Although listed together, romantic garden wedding venues vary in styles, which makes each one of them uniquely charming and photogenic. No matter where you plan to wed- whether you want to go away for a sizzling beach destination wedding venue or host a quaint and cozy winter wedding in the countrysides, there is a perfect garden wedding venue waiting for you to be picked, which can be the ultimate start to the big and dreamy wedding day. With so many stunning wedding venues out there- from 11th-century castles and seaside chateaus to rooftop penthouses, we love how each and every venue is extraordinarily unique and distinct from one another. From exuding a super bohemian feel of a desert to evoking a fairytale-like vibe of the woodlands, the above-mentioned garden venues are polished and pastoral all at once for couples to wed outside with a dose of romance and elegance.
Garden weddings are generally associated with springtime, but however, this list of wedding-worthy gardens across the world is not limited to just one season. Thanks to the versatile facilities and round the year amenities, these stunning and gorgeous wedding venues are available throughout the year and many of them come with their own caterers, florist, and planners which can help your wedding event go off without a single glitch. Featuring different sizes and types of plants and wildlife, these garden wedding venues are home to a host of other picturesque features like sculpture parks, vineyards, resorts, and historical landmarks making them the ultimate destination for having an unforgettable wedding photography session!