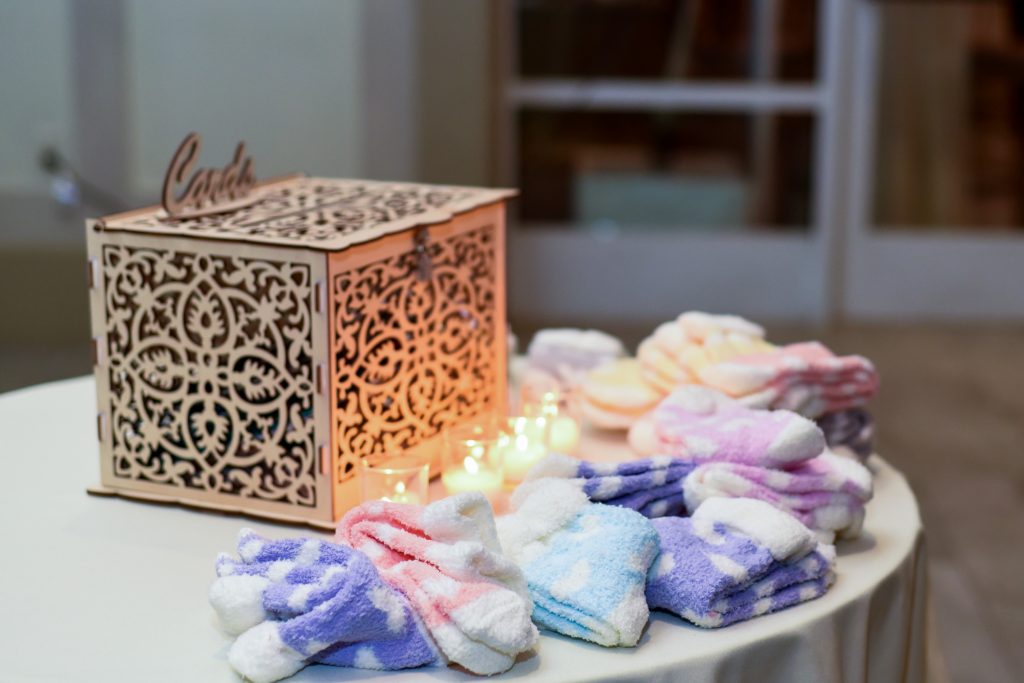 Winter weddings have done it again! From cozy décor, hearty meals, and breathtaking backdrops to giving out cozy blankets as party favors and unique dessert table ideas, we love everything that couples are doing to transform their winter wedding into a snowy wonderland. Apart from the blustery weather leaving a bright rosy glow to the newlyweds' cheeks, wintertime weddings can be utterly magical and romantic, giving a warm sense of togetherness among all the visiting guests. It is this time of the year that provides snowy wedding photo ops and furnishes an enchanting atmosphere that comes together to make a wedding unforgettable. If the roaring log fires,  long-sleeve wedding dresses, holiday wedding details, and the luxe velvety fabrics aren't and not to scream aesthetically cozy winter wedding details, we also have certain plans and come up with cozy details to keep wedding guests warm.
The unplanned snowfall and the festive wedding breakfasts make winter weddings the coziest affairs ever! There are so many winter wedding destinations in the USA that can be perfect for incorporating all your celestial wedding ideas that can look straight from a storybook set amidst winter woods. You can start off your winter wedding planning by choosing one of the best winter wedding locations in the US or even choose your local public park for hosting a winter garden party and transform it into a magical winter-themed fête with your own Pinterest worthy wedding details. In case the weather outside turns downright frightful, there are many creative ways to keep your wedding guests warm during the wedding celebrations. If you are wondering how to keep warm at an outdoor wedding, one of the best ways is to give out luxe favors to your loved ones as thank you gifts that can keep them warm and remember your wedding day fondly for years to come.
Here are our favorite winter wedding favors to appreciate wedding guests:
Cozy and comfortable blankets 
If you're having an outdoor ceremony, offer your guests cozy blanket wedding favors so they can stay warm and comfortable during your vows. Offer throw blankets for your guest to use during the wedding celebration in outdoor spaces. If you're hosting your wedding in wide-open wedding spaces like cideries, breweries, and distilleries during the cold season, the chances are it will be freezing cold outside during your ceremony. So if you offer cozy and comfortable throw blankets to your wedding guests, they will love to curl up under the soft and fluffy fabrics and watch you exchange your wedding vows and take these fluffy goodies home as wedding favors.
Knitted or woven gifts
Handwoven gifts will add softness and textures to your overall winter wedding décor aesthetics. Wedding favors like wraps and warm shawls are great to keep your friends and family toasty warm on your wedding day. Gifting wraps or shawls to your guests during winter weddings as keepsakes can be meant to keep warm in the cold weather and turn it into a cozy favor. You can also take it a step ahead and give them personalized wedding favors that will remind them of your special day.
Christmas themed favors 
In the case of a destination winter wedding, there are many winter wedding locations around the world to take your pick. A strong nod to the holiday season and festive cheer, Christmas-themed wedding favors add to the wintry spirits of your winter wedding. You can be the Santa at your wedding and hand out small handmade bags and rubber-stamp with "naughty" or "nice" to guests and fill up the former ones with coal-shaped sweet edibles and the latter with peppermint sticks and peppermint-chocolate bark. These holiday-themed wedding favors can also range from chocolate-covered pretzel sticks and warm handheld warm apple pie favors to bell-themed favors for combining Christmas and wedding bells.
Comfortable slippers 
Is there any other warm feeling than slipping into a pair of warm and fluffy slippers on a cold winter day? One of our favorite warm winter wedding ideas when it comes to choosing wedding favors is to hand out soft and comfortable slippers to your guests at the end of a long day, especially after winter wonderland weddings. Gifting cozy and comfortable slippers can be a great idea for thanking your guest and can also be a thoughtful winter wedding favor.
Give hand warmers and socks 
Your guests might don a jacket or shawl but you never know when someone misplaces their gloves. Just like comfortable and fuzzy slippers, hand warmers and socks can be very thoughtful wedding favors for winter celebrations. Keeping in mind the cold winter nights, your friends and family can put them on during the celebration if they get cold and also take them home for future use. Gifting hand warmers and socks as part of your unique winter wedding ideas is a great way to spread warmth during the chilly winter season. Hand warmers and socks will come in handy all throughout winter. Wonderful hand warmers will definitely make sure that their hands are warm the entire time. This useful winter wedding favor is something your guests will be grateful for and use in the coming days of the winter season. You can always put your creative cap on and wrap some premium quality warmers in festive fabric and attach a cute, personalized note to turn them into beautiful details that can transform your wedding.
Candle wedding favors 
Candles and winter weddings go hand in hand. Apart from being a significant part of winter wedding decoration ideas, candles are a staple of the chilly season. For all the lovers of cozy and warm wedding details, hand out candles as modern wedding favors for your winter celebrations. Adorn pine cone scented soy candles with beautifully crafted holiday tags and personalized messages or pair spicy and warm scented candles with personalized matchbooks for a little extra flair so that your guests go home feeling cozy and loved. You can also paint the candles and celebrate your choice of winter wedding colors or add richly brewed coffee fragrance as your way to host a Parisian-themed wedding that looks and smells straight out of a French storybook.
Chocolate baskets 
Edible wedding favors can be really great for winter wonderland wedding reception ideas. You can never go wrong with chocolate baskets! Apart from being great for your winter wedding decorations, arranging assorted chocolate baskets by setting up a gorgeous chocolate station can be a glamorous wedding idea and make for a yummy gift treat. Just like winter brings a festive share, chocolate baskets can be a trip down the nostalgic lane as everyone loves to indulge in cocoa and mocha. They are absolutely lovely wintery flavors and can be gifted as wedding favors to your guests.
Hot chocolate spoons 
The way to the heart is through the stomach. Or at least that's what they say! Another edible wedding thank you gift idea that can look great on your winter wedding table decorations are hot chocolate spoons. Your guests will love a warm mug of hot chocolate when they first arrive at your venue or during the post-ceremony reception. You can add dark rum and honey if you want to serve an alcoholic version. It will not only be a great winter wedding favor idea, but the smell of hot cocoa can scentscape your wedding with its dark and rich smell!
Firestarters
Apart from being elegant wedding favors, candles shaped like pine cones and adorable pinecone firestarter wedding favors can feel as if you are giving your guests a cozy night by the roaring fireplace. For an additional feel-good factor choose the best one out of wedding venues with fireplaces! You can wrap up the ornaments with chevron paper, twine, and a piece of pine for this wedding. Gather some pine cones and wax, and create your own DIY wedding favor by packing these ensembles with personalized tags and satin ribbons. Your guests can light the wicks and relax by the warm and cozy fire on a chilly night of winter and remember your wedding day fondly days or even years later.
Mini boozy treats 
Winter weddings can be the perfect excuse to have brandy, rum, and whisky on your cocktail menu without getting smirked! Also, a steaming glass of spiced mulled wine is the perfect way to keep your wedding guests warm at a winter wedding. And this way mini alcohol treats serve as a great winter wedding favor option. Since alcohol can warm your guests and let them slip into ease, handing out mini boozy treats can make sure that they are comfortable and warm even after they leave the party with warm portable drink options. You can go overboard and create an over-the-top wedding idea by incorporating custom packaging and adding your own personal touch to the wedding thank you gifts.
Seasonal lip balms 
Your guests are going to love lip balms and they'd be sure to take one for the entire day! Winters can dry lips and leave them chapped which can ruin a long prepared wedding look. Giving out lip balms on winter weddings can keep your guests' lips hydrated and plump. You can try out different flavors to choose from and pick out your favorite winter flavors like peppermint or chocolate, or even present an assortment of options for your guests to pick at your wedding.
Tea or coffee blends 
At the end of a late winter wedding, your friends and family will love thoughtfully prepared packages of tea and coffee blends, especially after a night full of wild partying! Since the world is divided between coffee and tea lovers and winters are for both you can make the tea and coffee drinking experience a little better by giving out small customized tea and coffee blends as winter wedding favors. Coffee and tea in goodie bags are simple winter wedding favors that your guests are going to appreciate the morning after your late-night reception as there is nothing like a soothing cup of warm beverage on a cold day!
Personalized gifts for your wedding party
Personalized wedding favors go a long way to say that you care, especially to your wedding party who has been holding down the fort for you two since day one! Personalized winter wedding favors can express the gratitude and love you have for them. For instance, gifting personalized alcohol flasks to your groomsmen with their initials on them and cute personalized flasks adorned with the names of your bridesmaids can be the perfect pampering gifts for your wedding parties on both sides. Similarly, you can also gift coffee mugs with personalized details like name tags or engraved initials as a welcoming touch at your wedding and let each guest grab a mug of coffee and take home a special wedding favor mug for many years of coffee enjoyment. A wind stopper is another super useful winter wedding favor that can be personalized and can surprise your wedding party, especially in a typical winter style like a snowflake or antler design.
Winter wedding favors are the perfect way to express your gratitude and appreciation for everyone visiting your big day and make it even more special with their warm presence. These thoughtful wedding gifts can be the perfect addition to all kinds of winter wonderland wedding venues. Moreover, to keep your guests warm and comfortable during your cold-weather celebration, stock up your wedding venue with blankets, wraps, mittens, or scarves that guests can use during the party and take home at the end of the night. Make sure to warm up the indoor spaces of your wedding venue and limit outdoor celebration time. This however means that you can always get married in a snowy backdrop, but move the celebration indoors for the rest of the evening once the ceremony is over.
Serve piping hot drinks and beverages like mulled wine, hot chocolate, or warm apple cider, as part of your outdoor winter wedding ideas to combat the freezing temperatures. Also, there are many winter wedding venues that come with roaring indoor fireplaces! These winter wedding venues can be perfect to create a cozy lodge atmosphere with lighting fire flames during your winter wedding reception.