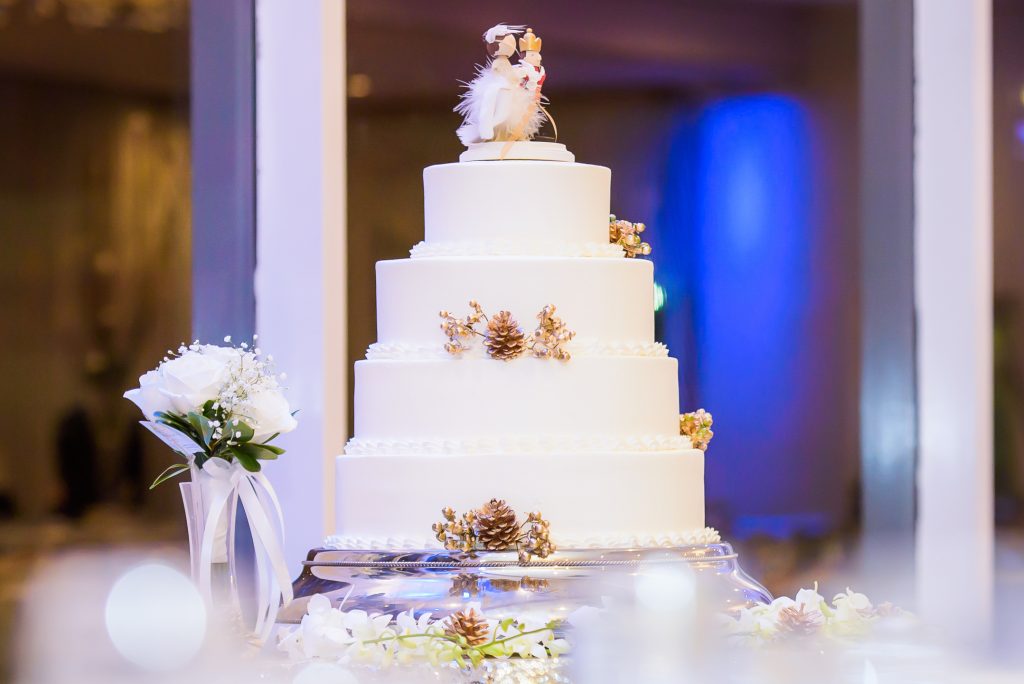 If you just got engaged and are currently contemplating the month you should get officially hitched, December might not be the most obvious choice of month to get married! But after weekends of long and warm days, the month of December brings the ultimate festive cheer that translates to holidays and celebrations with amazing food and family time. And if you love all the things that make this month so magical, then getting married in December can be the most ideal choice for you! A December wedding is full of off-season perks as only the most daring and adventurous couples decide to get married this month. A wedding in December means more available wedding dates, reduced rates, available venues, and less stress about the weather since your celebration will be most likely indoors.
Since there are fewer weddings in December and winter in general, your wedding event is sure to stand out and your guests would not experience "wedding fatigue" as they do during the spring and summer wedding season. Plus you will have endless holiday-inspired ideas and save a lot on wedding décor as the wedding venues will most likely be decked with holiday wedding décor.
Somebody truly said that it's the most wonderful time of the year and a Christmas wedding can be the ultimate magical experience for you and your loved ones. If you are a holiday enthusiast couple just like us, throwing a winter Christmas wedding or a wedding celebration that is close to Christmas can be the ultimate fête. Unlike your annual ugly sweater party or white elephant gift exchange, your Christmas wedding can be the grandest affair with classy and glamorous wedding details and ideas that strongly nod to the magical season. Walking in a winter wedding wonderland can not only be an ethereal experience but also bring in a cheerful wedding photography session that will go down as one of the prettiest photo sessions in a sea of spring and summer wedding portraits. Snowy wedding portraits have always stolen our hearts as they are etched with romance, holiday cheer, festive moods, and enchanting snow blankets.
Classy Christmas Wedding Ideas And Details
Christmas inspired wedding cake 
What do Christmas and weddings have in common? A big fat gorgeous cake! From a classic three-tiered wedding cake dressed up with pinecones, cranberries, and mistletoe to a boldly designed red and white Christmas wedding cake topped with jingle bells and candy canes, Christmas wedding cake inspirations are endless. Different cake adornments like pine cones, berries, and pine needles are often associated with Christmas-inspired wedding cakes which can make you definitely feel the air of the holiday season. A simple and chic all-white wedding cake can also be dressed up with fresh cranberries, holly, or sugar flowers to jazz up a simple white fondant confection. If wedding cake is not your thing, then you can slightly hint at the Christmas season by bringing in certain unique wedding desserts and dishes that can easily take on a holiday form, like Christmas tree-shaped canapés made with cucumbers, cheese, and nuts.
Christmas wedding décor 
Greenery is a special and natural choice for dressing up at a Christmas wedding. It is also one of the best inspirations for a winter big day as it is flexible and can be used in many unexpected ways. For instance, long green garlands can be used to line the tent draping, chandeliers, and pool along with accented berries and classic red ribbons to make it all the more Christmassy! Another Christmas wedding detail idea is the use of jingle bells in different details. From giving out jingle bells as wedding favors to adorning simple white fondant wedding cakes with jingle bells, there are several elevated takes on the Christmas tradition and many ways to embrace it. You can also create homey holiday vibes by hanging drapes of greenery along with pinecone-accented wreaths, gathering Christmas trees, and modern wrapped orbs just like you would do at your home.
Christmas wedding invitations 
Christmas-inspired wedding stationery ideas are mostly inspired by holiday design themes which will most likely stand out in a way that makes things clear for your guests. Just like the invitation suite sets the tone for the big day, your Christmas invitation suite will likely set the scene for a Christmas-themed wedding photo gallery or album. For your holiday wedding, it is time to embrace the season by styling paper goods with accents like greenery, ribbons, and ornaments. You should never shy away from using red and green while designing your Christmas wedding invitation themes. You can always complement the shades with earth tones, metallic accents, and winter blues on your invitations, save the dates, menus, and place cards. The goal here is to make your wedding stationery stand out enough so that your guests take immediate notice of the holiday wedding theme.
Christmas wedding favors and welcome gifts 
Luxurious wedding favor ideas during the colder months are all about celebrating the festive cheer of the season. You can consider combining the festive gift ideas with traditional wedding gift inspirations to say thanks to everyone attending your wedding. For instance, Christmas ornaments inscribed with your monogram or wedding date can be a great welcome addition to your guestbook. Christmas wedding favor ideas can also involve DIY projects like handmade jams with seasonal spice, handcrafted candles, snow globes, baked goods, and late-season wines. These terrific Christmas-inspired wedding favor ideas can subtly welcome your guests to the big December wedding and can match with any destination, theme, or color palette.
Christmas themed cocktail reception 
Incorporating flavors like peppermint, cranberry, and eggnog in your ravishing Christmas-themed cocktail party can be a nostalgic spin to the good old Christmas flavors. You can bring in holiday-themed cocktails like champagnes and a luxurious selection of wines and add a dose of Christmas charm to completely make it your own. Festive wedding cocktails are the typical Christmas cocktails that include certain signature recipes like "Love Potion" or "Merry Mule." You can add your own spin by presenting your assortment of Christmas wedding cocktails in an ice bucket with frozen berries and pine needles. Hot beverages and cocktails are also good for warming up when the temperature outside is freezing. You can serve some of the season's most beloved hot cocktails, like mulled wine, buttered rum, spiked apple cider, and hot toddies, as well as non-alcoholic options like hot chocolate, coffee, and herbal tea.
Christmas themed wedding color palette 
Before you go out all red and green for your Christmas wedding, consider picking your favorite holiday hues with metallic and natural accents to bring in a luxurious and royal charm. For instance, you can bring in mid-century modern rental furniture, textured linens, and flocked Christmas trees in a more natural wedding color palette and accent them with Christmas-inspired wedding colors instead of making your wedding look like a gift wrapping paper.
Christmas wedding flowers 
Christmas wedding flowers can also be combined with a lot of greenery and dry flowers. Since natural flowers become sparse during this time of the year, wedding flower options like potted amaryllis flowers can be great to pair with your winter wedding décor. Instead of traditional wedding flowers, you can also go for a dried-up tree branch wrapped up with fairy lights and surrounded by votive candles and garlands of white flowers to keep with the winter wedding theme. Pine cones and green garlands can be a great option for your alternate winter wedding flowers.
Christmas reception tablescapes 
When deciding on the reception table décor for your Christmas wedding, you need to decide whether you want it to be clean and minimal or ornate and colorful. Both kinds of Christmas wedding tablescapes come with their own individual charm. While busy reception tablescapes are full of excitement and provide your guests with a lot of interest and photo ops, clean and minimal tablescapes provide guests with lots of room to pass the plate and encourage them to talk and hit the dance floor. To make it more Christmas-oriented, you can include personalized details like a signature napkin with a wordplay quote or monograms so that your guests can take them home in fond memory. Another idea is to use a special quote with a name tag and add it to every wedding detail from wedding signage to cocktail names and invitations in a complete holiday-themed design.
Christmas themed wedding lighting 
Another amazing wedding planning inspiration is to incorporate wedding lighting that sets the tone for the entire celebration. Decking up your reception space with mood lighting is one of the most fun parts of planning a wedding. Christmas wedding lighting ideas can start with a well-lit Christmas tree and garlands that can transform the entire event space into something magical. Also, string lights can play a vital role in setting the mood for a Christmas wedding. Whether you choose colorful bulbs or stick with the classic white string light, adding them to your wedding venue will amp up the space and make it undeniably cheerful and cozy. You can string them across the ceiling, around doorways, in the trees, or even use them as an addition to a decorative floral arch.
Grand Christmas wedding send-off 
Make it snow, make it glow! Grand wedding send-offs are memorably creative and stay with us for a long time. Ask your guests to make their own snowflakes in the form of a confetti shower and send you off to your exotic honeymoon as you sign off for the big wedding day. Sparkler wedding exits can also add a magical charm to your wedding exit idea. And if you are the eco-conscious type, then opt for a vintage red bus to make your grand wedding exit at the end of the Christmas wedding night.
Christmas menu ideas 
Dining is made easy with our Christmas wedding. Your Christmas wedding menu can involve your traditional holiday-inspired menu with a few romantic upgrades. Christmas dinners are already special and if you're hosting your wedding on this special day, then do not forget to include certain Christmas staples like gingerbread cookies, festive Christmas drinks, cookie pops, chocolate-covered pretzels, and gingerbread men. You can also add healthy Christmas alternatives in your food menu like fruits stacked into a snowman or Santa shape, celery sticks stuffed with peanut butter in the shape of reindeer, and a good old charcuterie board.
Christmas wedding dress ideas
As a bride who is hosting a winter wedding on or around Christmas Day, you can opt to play your part by wearing a Christmas-themed wedding dress with lace sleeves, intricate layers, and warm wraps! A Christmas bridal outfit can be anything from a chic ball gown with embellishments and endless yards of organza, lace, or tulle or a lace wedding dress with a combination of ornate lace and tonal beading mimicking the intricacy of a snowflake. Lace-adorned long sleeve wedding dresses can also keep your arms from feeling chilly on the big day celebration. As a subtle alternative to the traditional white gown, you can also opt for wedding dresses in blush tones and champagne hues. Outfits of your bridesmaids can also be planned in deep and dark shades in fabrics like satin that offers a luxurious shine to contrast the wintery landscape.
The benefits of a Christmas wedding are not only limited to holiday-inspired wedding décor and festive wedding ideas, but your wedding can be the ultimate time where all your loved ones come under one roof and take some time off to be with each other. It's also nice to get out of town at this time of the year with cold and snow engulfing certain parts of the world and exotic beach wedding destinations turning even dreamier. So you can take your best pick for a dream honeymoon getaway right after your Christmas wedding. Also for couples who love minimalist wedding ideas, the chances are that your wedding halls will already be decked with built-in themes and it will take a very little effort to transform it into something that is uniquely your own. Upscaling your Christmas décor and turning it into your wedding décor ideas is another great way to repurpose wedding décor elements for having an eco-chic wedding.
A Christmas wedding in December can be an ideal opportunity to celebrate the best of this festive season and throw an amazing holiday wedding party that will send your guests home smiling. From bright winter holiday cocktails to decking up the wedding halls in white, green, and red details, there are so many chic ways to host your Christmas wedding. If throwing fake snow all over your wedding is your idea of going overboard and tacky, then there are pretty chic Christmas wedding details that can add colors to your favorite winter whites in an elevated way that sprinkles a dose of holiday magic sparingly and intentionally.