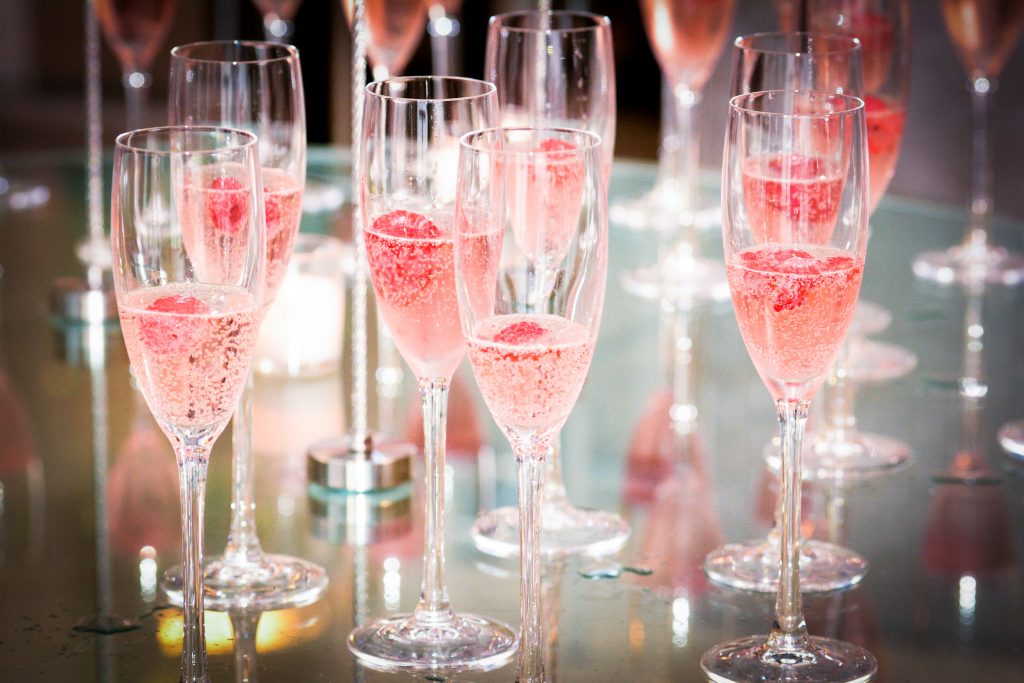 There are two kinds of people, the kind who will start dreaming of Christmas the moment the first leaf hits the ground and Halloween is just a milestone to be crossed along the way. And then there are the ones who make Halloween what it is-the ones who spend weeks discussing and preparing the costume, the ones who like to decorate their house, (and yard) in celebration, the ones who like to cuddle up by the crackling fire with a cup of hot chocolate and handful of candy corns as they watch the season's spookiest movies! We are talking about the latter half in this blog because they bring the "fun" to Halloween. And when these people fall in love and decide to get married in the gorgeous landscape etched by the autumn season, can a Halloween wedding be far behind?
Speaking of Halloween-themed weddings, there is so much you can do, it can be almost overwhelming if you don't have a theme in mind. You can go for a textbook spooky Halloween wedding with skull centerpieces, orange, black, and green decor elements, or you can go full gothic, with dark florals, a black wedding gown, and lots of moody decor and smoke bombs! But a Halloween wedding doesn't have to be a full commitment, but can also be a nod to the festival, whether it's subtle skull cufflinks, or a fun Halloween dessert or drink. Speaking of fun drinks, a dark and moody Halloween drink can surely wrap you up in the Halloween mood without much effort. These are the Halloween wedding cocktails that can truly set the tone for your Halloween wedding!
The Perfect Halloween Cocktail
We advise choosing wedding trademark drinks that have flavors of fresh fruit and are dark and rich in color. These are often ideal for weddings in the fall and winter. Including your individual touches as a couple in the planning of the wedding reception is one of the most popular methods. For a Halloween wedding, this simply means creating your customized his and hers cocktails. You can create two Halloween specialty cocktails for brides and two for grooms. Just have one of each to keep things even more straightforward. No matter what liquor you like, there is a great Halloween cocktail on this list that will please a wedding guest. This list includes drinks made with a variety of other spirits.
Creepy Halloween Vodka Punch
Without a punch, a wedding would not be complete. If your wedding is based around Halloween, your guests will love this dark cocktail. This recipe for black punch is enigmatic and great for unnerving your friends. However, moderation is advised as it is really delectable. Making this Halloween punch with booze is entertaining and simple. Before you begin, make sure all of the ingredients for this Halloween vodka punch recipe are thoroughly chilled. Vodka punch for Halloween at a wedding! Enjoy these if you're seeking creative Halloween cocktail ideas to serve your wedding guests.
Smoking Skull Halloween Cocktails
Halloween is a very special celebration, especially if you serve this mouthwatering smoking skull Halloween cocktail to your wedding guests. Serving your guests a frightening cocktail is the best way to celebrate a fantastic Halloween wedding! You can't get enough of the Halloween cocktails from these smoking skulls' brilliant green color! The cups that the drinks are served in are actually the most interesting feature of them. Halloween drink recipes with smoking skulls! Enjoy these if you're seeking creative Halloween cocktail suggestions to serve your wedding guests.
Poison Apple Halloween Cocktail
This Halloween, enjoy a delectable cocktail like the Poison Apple Halloween Cocktail. It's a rum and schnapps-based apple daiquiri with a "poison" floater! What a cool thing! This Halloween beverage is a white rum-based spin on a cinnamon-apple daiquiri. You're in for a wild party if you add some poison in tiny test tubes made of glass. This Halloween, make a tasty and well-known cocktail with the Poison Apple Halloween Cocktail. An apple daiquiri with a twist made with rum, schnapps, and a "poison" floater.
Spooky Halloween Sangria
You could want to include this spooky Halloween sangria for your guests if you are already in the planning stages of your unforgettable Halloween-themed wedding and you are finalizing your wedding food selections. Lots of fresh fall fruits, such as crunchy apples and blood oranges, are used in this Halloween sangria, which is also ideal for any fall wedding. If you are on a tight wedding budget, you should think about using pinot noir for this Halloween sangria because it is so inexpensive. Additionally, it is a fruity-tasting, lighter option for a red wine that goes well with any possible wedding food. We adore the deep color of the sangria and the blood-red hue of the oranges since they are ideal for this macabre event. Perhaps you're organizing a Friendsgiving or a Spooky Halloween party this year, or you're just getting together with friends to enjoy your wedding. This Halloween sangria is the ideal drink for this fall season, no matter how big or little the event.
Stormy Hallows Eve Rum Halloween Cocktail
This Halloween cocktail is the ideal libation for a Halloween party. This cocktail's ingredients were drawn from the traditional rum and coke concoction. Therefore, if you enjoyed that, you will enjoy this. Your guests will be astonished by this Halloween cocktail's sweet and mildly spicy flavor, which is a nod to your wedding's Halloween theme. This flavor comes from cherry and ginger. This Halloween cocktail, the Stormy Hallows Eve Rum, is surprisingly easy to make, flavorful, and sparkly. It is ideal for weddings on Halloween!
Candy Corn Vodka Martini
This delectable Candy Corn Vodka Martini with Pop Rocks Rim is the perfect Halloween beverage if you're looking for something frightening. Your Halloween party will be complete once you do this. This Candy Corn Vodka Martini recipe is a Halloween wedding hit, whether you like candy corn or not! It has the ideal color for Halloween and is a buttery powerful cocktail. And making it is quite simple. Don't hesitate to give it a shot. Try this delicious Candy Corn vodka martini. This lively Halloween vodka martini is entertaining. Produced using handmade Candy Corn Vodka, the glass is rimmed with Pop Rocks. A fantastic drink for a cocktail party for Halloween!
The Witches Brew
Punch is a common choice to serve guests during weddings. We advise looking at this delectable Halloween drink. This recipe for Witches Brew Punch is very festive and enjoyable! It is easy to make, only requires 3 ingredients, and is delicious—perfect for any Halloween celebration! Although it is only a straightforward sangria, the use of dry ice gives it a frightening and unsettling particular effect.
Kiss of Dracula
Have you got your ghoul on yet? Cranberry, cherry, and vodka make the ideal combo for this horrifying Halloween cocktail. It is ringed with "candied blood" and decorated with plastic vampire teeth to complete the look.
Love Potion Cocktail
Firstly, let me express how much I adore the Barley & Sage Blog. If you enjoy making delicious meals, you ought to look into it. I made and enjoyed the cocktail called the Love Potion. The ingredients for this entertaining raspberry drink are vodka, ginger beer, and Chambord (raspberry liqueur). You will still enjoy the flavor combination of vodka and Chambord even if you are not a major lover of ginger beer. We're sure you'll adore this scrumptious Halloween cocktail on your wedding day.
Sour Apple Cocktail
Classic sour apple martini flavors are used to create this lovely Sour Apple Champagne Cocktail. It's delectable, lovely, and certain to be popular at any wedding. At a wedding, serving champagne is always regarded as elegant. Serving this delectable champagne cocktail with sour apples will be a hit on your special day because of this.
Dead Man's Kiss Black Cocktail
For your Halloween wedding, are you seeking eerie black cocktails? Then prepare a Dead Man's Kiss, a sinister black cocktail recipe that will have your guests swooning! This spooky Halloween beverage calls for homemade black vodka. You only need to purchase some black rice in order to produce black vodka drinks like this Dead Man's Kiss Cocktail. Making your own homemade black vodka is simple! At your Halloween wedding, go ahead and hypnotize your guests with this sweet and eerie black cocktail.
The Weeping Woman
This Halloween drink name is not only frightening, it is frightening in appearance too. On your special day, serve this alcoholic beverage. Dry ice produces a creepy trail of wispy smoke that resembles the long, flowing dress worn by La Llorona, a mother who is thought to have drowned her two children. La Llorona was a beautiful woman who drowned her children to be with a guy, and when he refused to be with her, she became insane, according to ancient Mexican tradition. She wails and wanders up and down bodies of water in the hereafter while searching for her children. This is a fantastic topic of discussion for any Halloween wedding.
Pumpkin Pie Punch
When speaking of Halloween, can pumpkins be far behind? This pumpkin-colored cocktail is ideal for Halloween! This wonderfully festive beverage is created with cream soda, apple cider, and pumpkin purée.
The Witch's Heart
This gorgeous Halloween cocktail is ideal for wedding festivities. It will definitely dazzle your visitors. This cocktail is for you if you enjoy concocting potions and casting spells among swirls of glistening light and smoke. It's quite easy to construct, and you may customize it however if you like.
Spooky Shots
Cotton candy shots feature cotton shots that can dissolve when a liquid touches it, so either dip it into the drink before downing it or allow the vodka-tonic to seep through the candy as you do. The Skull shot is another option. The theme for the evening will undoubtedly be set by this cocktail. This is now my go-to Halloween drink because it has all of my favorite alcoholic beverages, including coffee vodka, and Baileys, plus it also contains a shot of espresso.
Maleficent Halloween Cocktail
You should try this cocktail if you enjoy Disney. It's the ideal Halloween cocktail for couples getting married in a Disney-inspired style. This lovely glittering Maleficent Halloween Cocktail is everything but frightful, despite being based on a malevolent fairy. Purple is a color that we adore. If you adore the color purple and want to serve it at your elaborate Halloween wedding, this is the drink for you. Try this eerie Halloween cocktail with Disney inspiration right away!
Black Magic Halloween Sangria
With red wine, vodka, raspberry liqueur, apple cider, and fresh fruit, this Black Magic Halloween Sangria Recipe creates a festive and spooky cocktail that is finished with effervescent Sprite or coke. If you enjoy Sangria, you'll enjoy this tasty cocktail. It is the ideal Halloween cocktail. Look no farther than this eerie Halloween Sangria if your wedding is over the Halloween weekend and you want to serve a fun, festive, and simple cocktail! One of the finest eerie drinks for Halloween is this one! If you can't celebrate Halloween with Halloween cocktails, what good is it? Your Halloween celebration will be spooky and good fun with these concoctions!
Wedding cocktails are a fun way to celebrate the lovers while also adding to the wedding theme and colors. An interesting drink can be a great conversation starter at cocktail parties and help the guests to mingle. It can act as decor, and entertainment, as well as serve the basic purpose of a drink. And the fun thing about wedding cocktails is that you can personalize them as per your wedding theme, colors, and narrative. You can get as crazy or tame as you would want, and you can also make them non-alcoholic to adhere to the sober guests! The options with Halloween-themed wedding cocktails are truly immense. You just need to pick a theme and have fun!