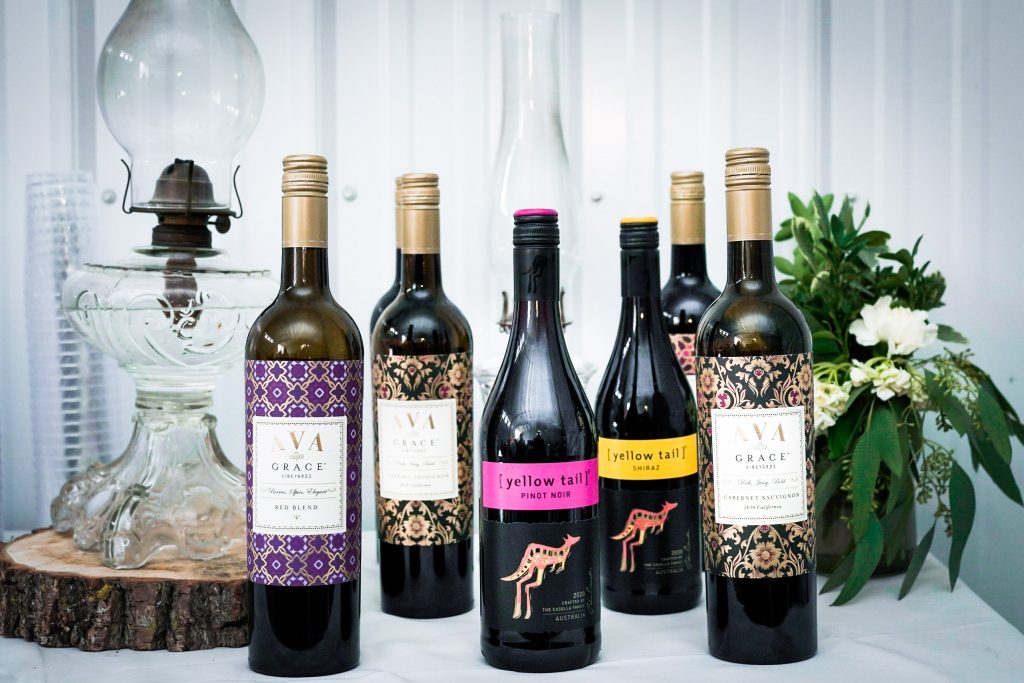 Do you and your sweetheart have memories of bonding over a bottle of wine, or heading out to a vineyard for your first weekend away as a couple? Do you appreciate the science and complexity of how a humble grape changes into a spirit promising a good time, we have just the perfect theme for you lovers! How about a wine-themed wedding and leaning on your love for the vino? A wedding theme is something that most couples think long and hard about, but sometimes it can be just effortless and laid back, while still being incredibly classy! With a wine-themed wedding, you won't have to go to extensive lengths to pull it together.
A gorgeous venue gets most of the work done single-handedly, while you can have subtle wine elements with the color choices, witty signs, and usage of wine bottles and corks for various decor elements! Also, we have yet to meet someone who won't light up like a thousand light bulbs at the mention of wine! Think endless rustic romantic vineyards, gorgeous sunsets, outdoor receptions with bistro lights gleaming overhead, and rustic linens awaiting a feast with friends and family. We have thought of everything from your wine-themed wedding invitations to venues offering exquisite views and authentic vineyard vibes! If you and your partner are looking for a wedding day that is sun-soaked and wine-tinted and heady with the aroma of wine, take notes, because we come bearing ideas!
Vineyard venue
What can be more romantic than a vineyard wedding? Not much, that's for sure! It only makes sense to have your wedding at a vineyard if you eat, sleep, and breathe wine! These types of places usually provide spectacular scenic vistas in addition to an attractive, laid-back atmosphere. If you don't already have a favorite, look for possibilities at nearby vineyards and vineyard wedding locations. Consider a destination wedding in a wine-producing region such as Napa Valley or Santa Barbara on the West Coast, or Charlottesville, Virginia on the East Coast, for the ultimate vineyard experience.
Pair the Food With the Wine
Let your guest experience a fully exquisite wine and food pairing luxury! Determine the wines you'll serve based on your menu with the help of your caterers and bartenders. Include a remark about wine pairings on your menu cards or placards. If guests have pre-selected their entrée, put down the name and wine choices next to each meal description; however, if you are hosting a family-style meal, list the suggestions that pair best with the caterers' offerings. This will make your guest feel like they are part of an exclusive club!
Wine-inspired florals
For your florals and overall color palette, draw inspiration from the burgundies, mauves, and deep reds prevalent throughout the features of your vineyard location, not to mention the wine itself. The greens and browns of vineyards would look great with dark blossoms and décor. The juxtaposition between the exquisite blooms and the rustic use of a barrel is one of our favorites! When choosing the perfect flowers for your wine-themed wedding, consider all varied shades of purple, maroon, and deep reds, like Dahlia, orchids, daylilies, iris, oxalis, and grasses. These can be paired with fresh foliage for the perfect balance!
Support local vendors
While Napa Valley may come to mind when thinking of a vineyard wedding, amazing wines can be found all over the world! Finding nearby vineyards, depending on your region, might make travel easier for your guests and give your wedding a more local feel. Examine your choices carefully and go for a vendor who is not only worthy but is also able to offer you a wide variety of options to make your experience memorable! This way, you'll not only be supporting local businesses, but you'll also be able to sample some delectable, one-of-a-kind flavors!
Wine barrel details
Incorporating wine barrels into your ceremony venue or cocktail hour is a subtle way to integrate the feeling of a winery into your décor. They can be used as tables or as a platform for floral arrangements. The blossoms and the rustic barrel will be a fantastic match for each other. Wine barrels can also be used in a variety of other ways! Instead of a standard guest book, have guests sign a wine barrel head, which you can keep forever!
Let your backdrop speak
If you're being married in front of grapevines, you won't need a lot of flowers. Allow the natural beauty of the location to speak for itself by opting for a minimum display of décor. One of the best things about being married at a vineyard is being able to take advantage of the beautiful scenery. This is especially true for photography. Rolling hills, rich greenery, and plenty of natural light combine to create a stunning set of wedding photos.
Personalized labels
We can't think of a more adorable way to invite your wine-loving friends to your wedding. You'll get an instant yes if you surprise your bridesmaids-to-be with their favorite bottle of wine with bespoke labels. A bottle of wine from the vineyard with personalized labeling can prove to be the perfect wedding favor if you want to send your guests home with a piece of your wedding memory. If you want to take your personalization even further, go for a custom crest that can be used in all of your wedding stationery!
Cork details
What better way to bring in the wine theme than with corks? Whether it is "Bar" signage made up of wine corks, or it is the cork cardholders, using wine cork for wedding details is a smart way to bring the wine theme to the wedding decorations. We also love the idea of using cork in unexpected ways, whether it is as a save-the-date fridge magnet or cork coasters!
Clear out bar issues
Keep in mind that many wineries restrict the types of bars you can visit. Some wineries only serve their wines, obviating the possibility of serving other sorts of alcoholic beverages. If margaritas or liquor were on your must-have list, double-check before signing the dotted line. You can also host a wine-tasting session for your guests, but if you wish to serve other beverages, you should do so after having a word with your winery or vineyard.
Wine details in wedding cards
The wedding theme starts way before the actual wedding, and the wedding invitation is a good way to announce the theme. How about a wedding invitation with wine splashes or a ring of a wine bottle? You can also go for fun grape watercolor illustrations or rustic details to bring the vineyard rustic vibes to the table. You can also announce your theme with wine corks with the wedding date inscribed in them! With a theme like this, there are many ways you can go!
Wedding favors
The most common way to go about it is to offer your guest mini wine bottles with your personalized labels, but that is not all that you can do! You can go for fun personalized wine glasses, or heart-shaped bottle stoppers if your guests are wine enthusiasts as you are! You can also gift wine-scented candles or luxury grape juice bottles to your non-drinker guests! Either way, the options are endless!
Wedding signage
If a wedding is not a place for quirky puns as signage, what is? Do you and your significant other have similar wine preferences? With humorous wedding signage, you may show off your favorite way with words. You can go for something fun and quirky like "Pour the wine, his last name is mine" or "You're the cabernet to my sauvignon." If you are looking for some wine puns, the internet will surely not disappoint you! Talking of signs and saying, why use basic napkins when pink ones with beautiful sayings are available? The fun "yeah way rosé" napkins will have your guests 'gramming them all night long.
Keepsakes
If you are getting married in a vineyard very close to your heart and serving your exquisite wines to your guest, it can be a great idea to have the bottle for you and your sweetheart to keep and cherish later! You can have your guest sign the label for you, and you can pop that cork open on your 1st anniversary or even your 5th one! This can be a fun way to commemorate the day while making it a memory you can relive years later! After all, they don't say wine gets better with age for nothing!
Wedding cake and desserts
A sweet table is one of the sweetest and the most anticipated parts of the wedding day, so a wine-themed wedding should include the same. Whether you chose to have wine-soaked berries infused in your wedding cake's flavoring choices or your wine theme is depicted visually with succulent grapes and berries cascading down a simple rustic cake, the options are endless! You can also bring the wine element with the colors used in the icing, going for ombre brushstroke icing, or subtle grapevine details for a more cottagecore take on the wedding confection. While the cake has been spoken for, you can't ignore the rest of the dessert table. Infuse some fun with some wine sugar cookies or wine-flavored macaroons for a more Parisian take on the desserts!
Guest book bottle
How do you take the memories of your stunning wedding with you forever? The easier way is with a guest book! Whether it is with a barrel lid with messages from your loved ones, or with a wine bottle signed by your guests, this is somewhere where you can get creative. Another charming and romantic way is to go the "message in the bottle" route and have your guests leave advice, wishes, or snippets of wisdom in empty wine bottles which can be opened in your forthcoming wedding anniversaries. You can set up empty bottles and number them to indicate which anniversary it is intended to be opened, and leave paper and pen for your guests to jot down sweet nothings! This is a gorgeous way to not only make your guests feel their thoughts and wishes are welcome, but it also makes for a sweet keepsake.
Wine color attires
Wedding attires are one of the most fun ways to bring in the wine theme to your special day! Wine is a deep crimson color that is perfect for a sophisticated and romantic wedding. This lovely burgundy color complements all skin tones and looks great on everyone. If you're looking for beautiful wine bridesmaid dresses, take a look at some of the year's most popular wine wedding color schemes. The color wine can be found online under the name 'Bordeaux.' Creating a coherent lineup is simple with designs and sizes to suit everyone in your wedding party. Alternatively, you can go for something more neutral like blush pink or champagne with the bridesmaid dresses while the groomsmen wear oxblood suits! This combination is especially gorgeous for an autumn wedding, but is classic enough to work around the year!
Nothing says "fun wedding" quite like a wine-themed wedding day! With the promise of wide-open vineyards, luscious grapes, wine tasting, and lovely photo opportunities by the cartload, a wine-themed wedding is just as fun as it sounds! Whether your love of wine comes from enjoying a glass of ruby red liquid after a productive day, or it comes from the way the wine theme is so close to nature and brings all the rustic countryside elements with it, you can't go wrong with a wine-themed wedding! While we tried to cover all aspects of the wedding to fit the theme, the theme is such that it is incredibly flexible for you to include far more than what is mentioned. Just have fun with it, and be creative for a fun wedding in high spirits!