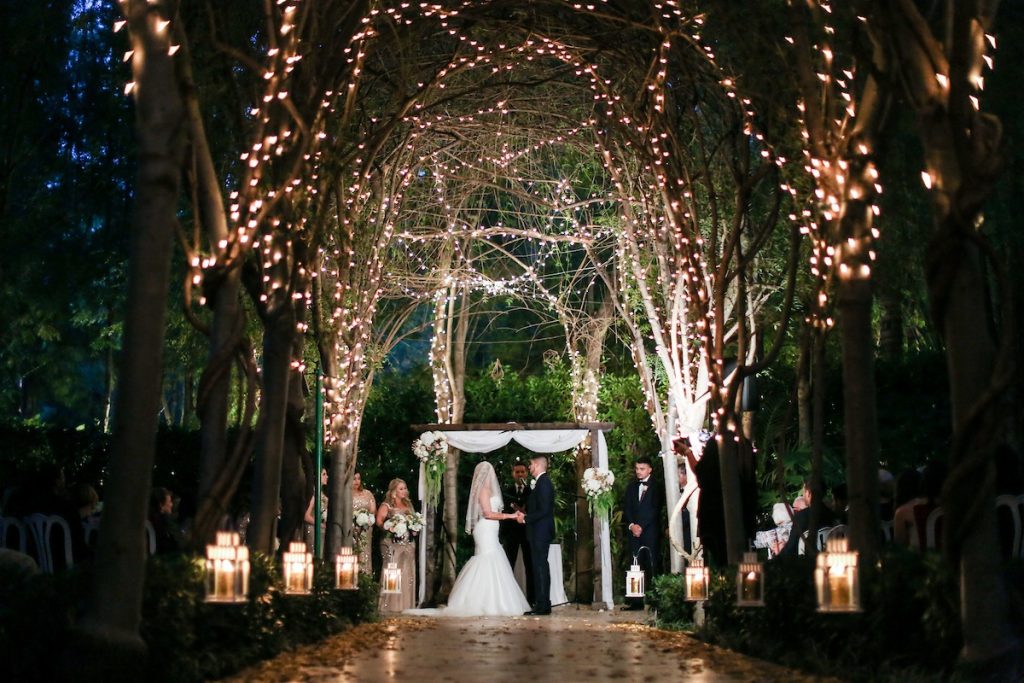 It was when the stars aligned in that perfect way that you met that special person, and your world hasn't been the same since then. It has become all kinds of magical overnight and has only gotten better over time! So when the day comes when that lover of yours proposes to you with a ring that sparkles like the stars embedded in the velvety night sky, you know he is the one you want to spend all your eternity with! For the lovers who are stargazers and wish on the falling stars and marvel at the poetic beauty of the moon, we have the perfect theme for your wedding! We will spare you the "out of the world" analogies, but what better way to get married to your one in a million partner than incorporating and committing to a celestial wedding theme? There is something dreamy, romantic, and enchanting about a celestial wedding theme with its dark and moody color palette teamed with the glittering and starry lighting which makes this the perfect setting for the dreamers among us! The celestial wedding theme is a decor aesthetic with inspiration borrowed from the cosmos, the stars, the sky, and astronomy! A moodier sister of a boho wedding, a celestial-inspired wedding leans more towards a romantic vibe with its sultry, midnight blue colors to iridescent details. You have the whole of the universe to seek inspiration from, so while the wedding theme is quite particular, it is also abundant in options! While one can seek to be inspired by the familiar like the stars, the moon, clouds, and the magical midnight sky, there is a whole lot we are not familiar with too, which can add a bit of whimsy and mystic charm to a wedding! A celestial wedding is a perfect blend of whimsical and bohemian, with a quintessential touch of moodiness and magic. Read on more to know all that there is to know about hosting a wedding inspired by the celestial bodies!
Colors to choose
For a celestial-themed wedding, the colors are inspired by the night sky, with a lot of navy blues, deep greens, and purples with colors borrowed from the sunsets like pinks and dark oranges. Icy blues of the moonlight, milky whites, and metallic silver, gold, or bronze elements are also included to add an accurate cosmic depiction of the day. However, these are just the traditional colors associated with the celestial theme, and you can go for your own unique spin, whether you choose a dusty pink with rose gold, or the ethereal white and silver, there are various micro color combinations that work just as well with this theme.
Celestial invitation
The wedding invitation is like a trailer of the actual day and is always the perfect platform to establish a wedding theme. So setting the right foot forward with a wedding invitation that drops some jaws is the perfect way to get the ball rolling. You can go for something simple like a quote with the theme in mind and your wedding colors and a sprinkling of celestial details, or you can go for something more specific like a lunar calendar marking your wedding date, a zodiac match of you both as a couple, moody invitation suite with loopy metallic fonts with dreamy translucent layers, and clever details like a bottle of sparkles as moon dust, crystals or a mini telescope!
Fun interactive ideas
People are usually invested and awed with a wedding theme that is a little out of ordinary, and want to fully immerse in that experience! So having a celestial wedding theme with some interactive exercises will entice your guests and encourage them to get involved. You can go for zodiac-led seating arrangements, tarot reading, predictions, forecasts, and such, which will ensure that your guests head home with a striking and memorable experience from your wedding day! This will also make them feel like they were really a part of your wedding vision. Another fun idea is to have your wedding guests sign your guest book in a creative way as they sign on a visual print out of the night sky on your wedding night! This can be a beautiful keepsake!
Magical night ceremony
While day weddings are usually the norm, there is something about a night ceremony that really brings the theme together. With the dark and moody play of aesthetic lighting, the cosmic sparkle, and an evening reminiscence of the night sky, there is something about a night ceremony that is quite a sensory experience, unusual and exciting! Also, this offers tremendous opportunities for some amazing photography! Whether it is you and your partner or the whole wedding party, the pictures captured as the sun sinks on the horizon and the moon has just come up are just magical!
Galactic decor
The decor is one of the most important parts of the wedding experience, especially when the wedding leans to a particular theme. For a celestial wedding, there is so much that can be done for decoration, be it creating the wooden lunar cutouts for a more authentic experience, creating a dreamy ceremony backdrop that makes the couple look like they are really floating in the cosmos, and dancing with the stars as they say "I do," or various hanging star installations. And that's just the start of it! Seek inspiration from the great unknown and let your creativity take you places you never dreamed of! The devil is in the details, so let the details spill out on the wedding reception tables, the welcome table, the aisle, the cake, and everything else! There is a lot to be said, so put out those dreamy signs so that quotes like "love you to the moon and back" can be put out in all their glory! It is the stardust here and the moody grays of the moon there all tie in the theme together to be truly out of the world!
A dreamy dress
With a wedding theme as magical as this, you know you have to dress the part, right? For a truly outer-worldly experience, go for floaty dresses with lots of starry details, translucent layers, shimmers, and embellishments! Also, don't shy away from glitter! The movement of the dress should be easy, yet the presence should be impactful, and going for a long dramatic train might be a great idea! While you can make even a white and cream dress sufficiently celestial, if you are feeling bold, you can also go for a silver or gold sequinned dress, icy blues, or deep midnight blues for the maximum impact! If you want to keep your dress more or less classic, you can play around with celestial details in your wedding veil! A long cascading veil with pearl details, starburst, fluid shimmers, and luminous and iridescent glow flowing after you gracefully can really make a statement! Your bridesmaids can work together to bring your celestial bridal party to life with glimmering celestial bridesmaid dresses.
Starry accessories
While the outfit provides a ubiquitous ode to the theme, it is the little details of the accessories which make the theme seem intentional and well-thought-out! Whether it is a Game of Thrones-inspired headgear with rhinestones and precious gems, or whether it is a whimsical sprinkling of stunning hair accessories, there is a lot that you can do to add to your outfit and amplify it. A set of beautiful galaxy-inspired hairpins, a charm bracelet with the moon phases, or a set of more magical starry earrings, all are little details that leave behind a memorable image in the mind of the guests. You can also go bold and hold a galaxy-inspired hoop instead of a bouquet as you walk down the aisle. There are so many celestial-inspired hair accessory options out there, and accessories like brooches and rings, that you are sure to have all kinds of options for you to choose from!
Best face forward
One word when it comes to celestial wedding makeup– shimmer! Your celestial-themed wedding allows you to play with glitter, shimmer, and face stickers, and allows you to live your best celestial goddess dreams! While there is still the option to wear a more minimal face of makeup and go for classy golden or silver accents on the eyes, you can have fun with midnight blue lashes and smokey eyes for a more intense look, or go ethereal and fairy-like with golden freckles, highlighter with shimmer and tiny star-shaped face stickers. The theme provides you all reigns to have fun, so go ahead and let your lunar goddess or medieval celestial goddess come through!
Stardust Hair
Just like makeup, there is a lot of fun to be had while creating the perfect hairstyle for your celestial wedding! You can go for updos with celestial hair accessories, forehead bands, or crowns for a more formal look, so go for airy bohemian vibes with constellation-inspired barrettes, or tiny stars speckled throughout your flowy lengths. You can team your sparkly hair accessories with a bare-there veil embellished for a peek-a-boo effect if you are wearing a veil at all! On the other hand, you can go basic with the hairstyle and let your veil do the talking with enchanting embellishments!
Light it up
The lighting of the celestial wedding is something that should be paid close attention to! One of the gorgeous ways to run the celestial wedding theme is by adding abundant string lights overhead for a starry night feeling. You can also add star-shaped glass tealight holders for the effect of floating stars! Also, oversized sequins in shimmery drapery can reflect light and add a magical starry effect. You can also hang metallic stars and crescent moons so that the light can reflect off them as well, creating a beautiful ambiance! In addition to that, candles never go out of style! However, you can try incorporating candle holders with star cut-outs so that there can be stars dancing all over. Strategically placed disco balls, starry night projectors, and moon-shaped neon lights are some other stunning ways to light up the wedding day with the brilliance of all the stars in the sky!
Stars in your plate
Another fun way to add magic to your celestial wedding theme is by introducing it to the food and drinks, especially the part of the reception dinner which is set out for display, like the sweet table or the bar area! This is a really fun way to bring the theme into your plate! There are so many celestial wedding cakes out there for one to take their pick from. From crystal-inspired cakes to dark and moody constellation cakes to simple white and gold ones, there is a lot to choose from. You can top it off with a cute cake topper! While the wedding cake is the perfect way to tie a theme together, you can also do so with celestial-themed cupcakes, moon pies, gemstone truffles, moon-shaped macarons, and more! There are also many creative celestial drinks to take your pick from, and you can accessorize it all with cute stirrers that fit the theme perfectly!
Soon, it will be time for your guests to leave, so let this magical dreamy wedding of yours stay on longer in their minds by sending them off with the most fitting wedding favors! Think along the lines of a small customized bottle of moonshine, a small telescope or binocular for stargazing, a pack of tarot cards, or a small bottle of "stardust" which can be a bottle of honey mixed with edible glitter! There are so many wedding favor options for you to get creative with!
The world is full of wonders and miracles, and sometimes we just need a reminder! After all, we are walking on a tiny blue planet circling around a ball of fire and are just a speck of dust compared to the massiveness of the universe! That is a miracle enough in the fact that we exist, and we should thank our stars for the same. And then there is love, another wonder that exists in this universe! Whether you are looking inward or outward at the unknown, there is a lot of magic strewn in the most random and seemingly normal functions of life. If you and your partner are awed by the beauty and the grace of this universe every day and want that to be a part of your special day, a celestial wedding theme brings in that sense of wonder to your special day quite beautifully and aesthetically! A celestial wedding is sure to provide a couple a slice of wonder, mystery, and magic smack dab in the middle of the ordinary!