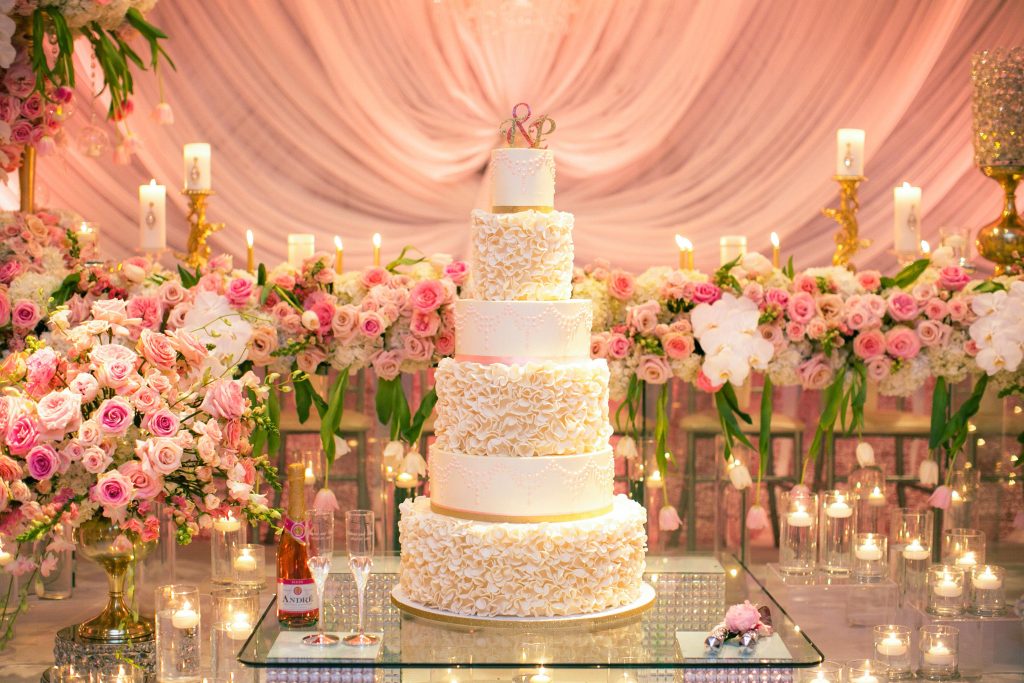 They say cats have 9 lives and hyenas have 7! Really? You might ask. Well, we don't know, but we do know that humans get just one life! YOLO! We only fall in love once, and we only want to tie the knot once! So it only makes sense if we want to go over the top on our most special day! But we also understand that not everyone can hang the cost to make their dream of a lavish fairytale wedding come true! While some couples just want to ensure that their wedding is unique within their pre-set wedding budget there are others who want their wedding to be a flamboyant show-stopping affair that their guests talk about for decades to come as if they don't have a care in the world. Regardless of your wedding theme or location, picking the perfect wedding decorations out for your reception can feel like a never-ending task. From an aisle running through the pool to a walk down the aisle with a unicorn to a one-of-a-kind ceremony backdrop that'll make you feel like a celebrity, it's our pleasure to enlighten you with the luxurious wedding ideas we can't stop talking about. With very few installations and little furnishings, we have come up with some of the most celebrated wedding details that can transform any average wedding day into an epic celebration of extravagance and royalty.
Your sliding door moments with the love of your life have put you both on a lifelong adventure. And the wedding day that would seem light-years away until a few months ago is now coming towards you at the speed of light! We are sure you already have kick-started your wedding planning. Financially, weddings were a challenge but after 2020, aesthetically too, weddings have become a task. This year we saw drastic changes in wedding trends than ever before like large extravagant wedding venues being replaced by small simple backyards and courthouses, magnificent sweeping designer wedding gowns by low-key short wedding dresses, large wedding guest lists of about 500-1000 people by a list of 10-25 nearest and dearest, and grand gala affairs by small intimate weddings like micro weddings, minimonies, elopements, and virtual weddings to name a few. From microgreens to mini cupcakes and even tiny houses, everything seems to be getting smaller. But small doesn't mean less important or gruey. It's not the size of the detail that makes it special it's the aesthetics it is able to exude. Ahead we have rounded up a few unique glamorous #weddingideas that will bring unlimited extravagance to your big event! But before we take a plunge into the sea of our favorite extravagant and clever wedding ideas, allow us to tell a little about the last over-the-top wedding that I personally attended as a guest.
Story Time!
About two years ago when everything was fine and dandy I attended a wedding of my close friend – it was a summer wedding and the venue she chose was a huge banquet hall and almost all the arrangements including the ceremony set-up, which was looking like nothing but a page from a fairytale storybook with a cherry blossom backdrop, were done outdoors. The entrance was decked up with huge beautifully framed couple portraits as far as the eyes could see which were later given away to the family and friends as wedding favors (I also received one which is hanging on the wall of my room). The guest count was huge, around 2000 (give or take) and food and beverage options were endless. I (and I am sure everyone who was present there) couldn't even taste half of my favorite items as it was a never-ending buffet-style table with mouth-watering food. The wedding photographers and videographers were on their toes with their equipment. Drones were hovering over our heads making sure every single detail was covered from every angle. From entrance to guest tables to aisle, every nook and corner was screaming elegance and extravagance. With romantic flowers and golden uplighting everywhere I looked, I am sure the bride was feeling like walking into a fairy tale while walking down that aisle and the groom was like her prince charming while dancing with her Cinderella under the over-sized cosmic chandelier on the heavenly dance floor full of artificial fog. The day was everything magical, and I am sure it got etched in the memories of everyone present there. I could talk about the wedding till the cows come home! Here's the catch, I remember the wedding because of those over-the-top details! Couples incorporate these luxe wedding ideas not only for guests to remember the day but also to live the happiest once-in-a-lifetime moment of their lives in an unforgettable way! Brownie points: swoon-worthy wedding photography.
Let floral centerpieces defy the gravity
This one is for those who are madly in love with orchids! And as Susan Orlean (the author of "The Orchid Thief") said in her book "Orchids seem to drive people crazy," bazillions of white orchids standing high on the guest tables not only promise tons of aesthetics and elegance but also allow your loved ones to mingle and witness the festivities far and wide through the space provided by tall elevated stands holding the hanging blooms. The joy of joys is that these tall sumptuous floral centerpieces are practical to arrange and only add to the grandeur of your reception. If flirty florals don't make it to your wedding budget or your eco-conscious heart then let baby's breath take your guests' breath away! The baby's breath adds softness and has romantic, ethereal characteristics. DIY your tall baby's breath centerpieces and amp them up with seasonal blooms of your choice. A little sprinkling of your favorite ones here and there amidst the tons of baby's breath in glass vases will do the trick! We don't see any no-fuss, budget-friendly option that fits practically into any wedding decor more than baby's breath when it comes to tablescapes' centerpieces to feel extravagant. You may order your flowers from Sam's Club or from Costco who sells bulk flowers including Baby's Breath. You might also want to deck up the guest tables with something that screams luxurious like nothing else and that's lace. All the more appropriate!
Tons of flowers in the backdrop can upgrade the 'I do' moment dramatically
The bride is dressed to the nines and the groom is looking like no less than a movie star. But if the backdrop is run-of-the-mill, don't you think all their efforts can go down the drain? Don't let the middle-of-the-road stuff make your extra-ordinary moment a dull ordinary one. Think flower walls! Not as photo booth backdrops but as your ceremony backdrop! No, I am not away with the fairies! Turn your mundane ceremony tent into an enchanted garden with a dramatic, gigantic floral display. You'll have your guests swooned by this next-level extravagance! For the ultimate over-the-top look, flank the aisle with rustic candles! You may also use creating lighting to project an image onto the outside.
Let the stars light up your tented reception
When you think about it, nature really does offer some of the best décors! Case in point: A starry night sky. You might also opt for an open tent decked up with some drapes here and there to invite the twinkling stars to your celebration. Give your guests a dazzling view of fireworks at the end of the night (only if it made it to your budget). You might want to create an intimate feel by draping the walls or a romantic tent-like atmosphere or choose to deliver an element of luxurious experience by handing your guests out petal poppers or floral cannons, so they can enjoy showering you and your spouse with fresh petals as you walk the aisle as newlyweds.
Nothing can frame your best ever moment as the blooming frame does
The GOAT dream of your life comes true beneath a lush array of your favorite flowers, no wonder it's a focal point of the ceremony space reflecting the mood of your special day. Whether you're exchanging nuptials in a Jewish way under a standout chuppah covered in flowers on all four sides making a soft, but major statement, or simply want to kiss as newlyweds beneath a cascading cluster of your favorite roses, ceremony structures are a prime element to wedding planning. Take your "I do" moment notches above with an arbor that is all dolled up like a bride with pastel-colored roses and fronds in abundance. This 14-foot arch was decorated with fresh ferns, gardenias, and spray roses to create an ethereal woodland vibe that complimented the intimate outdoor setting. What we imagine – it would be a little like exchanging nuptials above the clouds below the rainbow. Remember the place where you become husband and wife lies under the shade of the wedding arch, so it must shower the good wishes in all colors straight from Mother Nature!
Let your wedding cake take the cake!
A wedding cake has become more than just a dessert not to mention! Think massive geometric cakes or multiple tiers with intricate details, like fondant appliqués, edible metallic foil, cascading florals, and buttercream frosting featuring ruffles or intricate texturing. Whether it's a monet-inspired wedding or bohemian-inspired wedding, transform your cake into decor with careful designs and hand-painted accents to take your cake-cutting moment to the next level. These art deco over-the-top multi-tiered wedding cakes are almost insanely beautiful to eat but somehow, we think we'd manage! Make sure your wedding cake table is as opulent as your sweet masterpiece. Look at the larger-than-life cake (quite literally!) in the image above – how beautifully this oh-so-gorgeous six-story wedding cake from Haydel's Bakery and the classy glass table surrounded with millions of lovely garden rose vases and romantic candles floating in the cute cylinder glass vases where it is placed are looking like MMIH! We can't our eyes off of this full of out-of-the-world whimsy wedding cake table arrangement! We love how each hand-applied ruffle along with the delicate lace patterns on alternating tiers is matching the color palette and rustic theme. From the moment your loved ones will walk into the reception space until you and your brand-new spouse will cut the first piece together, it promises to serve as a decoration that they will talk about for the rest of their lives!
Nothing stands higher than a castle-like wedding venue in the world of luxury
No doubt your over-the-top nuptials can take place just about anywhere, but nothing can house a gala storybook-inspired wedding quite like a palace can! In fact, a castle-like wedding venue boasting lofty ceilings, gilded elements, intricate architecture, old-world pillars, enticing wall paintings, dramatic staircases, antique chandeliers, and interesting props like a piano is the most relevant venue to flaunt the royalty in your personality and the princess-inspired designer ballgown that you ran to earth! Here, we are not encouraging you to opt for a wedding venue that costs you the earth but to choose one that really highlights your very own and hand-selected aesthetics. There is a cartload of castle-like wedding venues out there that can bring your wedding visions to life without you breaking the bank! Or you could simply find a reception room that is as regal as this one at Oberoi Udaivilas, Udaipur, India that won't need tons of flowers and expensive table linens. Also, there's something truly special about venues with mountain views, and this historic castle wedding venue at Windham in New Hampshire provides some truly awe-inspiring scenery. For your own version of a royal (or Game of Thrones-inspired) wedding, you could also opt for a magnificent venue with great outdoors so that you can enjoy alone-time with sweetheart overlooking the striking natural beauty in the surroundings in the middle of the festivities to charge up for the remainder of the wedding day celebration and your wedding photographers can capture breathtaking sunset shots while you two are sharing sweet nothings at the golden hour.
Nothing says glamorous quite like a ball gown! So, channel your inner princess out by walking down the aisle in a stunning designer number with a full skirt. Don't forget to pair your sparkly princess-y gown with a tiara – an appropriate accessory to make you feel like what you are, and you are going to be – your dad's princess and your sweetheart's queen! There are myriad ways to bring elegance to your wedding day look, but we're obsessed with accessorizing the dress with a wispy long dramatic veil, a crown or headpiece, gold or pearl accessories, and an elegant bridal bouquet! Do not forget to outfit your mother like a queen and 'maids in glamorous dresses as you will shine like a moon only if they will twinkle like a star! For an instance, choose long solid pink bridesmaids' dresses made of chiffon for your gals to keep the collective look sophisticated if you are donning a crisp white designer Cinderella-like bridal gown complete with a dreamy sweeping veil and tons of frou-frou.
A bottle full of thanks can elevate the wedding by manifolds
Even your wedding guest favors can get a glamorous upgrade. Add perfect endings to your new beginnings, with the perfect amount of liquid love and enthusiasm! Giving away a bottle of wine or mini bottles of champagne as wedding favors to the guests ensures the celebrating (and luxury) doesn't stop even after the party is over. Adorn the guest favors with cute ribbons calligraphed with each guest's name for a sweet gesture. You can personalize the labels using the colors, fonts, and designs for your special day. Consider incorporating the colors and themes from your wedding into a custom label for coordinated champagne or wine wedding favors. For now or later – serve these bottles straight from the wedding reception bar, or include them in a goodie bag as a keepsake. Add your wedding date to the label to have it etched in their memories forever. The 187-ml single serving size makes this a fantastic wine wedding favor that your guests can take home in a bag or enjoy at the wedding.
Dream big!
Brides and grooms on a budget often have to get extra thoughtful when planning their king-size ceremony and reception. But skimping on costs doesn't mean you have to do away with your dream of having a picture-perfect big day. Every wedding has almost similar rituals and revolves around the same details. It's only the extravagant decor or details that make it an amazing and unforgettable affair. Let's face it! It might take a king's ransom to pull off something different and amazing. And we can't deny the fact that over-the-top weddings can cost you an arm and a leg but let us tell you that it's not something that is achievable with a generous budget. You only need to forgo a few elements that are less important to you, or that you could do without! With that stubborn C-virus still breathing down our necks, intimate weddings are de rigueur and the large weddings don't seem to be back any time soon and whatever savings the small weddings bring with them can be put towards the dream of your larger-than-life, over-the-top wedding. Where there is a will, there is a way!