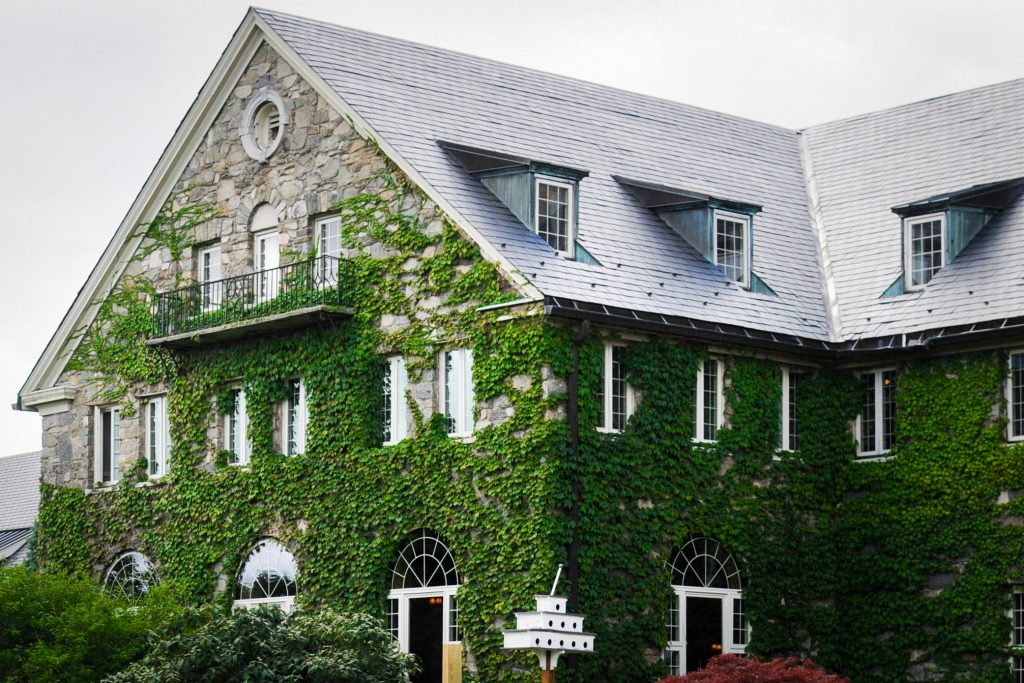 If you already have your heart set on a destination wedding since you have started to plan your wedding, then we have got you covered! You don't have to go long-haul to find the wedding venue of your dreams! From incredible beach-side wedding ceremonies in Italy to the Swiss chosen by Audrey Hepburn for her 1955 wedding to Mel Ferrer, now you can also say "I do" in one of the best European-Inspired wedding venues that we have found for you from different corners of the world!
These jaw-dropping chateaus, chic mansions, and villas do hold a certain elevated flair for you, your darling, and all your wedding guests on your wedding day! The below-mentioned exotic European-inspired wedding venues hold the power to transport you to the rolling hills of Tuscany or a champagne toast in Champagne! We can assure you that the light and bright tones and cream-colored buildings along with the venue's cypress trees will give you the best kind of experience for your big day without any doubt! So, just check out all these lovely European-inspired wedding venues and choose the one that suits you, your personality, and your wedding dreams in the best possible way!
Château de Carsix, France
Gracefully located only an hour and a half from Paris (the city of love), Château de Carsix flawlessly combines the whimsical charm of the rural location, along with the best convenience of the capital. This incredibly amazing 18th-century exotic European location was erected at the end of the reign of Louis XV by Philippe Du Fay, with a charismatic exterior featuring stunning bricks, and marvelous stonework which is typical of the time. Setting up your wedding altar right in front of the main entrance door, and you walking down the aisle will leave everyone in the audience in great amazement. This whimsical and pretty location will look stunning in all your professional wedding photos and videos captured by our extremely talented wedding photographers and videographers.
If you are the bride, who has always envisioned an outdoor wedding ceremony with great vistas and endless natural light then trust us, there is no better, prettier, and more luxurious location than Château de Carsix. Whether you are planning to have an intimate and cozy wedding celebration or want to go all grand and lavish, we can assure you that Château de Carsix promises to make all your fairytale wedding dreams come true live most beautifully! This exotic European-inspired wedding venue is also an ideal spot for couples who are planning a weekend wedding or a prolonged wedding celebration in great settings!
Villa Sola Cabiati, Grand Hotel Tremezzo: Lake Como, Italy
For all the romantic brides out there who just want nothing except a memorable wedding day, a celebration to remember for years to come and to talk about, there is no more romantic and exotic wedding venue than the Villa Sola Cabiati, Grand Hotel Tremezzo: Lake Como in Italy. This luxurious European-inspired wedding venue is what dreams are made up of. The expansive and swoon-worthy Villa Sola Cabiati at the Grand Hotel Tremezzo dates back to the 1500s and is a unique and marvelous treasure trove of original antique furnishings, textiles, and frescoes by prominent Renaissance painters. Your wedding celebration at this location will leave all your guests awe-struck! In fact, Ouronal wedding photographers and videographers will have so much character and vibrancy to capture in the best of frames. This amazing neoclassical villa on the panoramic shores of Lake Como offers the best of both worlds. With so much to explore, every corner of this exotic wedding location is worth seeing and documenting in the magical frames! Don't forget to kiss the love of your life while the sun shines bright on you both and its golden glow creates a mesmerizing setting reflecting from the scenic lake in the background!
Villa Aurelia, Italy
Widely and popularly known for hosting the recent and famous nuptials of Lady Kitty Spencer, Villa Aurelia is nothing but truly a magical and exotic European-inspired wedding venue for your romantic wedding celebration. Though the exact date of establishment of this whimsical wedding venue is unknown, it is thought that this lovely and grand villa might have been constructed between 1650 and 1667, with the majority of its space undergoing a complete makeover in the early 21st century. The Baroque Villa of Villa Aurelia is established on the highest point within the lovely and picturesque walls of Rome. This simply means that on your wedding day, all your wedding guests including you and your sweetheart will have the opportunity to relish the stunning interiors and grounds along with the incredible views of this lovely city. While being at the highest point with the love of your life, steal a kiss while our talented wedding photographers capture you two sharing your romance with the amazing views of the backdrop.
The wedding venue Villa Aurelia will allow you to create your unique day while bringing all your wedding dreams together and converting them into a lovely reality. The greatest perk of hosting your wedding celebration at this location is that this lavish wedding venue hosts one wedding in a day!
Castello di Vicarello, Italy
Peacefully and picturesquely situated in the heart of Tuscany's wild Maremma countryside, located between Rome and Florence, Castello di Vicarello is truly a fairytale wedding venue. This enchanting and extremely beautiful castle-like wedding venue is indeed an ideal spot for all those couples who want to make an impression on their wedding day and give some really beautiful things to their wedding guests to not only cherish but to talk about for years to come. Beautifully encircled by 40 hectares of lovely organic vineyards, olive groves, and farmland, Castello di Vicarello completely assures total seclusion and exclusivity to couples on their wedding day. This is indeed a wedding venue that a couple must consider if they have a strong affection for the vineyard, as there is something very romantic and inviting about having a wedding in vineyards!
Offering extremely romantic backdrops for your wedding celebration and also for your wedding photos, Castello di Vicarello can host any kind of wedding celebration. From an intimate affair to a grand and lavish wedding celebration, this stunning wedding venue will take care of all your wedding dreams! With so many event spaces to choose from, this European wedding venue is just majestic. For your wedding ceremony, you can choose either from an alfresco space in the lovely gardens featured by the castle, or one of the many rooms within the castle walls for an indoor wedding celebration.
If you are planning a prolonged wedding celebration, you can continue your wedding celebrations anywhere on the property, as every corner offered by this majestic and dreamy wedding venue is completely yours to enjoy and explore, with a major focus given to food and wine menus!
Villa La Vigie, Monaco
Believed to be one of the most prestigious on the French Riviera, Villa La Vigie is nothing but an epitome of luxury. Owned for over a decade by Karl Lagerfeld, Villa La Vigie is a kind of wedding location that you see in the romantic movie and dream of having that kind of wedding at same kind of location.
Gracefully situated on the cape of the lovely Monte-Carlo Beach, this scenic villa offers unparalleled views of the majestic Mediterranean, the Principality, and the bay of Roquebrune-Cap-Martin leading to great backdrops when it comes to extremely gorgeous wedding photography and videography experience. The fabulous and stunning architecture of this pretty villa gives way to interior marble, splendid columns, grand fireplaces, parquet flooring, and high ceilings, to create a modern and sophisticated ambiance for everyone to have a great time on your wedding day!
To have a one-of-a-truly kind of wedding experience, you can consider having your wedding ceremony at the stunning 237-square-meter terrace. It is one of the ideal locations to have a memorable and exotic wedding experience. To make the entire setting more romantic and inviting consider using white roses or peonies for your wedding decor. The lovely white flowers and white setting of this villa when paired together will bring out the best kind of beauty for everyone in the audience to witness and for our wedding photographers to capture in the most incredible frames!
Château du Grand-Lucé, France
Built-in the year 1760, and named for the idyllic village in which it is situated, Château du Grand-Lucé's grandeur promises to live up to its name. This neoclassical French-inspired wedding venue is unapologetically opulent, and widely known for its enchanting beauty, especially when it comes to destination weddings. Your wedding day celebration at this location will surely be an affair to be remembered for years to come! You don't need to work around decorating for this wedding venue as it speaks for itself. With just minimal decoration, this wedding venue will look ravishing and breathtaking!
This extraordinary and exemplary 45,000 square-foot château not only takes pride in showcasing a ballroom of royal proportions but the lavish and expansive 80 acres of pristine green grounds promise to offer a truly special location for your big day celebration in full swing! From the perfect and flawless symmetry and precision of the classical French gardens to a lake, lovely meadows, historic white oak forest, and even an orangery, this is so much to see, explore, and choose from when it comes to finding an ideal spot for your wedding ceremony. With such a great setting, even our experienced wedding photographers and videographers will have a great time documenting your wedding day at this location.
Villa Erba, Italy
Villa Erba in Italy relishes a pristine location in the heart of Lake Como, lending a dream or we say magical backdrop for the many who have always dreamed of having a lavish and quintessential European wedding. This stunning and lovely 19th-century property is one of the most popular on the Lake, boasting all kinds of comforts and luxuries that you are expecting from marvelous Italian neo-renaissance architecture. Luxurious and grand interiors aside, the grand ballroom at Villa Erba features so many beautiful elements that it will take your breath away! During the first dance moment, we can assure you that you feel like you are dancing with the love of your life on some grand movie set! For your wedding reception, you can also consider the magical gardens overlooking the splendid lake. This kind of setting for your wedding reception will surely sweep off your wedding guests' minds and hearts in no time!
Villa Cimbrone, Italy
Perfectly set in the heart of the Mediterranean, this lovely and exotic 12th-century residence is indeed one of the most prestigious in all of Europe. Couples who are looking for the best European-inspired wedding venue for their wedding day, this is indeed the venue that you must consider for your special day's memorable celebration. Offering a magical and charismatic setting for your dreamy wedding, Villa Cimbrone's experienced and expert wedding planners will assist you in designing a unique, personalized, and wedding of your dreams in the most beautiful way that you have ever thought of!
Assuring the very best combination of comfort and luxury, Villa Cimbrone features 19 elegant guest rooms for your wedding guests to have a memorable stay during your wedding celebration. Apart from its exemplary accommodation, Villa Cimbrone's expensive and lovely gardens are one of Ravello's most famous attractions, setting the scene for the ultimate destination wedding on the Amalfi Coast.
Winding up, we completely get it! You want a wedding that just "wows" all your wedding guests with just its ambiance. Such bold statements do call for even bolder moves, like taking your big day abroad for a dream and magical destination wedding! All these above-mentioned castles, Italian Villas, and elegant estates will bring your fairytale wedding to life with deep-rooted history, elegant style, and unbeatable views in the most beautiful way possible! We have found the creme de la creme of wedding venues all across Europe for you and your sweetheart to say "I do" and start your happily ever after!