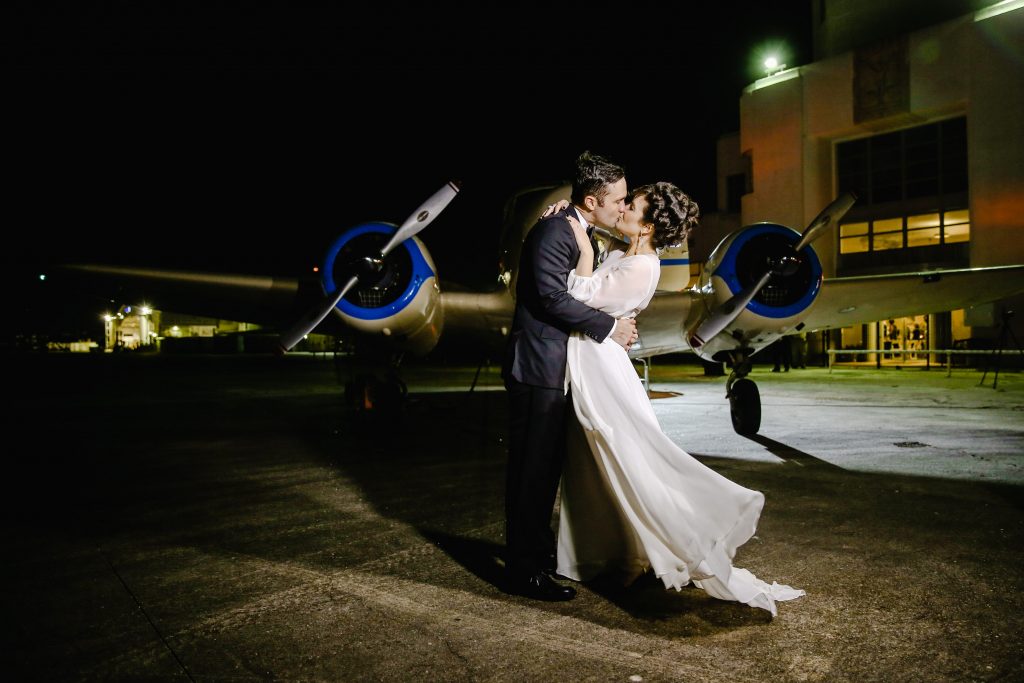 Who doesn't like a vacation to bring some life into their day-to-day lives? Vacations add a silver lining to our cloudy days, give us something to look forward to, and make us taste a slice of dreamy adventure every now and then when life gets too much. One thing to know is that there is no wrong way to enjoy a vacation. There is a vacation for every type of couple, from luxury lovers to thrill-seekers, from romantics to the comfortable, and everything in between. While cozy caverns and luxe hotels await you, some couples are just not cut out for the ordinary. If you and your SO have your hearts flying in the air, are lovers of aviation, and like to visit extraordinary places, this planet has no dearth for those. While aviation is not something that is extremely common of interest, when two people love to fly high and have an extreme appreciation for the industry, the sky is no limit, quite literally! If you and your partner happen to share this interest, this article is just the one you need to read! Whether it is a casual getaway or a honeymoon destination after your dreamy wedding, we've got some amazing and extraordinary vacation ideas for lovers who have a soft spot for aviation!
Plane spotting: A jaw-dropping experience, if you enjoy plane-spotting, then all you need to do is to stand near Maho Beach, Saint Maarten, and hold on to the fence that lines the airport and feel the thrill of the jet blast, as it prepares to take off! While it goes without saying that you need to be safe, and you might want to stand further back on the beach, it still makes for an equally exhilarating experience. Another amazing way to spend an evening is watching the planes land from the beach, and feel the childlike excitement of watching a giant of a plane fly low as it prepares to land! If watching a plane land and take off is one of your secret thrills, you can also experience a similar setting in Skiathos, Greece.
Land a plane: Ever thought about how it will feel to land a plane in your favorite airport? You can find out now! If you've always desired to try your hand at landing a plane, you'll relish forming your own personal flight experience with iPilot. They're established in several cities in Germany, the UAE, the Czech Republic, the U.K., and several other locations in Europe. There are 24,000 airports to choose from, and the customized experiences start at $89. If you are interested in other similar ways to become a pilot for a day, there are several flight simulator experiences that you can take your pick from. These simulators use the latest technology in their commercial and military aircraft simulators to make you feel like you are touching the sky, without ever leaving the ground.
Spend a night in an airplane hotel: How does a hotel room with all the luxuries of a normal hotel and all the thrill of a flight sound? An ideal situation for aviation lovers, throughout the world the out-of-commission planes have been transformed into hotel rooms ranging from comfortable to luxurious, and it is surely an experience unlike any other! Many of these planes are age-old designs from the 1960s that have been retired and furnished with state-of-the-art amenities like a bed, a tub, flat-screen TVs, and even saunas! Guests can enjoy the experience of visiting the cockpit and visualizing take-off or watch other planes take off from nearby runways. Whether you plan to drop by in a Jumbo Jet in Stockholm, Sweden, or on a 727 in the jungles of Costa Rica, we are sure there is an overnight airplane experience to fit your unique budget and destination preference.
Plane graveyard: Add an edge to your date night and walk amidst the dead planes in this surreal and almost post-apocalyptic-looking plane graveyard. It is an amazing destination out west where one can spend a couple of days learning about the aviation of the past. Just outside of Tucson, Arizona, the Pima Air and Space Museum is home to hundreds of planes that have contributed to US aviation history. You can check out the helicopters which were used in the Vietnam War, the 787 prototypes, early versions of Air Force One, and many other stunning beasts of machines. It is just a unique experience witnessing these airplanes, learning about them, and actually walking up and touching them. You have the option to go through this plane graveyard via a tram, a bus and have a guide to help you get all your questions answered! Just across the street from the museum is the gorgeous Airplane Boneyard, bearing a collection of over 4,000 decommissioned aircraft situated within Davis-Monthan Air Force Base. If you are a true aviation lover, a trip here will be just as exciting as a spin through Disneyland for a 10-year-old!
The Pan Am Experience: How was it like to travel in an airplane back in the day? You can now find out on your own! Yes, it is now possible to relive this retro adventure at Air Hollywood in California! Air Hollywood presents the film industry with genuine aviation interiors, but it is also associated with hosting the popular Pan Am Dining Experience. Passengers are entertained to a first-class experience from the minute they check-in and board the 1970's era 747. The guests receive 1970's era boarding passes and a first-class Pan Am branded travel bag. The authentic décor of the interior forms the perfect venue for such a traditional airline experience. Everything from the authentic China dinnerware and glasses to the hand-carved châteaubriand is sure to make for an unforgettable meal. This unparalleled opportunity to travel back in time and encounter an authentic recreation of a Pan Am flight is priceless, and a few hundred dollars spent on the ticket is well worth it!
Wright Brothers National Memorial: For aviation enthusiasts looking for a fun place to go down the history of air travel, there's no better place than the Wright Brothers National Memorial on the site where Wilbur and Orville Wright accomplished the first victorious plane trip over one hundred years ago. Travelers can retrace the paths where the Wright brothers experimented with their first aircraft and investigate the on-site museum and its selection of models, tools, and machines used by the infamous, high-flying duo.
Intrepid Sea, Air & Space Museum: Focused on the aircraft carrier USS Intrepid, the Intrepid Sea, Air, & Space Museum is a floating treasure trove of displays for aviation fans. The deck and hangar bay of the ship alone features a compilation of 30 aircraft, which include some that have just left active service recently. One of the Concorde supersonic jets on loan from British Airways is on the Intrepid pier and can be examined inside and out by the guests. The museum also is home to other fun interactive exhibits, including an A-6 cockpit simulator and a virtual flight zone, making it a perfect spot for you and your sweetheart to make a date out of it!
Go for a fly-in destination: While all the above-mentioned experiences are phenomenal, there is nothing quite like a first-hand experience flying into a stunning location. If you and your sweetheart love the adventure of flying on your own, these are the destinations which you should definitely consider!
• Monument Valley, Utah: The grandeur that is Monument Valley cannot be described and is something that needs to be experienced in person! This is the West as imagined around the world, and its humongous scale is best experienced in person! The gateway to this secluded gem is Goulding's — a hidden airstrip and resort just a few miles from the picturesque heart of this valley. You'll need to get permission to land and provide your aircraft information and arrival time beforehand, and they'll usually send a service van to take you to the 62-room Goulding's Lodge, also within walking distance. Keep in mind that these rooms get booked months in advance, so plan ahead and call well before your trip! The airstrip is nestled at the base of a 700-foot mesa at an altitude of 5,192 feet MSL, and the runway is 4,000 feet long, which can also make for a challenging landing or takeoff. If the remarkable views aren't enough motivation to inspire this fly-in, Goulding's excellent hospitality definitely is! With amazing food, a selection of nature programs, and an inspiring museum, you are sure to love this trip to the middle of the valley!
• Grand Canyon National Park, Ariz: Speaking of extraordinary, one can't go wrong with visiting one of the Seven Wonders of the World, and flying there on a GA aircraft is just the most sensational experience ever! Grand Canyon National Park Airport is situated just seven miles from the south rim of the canyon and two miles from the park entrance. The towered airport boasts a single, 9,000-foot runway. Pilots will need to avail a specific chart, which is the Grand Canyon VFR Aeronautical Chart, which is used to fly within the Grand Canyon Special Flight Rules Area. Traffic flows in a specific pattern and through definite corridors when flying the canyon, and you need to be accustomed to the method. It also means you need to use high-density altitude procedures and be aware of up-and-downdrafts above the canyon. After soaking up the breathtaking views of the turquoise Colorado River below, you and your loved one can retire to one of four major hotels located nearby, including the Grand Hotel and Crown Plaza Resort.
• Gaston's White River Resort, Ark: This is the space for you if you and your partner appreciate good food, fishing, and having the panoramic view of the perfectly manicured Bermuda grass forever etched on your mind. Let it be noted that it doesn't get any better than Gaston's Resort in Lakeview, Ark, nuzzled into the Ozark Mountains. Home to 79 guest cottages and 400 acres of pristine beauty, Guston's has to be the best fly-in resort in the area for over 50 years. Grown over the years to include world-class fly-fishing, 70 guest boats, a celebrated restaurant with a famous Sunday brunch, and more, this is the place you won't regret flying into! Gaston's 3,200-foot turf airstrip is also popular with pilots who love to land on grass!
• Kiwassa Lake, Adirondacks, N.Y: What better in the autumn than the call of the fallen leaves and the rustic beauty of the Adirondack Mountains? If you would like to slip closer to nature, Lake Placid airport is your perfect gateway to this bucolic area. There are numerous resorts in the Lake Placid area, but if a peaceful weekend escape is in your mind, Kiwassa Lake is one of the most impressive. Just 10 miles from Lake Placid, Kiwassa Lake B&B rests on the shore of Saranac Lake, huddled against Adirondack State Park, and provides glorious access to 23 miles of Adirondack waterways. Lake Placid airport offers a 4,300-foot paved runway, along with facilities like fuel and maintenance through Adirondack Flying Service. If you have access to a seaplane, you can also land your seaplane right at Kiwassa Lake B&B and enjoy a beautiful stay there for a few days.
• Great Exuma Island, The Bahamas: There is no other place on earth that is as perfect to fly into the Bahamas as if it is designed to serve that purpose alone! You can take in the islands as you prepare to land, and the view is bound to inscribe itself in your memories forever. There is something about flying into the gorgeous Bahamas which is sure to impact you in a very primal way, and you will never forget this experience. When it comes to the Bahamas itself, it is extremely difficult to choose just one spot to stay, with so many options! However, we recommend the chain of 365 islands known as the Exumas. The international airport on Great Exuma Island is one of three designated international points of entry, enabling one to fly there directly from the U.S. It comes with a paved 7,000-foot runway that accommodates jets. Once you land, you will find yourself enveloped by amazing resorts from February Point to Musha Cay Resort and everything in between.
Flying and aviation is an acquired taste and not every couple will appreciate its surreal beauty. There is surely no bed-and-breakfast in the mountains or the luxury of a hotel with an infinity pool by the sea, but people who love it swear by its enchanting, out-of-the-world feeling. If you and your partner share a love for flying and all things aviation, the options are endless for you to explore! We hope this blog encourages you to take flight!