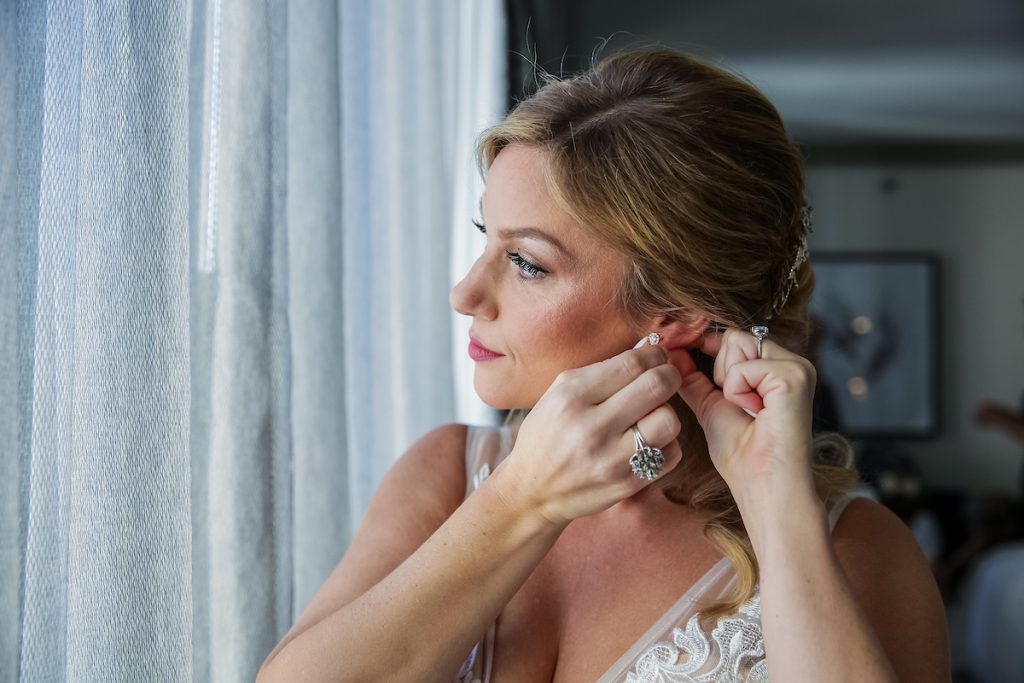 Hey gorgeous, a little birdie told us that you are all set to tie the knot! And we're sure, with a constant glow on your face, everyone can sense your excitement. And now as you look forward to the happiest day of your life, we understand the butterflies and anxiety that come along with the excitement. It's your best day and you want to look your most dazzling self.
The transformation and transition mostly do not happen overnight, they require weeks and months of dedication. There are certain things which can easily be done by yourself while there are those which require some indulging! Let's take you through some of the basic as well as luxurious ways of self-care that comprise your wedding beauty timeline, which you can indulge in to achieve that flawless look for your big day.
Go Easy on the Stress
When to start – Day 1
First and foremost, the basics – try to keep the stress away. We know that a celebration this big brings with it so many things to sort, to think about and to take care of. We are sure you know that the effects of stress can become easily visible on your face like early wrinkles, dullness and much more. Apart from that, it can also cause various inflammatory conditions like eczema and keratosis. No point taking stress when you have such a great thing to look forward to.
Skin Care
When to start – 8 months prior
You can start with a skin-care regimen right from Day 1 of knowing about your wedding, but a minimum of eight months is a must. Schedule an appointment with your dermatologist and get talking about the skin-care regimen that should be followed to achieve that flawless dream look for your big day. For instance, in case you wish to get started on the miraculous retinoid, you would need at least four months (minimum!) to go through the process. You could even indulge in some derm-administered light peels or full-body microdermabrasion to have a jaw-droppingly smooth skin shown off slyly by your wedding dress.
Salicylic Acid Peel
When to start – 2 weeks prior
You read that right, this 30 percent beta hydroxy acid peel, when applied to your skin, clears your complexion, freeing it from all sorts of blackheads and whiteheads hidden under the skin. Since irritation or dryness might occur, it's best to keep a gap of a minimum of two weeks between this procedure and your wedding day.
Hair Care
When to start – 8 months prior
Consider the basics like conditioning every time you shampoo, a thumb rule. If you wish to go for hair color, hair extensions or a keratin treatment, do it early on! It'll give you ample time to analyze the effects of it. If you are in a mood for indulgence right before your wedding, go for a Frizz Tamer which is formaldehyde-free treatment to remove unwanted frizziness. The effect of it usually lasts until six months.
Refine your make-up
There are some things that you can totally count on, like Giorgio Armani's Luminous Silk Foundation and Charlotte Tilbury Matte Revolution Lipsticks, as they would never ever disappoint you. With various luxury brands, acing the cosmetic scene, give yourself ample time to try different brands to finalize the one that suits you for your big day.
Microblading
When to start – 3 months prior
Need to work on your eyebrows every time you go out? And getting even more worried as you are all set to shine on your special day? Then microblading is the right thing for you. In this treatment, your brow is enhanced and shaped with the help of a pen-blade, creating pigments under your skin. It should be started while you have two-to-three months' time before your wedding. The effect lasts for about 18 to 30 months and the treatment is followed by touch-ups every six months or every year, depending on your skin type and preferred look.
For that flawless smile
When to start – 6 months prior
On your wedding day, we know you will be smiling all through and your smiling pictures and videos will be cherished forever. Well, there is so much you could do for achieving that flawless smile on your wedding day. For starters, you could visit a dentist for regular cleaning and x-rays. For your big day, you could even go for Veneers, which are placed over your teeth ensuring a million-dollar smile. The procedure should be done four weeks before your wedding day.
Kybella for a slimmer jawline
When to start – 1 month prior
If you want a slimmer jawline, you can go in for Kybella, a nonsurgical injectable technique that aims at reducing the fat beneath the chin. It requires around two to four monthly appointments and should be done at least one month prior to the wedding as it causes some amount of swelling which might take some time to subside.
Non-surgical temporary Nose-Job
When to start – 3 months prior
Yeah, we know we have just made the day for some of you! Introducing the Hyaluronic acid fillers like Voluma and Bellafill, which are god-sent for nasal imbalances. The result – a 15-minute non-surgical nose job, giving you a dream nose for your big day.
Go Sweat Free
When to start – 3 weeks prior
Not just your wedding but we have got you covered for your honeymoon as well! If you are worried about sweating on your wedding day or as you plan to travel around the globe on your honeymoon, give MiraDry a thought! This single session (non-surgical treatment) of one hour can permanently reduce underarm sweat and frees you of your unpleasant odor.
Tattoo-Eraser
When to start – 12 months prior
PicoWay laser wipes out tattoo pigments in four to eight sessions in one to two months, depending on your tattoo.
Décolletage Rejuvenation
When to start – 2 months prior
Worried about getting that perfect fit and look of your chest in your wedding gown? Go for a chest makeover with the Décolletage rejuvenation, in which fine lines and wrinkles on the chest are removed with the help of Botox and fractionated lasers. Psst, it can even do some magical makeover for your cleavage by sharpening it a bit!
Airsculpt
When to start – 6 months prior
This is a rather minimally invasive treatment to reduce excess fat from areas like abdomen, hips, armpits, and thighs. This should ideally be done before your first dress fitting to get a proper idea.
Sculpsure
When to start – 3 months prior
This treatment is to burn excess fat by hooking it up with a device that emits bursts of heat, targeting those fatty areas. The result is permanent and the fat is excreted by the body over a time of three months. One procedure takes an average of 25 minutes and can target multiple areas at once.
Cellfina
When to start – 6 months prior
This procedure consists of a one-time session of 45 minutes of cellulite smoothing. The effects last for around two years although you might initially experience some pain for a few days.
TempSure Envi
When to start – 2 months prior
Aimed at giving an instant lift to the neck or any other part which requires a lift. You would be required to take four sessions with a gap of three weeks each, with every session being of 20 minutes.
A Tailored Perfume for Your Big Day
When to start – 3 months prior
The ultimate indulgence – a fragrance in a gorgeous crystal carafe, an engraved flacon, six refill flacons, and two travel sprays – all in YOUR signature style. Luxury perfumer Kilian Hennessy's effort of three months for making a fragrance that's all you is indeed the ultimate indulgence! The process requires you to be presented with three samples for you to finalize 'your scent'.
With so many options to give you that perfect body, look, and confidence for the happiest day of your life, we hope you keep in mind the basics of giving proper attention to yourself. And do not forget to stay away from booze and sugar for amazing results, but we guess you already knew that. Our wedding videography experts at byDesign Films truly believe in the 'If you feel good, you look good' philosophy, and your wedding day totally deserves to see your sass. For more wedding inspiration, check out the rest of our blog collection.