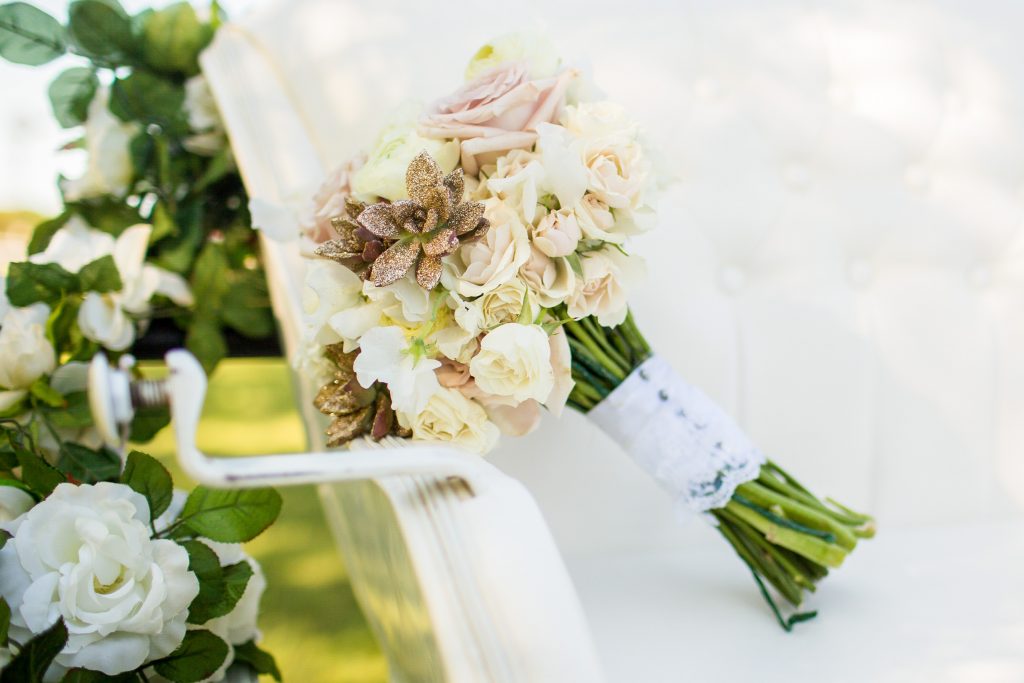 While we have always been transparent about how we feel about flowers(more is always better!), we are looking into our favorite topic with a renewed perspective. Flowers are a natural choice in decorations and adornments and are a go-to for weddings. A wedding without flowers sounds like a wedding we want nothing to do with! However flowers have been used historically for a long while now, and the trends have changed and evolved tremendously over the decades. While cascading flowers, wild bunches or mismatched blooms, and packed bouquets are adorned by us, among many others, petite bouquets are something that is becoming a thing, and aren't they a cute bunch! Like most amazing things, necessity was the mother of invention for these cuties. Since 2020 saw a global pandemic, it also saw a lot of minimal home weddings, backyard weddings, minimonies, among many other versions of a wedding which entails a smaller guest list, lighter budgets and a lighter event. Dresses were simplified, makeup and hair became natural, and bouquets-smaller! Alternatives to huge cascading bouquets started pouring in, and petite or posy bouquets gained popularity fast, and we couldn't get over how adorable and perfect they were. Flowers express our mindsets and minimal and less seems to be the catchword for this year's wedding scene. From a single stem of the flower to flower hoops, to the most dainty collection of tiny blooms, petite bouquets seem to be able to communicate the vibe of the year quite appropriately. While the flowers are tiny and minimal in their stature, they pack quite a punch when it comes to impact. Some say it is in fact the small size that makes them so eye-catching. Let us look into this trend closely and look at some options.
Season inspired:
seasons reflect in the wedding quite naturally, be it through the colors used, the decor elements, or the flowers. Let your petite blooms reflect the season in its composition. A fall-inspired color palette in burgundy, deep purple, and blush, translates well for a fall wedding, while tangerine, palm leaves, and yellows work great for a tropical warm-weather feel. A nod to the seasons, seasonal blooms photograph well and are quite easy to pull off in a petite format.
Petite Classic:
Petite and absolutely divine, a posy of lily of the valley, might be the ideal design for the bride herself, as well as those special people like the mother of the bride and mother of the groom. The time-approved wedding flower for the classic wedding, we love how simplistic, pure yet impactful a delicate flower-like lily of the valley emits a wedding day charm.
Aye to anemones:
We love anemones for any bridal bouquet style. Unique, charming, and a little different from the rest, a petite bouquet with anemones is like a beautiful piece of poetry. For a posy, select just a handful of anemones for a bouquet all their own, or merge with dusty miller, astilbe, or eucalyptus for a delicate and enticing design.
Fern it up:
Ferns add a sweet surprise to your wedding day bouquet for sure. An unexpected addition to a design is always something we can support when it comes to wedding blooms! Adding in sprigs of bird nest ferns or plumosa will create a stunning design we can't help but love. Ferns sure are great to lighten up a bouquet and add a tropical element to it.
Mono-florals:
Who doesn't love the fresh-from-the-field look that a mono-floral bouquet can sometimes exude? Incredibly romantic and sweet, like a gathering of wildflowers, mono florals are a little disheveled, and not perfectly trimmed, resulting in a design that is reflective of the beautiful environment around you, while still being innocent and romantic in an old-fashioned manner.
Ribbon action:
Ribbons are perfect for tying in an accent color within the outfit, which makes the overall look sweet and romantic. Whether it is a shorter bow or a long and flowy one, a ribbon tie to a bunch of petite blooms provides the illusion of a more generous bouquet while still keeping the design within a petite. The small profile of the posy will be emphasized nicely by silk or satin ribbon, correlated with the color of the flowers, for an elegant draping effect.
Green effect:
Known for its lovely sage hue, eucalyptus is a perfect candidate for a petite bouquet, as it serves a sweet and romantic vibe, matches most wedding styles, and will last long past the celebration as an aromatic reminder of the wedding day! If eucalyptus is too single-dimensional for you, creating a design using several types of greenery creates balance and dimension, even for a petite one! Consider mixing greens from all the shades, like ferns, eucalyptus, or evergreen, for a unique combination.
Anthurium:
For a bouquet that stands out and makes a statement, our larger-than-life flowers anthurium comes in pretty handy. This heart-shaped charmer of a flower is the perfect accomplice for a tropical soiree. One can keep it minimal and simple by letting it take the stage or add minimal additional flowers, making a big impact, notwithstanding its size. We love how clean and minimal the look is, yet how theatrical is its presence.
Roses posies:
If you are like to save the adventures for another day and rather go for an option that is well-received and remains a classic through all the years, roses are the way you should head. It is guaranteed you can never go wrong with a bouquet of roses, as often reminded by the infamous florist Griffith-VanderYacht. Short and stubby rose petite bouquets can be highly impactful, while still staying classic and evergreen.
An unexpected stroke of color:
Bring the petite bridal bouquet to the foreground and showcase its size by carrying a bouquet that is bright and vibrant and full of life. A vibrant bouquet can take things to the next level and go for colorful blooms which best expresses your vibe. you can go for spray-painted baby's breath for a soft and airy look, triking orange celosia for a colorful fall wedding.
Blushing hues:
Blush instantly adds a soft and romantic tone to the vibe. If you are thinking of carrying a bouquet of a darker, yet complementary color palette, adding hints of pink might just be the facelift it needs. Taking the time to find the right style and color story is an essential step in building an unforgettable day. Bring in blush throughout your wedding design and the color will unquestionably cast a sweet, romantic glow throughout the day.
Proteas Alert!
While a traditional bouquet can restrict one from experimenting a lot, and go for more traditionally used colors. Petite bouquets are hence the perfect window of opportunities for making a huge impact as it enables you to use flowers which you wouldn't normally use, like king proteas. Proteas provide a sweet juxtaposition as it is quite a large flower however when paired with just one or two of those, they fit the bill for a petite bouquet.
The lone stem:
Posies doesn't have to be short and clustered into a bouquet and can also be a stem of a breathtaking flower. Minimal and memorable, a single-stemmed bouquet takes the road less traveled when it comes to design and delivers an enormous impact. More and more brides and bridesmaids are opting to sport long-stemmed flowers than a whole bouquet, and the impact is modern yet romantic.
All-white:
All-white wedding bouquet is not new, and is something classic and ageless. For a petite bouquet so for tulips to hydrangea, or even a cluster of white orchids, and let that monochromatic design work its magic. The impact is huge with this one and brings together a bridal look together quite seamlessly.
Orchid Affair:
Fresh, modern, and inventive, orchids always have a way of attaching a layer of mystery without actually having to do that much. Perfect for your bridesmaids to carry, whether you opt for traditional white orchids or something more out of the box, like purple, use just a few sparse stems and you will clear a lasting image in your guest's minds.
Fluffy astilbe:
Texture is something you can consider while choosing a petite bouquet. Fluffy and naturally eye-catching, astilbe is certainly a flower to consider when it comes to the principle of less is more. Select a few handfuls of stems and you can go with or without leaves for a brand-new take on age-old bouquets.
Floral hoop:
A new kid in the block, a floral hoop adds whimsy and allure to the wedding day and allows the bride to step away from tradition. Floral hoop is minimal, out-of-the-norm, and highly palatable for every bridal style. Highly customizable, a floral hoop is perfect for a boho wedding as well as a rustic one, and everything in between.
Simple and minimal:
Most often than not, we go for petite bouquets so that we can keep our wedding look simple and minimal, and simple and clean small arrangements like white peonies or ranunculus look stunning without taking away from the look, and adding a whole lot more. While whispy flowers like baby's breathe add subtle whimsy to the look, full-faced blooms like ranunculus look sweet and romantic, and can wow even in more modest numbers.
Succulent bouquet:
For a nature-inspired wedding, or a minimal one, a succulent bouquet might be the answer. Whether you want to go for a bunch of beautiful stubby succulents as your choice of arrangement, or you want something simple and minimal like a single green succulent, two thistles, and strands of wheat to create a textured bunch.
Dried and pretty:
It is amazing how a bunch of flowers look just as pretty dry as they do while in full bloom. A mixed assortment of dried flowers, wheat, pampas, and such creates a beautiful petite bouquet. Neutral, minimal, sustainable, and perfect for a boho wedding, a sweet and simple spray of dried flowers is sometimes all that is needed.
Small and sweet:
A bunch of small flowers like daisies, yellow wildflowers, or baby's breath looks abundant in a bunch while still looking beautiful in a petite bouquet. The bunches look romantic in a true wildflower fashion while delivering the perfect summer wedding feels. If you have a wedding coming up this summer, wildflowers tied in a tiny bunch and wrapped in a sweet lace or burlap ribbon will hit the spot just right.
Beachside bouquet:
For a wedding by the beach, a bouquet inspired by the tropical vibe is perfect. Reflect the fun beachy vibe with vibrant tropical hues in flowers and different types of palm leaves for a beachside casual "I do".
Flowers are nature's ornament and add romance and poetry to everything. It adds color, dimension, and feel-good vibe to the overall look, making one happier instantly. There is so much that instantly changes with just adding a bunch of flowers here and there, be it in our homes, our gardens, our hair, or most importantly, our wedding day. Flowers play a huge role in the overall wedding look and can make or break an event. It is of supreme importance in a wedding, as most of the bridal accessories, along with decor elements lean in the favor of flowers. Petite bunches are such a tiny addition to the bridal attire but make a whole lot of difference overall. So why does a petite bouquet work so well? Well, apparently there is a lot of it. Aesthetically, a posy bouquet is an excellent idea if one is looking for flowers that don't distract the overall look, and rather adds to it in a subtle way. Think of a petite bouquet like an accessory, a stunning bag, or a pair of lovely shoes that escalates the look, without taking away from the carrier. no matter what is style, bohemian or classic, or glam, a petite bouquet is versatile and can accommodate any style of wedding. Additionally, there is something dramatic and almost intentional about a tiny bridal bouquet, which escalates the look even further. While huge bouquets have ruled our worlds for quite a while now, the small bunches are here to take their fair share of the spotlight.