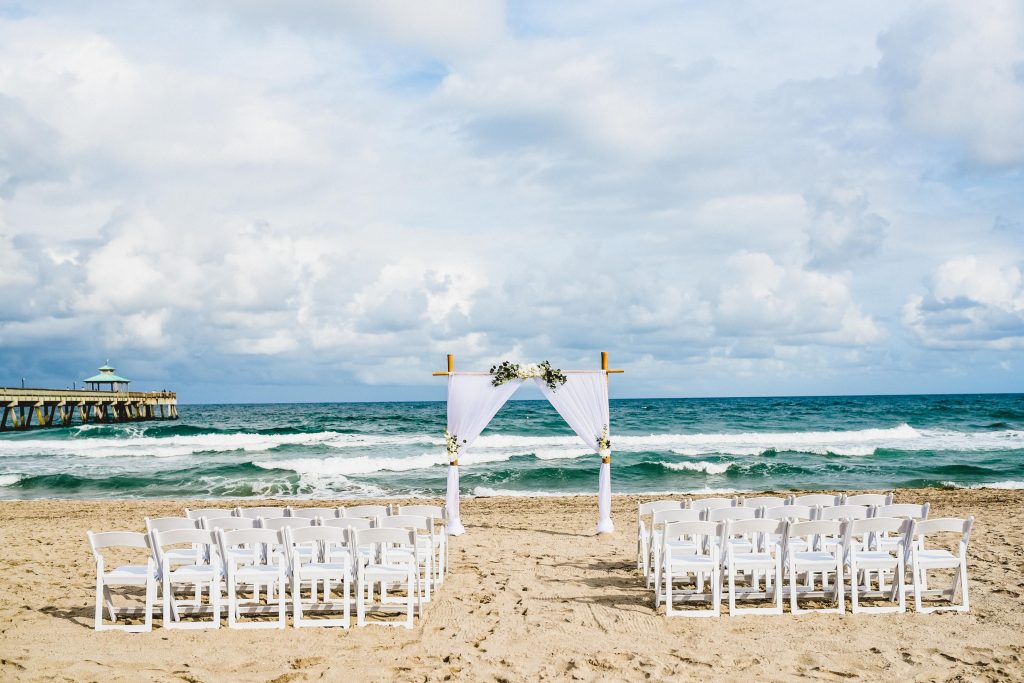 There are only a few things that are dreamier than getting married with white sand between your toes and twinkling stars over your head! As you imagine yourself swaying with wrapped up hands around your sweetheart and dancing your heart out to the sound of waves crashing in the background, you will realize that you do not need to have a passport to make this dream a reality. Some of the most beautiful wedding venues in the US feature open white sand beaches and sparkling turquoise water, and you do not need to learn a foreign language or take a 12-hour plane ride to reach your breathtakingly magical beach wedding destination! The incredible beach wedding venues in the United States offer event spaces for picture-perfect wedding ceremonies, from the dramatic landscapes of Oregon to the sparkling white sands of Hawaii!
Here are some of our favorite beach wedding venues in the US:
Sunset Ranch Hawaii, Hawaii
Is there someplace dreamier than Hawaii when it comes to beach weddings? Home to some of the most beautiful wedding venues in the world, Hawaii is considered to be the paradise of beach weddings, with some spots for oceanfront nuptial celebrations. One of the top private beach wedding venues in Hawaii, the Sunset Ranch is located on the North Shore of Oahu and features sweeping ocean and mountain views of the entire northwest side of the island. Considered to be the best place to incorporate all your celestial wedding ideas into your celebrations, this luxurious private beach wedding venue in Hawaii is also home to a variety of flora and fauna.
Sanderling Resort, North Carolina
Probably one of the best beach wedding destinations on the East Coast, the Sanderling Resort in North Carolina is located between the Atlantic Ocean and Currituck Sound. Considered to be one of the best venues for a beautiful beach wedding, this tropical wedding venue is filled with breathtaking natural beauty. Whether you are seeking relaxation and rejuvenation, or simply seeking an unforgettable staycation idea for adventure and exploration on the East Coast, this luxurious coastal paradise can give you everything. From roasting s'mores and playing beach games to taking splashes in the mighty Atlantic while listening to live music scenes during magical sunsets, this dreamy resort with private beach access offers everything to savor during your sand-between-your-toes wedding ceremony!
Russo's On The Bay, New York
Probably one of the best beach wedding venues for all the New Yorkers, Russo's On The Bay goes back to 1987 when it was established and to this day continues to capture millions of hearts every wedding season. Boasting panoramic views of the Howard Beach Bay and offering lavish Italian-style indoor wedding event spaces with shining marble floors and elegant chandeliers, it is one of the favorite places in New York for destination weddings in the US. There is a beautiful landscape waterfront garden with a floating gazebo which not only makes it picturesque but also enables you to host the perfect summer garden soirée which your guests will remember forever.
Casa Marina Key West, A Waldorf Astoria Resort, California
Apart from being home to some of the best beach wedding locations in the US, California houses some of the dreamiest wedding destinations in the world. Nestled along the southern edge of the island of Key West and overlooking more than 1,100 feet of beach, Casa Marina Key West is a luxurious and historic resort that was once home to Old Hollywood's elite. The award-winning special wedding venue is one of the top destination wedding locations for beach weddings in the country. The elegant yet refreshingly simple hideaway for couples offers a long stretch of white sand beach and fully outdoor beach wedding reception spaces, along with several beautifully adorned ballrooms for indoor ceremonies and receptions. Featuring fresh local seafood and an unimaginable culinary experience, this can be your destination for breathing life to all your over-the-top wedding ideas!
The King and Prince Beach & Golf Resort, Georgia
If you are looking for some of the best places to get married on the beach, look no further than The King and Prince Beach & Golf Resort in St. Simons Island, Georgia. Dating back to 1941 and overlooking the entire beachfront block of St. Simons Island, the King and Prince Beach & Golf Resort is a sprawling resort that offers breathtaking outdoor ceremony spaces on the oceanfront lawns. The wide selection of richly decorated rooms, spacious villas with ocean view balconies, and resort residences make it one of the dreamiest wedding venues across the US. Located directly on the Atlantic Ocean beaches of St. Simons Island, it is one of the best places for destination weddings in the US, with sweeping ocean views and state-of-the-art facilities.
Hyatt Regency Coconut Point Resort And Spa, Florida
Nestled in 26 acres of property with over 21 wedding event spaces to choose from, Hyatt Regency Coconut Point Resort And Spa is a tropical resort near Naples in Florida, perfect for an unforgettable beachside wedding. Making it one of the best wedding destinations in the US, couples can enjoy exclusive access to five water slides, four refreshing pools, a lazy river, and a secluded private island, all in one place. One of the top choices for beachfront weddings on the Gulf of Mexico, it is also voted as one of the best places to propose in the US, as it is loved by lovebirds for romantic escapes filled with endless excitement.
Water's Edge Resort & Spa, Connecticut
Another East Coast beach wedding venue that makes to this list, the Water's Edge Resort & Spa, is a renowned beach hotel in Connecticut located right on the Connecticut shoreline. Featuring perfectly landscaped gardens, acres of grounds overlooking the water, a private white sand beach, restaurants, entertainment, a premium spa, and breathtaking views of Long Island Sound which serves as the backdrop for wedding ceremonies and receptions, this premium beach wedding venue in East Coast has kept its presence as a top New England beachfront resort for weddings, vacations, and getaways.
The Grand Hotel of Cape May, New Jersey
One of the most luxurious beach wedding destinations in the country, the Grand Hotel of Cape May sits right across the street from Cape May Beach. Boasting panoramic views of the historic Victorian Cape May, this hotel is the perfect oceanfront hideaway for hosting weddings on the beach. Featuring a spectacular Penthouse Ballroom that is catered to host both big-sized and small-sized celebrations, this beachfront wedding venue in New Jersey can enable you to experience your 'grand day at the beach.' The wedding events can be held on the sand or on the spacious sundeck that overlooks the sparkling water, making it one of the top tropical wedding locations.
Mansion By The Sea, Texas
Just like the name suggests, the Mansion By The Sea in Texas is a dreamy oceanfront venue located just 25 minutes outside of Corpus Christi. This ultimate Texas beach wedding venue is one of the many unique destination wedding locations for a memorable seaside experience for you and your guests. The tropical vibe of this coastal mansion along with the long white sand shoreline can give you the ultimate private beach wedding experience with sand between your toes and waves crashing behind you. The gorgeous indoor and outdoor areas are perfect for celebrating your big day with your loved ones on the deck with string lights twinkling overhead. Whether you are planning to host a Parisian-themed wedding in the middle of Texas or want a chic beach wedding venue for your luxurious big day, this can be your ultimate bet!
Nonantum Resort, Maine
Featuring classic East Coast charm, the breathtaking Nonantum Resort in Maine is an all-consuming waterfront destination resort that overlooks the Kennebunk River within walking distance of Dock Square's shops and restaurants and a half a mile from Colony Beach. Considered to be one of the most accessible and convenient resorts in Southern Maine, this beachfront wedding destination also features the iconic Maine Lighthouse as the wedding ceremony backdrop, which makes it one of the most loved wedding venues on the beach across the country. Surrounded by breathtaking natural beauty and an ethereal seaside backdrop, this Southern Maine resort can be the most ideal destination for your fairytale wedding on the beach!
Sea Crest Beach Hotel, Massachusetts
There is something so effortlessly chic about the Sea Crest Beach Hotel in Massachusetts, which makes it one of the best wedding venues for beachside celebrations in the entire country. The Cape Cod beach wedding venue is one of the most beloved venues which is located in North Falmouth which offers a charming waterfront resort that is set for relaxation, romantic escapes, family traditions, and memorable events. The only beachfront resort in Upper Cape Cod, this private property located along Buzzards Bay offers easy access to the area's best outdoor adventures, like sailing, hiking, golf, historic tours, and more. If you are looking for glamping ideas for your minimoon after your big day celebration, this can be your cozy spot to retire after a day of exploration and adventure.
Turtle Bay Resort, Hawaii
Since Hawaii is considered to be one of the top wedding destinations in the US, the mention of this tropical paradise is making a second entry on our list. And one of the most coveted coastal wedding venues in the islands of Hawaii, the Turtle Bay Resort is a dream wedding venue located along the incredibly dramatic North Shore. This tropical paradise is known for being deeply rooted in the land, the history, and the layered richness of Oʻahu as one can find endless authentic connections to the place of uncommon natural splendor and warmth in every corner. Whether you are looking to get away from social media on your honeymoon hiatus, or simply want to get hitched in a place that is marked with constant discovery and moments that can touch your soul, this top resort in Hawaii can be your dream pick!
The Crook Point, Oregon
Perched on 60-foot bluffs above the Pacific, it is easy to see why Crook Point in Oregon is considered to be one of the top beach wedding locations! The peaceful and secluded luxury resort in the heart of Oregon is surrounded by Southern Oregon's most beautiful stretches of coastline and the historic Crook Ranch. Making it one of the best destination wedding locations, for beachfront unions in the US, this exotic wedding venue in Oregon is home to three private beaches for you to choose from, followed by a clifftop reception on Arch Rock Lawn or Burnt Hill Overlook where you can take your first dance to the sounds of waves crashing below.
Semiahmoo Resort, Washington
One of the most breathtaking locations for exotic destination weddings in the US, the Semiahmoo Resort in Washington is a dream come true Northwest seaside resort for couples to begin their 'forever!' Also considered to be one of the top locations for a dream destination wedding, this luxurious resort is surrounded by the Salish Sea and offers the ultimate Pacific Northwest retreat experience for everyone. The gorgeous ocean views paired with scenic mountain views make it a dream destination for couples looking out for a beach wedding venue that can accommodate all wearing styles. Whether you want to get away from the daily hustles of life or looking for a place to tie the knot in a place that looks straight out of a fairytale, this is the place to be!
If endless sunny weather and sandy toes sound like your ideal wedding vision, then a beach wedding will complete the picture of your dream wedding. All the above-mentioned beachfront resorts and mansions are gorgeous locations where you will love to spend time with your friends and family while starting a brand-new life with the love of your life! These places are not just unique, but also picturesque, which makes them steeped in photo opportunities for your wedding photography and videography session. For couples who want to commemorate the biggest day of their lives in front of the sparkling ocean waters or want to escape to an island to tie the knot in complete seclusion, one of these picturesque beach wedding venues in the US can be the perfect place to exchange your "I dos."