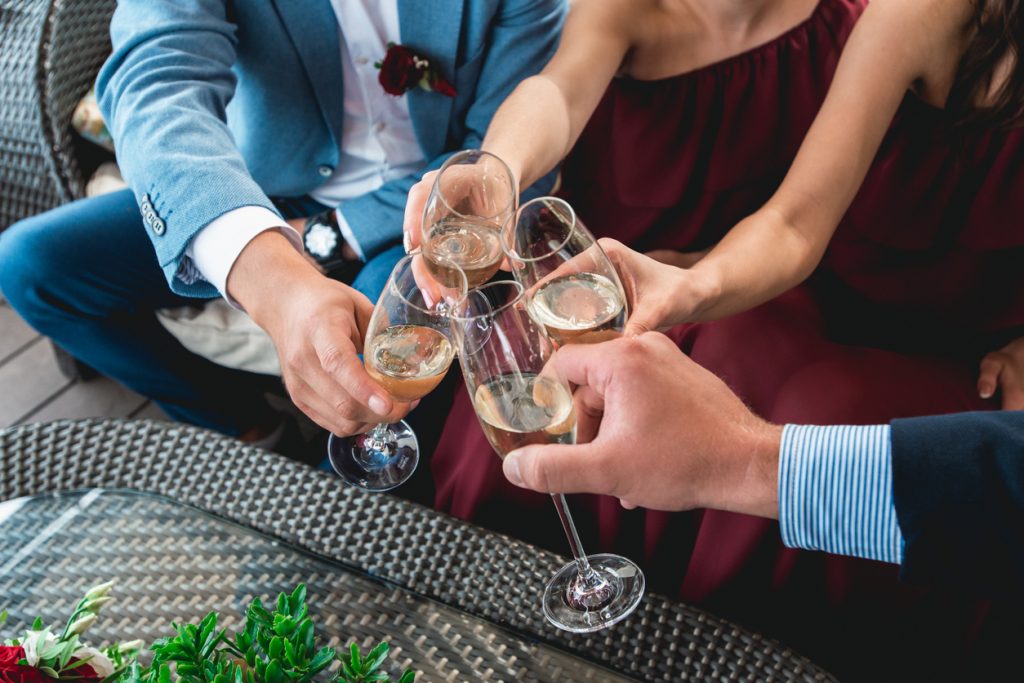 Sharing a monumental instance in your life with your close ones makes it all the more special. Studies show that having close connections not only makes you happier, but it also helps you to live a longer, happier, and more fulfilling life. Your inner circle of family and friends has witnessed all the highs and lows of your life and with such a high waltzing into your life, it's only fair to have the close ones nearby to celebrate this day with the glory that this day calls for. While you can have a cozy intimate setting and celebrate your special day with a simple dinner, there are several other ways you can make your engagement party a raging success- the kind that people will not forget!
•  Beach Party: What can be more perfect than the slated golden hour reflecting off the sea while your close friend and family meet up for a sunset bonfire on the beach. Add in s'mores opportunities in good measure, beach games, and some fancy tropical drinks. You can add in some live acoustic music to the music for the perfect bonfire vibes. Soak in the golden sun as you retell your compelling proposal story. As the sun goes down, let the sun pop up with the brightest of pinks and orange, as the bonfire takes the fire and cast an iridescent glow on everyone. This will be one engagement party that will forever be etched on your guests' minds.
•  Idyllic Train Ride: How about taking your friends and family on a fun whimsical ride? Imagine having your close ones on a short train ride through the countryside. Imagine an idyllic winding track through the rolling hills as you sit up cozy with your close ones, toasting your engagement. Fancy it up by bringing in the luxury appetizers. Do a bit of research and find yourself the perfect route and best novelty train to suit your purpose.
•  Give Back: When all the joys of the world seem within your arms reach, the best thing you can do is give back! Not only is it in the lines of gratitude and sharing the joy, but it is also environmentally friendly when you are giving back to the planet. Think along the lines of ethically sourced food and decor done by local artisans. Give of scratch-off cards that donate to a charity or potted plants. Your heart will be full and happy by the end of the evening.
•  Put Your Mask On: Leave the low-key for the novices and go for full-on drama! Infuse mystery into your engagement party by going for an elaborate, elegant masquerade ball in celebration of your engagement. Have your guests dressed to the max and be adorned with elaborate masks. The drama can also set the perfect mood for getting your 'Save Your Dates' clips shot by our engagement videographers. Win-win!
•  Scavenger Hunt: Infuse fun into your engagement party by arranging a well-planned out scavenger hunt. This is the perfect way to get everybody in an interactive and spirited state of mind. Design a string of clues that will lead your guests from one relationship milestone of yours to another, with the final clue declaring your engagement. This will not get your friends and family in a competitive spirit and will have your guests talking for ages.
•  Sail On: If you want to turn it on and do things the perfect way, with a luxurious undercurrent, invite your friends and family for a leisurely sunset sail. Imagine endless blue water, the sun on your shoulder as you all toast to your engagement. The atmosphere is intimate and relaxed and the pressure is off. Hire a reputed caterer to keep the savories and bubbly, while you lay back and take the sun and the setting in.
The idea is to ensure that the guests present are the people who really have your best interest in their hearts. And as the day comes to an end, you feel like you have celebrated with people who truly care. And when they drive back home, there is a smile on their faces, matching the one in your face as you wrap the day up! There are so many engagement party ideas out there for you to get inspiration from.