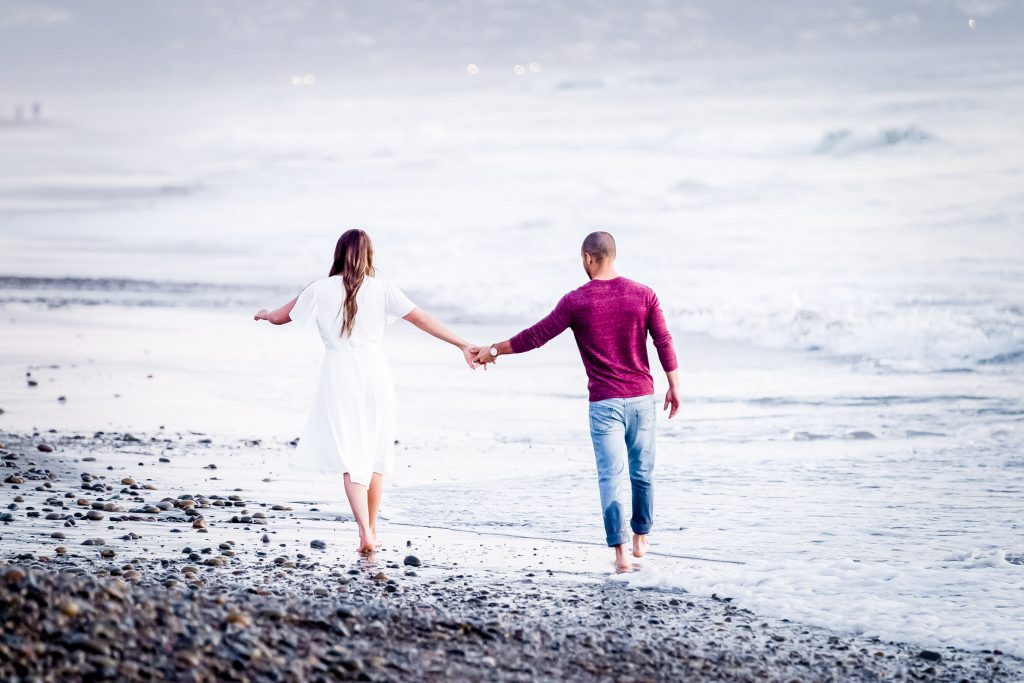 Summer engagement sessions can be easily translated into thousand reasons why this is the best time of year for a photoshoot. Warm weather engagement photos are all about romance and magic, from vibrantly blooming flowers to luscious drapes of grass and greenery posing as the backdrop to the magic of golden hour portraits. There are numerous reasons why summer is known as the "love season." Summer engagement photo sessions can be incredibly stunning, with thousands of brides hosting incredibly beautiful summer weddings to modern and minimalist couple portraits that look straight out of the dreamy coasts of the Mediterranean.
Despite the fact that the holiday season is commonly referred to as the official engagement session, we are here to talk about engagement photoshoot ideas for warm weather. It's because the best part about having a summer engagement photoshoot is that you don't have to get engaged during the summer to book one. Your significant other may have proposed to you during the autumn season or during the holiday season. But you can still go ahead and have a summer engagement portrait session! Capture these once-in-a-lifetime moments in the season that is synonymous with love if you capture the romance of dreamy summer nights and mornings in your portraits. Think about those fashionable summer engagement sundresses and stylish groom-suiting ideas that will look the prettiest in portraits if these summer engagement photo inspirations aren't enough! You can browse through summer engagement outfits and summer-inspired couple poses to make your engagement photo session enjoyable, perfect, and memorable for you.
Choose a location that is special 
Take advantage of the variety of locations available if you are taking engagement photos in the summer. Consider how you can incorporate your favorite summer destinations into your engagement photoshoot. You can also choose a meaningful engagement photoshoot location, such as the museum gallery wedding venue where you met for the first time, or the local park where you met while walking your dogs. Your first date location and the location of your proposal are both amazing options. When you look back on these engagement photos, you will remember not only having a great time at the session, but also all of the happy memories you have already made together at the location. You can also get creative with your backdrop, whether it's a beach or a boat dock, or a gorgeous wildflower field engagement proposal backdrop. And, if your heart is stuck on certain couple photo ideas, talk to your engagement photographer.
Go for white or neutral engagement attire 
When you are out in the sun, go for light bridal makeup ideas and accessories rather than dark-colored ones. Pull out your little white dress (LWD) and put an end to any future confusion about when your engagement photos were taken, since white is practically synonymous with summer! Ask for your fiancé's participation in wearing white shorts and a summery blue outfit for natural-looking engagement photos. This summer engagement outfit idea is appropriate for the season and will put you both at ease. Neutrals are a great option for couples who want a more muted look for their summer photoshoot if they are saving white for your wedding. Neutral engagement outfits stand out beautifully against sun-kissed skin, and shades of tan will add a modern twist that jives with high fashion.
Say yes to beach engagement photos
There is a reason why beach wedding venues around the US and beyond are so popular for summer weddings! It's always a good idea to go to the beach in the summer. A beachy engagement backdrop is a great way to add some summer vibes to your photoshoot if you live near the beach. Beaches still remain one of the most popular places to propose! Although it may appear to be an obvious choice, there are a variety of reasons why the beach is such a popular engagement location, especially in the summer. The light can be spectacular whether it's sunny or cloudy, and the reflective surface of the sand creates a lot of bounce lights. This helps to even out the light in most directions when photographing couples. The beach is also well-known for its photo opportunities. Couples can do all of these things on the sand- they can lie down, sit, walk, or even run. As a result, the beach is an ideal location for a romantic engagement session because you can splash in the waves, get sand on your toes, and share a few salty kisses! A beach setting can provide a variety of backgrounds for your photos, from soft sand to rocky shores. If you are not afraid of getting drenched, try getting a few shots of you and your fiance embracing in the waves.
Get clicked while on the move 
Movement gives a situation more life and feels more natural than remaining still. Summer is particularly conducive to movement because it allows you to partake in more outdoor activities and capture more natural engagement photos. Jumping into a pose and holding it until the shutter clicks can feel stiff and unnatural. But if you are having anxiety, remember that most people aren't used to having their photographs taken, so don't be anxious! Keep moving throughout your session for the best summer engagement photography results. You will probably only get one chance to take engagement photos, so go all out and make the most of it. For instance, if you are at a beach, go for a swim or if you are photographing at a boat dock, get on the water!
Have faith in your engagement photographer 
Don't worry if the heat makes you sweaty and uneasy; your engagement photographer is trained to make you look your best! Trust your professional engagement photographer to capture you in the best possible lighting and from the best angles, whether it's a soft-kiss close-up shot or a wide-angle silhouette. Many couples are concerned about the negative effects of humidity on their hair, but professional engagement videographers and photographers claim that it can actually improve your hair's appearance. In photographs, looser, more natural curls and styles look fantastic. It's natural to be concerned about your photoshoot. But the best way to feel prepared and confident for your engagement photos is to speak with your photographer first.
Bask in the golden glow of love 
Summer engagement photos are best taken just before or just after sunrise or sunset. The golden hour occurs twice daily: shortly before sunset and shortly after sunrise. At this time of year, the sun will cast the widest range of colors, softest lighting, and most dynamic shadows. While the lighting at sunrise and sunset during golden hour is similar, each option has its own set of benefits and drawbacks. With this warm and soft light, your golden couple portraits will appear elegant and magazine-worthy. What's the better option? During the summer season, these are also the cooler hours of the day.
Rustic engagement backdrops 
If you haven't already, summer is an excellent time to visit the mountains! Just like tropical and coastal honeymoon spots for a winter honeymoon, mountain locales are popular for summer couples. Summer is the best time to visit these places because some of the most beautiful photogenic locations are hidden under snow or closed due to road closures during the winter. Just keep in mind that if you are serious about going out there, you might have to pay a travel fee to your photographer. Moreover, some couples associate long summer days with family trips to the farm, and what better setting for a rustic summer photoshoot than a cozy barn? Due to the open rafters and ample space, renovated barns have become a popular location for summer engagement photoshoots, and they also make a great location for a rustic style photoshoot.
Hire a professional MUA 
Engagement photos are a great way to get a feel for how the styling will look in photos if you are thinking about hiring a professional wedding MUA. From choosing the best bridal hairstyle for an outdoor shoot to making new weather appropriately ready, professional engagement makeup artists can be magicians! Plus, these makeup artists know what they are doing when it comes to sweat-proof summer makeup. You can keep a cool, calm, and collected demeanor during a photoshoot this way.
Opt for a change of engagement outfit 
For an outdoor photoshoot, bringing a second engagement outfit is always a good idea. If you are starting with a more formal dress and suit, change into your favorite sundress for a more relaxed vibe, especially if you are going somewhere more adventurous like the beach. There are several reasons to bring multiple outfits to a summer photoshoot. For starters, any kind of mishap could occur. Taking photos outside can get messy, from sweat stains to dirt and grass stains, so bringing an extra set of clothes is always a good idea. Secondly, the temperature can drop dramatically after sunset. Having a second outfit on hand may come in handy as the daytime heat fades. When planning your wardrobe, keep these factors in mind, and bring a few extra outfits just in case.
Seasonally inspired engagement props
Every couple has their own inside jokes and personality quirks, which you can use in your engagement session to create photos that truly reflect your personalities. Your personalized engagement props could be anything from a bottle of champagne to a memento from your first date. In your engagement photos, fun engagement photo props are a great way to show off your personality, interests, and hobbies. It could be a hat, your dog, or even a canary yellow Vespa! On the other hand, if you want to focus everyone's attention on the couple's chemistry, you can go a little easy with your creative engagement photo prop ideas.
Always choose comfort and style 
The heat can be overpowering for some couples, especially those who prefer to dress in layers. Summer weather, on the other hand, can be fickle and unpredictable. It's possible that your photoshoot will start out hot and then cool off after the sunset hour. To stay comfortable, bring an extra layer with you, such as a favorite jacket or a shawl. When choosing engagement photo outfits for your summer photoshoot, keep in mind that comfort comes first. You don't want sweat stains to ruin your otherwise perfect engagement photos. This is why it's imperative to dress comfortably for a summer photoshoot. Lightweight, breathable fabrics like cotton, linen, or rayon should be preferred over heavy and heat-retaining fabrics. Flowy silhouettes keep the body cool, give your photos movement, and work well in the wind. Make your engagement outfit selections in a way that makes you feel more at ease. Lightweight fabrics and evening photoshoots will help you avoid overheating without sacrificing your personal style.
Go for a night photoshoot 
If stay-at-home date night ideas aren't working well as a photoshoot idea, a nighttime engagement photoshoot can be a great option! As the temperature begins to drop in the evenings during the summer, it's a great time to take photos. Nighttime engagement photo sessions add drama to the occasion and allows you to try out new lighting techniques. In order to plan your shoot, talk to your engagement photographer about possible locations with built-in lighting.
Ultimately, have the fun of your life!
As you can see, summer photoshoots are anything but boring! Since most couples spend their summer vacations traveling, exploring, and having fun, they have a plethora of engagement photo ideas from which to choose. Consider incorporating some of your favorite vacation spots meant for couples into your engagement photos. Whether it's hot or cold, you are spending quality time with your best friend at the end of the day. So make the most of it and make it memorable!
For some couples, the concept of an engagement photoshoot may be excessive, but these pre-wedding photos can help you become more comfortable in front of the camera before your big day. Moreover, the lovely couple portraits from your engagement photo session can be used to test the waters with your wedding photographer, allowing you to get a feel for the vibe, look, and feel of the wedding photos. It's also crucial to know what type of summer engagement photos you want. Is it romantic, candid, or more of a storytelling vibe? Do you want meaningful engagement signs to finish it off, or do you want simple portraits to send to your family during the holidays?
Even though summer photo sessions will be hot and humid, there are many ways to get beautiful images regardless. The purpose of a summer couple photoshoot is to have as much fun as possible while forgetting about the heat and any other inconveniences that may arise. Warm weather engagement photo sessions can be the sweetest when you have the right chemistry to back your portraits! From treasured hiking spots and highly coveted beach locations to first date sites and incredibly personal home photoshoots, warm weather engagement photo sessions can be the sweetest when you have the right chemistry to back your portraits!