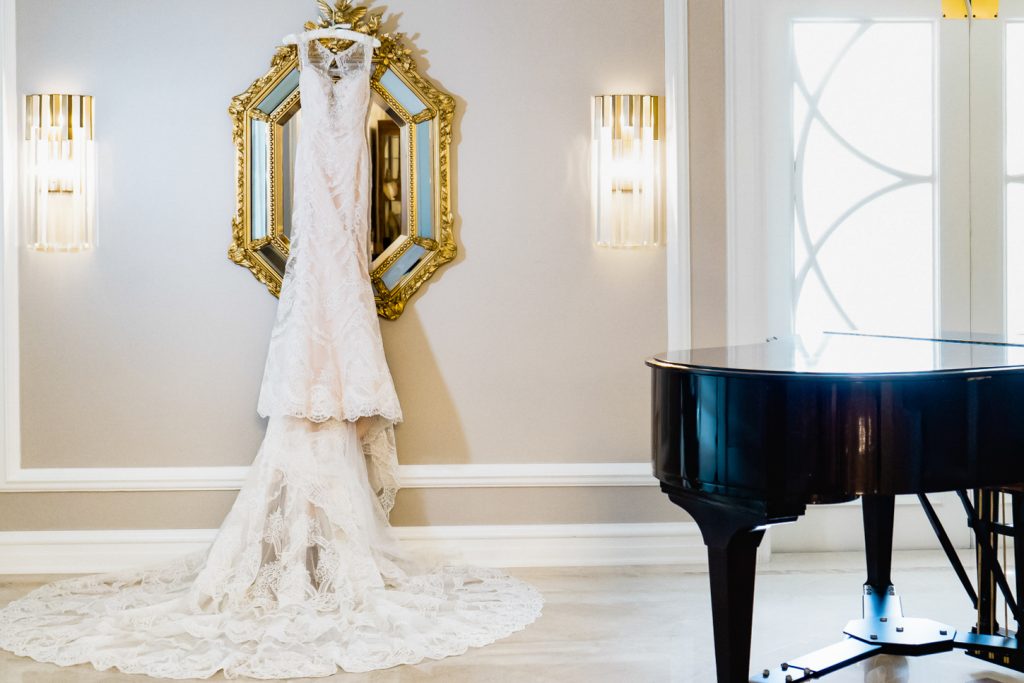 It's 2022! The year is full of hope, love, colors, and much more to welcome and witness! We hope that this beautiful year brings a lot of joy and colors to everyone's life! So, why should our brides-to-be, should be left behind? The reason we are talking about colors from the beginning is mainly that this blog is all about colorful wedding dresses that are going to be a huge sensation and yes, incredibly trending this year! We are going to focus on the colorful wedding dresses for 2022 so that our adventurous and out-of-the-ordinary brides don't have to do much googling when it comes to their wedding dress shopping!
In short, let's just step back and focus on the words of that sentence which says "your wedding day!" It's your special and big day, which clearly means that you can wear whatever you would like and however you like! Well, we all know that a white wedding dress is a tradition that has been followed for so long, but there are also plenty of traditions that our millennial couples are choosing to leave behind like the garter toss, choosing to have dessert tables in place of classic five-tiered wedding cake or in-person gift registries! Our modern-day romantic couples are adding a little twist to the old traditions in their own way to make them more personal! Well, talking about white wedding dress, then some of our lovely brides are always drawn to beautiful and forever classic white designer bridal wedding dresses, but on the other hand, there are brides who envision themselves in shades of blue, mint, and any color of their choice on their wedding day! So, if you think you fall into the latter category, we are pretty sure that you are probably on the hunt for a bold and colorful wedding dress that not only makes you stand out on your wedding day but will also make you look nothing short of gorgeous in your wedding day photos and videos! Not just the brides but even our professional wedding videographers and photographers will also love to play around with colors!
Well, there is no denying the fact that white wedding dresses stem from the idea that brides are innocent, pure, and a number of other quite sexiest standards for women. While the trend of white wedding dress stands, the symbolism behind wearing a white wedding dress is pretty much behind us now! If you don't feel like a white wedding dress is just not you or your style, then you don't have to wear it at all! You can and must follow your gut feeling and wear whatever makes you feel beautiful and more like you! In short, one easy-peasy way to express yourself and your personal style in the best way possible on your wedding day and through your wedding photographs is to wear a colorful wedding dress! All the brides who are in love with color should go for a designer colorful wedding dress rather than going for a timeless white wedding dress for her big day celebration!
There is no denying that experts have made many wedding dress trends predictions for 2022, but there is one trend that always feels exciting especially for brides! Now, brides can ditch the standard white wedding gown and can look forward to adding a splash of color to their wedding day look and making a remarkable appearance in their wedding day photos! With so many shades available, brides are no longer limited to only the traditional white or ivory wedding gowns! In the past few years, we have seen real brides and various celebrities alike wear every color of the rainbow, including shades of pink, blue, and even black for their big day celebration! And now, it's your time to wear something out-of-the-ordinary on your wedding day and become a trend and inspiration for all the soon-to-be brides out there! With "Bridal Fashion Week 2022" just a couple of months ago, our favorite wedding dress designers continue to send fresh, and inspiring shades down the runways for our brides who are in search of colorful wedding dresses for their 2022 weddings!
But, before you start your search for a perfect colorful wedding dress, you must be sure about the shade that will best celebrate your personal style and also complement your wedding day color palette! If you are a bride-to-be who always prefers to keep subtle and classy and want an elegant hint of color, then you can consider wedding dresses in shades of soft gray, lilac, and powder blue! But, if you believe that you are a drama queen by heart (well, every girl is!) and want to make a dramatic statement while you walk down the aisle, then you must choose a high-impact colored wedding dress that features emerald green, red, and even bright pink!
No matter which season or year you are getting hitched to the love of your life when it comes to choosing designer colorful wedding dresses, there are always a few hard-to-miss colored wedding dresses within just about every wedding dress designer's collection! And this fantastic year and every season of this year is going to be no different! This year, brides will have too much to witness when it comes to colorful wedding dresses! From embroidered colorful floral wedding dresses and hand-painted blooms, in addition to muted pastels (our millennial brides are die-hard fans of pastel purple shades which, we are pretty sure, are going to make waves this season!), colorful wedding dresses are so in trend, trust us! At times, it gets pretty difficult and overwhelming to name just one creation from a popular wedding dress designer collection as trendy and the best, as every designer's wedding dress makes a statement of their own based on their style! We have chosen multiple! Whether you are planning to have a black-tie wedding or a casual and romantic seaside wedding ceremony, we have rounded up some of the freshest, unique designer colorful wedding dresses for our 2022 brides! These colorful wedding dresses are nothing but the perfect fit for every style, budget, and color palette!
Best Pale Pink- Markarian Silk Dupioni Colorful Wedding Dress 
Gracefully designed from pale pink silk dupioni, Markarian Silk Dupioni Colorful Wedding Dress is supremely elegant for a black-tie wedding. In fact, this wedding dress can be a perfect fit for outdoor wedding ceremonies or couples who are planning to have minimonies for their wedding day celebration! Featuring a fitted bodice enabling brides to flaunt their sensuous curves, puff sleeves, and a gentle train, all these three details serve as the perfect finishing touches to this romantic silhouette! If you are wearing this pale pink wedding dress, trust us you will just look spectacular and mind-blowing! With a nude makeup and chic hairstyle, complementing the wedding dress, we can assure you that your bridal portraits captured by our professional wedding photographer will steal everyone's heart!
Best Floral Print – Reformation Floral Colorful Wedding Dress
If you are planning to host a casual and laid-back rustic backyard wedding and want to keep it quite simple yet elegant and classy, you must opt for a nature-inspired wedding dress that gracefully resonates with your wedding theme! And when we say nature-inspired wedding dress, there is nothing more beautiful and suitable than a floral colorful wedding dress! Reformation floral colorful wedding dress is indeed a perfect choice for a backyard wedding! Pair this lovely and vibrant wedding dress with grass-friendly espadrilles and minimal bridal accessories to complete your effortless yet chic wedding day bridal look!
The Best Blue Bright: Alberta Ferretti Sleeveless Maxi Colorful Wedding Gown
Well, if you ask us, there is nothing more perfect and better than finding your perfect wedding dress and your "something blue" at the exact same time, right? It's like a win-win situation for every bride! So, if you are in for that kind of wedding dress, we have got something for you that will not only make you look stunning on your wedding day but will also leave all your wedding guests and your sweetheart admiring your bold colorful wedding dress choice. This exceedingly chic and slightly sporty number blue wedding dress by famous wedding dress designer Alberta Ferretti is just perfect for the bride who is planning to slay her wedding day bridal look with a minimal touch of beauty! Offering a minimalist sensibility, this blue wedding dress is just the best and perfect for any bride who is up for some colorful adventures on her wedding day!
Best Pastel: Needle & Thread Ruffled Colorful Wedding Dress
From wedding decor to wedding invites to bridesmaids' wedding dresses, mint is the color that always goes with the trend. No matter which season you are planning your wedding day celebration, mint is the color that will be popping everywhere. This color is not only the most desired wedding day color but is also a popular color when it comes to wedding day dress color! Mint is indeed one of the trendy colors for upcoming wedding dresses but is also becoming a popular choice for spring and summer weddings! All the brides who are planning to wear a mint-colored wedding dress are really up for something chic and timeless! So, all the brides out there who want to wear a stunning and lovely mint color wedding dress for their wedding day must consider slipping into this trendy and chic soft pale-colored wedding gown from Needle & Thread.
Most Statement-Making: Carolina Herrera Detachable Puff-Sleeve Silk-Faille Colorful Wedding Gown
All the classic and modern-day romantic brides who are all in for a colorful wedding dress, we have a suggestion for you! Go for a bold-colored wedding dress. This vibrant and stunning red-colored wedding dress is nothing short of totally show-stopping and will make you stand out in all of your wedding photos! Brides who are really into experimenting with colors when it comes to wedding dresses, this red-colored statement-making Carolina Herrera Detachable Puff-Sleeve Silk-Faille colorful wedding gown is an ideal fit for your wedding day bridal look! The puff-sleeves and strapless neckline of this colored wedding dress will bring out the sensuousness of a bride while making her look like the epitome of incredible beauty! A bride wearing this stunning and chic-colored wedding dress will look nothing but breathtaking when she will make her way down the aisle! Everyone will be left awestruck.
Best Blush: BHLDN Blush Glitter Tulle Colored Wedding Dress
We all know that blush is the color that goes with every wedding theme and wedding style. This color perfectly and gracefully fits in with every season! All the brides who are looking to wear something incredibly romantic and timeless on their wedding day in the form of a colorful wedding dress, we have got you covered! Try slipping into this classic and elegant BHLDN colorful wedding dress and make a breathtaking statement on your wedding day! With exquisite and elegant glitter details lining the sheer bodice, there is something really chic and extraordinary about this blush-colored wedding dress! The moment you will slip into this lovely and gorgeous designer wedding dress on your wedding day, you will actually feel like you have just walked straight out of a fairy tale! For all the brides who have always desired to look like a Disney princess on their wedding day, this BHLDN blush glitter tulle colorful wedding dress is indeed a perfect choice!
Tips to consider while shopping for a Colorful Wedding Dress
When it comes to shopping for a colorful wedding dress, it is important to find a hue that is not only flattering for your skin tone but also works well with your wedding's color palette and wedding theme! The time of the day and the season you are choosing to get hitched also help you determine what color will suit you best for your wedding day bridal look! If you are having a summer or spring wedding celebration, you can consider shopping for color wedding dresses that are soft in colors like pastels and cherry patterns like lovely floral prints as they are a perfect choice for warm-weather nuptials! If in case it's a romantic winter affair celebration, you can consider wearing wedding gowns that are of floor-length adorned with sophisticated jewel tones such as emerald green and navy, as these two colors look elegant and sophisticated, especially if a black-tie celebration is on your mind! And if you prefer to wear white for the ceremony but are looking for a fun and colorful second look, opt for mini dresses in vibrant hues like bright pink and electric blue.