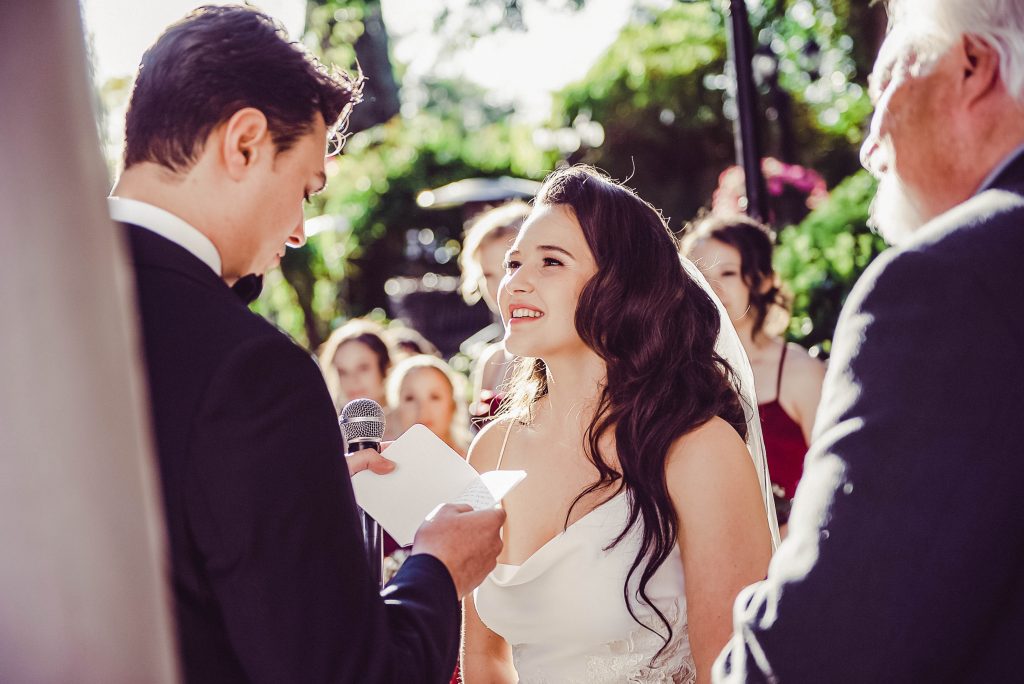 As the years pass by, wedding trends keep on stepping up their game! As a soon-to-be bride, we can understand that at times it gets very difficult to stay on top of all the latest wedding trends, especially if your wedding day is not for a year or two! Well, we are sure that as you're soon to be hitched to the love of your life, you are already thorough with your wedding research and wedding planning! Until now you might know that whimsical and rustic wedding themes are here to stay for a while and boho-chic styles are still very prominent and most desired in the world of hair and make-up! But have you ever considered adding love poems to your wedding day? 2021 is definitely going to see a rise in popularity of reading wedding poems during the wedding day celebrations! If you ever considered poetry old-fashioned, think again, as these days, they are the most desired wedding trend in the world of weddings!
Romantic words or meaningful lyrics always touch our hearts and make us think about that one person who means the world to us! And that is why great poets use words to make thoughts and all the hidden or unsaid emotions come alive! Talking about sweet and romantic words, then there is no better time to read out aloud than on your wedding day to the love of your life! In order to find that one poem that suits both of you best, the very first thing that you need to do is determine what style you would like! Are you looking for something that rhymes? Or are you more into modern free verse, just like you? Or are you a die-hard fan of the famous and classic poets? Or maybe you just want a verse on nature? A sonnet? Or even a Haiku will be a great option for you? Just keep in mind that everything is up to you and your choice of poem and poets!
There is a poem for every kind of wedding theme! No matter whether you are planning a romantic outdoor wedding ceremony or a casual wedding on a beach, we can assure you that there is a poem for every kind of wedding celebration! A beautiful and romantic poem will fit into your wedding ceremony whenever readings are appropriate! There is no perfect time or moment to incorporate lovely and whimsical poems to your wedding day! You can set the overall tone at the very beginning of your wedding ceremony with a romantic poem just after the officiant's welcome. Or you can also think of adding a poem before you say your wedding vows! If you are planning to have a sub-ceremony like a unity candle or sand ceremony, we can assure you that reading out a poem to the love of your life while performing all the wedding ceremony actions will definitely make the whole setting more inviting and incredibly romantic! In fact, you can also read your favorite poem even after your ring exchange ceremony just before the officiate offers a blessing of the marriage or pronounces you both officially married!
A wedding is indeed a special moment in the life of every couple! We believe that it is no less than a miracle that the two souls have finally found each other and are all set to start their lives together for the rest of their lives! A wedding celebration is indeed a time of unparalleled joy. And to make it even more memorable and a cut-above-the-rest kind of celebration, read the lines of your favorite poems and let everyone go in awe-moment for a while! Here is an idea of a short love poem that you can consider saying out loud to your darling and make your wedding ceremony moment more special!
"I promise to be true to you tomorrow and today. I promise I will love you. My love will never fade. I promise to be there for you in good times and in bad. I promise I will wear your ring and always hold your hand!"
These kinds of poem lines will surely leave everyone in tears (and have them reaching for their tissues to fix their mascaras)! The love and commitment that a couple shares amongst each other especially on their wedding day is something worth watching and also capturing in the best of frames. We can assure you that our professional wedding photographers and videographers will do justice with all your wedding photos in every possible way! From posing for millions of charming and romantic wedding photographs to cutting their wedding cake, the couple is definitely the two stars of the night, and everyone else gets to see their true love shine out bright in every way possible!
We are pretty much sure that on your wedding day, you and your partner will basically be saying to everyone: "Hey, we went through all the trials and tribulations of dating and together we Made it". Your dating days' stories will not only fascinate your wedding guests but our experienced wedding photographers and videographers will too lend their ears to hear your romantic story! There is nothing more inspiring and adorable than watching two people being head over heels in love with each other and are all ready to tie the knot to their successful love story! One of the beautiful things about a wedding night is when the couple of the day share their wedding poems in the presence of all their loved ones! A romantic poem reading for each other on the wedding day perfectly describes how the couple feels about each other!
It's not only us and our talented photographers and videographers who are crazy about unexpected wedding ceremony readings, we do have to admit the fact that everyone's heart will undoubtedly skip a beat when they will hear romantic love poems read out aloud during the wedding ceremony. We believe in the fact that where words fail, poetry says it all! Bound to draw a happy tear or two, wedding poems are indeed a great way of saying all those hidden feelings to the person you love on your big and special day! So, if you are also getting married like real soon, and finding it a bit overwhelming to look for beautiful poetry that can perfectly and gracefully capture the love you share for your partner, don't stress we have got you covered! Well, the Internet, specifically Pinterest, and Instagram are full of such beautiful and romantic wedding poems that you can consider adding to your wedding day poems list but to make your search easier, we have gathered some of the most romantic love wedding poems only for you. We can assure you that through our selection of romantic wedding poems you will be easily able to express how strong your love for your sweetheart is! Keep reading below to see which poems are guaranteed to make your big and special day a memorable celebration.

Classical Wedding Poem By Famous Word Masters
Classic wedding poems are nothing but timeless and elegant as they are written by the greats in the art of wordcraft. We are die-hard fans of classical wedding poems. Here are some of the best romantic love classic wedding poems for you and your partner as the poems never grow old and never fade away! Their essence can be felt by couples for the rest of their lives! Just like Pablo Neruda's famous poems are great for any wedding.
"Let me not to the marriage of true minds admit impediments.
Love does not love which alters when it alteration finds
or bends with the remover to remove:
Oh, no! It is an ever-fixed mark.
That looks on tempests and is never shaken;
it is the star to every wandering bark,
whose worth's unknown, although his height be taken.
Love's not Time's fool,
though rosy lips and cheeks Within his bending sickle's compass come;
love alters not with his brief hours and weeks,
but bears it out even to the edge of doom.
If this be error and upon me proved,
I never writ, nor no man ever loved."
"I'll be there my darling, through thick and through thin
When your mind's in a mess and your head's in a spin
When your plane's been delayed, and you've missed the last train.
When life is just threatening to drive you insane
When your thrilling whodunit has lost its last page
When somebody tells you, you're looking your age…"
"The Portrait Of A Lady"- Henry James
"It has made me better loving you… it has made me wiser, and easier, and — I won't pretend to deny — brighter and nicer and even stronger. I used to want a great many things before, and to be angry that I didn't have them. Theoretically, I was satisfied, as I once told you. I flattered myself I had limited my wants. But I was subject to irritation; I used to have morbid, sterile, hateful fits of hunger, of desire. Now I really am satisfied, because I can't think of anything better."
"How do I love thee? Let me count the ways.
I love thee to the depth and breadth and height
My soul can reach, when feeling out of sight
For the ends of being and ideal grace.
I love thee to the level of every day's
Most quiet need, by sun and candle-light.
I love thee freely, as men strive for right.
I love thee purely, as they turn from praise.
I love thee with the passion put to use
In my old griefs, and with my childhood's faith.
I love thee with a love I seemed to lose
With my lost saints. I love thee with the breath,
Smiles, tears, of all my life; and, if God choose,
I shall love thee better after death."
Romantic Love Wedding Poem By Unknown Poets
Well, there are some extremely romantic love wedding poems that are not only beautifully but gracefully crafted but handed down to us by anonymous writers. So, the best we can do is thanks to these great artists who have chosen to stay uncredited yet spreading love and tenderness with their beautiful and heart-touching wedding poems! Here are some of the finest and the best lovely romantic wedding poetry by unknown poets for you to incorporate into your wedding day celebration!
"Marriage"- Anon
"Marriage is about giving and taking
And forging and forsaking
Kissing and loving and pushing and shoving
Caring and Sharing and screaming and swearing
About being together whatever the weather
About being driven to the end of your tether
About Sweetness and kindness
And wisdom and blindness
It's about being strong when you're feeling quite weak
It's about saying nothing when you're dying to speak
It's about being wrong when you know you are right
It's about giving in before there's a fight
It's about you two living as cheaply as one
(you can give us a call if you know how that's done!)
Never heeding advice that was always well-meant
Never counting the cost until it's all spent
And for you two today it's about to begin
And for all that the two of you had to put in
Some days filled with joy, and some days with sadness
Too late you'll discover that marriage is madness."
"True Love"- Unknown Poet
"True love is a sacred flame
That burns eternally
And none can dim its special glow
Orphan grits destiny
True love speaks in tender tones
And hears with gentle ear
True love gives with an open heart
And true love conquers fear
True love makes no harsh demands
It neither rules nor binds
And true love holds with gentle hands
The heart that it entwines!"
Heart Touching Poems To Read At Wedding Ceremonies
Wedding poems from famous poets like Rumi, can melt even the hardest of hearts and can easily draw tears even from a stranger. And that is why wedding poems from these poets are incredibly touching and absolutely recommended for your special and memorable day!
"He's not perfect. You aren't either, and the two of you will never be perfect. But if he can make you laugh at least once, causes you to think twice, and if he admits to being human and making mistakes, hold onto him and give him the most you can. He isn't going to quote poetry, he's not thinking about you every moment, but he will give you a part of him that he knows you could break. Don't hurt him, don't change him, and don't expect more than he can give. Don't analyze. Smile when he makes you happy, yell when he makes you mad, and miss him when he's not there. Love hard when there is love to be had. Because perfect guys don't exist, but there's always one guy that is perfect for you."

Best Disney Original Poems For A Dream Wedding
If a Disney-themed wedding has always been your dream, then also, we have got you covered. Capture the timeless and everlasting magic of Disney and showcase the same at your wedding by speaking it through romantic words! No matter how old we get, deep in some corner of our hearts, we do love Disney stories! The best part of Disney movies is that their poems are the types that can guide you in how to write wedding vows! Henceforth, you can never go wrong with the option of introducing Disney magic through your wedding poems!
"So This Is Love"- from Cinderella
"So this is love
So this is love
So this is what makes life divine
I'm all aglow
And now I know
The key to all heaven is mine
My heart has wings
And I can fly, I'll touch every star in the sky
So this is the miracle that I've been dreaming of
So this is love"
"I See The Light"- from Tangled
"And at last I see the light
And it's like the fog has lifted
And at last, I see the light
And it's like the sky is new
And it's warm and real and bright
And the world has somehow shifted
All at once, everything looks different
Now that I see you"
Quirky Wedding Poems
Well, there are some couples who always prefer to do everything out-of-the-ordinary and everything about them says so! So, if you are that kind of couple who always prefers to break the routine, these quirky wedding poems are just your thing!
"Let Me Put It This Way"- Simon Armitage
"Let me put it this way:
if you came to lay
your sleeping head
against my arm or sleeve,
and if my arm went dead,
or if I had to take my leave
at midnight, I should rather
cleave it from the joint or seam
then make a scene
or bring you round.
There,
how does that sound?"
There is no denying the fact that wedding poems are indeed a very romantic and memorable way to make a wedding celebration extraordinary. Wedding poems are nothing but the beautiful and romantic rendition of all those unsaid feelings and love! Choose any of the above-mentioned styles of wedding poem for your big day and express your endless love for your partner!