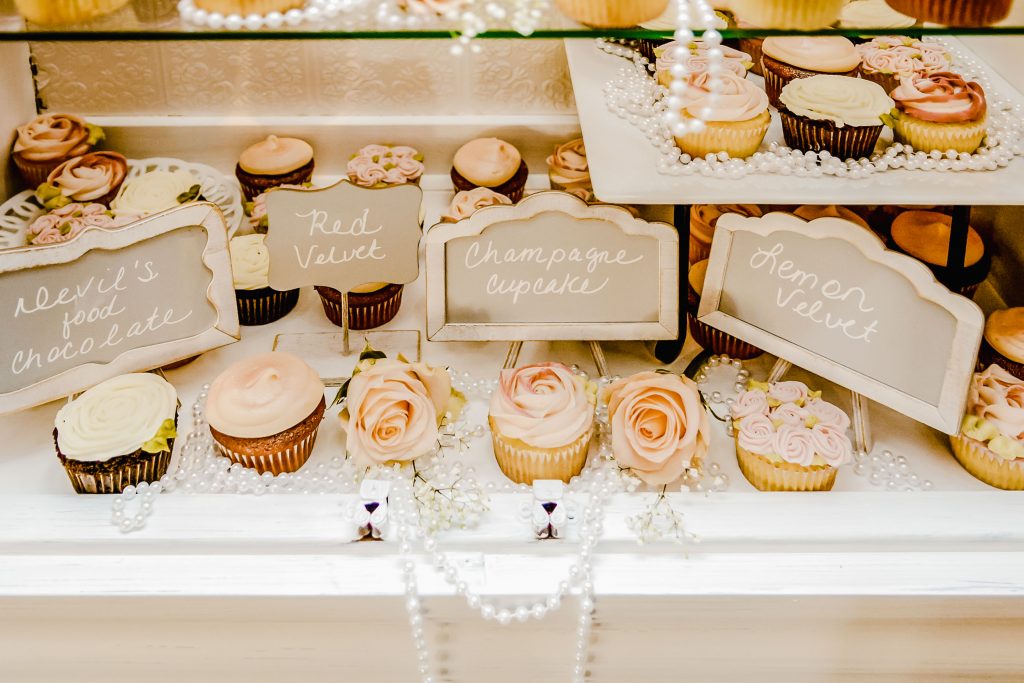 Yes, it is absolutely true that wedding invitations, all the decorations, lovely outfits, and romantic honeymoons are nice and amazing, but can we please talk about the wedding dessert tables for a second? We would definitely call dessert tables a trend, but they are not actually new, and are hardly going anywhere anytime soon! Maybe because of their universal mouth-watering appeal and lovely and photogenic nature! A unique dessert table idea will not only appeal to your wedding guests but will also woo our professional wedding photographers, as they will have a lot to capture on your wedding day! So, if you are also planning to have a dessert table on your wedding day, trust us, your wedding celebration will be the talk of the town for years to come!
There is no denying the fact that these days, dessert bars are becoming a popular choice amongst our millennial engaged couples who want to have something out-of-the-ordinary for their big day! These days couples are always up for something new and exciting, and thus are always looking for an alternative to the regular traditional wedding cake stand, and we can completely understand why! The dessert table usually ends up being the most frequented spot of the night (apart from the open bar, of course!). Adding some drama and style to your dessert table full of post-dinner treats is definitely a new and great way to inject a flair of your personality and creativity into your wedding day! With couples being experimental these days, there are endless thoughtful and impactful ways to incorporate new and unique dessert table ideas into a wedding day celebration! These days many of our millennial couples include desserts made using their delicious family recipes, especially referring to childhood flavors that everyone loved, and also honoring heritages, amongst others!
When it comes to the dessert table, there are no such rules that say you can only cut into one cake at your wedding! You can consider adding a wedding dessert table with candy, donuts, and more! We can assure you that your wedding guests and your sweet tooth will thank you for the years to come! And not to forget our creative and talented team of wedding photographers and videographers, as they too like sweet treats!
If you or your partner are not a fan of regular wedding cake, consider serving a selection of your favorite treats, like cookies or brownies, or even donuts! Or if you think you are more than a pie person, slick into your favorite fruit-filled varieties, no matter what time of the year you both have decided to tie the knot! Need more options, load your perfectly adorned dessert table with tons of sweets and trust us, your wedding guests will savor them throughout the night, and will remember your wedding day celebration for decades! If a wedding cake is something you have always dreamed of but also want to get experimental with your dessert table, then you can simply serve your wedding cake in addition to your dessert mélange! You can always choose to have a small confection or a few single-tiered cakes in a variety of different and unique flavors, plus an array of other sweet confections, and trust us you will have the very best and unique dessert spread around- especially if you dress up your table with blooms, lights, textured fabrics, backdrops, and more!
So, if you are also dreaming of the perfect dessert table that best represents your love, uniqueness, and personality in the best way possible, think of collaboration! The very first thing that you need to do is communicate all your ideas to the baker without giving a second thought! Before we go ahead and tell you about all the incredible and unique dessert table ideas for your wedding day, here are some elements that you must consider before thinking of setting up a dessert table for your wedding day-
• When it comes to what kind of treats you can have on your wedding day dessert table, the sky's the limit! From pies to brownies, to doughnuts, puddings- you just name it! All are welcome! Just remember, variety and novelty make a great dessert bar and amazing combination together!
• Don't forget to take the season into account when considering the flavors and decor! Planning a fall wedding? Consider adding pumpkin pie and apple cobbler to the dessert menu! If you are thinking of a spring wedding, it will be a great idea to bring in pastel-hued macarons and decorate them with fresh and aromatic seasonal blooms!
• Always keep your dessert bar resonating with the theme of your wedding! If you are planning to have a bohemian wedding, consider a more artsy display dessert table! If a country wedding theme is more of your style, you can incorporate wooden elements for your dessert table wedding decor!
• To make your wedding dessert table display stand out, try incorporating bold visual elements like arranging the desserts in a bright color or pattern, or you can also consider adding the trendy signages and balloons too!
• Your wedding day dessert table can be multifunctional! Trying to turn your dessert display into a favor stand for your guests is definitely a great way to combine both a dessert display and party favors! Don't forget to offer the to-go boxes!
• If you still want some traditional and authentic touch to your wedding day, you can serve your wedding cake along with an assortment of other desserts, even other cakes!
Now that you have been through every step of how you can add an incredible and extraordinary touch to your dessert table to make it the showstopper of your wedding day celebration, here are some of the unique dessert table ideas that will definitely make your wedding celebration a cut-above-the-rest celebration!
If you are planning a holiday-themed wedding, adding a pinch of bright colors is always fun and incredible! Don't make the touch of bright colors limited to your wedding decor only. In fact, bright colors are a fun way to draw attention to your dessert table, while the different types of cake pops are a great and best alternative to a smaller wedding cake! Incorporating bright colors to your cake pops will not only reflect your vibrant and colorful personality but will also leave all your wedding guests' mouths wide open! You can consider bringing in different color combinations of cake pops like the pink and periwinkle shades or can allow it to resonate with your wedding day color too!
Vintage-glam dessert table with cupcakes, cake, and cookies
There is no doubt when we say that cupcakes and cookies are timeless and are not going anywhere anytime soon! So, if you and your partner are cupcakes and cookies lovers, then this is the best wedding day dessert table idea! You can always consider incorporating them into your wedding day dessert table, especially if you are planning a vintage-themed glamorous wedding! You can use gold, brass, and jeweled accents that feel just at home in a classic Hollywood style as they do today to make an outstanding dessert table for your wedding day!
You can make your wedding cake the centerpiece of your wedding
If you are an old-school couple and can never get enough of your wedding cake, then also you don't need to worry about it! You can seamlessly get experimental and creative with your wedding cake to have some unique dessert table ideas for your wedding day! All you have to do is make your wedding cake the centerpiece, or let's just say the center of the attention, and choose your other desserts to match or better accentuate your dream wedding cake! Just keep one thing in mind that your wedding cake should be the focal point of your wedding dessert table, with the secondary desserts artfully encircling the main attraction. This kind of arrangement will look super-duper amazing in your wedding photos!
A donut wall is definitely a fantastic idea
A donut wall is definitely a new and popular wedding trend that is liked by our majority of couples who are looking for unique dessert table ideas for their wedding day! Just picture a pegboard with donuts hanging from each peg! This is absolutely an easy DIY project, that you can easily bring into your wedding day and highlight your creativity with your personal touch! Or you can also find donut wall options and even check out the online forms where you can rent the boards! Trust us, a wall decorated with hanging donuts will also lend a cool backdrop to the rest of your wedding day dessert table and of course for wedding photos too! Adding up a donut wall will offer you more room for your dessert table ideas, or you can just consider leaving it simple! Here is a piece of advice, you can always check out some of the best donut walls on Etsy! Trust us, there are plenty of customizable donut wall options available for you to choose from!
Colorful or monochromatic dessert towers are always a beautiful option
One of the best and unique ways to add some height to your wedding dessert table is by creating towers of desserts! Yes, you heard that right! Towers! They indeed look amazing and beautiful and the best is yet to come, they are not actually too difficult to make at home! This dessert table idea is something that you can DIY and get the chance to show off your creativity! You can simply use a styrofoam cone and toothpicks to create a lovely and alluring DIY dessert tower that will look nothing but clean and professional! You can also consider covering your dessert tower with colorful cake pops, donut holes, cream puffs, macarons, or any small dessert that you or your partner loves! If you don't want to do it by all yourself, the internet is full of endless options just waiting for you to get picked up! You can use different colors to make your dessert tower colorful and vibrant, or you can simply use monochromatic tones!
No one can ever go wrong with the idea of a milk and cookies bar! This classic and delicious dessert is something that your wedding guests will never get bored of! All the couples who are in love with cookies can always consider the dessert bar of assorted cookies and milk!
Not to forget about serving the mini desserts
Miniature desserts not only look cute and adorable but also make a great option for your wedding day dessert table! Trust us, serving mini desserts to your guests on the wedding day will offer them a taste of everything you have to offer them at your once-in-a-lifetime celebration! Another perk of having mini desserts at your dessert table is that your guests will be very much comfortable in grabbing one, plus they will get the chance to try more! Mini cupcakes, mini donuts, small cookies, mini pies, and tarts are some of the best mini desserts that you can add to your dessert table!
Bring in your theme wedding color
Just tie your wedding dessert table to your wedding color palette to have a flawless and uniform setting! This kind of setting will not only elevate your entire setting but will make all your wedding photos nothing but stunning! To have your wedding dessert table matching with your wedding color palette, all you have to do is ask your baker to use icing that perfectly matches with the decor color or even with your bridesmaids' dresses! Or to keep things subtle yet elegant, a white wedding cake along with colorful accent desserts resonating with your wedding color palette will make the best of the ambiance!
Use wooden decor for a truly rustic wedding vibe
All the couples who are planning to host an outdoor rustic wedding with endless rustic vibes can consider using natural wood decor to adorn their wedding dessert table! You can try including wooden cake stands, wooden dessert displays, and some other wooden fixtures to decorate your wedding day dessert table! You can also have your wedding cake and other desserts resonating with the wooden color texture to complement the overall setting of your rustic wedding!
Serve your dessert in decorative & fancy glasses
You are the bride, and it's your wedding day, you can get as creative as you want! And it's time for you to show your creativity with your desserts too! If you have added sweet treats like mousse or ice cream, you can consider serving them in fancy glasses like shot glasses, martini glasses, coupe glassware, or can even bring a mixture of glasses for a mismatched look!
Offer desserts as your wedding favors
If your wedding guests have a sweet tooth, and you can possibly just double down on desserts, then you can also offer some kind of desserts as wedding favors to all your wedding guests! Sweet treats as wedding favors, something that your wedding guests will never forget till eternity! Don't forget to offer the to-go bags so that all your wedding guests can pack for themselves a sweet snack for the ride home. This gesture of yours will definitely be utterly sweet and caring!
Planning a backyard wedding, then this is a great idea for your wedding dessert table! S'mores station and bonfire are the perfect combinations for a backyard wedding, especially during the winter months! S'mores are an affordable and beloved treat and trust us, they will make a great addition to your wedding day!
Drinkable desserts are in-trend
Yes, you read that right! Drinks can also be amazing desserts! Adding drinks to your dessert table will be a perfect idea, especially for a winter wedding! You can consider adding a hot cocoa station for a sweet treat for all your wedding guests, as this will not only keep your wedding guests warm, but they will also have the best of their dessert time at your wedding! For your drink desserts, you can consider adding milkshakes, slushies, ice cream floats, or even some exotic dessert wines or other boozy concoctions!
You can easily sweeten up your wedding day with these unique dessert table ideas mentioned above! Whether you are planning to have a dessert bar, or a cake table with a few extras on the side, or an entire dessert wall, we can assure you that all your wedding guests will surely love whatever creative touches you add and will carry a lasting impression on their hearts and minds!