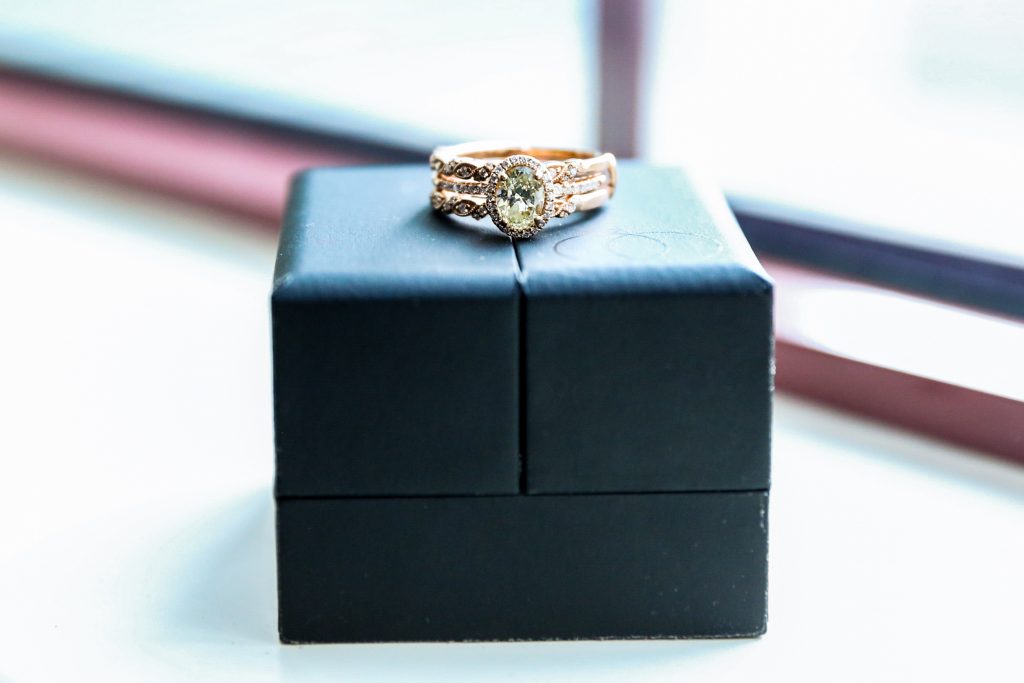 Your wedding day is incomplete without your favorite girls standing next to you. Since your girls are important to you and essential to your wedding experience, why not make an effort to make them feel loved and cared for? When you start planning your wedding, remember to plan your bridesmaid gift ideas as well. We suggest you start planning the gifts for your girlfriends after you delicately propose to your bridesmaids and maid of honor. The reason why we suggest that you should start looking early is to give you some cushion, time-wise that is. Because there's a chance that if you're looking to find a luxurious way to show your love to your lifelong girlfriends and throw a lavish wedding, you'll want to personalize it all. Personalizing luxe gifts can take some time, and that's why you should start early.
Now, before we dive into some amazing options to show some love, remember that the bridesmaid gifts and the gifts you decide to give to your bridesmaids when you ask them to be your bridesmaids are different. When you propose to your best girls to be a part of your wedding, you give them a token, a small way to show your love and appreciation. But bridesmaid gifts are different, more elaborate, and are given around the same time as your wedding. You can give them to your bridesmaids on the day of your wedding, or before it. For these gifts you should go all out and look for a gift that works amazingly for your girlfriends:
A Selection of Wine
One of the best ways to make your girlfriends feel special is to give them a selection of wine bottles that they will absolutely love and adore. To make your gift excellent and wonderful, you can make a set of a bunch of wine bottles for your girlfriends as per their tastes. Be mindful of the flavors your girlfriends love, and select bottles of wine that they will absolutely enjoy drinking. If you want to make your bridesmaid gifts special, you can even gift your girlfriends a wine subscription box. You can choose a subscription to a service that allows your girlfriends to find the wine they love and try different tastes to extend their taste palette. Apart from this, you can also try to come up with an amazing way to incorporate wine into your plans. For example, you can offer a bottle of sparkling wine to your bridesmaids, each, when you ask them to be your bridesmaids, for your bridal shower all of your bridesmaids and girlfriends can go wine tasting and have a good time, and lastly, for gifts to your bridesmaids, you can send them a subscription to wine boxes!
Beautiful Sentimental Photobooks 
Another way to help your girlfriends feel loved is to make a sentimental photobook for each of your girlfriends. This gift idea makes for a great gift even if you're planning to shower your girlfriends with love for no reason. Whether it is a birthday gift or a simple token of appreciation, a photobook serves as a recap of the amazing times you have had together. You can pick out some of the best photos and arrange them to tell a story. You can choose a service to help you design a photo book that touches the hearts of your loved ones. What's more, if you have a childhood friend, and you want to make them feel adored, this idea can help you touch their hearts and make them feel loved. If you're looking for some ideas to create the perfect photo book, you can think about using a binder and go for an amazing scrapbook-style idea, and add some heartfelt letters to the binder for your friend to find and read. Another way to add beautiful words is to use some words or some script from your wedding if you have some! If you want to pamper your girlfriends better, how about creating a photo book with your smiling faces and adding another gift from our list to make your friends feel special! Or you could have a great wedding photo shoot and use some of the photos from your wedding for the photobook.
Fitness Gifts! 
Fitness is an integral part of our lives, so why not shower your girlfriends with the perfect gym-friendly gifts? If you're looking for the perfect gifts for your lovelies that help them stay fit, then you can create a goodie bag with accessories and products that will make their workouts easier, or you could choose to go with a big product, like Tempo Studio. Tempo Studio is an AI-powered gym buddy of sorts, it helps users to workout at home, and that too at their pace! However, that's not all, there are several alternatives for Tempo Studio that you can choose for your girlfriends. If you're looking to create a goody bag for your girlfriends, you can choose some products like a self-cleaning water bottle, which does exactly what it says, cleans itself on its own! Another luxe addition to your goodie bag can be the FaceGym Training Stick Minis Kit, which is a great way to take care of your skin while you work out! FaceGym is trusted by many celebs and has a line of products that help you to protect your face and skin. The training kit sticks are made with materials that work better when you seat, which means your gym-loving girlfriends will have an amazing way to take care of their skins! Apart from this, you can choose more products for your gym goodie bag for your girlfriends can be an ergonomic massager, massaging rollers, sports eyewear, energy bar subscriptions, or portable treadmills!
Amazing Coffee-Lover's Gifts
If your girlfriends love coffee and can't go without it, how about choosing some amazing coffee-inspired gifts? By coffee-inspired gifts to make your friends happy we don't mean look for some coffee beans, or a couple of mugs, we are talking about bigger things! One of the best ideas, we personally adore, is an amazing coffee machine! You can choose some unique types of coffee machines as gifts. For example, you can select a pretty espresso machine, a Belgian coffee maker, or you could look for a specific retro-styled lever espresso coffee machine. However, a quick note to keep in mind is that when you look for coffee machines, especially when you're gifting them to your friends, consider the features and their lifestyle. Additionally, keep in mind if your friends have specific choices, for example, one of your friends could love operating a retro-styled manual coffee machine, while another could like an automatic coffee machine. Keep that in mind when you're choosing a coffee machine. However, that's not all that you can choose! You can add some charming touches by adding some designer geometric-styled designer mugs or tea sets. Apart from this, you can look at some sets with teapots, cups, and saucers as well!
Makeup Kits for your Girls
Another way to make your girls feel exceptionally special is to create a perfect vanity box and the items you know they will love to use. Creating a makeup kit is quite easy because you can order the products you are sure they will absolutely adore to use, and have a custom-made vanity box for each of your girls. You can customize vanity boxes for your girls with their names or with lovely short quotes that either describe your friends best or a quote you'll want them to remember, always. This adorable gift idea makes for the perfect gift for your girls because they'll not only be able to use the makeup you gift them but will also be able to remember you! The vanity box can be repurposed and used for years to come! Or you could choose some makeup bags or travel cosmetic cases, and choose different colors for each of your friends. This will help you differentiate the gift you choose for them, but also will be able to add similarities for each of them! As for makeup and beauty products, you can choose some trustworthy high-end makeup to add to the box. You can choose to add some essentials that you know your girls will need, regardless of where they go they'll have something to help them with. Apart from this, you can even add mascara, makeup brush sets, and lip liners. However, an easier way to add everything your best girls will have at their disposal is to choose makeup gifts sets for them! Additionally, you can perfume sets for each of your girls as per their preferences, or gift them a perfume box subscription to go with the vanity set!
At-Home Spa Essentials!
When it comes to looking for gifts for your girls, is there anything better than a good old pampering at home? If you want to help your girls feel their best and relaxed without leaving their homes, then how about giving them the luxury of a spa at home? Before we get into what to choose for your ladies, you can add an at-home spa goodie bag to the vanity box we just discussed above! This will make a complete beauty care experience for your girls. Now, let's talk about what you can add to your at-home spa kit! First things first, to help your girls have the complete spa experience at home, use add some luxury essential oils and an oil diffuser to build the atmosphere in their home. Next, add some amazing luxe scented candles in the kit as well. Once you have these selected, look for all-natural spa kits for your loved ones. All-natural spa kit gift sets will help you to ensure that all of your girls can use the products without worrying about any allergies or reactions. This also helps you feel more confident when you pamper your best ladies with all the love they need.
For Alcohol Experts and Enthusiasts a Cocktail Set
When you get married, emotions are high, and everyone is in a celebratory mood. Why not extend the celebrations even after your best girls go back to their homes? A great way to choose a sentimental gift for your girls is by putting together a basket of drinks and cocktails they love! There are a few ways to go about it, you can either choose to create a set of cocktail drink mixers and tools as a gift to your girlfriends or choose to purchase a set of signature drinks, in the flavors they will love! Another way to add a touch of sentimental value to the gift for the girls, you can choose to bottle up some of your wedding's signature cocktails for the girls to enjoy later, after the wedding day is over. You can choose pretty bottles and customize them with your wedding colors and messages.  This can be different from the custom bottles you want to serve at your weddings. Apart from this, you can also think about customizing drinks, for example choosing personalized gifts like tailored gins will help you make your girls feel adored, loved and special.
Although the list of amazingly luxurious gifts for your best girls is endless, we listed down some of the best ones. We know that when you're choosing a gift that captures your sentiments best, there are no limits to the extent you'll go. To make your search for the perfect gift for girlfriends easy, we found some ideas that work on both fronts, the luxuriously generous front and the sentimental front. And just like it is with your elaborate wedding planning ideas, we'll like to bring to your attention that these are just ideas, meaning you can tinker with the items you add to the gift options. Apart from this, you can even mix and match different options on our list to make your girls happy! Always remember to consider the likes and dislikes of your friends, especially when you're looking to select a timeless gift for them to remember your special, special day with. Another thing to remember is that the ideas for gifts in our list are not just for your best ladies, they can also be used to show love and appreciation for mothers, aunts, and other important female figures in your lives!