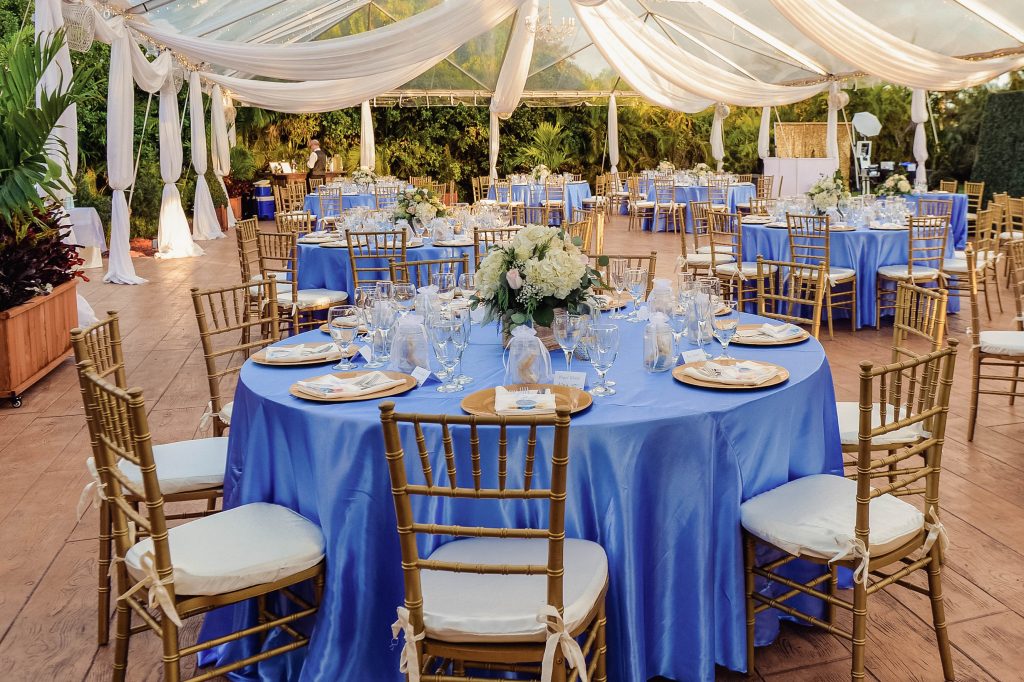 You've seen it in the movies, read it in books, maybe even witnessed it in real life but one thing is true: garden weddings or garden-inspired weddings can be absolutely beautiful. What better way to celebrate your one-off event than at a place that screams nature?! Sights and sounds of nature, relaxing and splendidly beautiful atmosphere, ample space, flowers plus greenery in abundance, aromatic breeze, tons of natural light- a garden wedding is indeed an omnium-gatherum of everything fresh and ethereal! Requiring little or no additional decor items and less electricity, garden weddings are not just a thing of eco-conscious couples, most couples these days are inclining towards tying the knot or hosting a cocktail party in a garden or garden-like setting. Snazzy garden parties have a long tradition among haut monde (think "Great Gatsby"), and some of the chicest garden venues glint with sophistication. If you also appreciate less formal landscapes, which make gorgeous natural canvases for your own unique event stylings, then these tips are for you!
Get your creative wheels turning for guest seating:
One of the best things about hosting a wedding or reception in a garden is that you can get creative with your wedding guest seating plan. Make the most of the huge, majestic trees (if any) by adorning them with the calligraphy scroll seating plan. pinned to the tree with an arrow. Twine has been wrapped around the tree trunk in this seating plan, with escort cards clipped on to it. We can't take our eyes off this cute garden wedding tree table seating plan using the Robin Hood theme. For your soiree with a vintage or rustic theme, you may design the seating plan on panes of glass in an antique window frame using glass paints. Make sure the window frame you pick is in accord with your smaller guest list or a large gathering. How about placing a glass of fresh lemonade with the name of each guest telling them where they are seating or pinning to twine and string around the garden polaroid photographs of each invitee with table number written underneath! Using small pots of herbs or flowers with guest's names on seed markers as garden-themed escort cards is also a cute idea. You could also consider making your own escort card tree utilizing a potted tree or small bonsai tree. If seating style is still hanging in the air, think along the lines of picnic throws, lanterns, bales of hay, wooden crates, and mismatched chairs and tables. An unconventional seating style will add some character to your blissful alfresco wedding.
Use your green thumb in every wedding detail:
It's all in the details! Go all out with big-little details of your wedding day from the welcome sign, centerpieces, arch, music, and place cards to your hair and wedding dress. Talking about welcome signboards, allow your welcome sign to tell your guests that your wedding is a garden-themed affair from the very moment they walk in. Adorn this first element that people see with the flowers or greens of your choice. Think of draping a garland of greenery over a simple sign for a whimsical storybook vibe or simply place a welcome sign spruced up with colorful chalked blooms on a vintage easel for an elegant start. Mirror signs are also trending these days in wedding decor. Fence an antique frame with a garland of blooms and see the magic unfold! Or think of framing a lucite sign with pampas grass to add a bohemian character to your soiree.
Let botanical wedding banner signs shine:
Make a big first impression with creative garden-themed banner signs. This garden flag is sweet and full of whimsy! A sign made of butcher paper and wood sticks can make a perfect addition to your garden wedding. Kraft paper is great for any sort of craft, and as effortless decor is in trend now, you just need to use kraft paper in your decor. Create a heart-warming atmosphere and make the guests feel at home with a DIY handwritten sign. Wooden signs can make great welcome boards for your wedding too. You can even place them outside as long as you use waterproof paint. Get inspired by these creative wedding welcome sign ideas. Let your guests know where to send pictures of you two with an artistically crafted wedding hashtag, a really catchy and easy one!
Be they dessert tables or snack buffets, mobile food and drink options have been making a big splash in wedding decor for a while now, and it's easy to see why! A day summer wedding might stretch on for 12-16 hours and who would like to hear stomachs rumbling during the speeches! Thanks to the wedding food stations that are infinitely customizable! The world is your oyster with delicious oysters, sushi, hark back, and an array of nostalgic treats from your childhood plus artisan treats like marshmallows, fudge, rock candy, or mini meringues. Smell some more mouth-watering inspo from these all-time favorite wedding food station ideas! Galvanized pitchers sitting on wood crates are perfect for eating outside in the summer.
Outfit yourself like a garden goddess:
The breeze in your hair, the breathtaking sunset, and the natural sound make your wedding one that's not only photogenic but totally worth having outside in the blooming garden. Make a song and dance about your garden wedding by wearing a floral wedding gown and pair it up with a cute wreath without going over the board. Go fancy with stunning outdoor wedding dresses from your favorite designer. From ethereal chiffon to delicately structured lace to goddess-like simplicity, springtime unfolds with a cartload of picture-perfect wedding dress options. Spring is the time to experiment with colors- think petal pinks, light lavenders, and even the slightest shades of gray to flaunt freshness and femininity. Your bridal party should don some petal pieces too to complete your wedding photography.
For bar menu "leaf" it to nature:
Taking a leaf out of nature's book doesn't harm, it's for us only! Incorporate your venue's flora into your decor in the most creative way possible. Less paper, more nature is the best idea to utilize for an eco-friendly and playful wedding or reception. Scribble your bar menu's beverage list on a giant palm leaf in metallic ink and install it naturally right next to the bar counter underneath the hanging lights to faire peau neuve the whole ambiance! Check out some sweet and unique food bar ideas that can take your summer garden soiree notches above!
Screen your guests from the sun in style:
The news that you're hosting a dreamy outdoor wedding has already thrilled your guests, to maintain that excitement you actually need to find ways to keep them cool. From sunscreens, lemonades and Izze sodas, hand fans, and parasols to spiked snow cones, there is a bucketful of innovative methods to shelter your loved ones from increasing temperatures for a cool alfresco wedding. Keep it sun-drenched, not sweat-drenched! The accessories like wicker fans, wooden fans, hats, cute colorful paper parasols, trendy sunglasses not only will keep your wedding guests cool but also make wonderful guest favors to take home the memories of your big day. To reach the heights of creativity- combine your ceremony programs with a way for guests to keep cool- we mean program-cum-fan. Didn't understand? Click here. We are fans of these two-in-one fans!
Let nature bend over backward for your love:
Saying I do under a natural arch in a garden wedding is quite obvious! But to make it stand out- think out-of-the-box! The centerpiece of your ceremony, a killer wedding ceremony arch can weave magic while two lovely souls do the promise of forever with each other. We love the idea of setting a circular wedding arch! Packing a visual punch, a big, modern wreath-like arch is anything but ordinary! Flower-loaded or naked, a giant dramatic half or full round wedding arch acts as a halo for your eternal moment! If you don't want to splurge on a floral arbor or like the idea of an overly floral arch for your forest wedding then a neutral pampas grass-framed arch is sure to win your hearts. You may also consider decking a simple wooden arch up with knotted vines or twisted branches adding a bucolic vibe to the ceremony. If that is also too much for you then forgo the archway altogether and set up worn-out wooden doors for a more shabby-chic style. A true feast for the eyes, this imperfect arch decor idea can set a perfect backdrop for your wedding day.
Splurging on wedding photographers and/or videographers is understandable. After all, it's your once-in-a-lifetime moment and you would want it to be captured only by expert hands. But before you break the bank or disturb your wedding budget, keep in mind– Mother Nature takes charge of your floral designer when it's an outdoor wedding! You might not realize the fact that choosing to exchange nuptials in a garden means you are halfway done to get dreamy Instagram-inspired wedding pictures of you two and your ceremony? Feel free to leave the rest to bydesign Films wedding photographer. If your heart is set on hiring a videographer as well to capture your precious moments in motion, then these 5 steps might help you in finding an experienced professional. If not for a professional and affordable wedding photographer all your efforts can go down the drain. We bridge the gap between to-be-married couples and their dreams by providing an expert team of wedding photographers and videographers. Allow us to prove that the saying "you pay for what you get"- is just a myth!
Every new wedding is an upgrade to the previously held weddings bringing new trends and ideas to inspire soon-to-be-married couples from all walks of life. Time is a friend to no one! Even the most trendy ideas that were blooming in their own time fade with time. What was trending in 2019 and what was loved by 2020 brides might not impress the guests in 2021. Bid adieu to some if not all the obsolete ideas and welcome all the fresh and new ideas when it's an alfresco soiree. Move on from flower walls, pastels, velvet, family-style dinner service, floral foam, sweets buffet, farm tables, and reclaimed wood. Ditching favors left on tables, guest books with polaroid pictures, dried flowers or artificially colored florals, too many speeches, all-white and green weddings, photo booths, matching bridesmaid dresses & hairstyles, huge wedding parties, or large guest lists. Anything which is overdone, no more surprising, and is not eco-friendly should not be wedding-friendly as well like fireworks! There are a plethora of thrilling options waiting for you to leave a mark on your wedding guests on your red-letter day!
Above all, today's brides and grooms hanker after a wedding experience that's connected to nature, as their own new beginning is reflected in the beauty all around them. Everyone expects a level of romance and beauty in their wedding. It is wonderful to celebrate the start of your new life amidst a beautifully secluded garden with sweeping nature, an arresting quaint atmosphere, and a picture-worthy photo location. Flowy hair, an unfussy wedding dress, luxuriously minimal makeup (like our indulgent BDF bride!), and no ties or tuxedos would all look at home at a perfect summer garden wedding ceremony. Except for unfavorable weather conditions (extreme hot or extremely cold weather), we don't see any reason why should you not have a garden wedding. If the weather doesn't permit and you still are jonesing to exchange vows in a garden-like setting. You still can express your love for nature by adding the garden vibes to your wedding venue in infinity ways. Curate a ceremony space that flourishes bringing outside indoors and let some DIY arch decor ideas lend a little drama to your 'I do' moment.