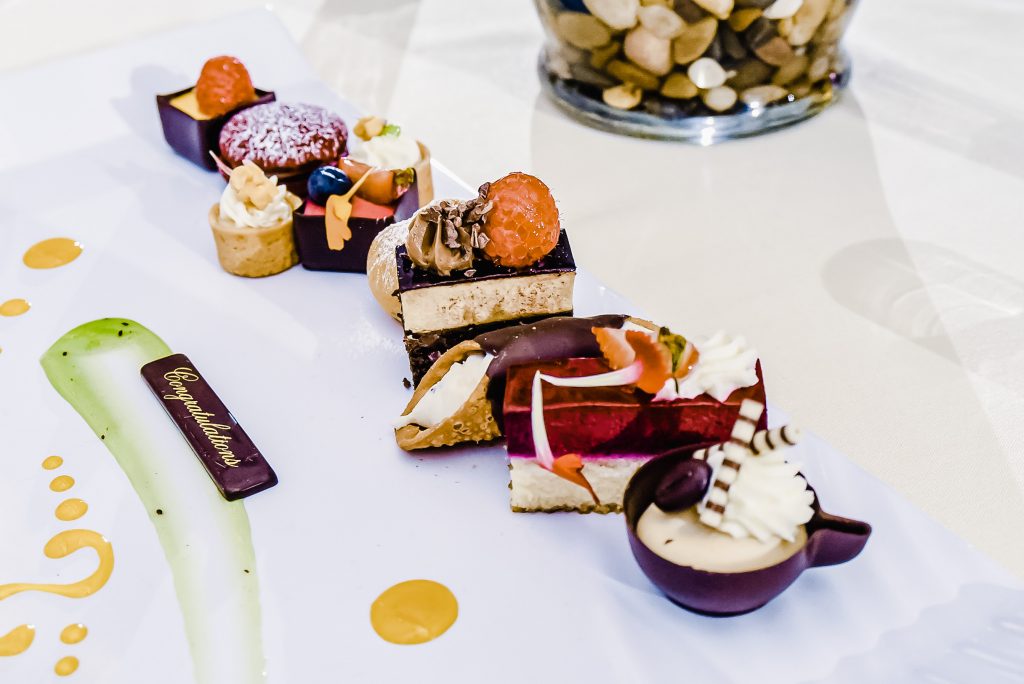 "All you need is love. But a little chocolate now and then doesn't hurt." That's what Charles M. Schulz said, and we sure live by that!
Chocolate sure makes our lives better and there is no denying it. A square of chocolate after an emotionally turbulent day, a box of chocolate on your anniversary, that chocolate dessert after a romantic dinner, there is nothing in our pantry that can hold a torch against any of those things! In many ways, chocolates are more than a food item, a dessert, something sweet to turn a day around. It is, in fact, a feeling, an emotion, a tug in the heart, a smile on the face! Of course, when the most romantic day of your life rolls in, you will want to include the most romantic food item in history to be a part of your special day! If the first thought which rushes in when it comes to cake flavors or desserts is "Chocolate", there is no denying that there is a special place in your heart for it, and chocolate does deserve a place on your wedding day.
While the most obvious way of using chocolate on your special day is to use it in your cake, which we think is always the perfect choice and a crowd-pleaser, there are many other ways to use chocolate on your wedding day too! The good thing is that chocolate is very diverse, yet uniquely rich and decadent, and fits quite comfortably into a special day! Here are some of the creative ways chocolate can make the happiest day of your life a little better, and also lend your guest some serotonin boost, leaving them feeling warm and fuzzy and happy!
Personalized chocolate blocks
Always in love with the classic chocolate bar and the simple romance in it? Claim it and make it yours on your wedding day! Nothing is so endearingly classic than a block of chocolate personalized with you and your spouse's names or initials on it! You can have the chocolate bar engraved or have fancy paper sleeves to incorporate the personalization! There are so many ways that you can personalize your chocolates whether you want to do it by the block, or have them in personalized squares, the effect will be enduring for sure.
Chocolate fountain
If you are the type of couple who likes to make grand gestures and will never fall back from going big, the chocolate fountain is exactly what you are looking for! Grand elegant and classic, chocolate fountains will steal all the attention on your sweet table, and rightfully so. This is by no means a discreet chocolate dessert but has all the bells and whistles attached to it! Put out the selection of assorted snacks which will go well when dipped in chocolate, like tiny squares of fruits, and savory snack options and have the skewers handy so that your guests can help themselves to chocolate-dipped-anything.
Chocolate cake
A chocolate cake is divine, decadent, yet such a comfort food too, and it is only natural that it finds its way to the sweet table of a true chocolate lover. If you want the classic look you can coat the chocolate cake with vanilla cream or fondant and it will always be a nice surprise when you cut a slice off the white cake to find the rich chocolate goodness inside. The great thing about chocolate cake is that there are so many different ways you can go with that, whether you want to pair it with a layer of vanilla cake, or you want to add berries of your choice, there are inexhaustible options to choose from. For a fall wedding, a dark and moody chocolate cake adorned with fall accents will be the perfect fit; while for a rustic wedding, chocolate naked cake brushed with buttercream coating will be just amazing. From chocolate truffle cake to artistic marble chocolate cake to a simple white cake with the chocolate drip, there is a lot for you to choose from!
Smores
If you want to incorporate chocolate into your summer wedding, what better way to do it than with smores? Whether you choose to have a s'mores station in your dessert table, or you provide individual small kits for your wedding guests to take home, there is nothing that says "cozy campfire" quite like the melting chocolate and marshmallows squished between two crackers. Not only is this nostalgic and will bring out the child in every wedding guest, but it will also be a memorable touch to your wedding day, something that they will not forget.
Chocolate-covered strawberries
What is more romantic than chocolate-covered strawberries on your wedding day? This is a classic choice of dessert and will work perfectly well with an elegant classy wedding theme which leaves a bit towards the traditional side. You can have a variety of options for your berries which need to be dipped, as well as your choice of chocolate, allowing your guests to choose what they want. This is not only luxurious, but it is also ridiculously easy to put together. and it goes without saying that there is something about chocolate-dipped strawberries which are incredibly decadent, like a special treat!
Chocolate factory venue
If you and your partner are truly huge fans of chocolate and want to make it a part of your wedding day narrative, you can consider posting your wedding reception in one of those cute and quaint chocolate factory venues. Having a story to your wedding venue is always a nice touch, and the factory interiors will lend your wedding a cozy yet industrial look, however, it is the definite Charlie and the Chocolate Factory vibes of the venue which will help to make your wedding memorable and lend it that whimsical vibe!
Hot chocolate bar
Dreaming of a cozy winter wedding? You know what will go perfectly with that winter draft, the snowy outdoors, and the crackling fireplace as you say "I do" in your cozy winter wedding venue? A cup of hot chocolate! There is nothing that can put a price on the happiness that a cup of hot chocolate can deliver. Not only is it sweet and warm and cozy, but it is also extremely delicious and can put any other dessert on the sweet table to shame. There are so many different ways you can serve your hot chocolate for your cozy fall or winter wedding, whether you choose to sprinkle it with mini marshmallows or top it up with whipped cream and sprinkles or keep it simple with a stick of cinnamon. If there is one thing that you can count on, it is the smile that the cup of hot chocolate will bring to every guest's face.
Brownie sundaes
If a chocolate cake is too intense for your liking, go for a chocolate brownie sundae instead! A good fudgy brownie is something that nothing can compete against. And is known for being a crowd-pleaser for anyone between 8 to 18 years of age. You can pair the chocolate brownie with some delicious homemade ice cream and top it up with the toppings of your choice for some unforgettable brownie sundaes. This is simple enough to be a part of your weekend dessert but still feels special enough to be a part of the wedding dessert. And everybody knows that the warm brownie and ice cream is a winning combination which will go down the history books as the best dessert combination ever.
Chocolate favors
Wedding favors are a huge part of the event and it is a fun way to sneak in your wedding theme or your creative ideas. So when it comes to a wedding featuring chocolate details, of course, wedding favors containing chocolate are inevitable. While we already talked about how much we will love the simple block of chocolate, there are so many other ways that you can go about it as well! We are talking cute chocolate truffles with edible portraits of the couple getting married, chocolate in gemstone shapes, and cute molds, all of which will be well received by the guests! Give special attention to the packaging as half the fun is in unwrapping chocolate!
Choco cookies
Is there anyone on this planet who hates a good double chocolate cookie? Thought not! It is an immense crowd-pleaser and easy addition of chocolate to your wedding, and it is also fairly portable which means you can make it the perfect edible wedding favor! You can have it displayed on the sweet table as a part of the cookies and milk duo, for alone, or you can also have them packaged in personalized cookie tins for your guests to take home. And we promise, as simple as it sounds there is nothing quite like a choco-chip cookie! Another fun way is to have a cookie-in-a-jar premix wedding favor which means you put all the ingredients for the cookies in a jar and have the recipe written in a cute card to play around the jar. All the recipient has to do is to mix the ingredients with milk or water and make themselves some delicious cookies!
Choco cake pops
If you want to go the classic route for your wedding cake but still want to incorporate chocolate in your sweet table, chocolate cake pops are probably all that you were looking for! Cake pops are an easy way to add different flavors to your sweet table as well as adding different design elements to it. It is a perfect window of opportunity for some cute cake pops which look and taste just as amazing. Also, this way you won't have to give up your chocolate cake dreams, without actually having a chocolate cake as your main wedding cake. Now that's so win-win if we have ever seen one! The good thing about chocolate cake pops is that you can coat it with icing which will fit any theme or style that you have envisioned, without giving in the secret which is inside! The chocolate cake pop also happens to be a favorite among the kids in any wedding reception.
Chocolate lettering
Have your heart set on an elegant and luxe wedding with sparkling chandeliers, grand ballrooms, and classy reception table settings? We know just the thing which will add the luxe chocolate details and take your table setting game off the charts. Have your guest's dinner plates marked with chocolate calligraphy lettering! It is such a simple step, yet it makes all the difference. It will add instant elegance to your reception table setting, but is achievable without much effort! You can either add your initials to the plate or write the guest's name or initials on it, and we promise the guests will appreciate that minuscule detail!
Chocolate eggs
For a spring wedding around Easter or a wedding with rustic elements, chocolate eggs can be a cool idea! You can have the chocolate eggs filled with caramel, peanut butter, or even more chocolate(why not!), and we promise they will be instant hits! Elevate the presentation by stacking the eggs in bird nest presentations, and it will add a quaint and whimsical feel to your wedding day! Also, something tells us these will be well received by the kids at your wedding reception!
Personalized M&Ms
Bring in the favorite candy of everyone to your wedding day, and we promise it won't disappoint. Chocolate M&Ms are going to be an instant hit at parties, birthday weddings, or a bridal shower! For your wedding reception, you can make them extra special by adding personalization by having your initials on them. You can have them displayed in a large glass canister on the welcome table as a part of the decor and something that guests can help themselves with, or you can have them wrapped up in individual packages for the guest to take home as a wedding favor.
There is no one who will say no to a block of good quality chocolate, and having the same in your wedding is almost like a cheat code to ensure that your guests feel indulged and happy. Whether it is chocolates in your wedding favor or your sweet table, any chocolate details at your wedding will be right at home and will serve the purpose of cheering people up at ease. Whether it is light and aromatic in summer, or rich and indulgent in a chilly winter wedding, you can't go wrong with the king of all flavors-the chocolate!