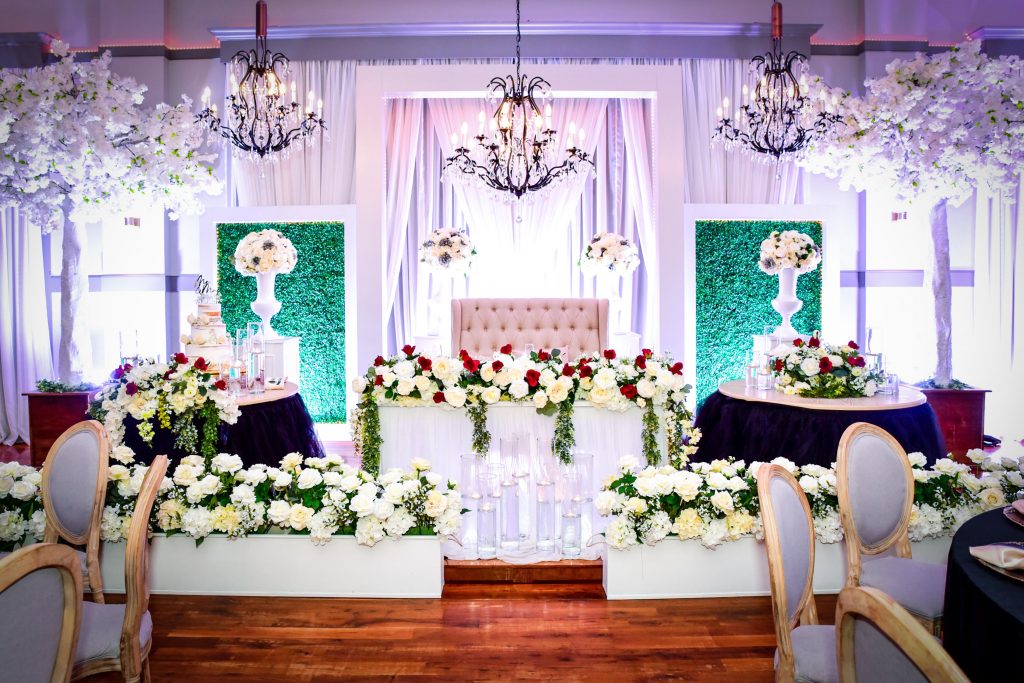 Indeed, we are all about the wedding details– wedding cakes, flowers, monogrammed wedding invites, luxurious wedding venues, and everything in between. But we have to admit this understated fact: Lighting is the single most important wedding decor element at any wedding. It is not only an important wedding day detail for decor purposes but it also affects the wedding day photography sessions.
At first, whenever it comes to wedding day lighting ideas, the focus is more on function than fun. Just hear us out: the bulbs and candles you select (whether they are simple votives or over-the-top chandeliers) are they willing to ultimately light your dream wedding venue, will the light setting that you have chosen will make your wedding photographs just right, and lastly, will the ambiance keep the party going, even after the sun has said goodbye to everyone? So, before you jump over any kind of lighting plan for your wedding day lighting decor, take a moment to think about your priorities and choose a lighting idea that is not only amazing, and unique but also luxurious and leaves everyone on your guest list jaw-dropped!
A perfect and, of course, luxurious lighting idea will not only increase the overall vibe of the ambiance but will also elevate the whole mood of your celebration, and not to forget your wedding guests! So, just for you, we have curated a list of some amazing and our favorite luxe lighting ideas for your memorable and extravagant wedding. Check them out!
Chandeliers
Chandeliers are indeed very classic and elegant, especially when they are used for decorations to light up a wedding. They have always been a luxurious and old favorite for a wedding venue, but they graciously offer wonderful effects. Having chandelier decoration on your wedding day will take all your wedding guests back to a variety of historical periods, or bring a modern and luxurious feel to everything. The 1920s feel offered by chandeliers is always whimsical as they give endless photography and videography to professional wedding photographers and videographers. Nothing can beat the mesmerizing and magical glamor quite like offered by chandleries to the wedding venue. And to have the luxe lighting setting created by chandeliers, you don't have to always go for those grand, and opulent crystal types of chandeliers to look fabulous and luxurious. If you want you can consider having small vintage-inspired chandeliers beautifully wrapped in fairy lights to bring in the cozy, romantic, and luxurious effect to the overall setting of your wedding day celebration. The ambiance illuminated by chandeliers offers great professional photography opportunities and also incredible wedding videography opportunities.
Fairy Light Curtains
It is very simple and also very beautiful to create a whimsical look of lovely and magical fairy lights draped everywhere to create luxe lighting ideas for your romantic wedding day celebration. This lovely and luxurious look doubles up at covering any not-so-fancy parts of your wedding venue or anywhere you don't want your wedding guests to go. Fairy Light curtains also work as great photography and wedding videography backdrops. Brides can consider having this kind of light setup in their bridal suite to have incredible and whimsical bridal portraits captured by our experienced wedding photographers and videographers. The draperies and fairy lights when combined indeed offer a magical touch to the overall setting making the whole ambiance extremely romantic and inviting.
Lighting Decor With Aromatic Candles
Do you know that when it comes to luxe wedding lighting decor ideas, candles can do thousands of things that are nothing but just whimsical and magical? If you are planning to have a romantic and classic vintage-themed wedding, candles will surely set the tone for your classic and mesmerizing vintage-themed wedding. In fact, with unique and creative candle decor ideas, you can take it to the complete another end of the scale and have the sleekest, chic, and most modern wedding day candle decor inspirations that will leave all your wedding guests in great amazement. Various wedding candle vendors out in the market can easily tailor your candles to your exact colors and scents to resonate with your wedding theme and lend a perfectly and beautifully lit ambiance for your wedding guests to savor the night and also to your professional wedding videographers to capture the soft and romantic glow in the best of frames.
Lovely Lanterns For Romantic Vibe
Well, there is absolutely no denying the fact that lanterns indeed are wonderfully versatile and hold the potential to create a world of different effects, giving the best of luxurious vibes to any kind of wedding celebration. From rustic-themed weddings to contemporary weddings, we can assure you that lanterns are always a perfect choice of lighting decor. These days, as our millennial generation is always looking out for unique, creative, and luxurious wedding ideas, lanterns indeed offer some really incredible luxe wedding lighting decor ideas. You can even consider booking those wedding venues that feature lovely lanterns in the ceiling so that for your wedding day decor, you won't have to worry much about the lighting decor, as your wedding venue will already have taken care of it in advance. Those kinds of wedding venues with lantern ceilings are pure magic and bliss to host your extravagant wedding celebration. This kind of incredibly lit ambiance will offer incredible professional photography options to talented wedding photographers and also to wedding videographers to create a stunning wedding portfolio.
Custom Neon Sign
With every new trend coming, staying, and fading away with time, especially in the world of weddings, there is one trend that is always making a huge comeback every now and then sure does not seem to be losing traction anytime soon, and that is the neon sign trends (wedding lighting decor ideas). This eye-catching and luxe wedding decor idea is indeed great if you are looking to really personalize your wedding venue in no time. You can use the neon sign to showcase your last name or even your name initials, or some cheeky phrase on display behind your head table for an instant and unique photo backdrop. These kinds of chic and quirky lighting settings are a great trend these days. As they offer something very unique and creative to capture.
Tented Light Strands
Well, these days the weather seems too pleasant in most of the states, so, if you are thinking of hosting a tented wedding reception and looking for luxe and unique lighting ideas, then we have something for you that you will surely love and it is something really chic for our professional wedding photographers and videographers to capture. To bring in the ultimate and stunning wow factor, just accent a clear-top wedding tent with dozens of draped LED string lights. Trust us, this kind of wedding day lighting decor will surely make you and all your wedding guests feel like you are celebrating under a gleaming and shining sky full of lovely stars! If you want you can be a little more experimental with this kind of wedding day lighting setting. This incredible wedding lighting idea will also look fantastic and extremely gorgeous with a standard marquee tent or sailcloth tent. An outdoor wedding reception with such kind of wedding decor and wedding lighting will surely leave all your wedding guests swooning over the luxe lighting decor and our wedding photographers and videographers delightful!
Edison Bulbs Are New Wedding Lighting Decor Addition These Days
Of course, Edison light bulbs are sleek and also a great classic and sophisticated hanging light option if you and your partner are head over heels in love with the chic and contemporary lighting decor ideas. Whether you are planning an indoor wedding reception celebration or even consider the great and panoramic outdoors for your memorable and grand wedding reception celebration, you can use Edison bulbs for your wedding day lighting decor. Consider suspending them vertically from your wedding venue ceiling on long and fancy cables to create an industrial-inspired backdrop on your wedding day. Not only an industrial-inspired ambiance, but Edison bulbs will also be able to create a rustic and vintage-themed ambiance when adorned beautifully to elevate the setting of the event space.
Pillar Candle Ceremony Altar Lighting Decor 
Apart from adoring your wedding venue or reception location with luxe lighting ideas, you can also consider making your wedding ceremony seem a little extra-intimate just by encircling your lovely and elegant wedding altar with clusters of pillar candles and of course lush greenery accents. Well, there is absolutely no denying that lush greenery and candles always make a marvelous and luxurious combination when combined together, especially for wedding day decor. We can assure you that even here also, the candles will give the space a warm and magical white glow that will make all your wedding guests feel welcome and homey. And this sparkling white glow will also offer endless photography and videography opportunities to our professional and experienced wedding photographers and videographers.
Fireworks are Indeed Something Very Extravagant
To have this kind of extravagant lighting decor at your wedding, the first thing you need to do is have a venue that allows this. Well, there are certain venues that offer some kind of unique and marvelous lighting effects that will leave you and all your wedding guests breathless. In fact, you can also consider hiring some specialists if you want to plan a romantic and incredible surprise for your darling and make your wedding day a memorable celebration, then fireworks will surely add extra drama and character to your wedding day lighting decor idea.
Glowing Furniture Is a New Lightning Decor Inspiration
So, now you have planned your extravagant and grand wedding celebration and everything is in order, so why not surprise all your wedding guests simply just by waiting until the sun has set to turn on the super cool lighting furniture that you have brought to your wedding day decor. These days the modern shape of the furniture combined with LED lights is surely a delight for your wedding guests.
Glowing Trees Are A New Addition To Wedding Day Lighting Decor Ideas
If you are planning to have an outdoor wedding celebration, where your reception area is surrounded by lavish green trees, there you can consider some different and unique lighting decor ideas to lift up the entire outdoor setting and create a lighting fairyland. You can make a truly astonishing but subtle light canopy simply throughout the branches and make a fantastic lightning setup that will not only leave all your wedding guests bewitched but also make our wedding photographers and videographers extremely happy. By strategically and creatively placing the bulbs behind the leaves, you will be able to achieve a softer, green-tinged glow from them, rather than those bright and sharp lights. The soft glow of lights will surely add a dramatic tone to all your professional portraits captured by our team of professional wedding photographers and videographers.
Uplighting Lights Are So In Trend
Have you heard of the lighting term "uplighting"? Well, if not, then trust us, it is another cool, amazing, and luxurious lighting idea that you can consider for your upcoming grand wedding lighting decor. "Uplighting" is a lighting effect created just by placing a few light fixtures on the floor or on the ground and directing them at the ceiling of the venue in order to create a particular ambiance or a setting. In order to get a stunning watercolor look to elevate your wedding day lighting setting, then you can consider bringing in group bunches of blue, purple, and pink lights together, so when they overlap and blend, and offer some really out-of-the-ordinary and modern lighting setting.
So, concluding everything, all we want to say is that you are only limited by your imagination and how many wedding photos you are willing to add to your perfect lighting vision board on Pinterest or on Instagram. With most of the above-mentioned luxe wedding day lighting ideas, we can assure you that your wedding day decor will surely be a treat to witness and also to capture in mesmerizing frames!