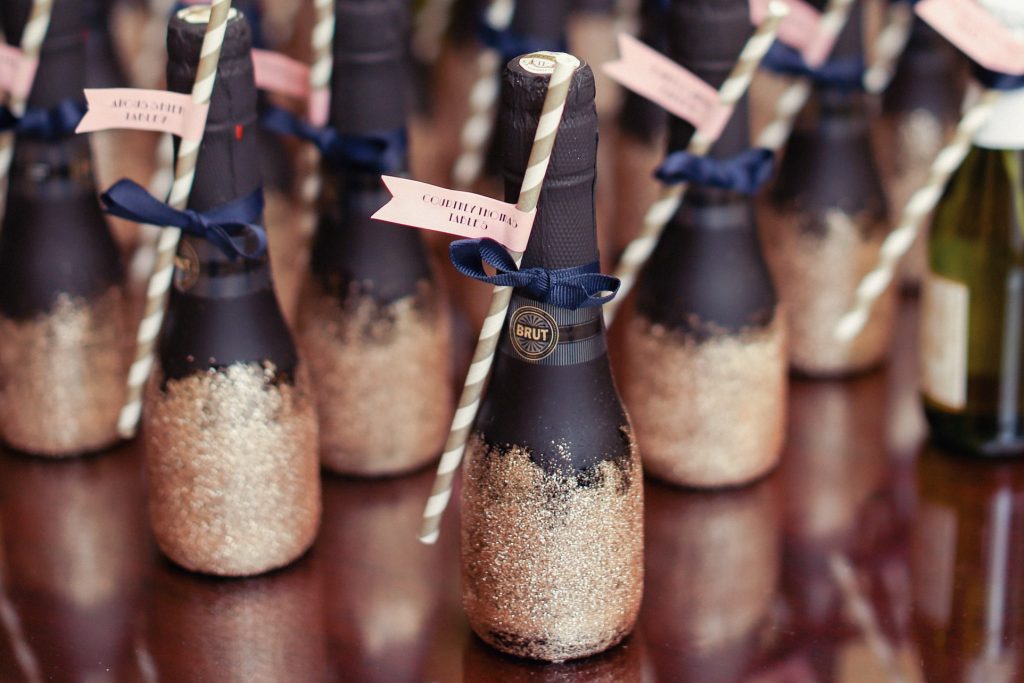 If you're in the thralls of planning a wedding, you know there's a lot to think about (we know, understatement of the year). Just like the wedding dress, bridal shoes, wedding venue, wedding theme, wedding invites, wedding cake, centerpieces, guest favors too need your thoughtful consideration. Not to mention, it's essential to make your guests feel important and show gratitude to them for making time to travel far and wide just to be part of your happiest day bearing gifts and well wishes for you to help start your new life. If not for wedding guests who would make your wedding an event to remember, who would witness your love and beauty, who would raise toasts for your new beginning, who would dance like crazy on your union, and who would make a canopy of sparklers for your grand wedding exit? Sending family and friends home with pricey wedding favors as tokens of appreciation for their attendance and support is not a new trend. Today, favors extend beyond a simple votive candle or some Jordan almonds. And choosing a wedding favor that fits the bride and groom's personality and the guests' prestige to a T is not a piece of cake. Favors that offer more instant gratification include candy playing cards, a flash drive, bars, cookies, olive oils, recipe books, measuring spoons, and even wine or liqueurs.
Although it's the to-be-married couple's wedding budget and the size of their guest list that decide the amount they are likely to keep aside for wedding favor, there is no rule of thumb when it comes to the price of wedding favors. Most couples spend about $2-$3 on each wedding favor. However, we suggest you steer away from cheap wedding favors that can make your close ones feel less important. The world is your oyster when it comes to choosing a wedding favor. There is just one condition- Whatever you choose, your guests should enjoy and love it otherwise it's such a waste of money! To help you wow your guests with unique wedding favors that are luxurious as well, we have rounded up a few wedding favor ideas below that suit an array of special occasions- from wedding to bridal shower to bridal party and bachelorette party.
Give a call to the shutterbug in them:
We (all) love clicking photos! And what can it be in the first place in our list of wedding favors if not a printable camera?! A cool, new wedding favor idea, and we love it! Not only does it make an excellent wedding favor but it also is the coolest way to channel out the photographer in your wedding guests and put them away from phones. Also, it's a great way to tell the tale of your love to the guests if your love story is connected to photography/videography. Maybe you or/and your spouse are professional photographers. Somewhat retro these days, instant cameras are fun and can add another element to a wedding photography package with very little investment. You might like Polaroid PoGo, a new digital camera (the next generation of the Polaroid Instamatic), which is capable to print and pop out a quality photo in seconds.
Personalized liquor glasses:
Toast to a happy future with elegant personalized champagne wedding favors or even bottles of nice alcohol. Create the perfect batch of wedding favors with the collection of beautiful stemmed and stemless champagne glasses available in the market. Whether you are looking for a gold confetti pattern or a gift for your lovely bridesmaids, there is plenty of glassware in a range of fun designs. Consider sprucing up these personalized glassware favors with a monogram, graphic, or special message. With personalized glasses as your wedding favors, you have a cartload of options- personalized shot glasses with your names and/or wedding date; a pair of personalized wine glasses (bearing a printed heart on one glass, and a bow tie on another glass) representing you and your spouse individually; personalized beer mug reading your own personalized message with a theme that best represents you both as a couple. Perfect for bridal showers, weddings, and other milestones, champagne wedding flutes are something that will remind your besties of you with every sip of the drink they will have from it.
Luxury personalized wedding party thankyou candle:
Available in tons of variety, candles make great favors for wedding guests! Not only fancy candle favors can easily be personalized but also add to the home decor post wedding! Rather than gifting guests something that they'll look at once and toss away post reception, sending them home with candles bearing subtle fragrances means they'll remember your wedding every time they will light it and smell it. However, not everyone likes every scent some may even have allergies. You may also want to consider getting soy or beeswax candles, which are trendy in eco-friendly circles as well. Team the candle favors with a personalized matchbook to complete the set for an extra special touch. You can tie it all up with twine or a cute ribbon that matches your wedding color palette, your guests will love the thoughtful addition!
An elegant picture frame:
If you're on the hunt for the perfect guest favors that uniquely reflect your nuptials and won't end up getting tossed post big day, then add personalized picture frame wedding favors to the top of your list. Picture frames are perfect practical favors for any occasion. You can easily have the frame engraved with your names or simply your wedding date. And what better way to gift quality and luxury than a Tiffany product! And if your guest list is long then you could consider elegant mini picture frame favors that serve more than one function. They deck up your tables, hold your place cards and remind your guests of you for years. They come in a wide variety- wine picture frames, wallet sizes picture frames, pink picture frames, round metal picture frames, rustic picture frames, party picture frames, and more. From silver picture frames to beveled edges and even hanging picture frames you may choose any style that suits you and your pocket. Either way, a simple but classy picture frame will always be a useful gift. No need to include a wedding photo, but it might encourage your guests to place your wedding photo into the picture frame. Or you can choose to not personalize this gift at all, it will still remind the receiver of your love day!
If you are not custom koozies types, Alcoholic favors are always a crowd-pleaser without a doubt! Keep the party going long after the wedding by sending the revelers home with a personalized signature drink that's truly unique to your day. The liquor bottles are already good-looking however sprucing it up with interesting packaging bearing your monogram, wedding logo, or a sweet calligraphic line making them feel special and validated will add you and your spouse to their moment of celebration as well in a way. Imagine your loved ones are toasting you and your groom even in your absence. The options are endless when it comes to liquor wedding favors- Think bottles of yummy vodka lemonade, sparkling wine (especially if it's a winery-themed wedding), gin, rosé cider, raspberry-infused vodka, a local rum, tequila, locally distilled dark rum. These personalized alcoholic wedding favors accomplish so much when clubbed with bar supplies such as bottle openers, corkscrews, and wine stoppers if.
Hugs and kisses from the Mr. & Mrs.:
Young or old, who doesn't love chocolates?! Like love, chocolate is always a delight to receive or to give! It's energy, vitality, oneness! Alcohol-filled signature chocolates or garden-variety chocolates yet with a personal touch, chocolate wedding favors hit the chart. Unique and charming wedding favor everyone loves, a box of personalized plume Hershey's kisses play a great guest favor on your big day. Not only a cute candy box brings a smile to your guests and their kids' faces when they arrive at their assigned seat but also adds a touch of sculptural art to their tables. The sweetest way (literally) to thank wedding guests, these tiny sweet tokens of love worth its salt when it comes to wedding favors!
Giving away donations in lieu of wedding favors is trending amongst millennial couples these days more than ever. Maybe couples are absolutely over custom flip-flops or matchboxes. Maybe they can't rationalize paying for 167 personalized decks of playing cards. Maybe the blessings showered by the needy are worth more than the gifts that their recipients are likely to throw. Whatever the reason may be, you can never go wrong by skipping wedding favors choosing and handing over that money to a worthy cause- a charity or an NGO that is near and dear to your hearts? Ah, what a stirring and considerate gift! (Phew, one less thing on your wedding checklist!). Announce the same to your loved ones by placing a card at their tables illustrating the same or simply by including a mention in the program or wedding website. You could also opt for small favors like a small edible treat with a ribbon and card reading the charity's name. From BDF's bag of tips– be careful when picking out the non-profit, lest you outrage someone.
A potful of life:
Love is the only flower that grows and blossoms, without the aid of the seasons, said Kahlil Gibran, a famous Lebanese writer. Step into your happily-ever-after leaving behind something to bloom and grow for years spreading the fragrance of your love around your close ones like live plants, including saplings, succulents, and herbs to name a few. Seed packets and small gardening supplies are some other ideas for guest favors that your guests will enjoy long after the wedding day. Nothing screams cute like succulent favors stuffed in a teeny container do! Your guests will love to decorate their homes or office desks with them. A nice addition to the surroundings, mini succulent gifts add a nice bit of greenery to the surroundings without taking up too much space. Place regional seeds of herbs, veggies, fruits, or flowers in cute, personalizable tins and a spectacular favor is ready for your guests to take home after bidding adieu to the newlyweds. Plant terrariums make a great decoration in any home!
The scent will pchit-pchit the tale:
A perfume has the power to create a lasting memory. A simple reminder of a beautiful feeling! Top off your big day with the magic of fragrance by giving away a beautifully personalized scent as wedding favors to the guests either created by you or the vendors. You may get your hands on a variety of customized, personalized luxury atomizers that will allow guests to take home a little nostalgia from your red-letter day… The perfect personalized gift that will show your guests how much they mean to you. The scent of your choice will stir up thoughts and memories of your special day for years to come. Choose a scent they will love, and customize the labels with a design or photo of your choice. You can mix the ingredients (or essential oils) you love from jasmine to oak to form a perfume or choose to buy the readymade one and delegate the work to custom the packaging to the retailer. They would love to custom the bottle for you so you can best describe your wedding day. Hunt the perfect fragrance to craft that memory of your big day. Leave behind the fragrance of your love with personalized perfume wedding guest favors.
Shower your guests with soap full of love:
Soaps smell as great as they look and are a real treat for our skin! You may also consider teaming it up with custom soap favors. Handmade artisanal soaps make for lovely wedding favors especially if you're tying the knot outdoors or during the summer. You may buy them from a local small business. However, if you are a DIY bride and have plenty of time to get your creative wheels turning then crafting them using scented wax and oils at home is a great and fun idea. You would want to stick with organic ingredients for the safest, allergy-friendly soaps. They make for unique and useful favors that guests can begin to use right away.
Last but not least:
Don't neglect the outside: It's all about the presentation when it comes to your wedding favors! Making your guests feel like they weren't appreciated or cared for would be the last thing that you would want. It all starts with the outside! With thoughtful and expensive tokens tucked inside, wrap up your gift box thoughtfully too to make the gesture even more meaningful! Not to mention, cheap or mundane packaging actually diminishes the perceived value of the overall package in the recipient's eyes. Try to personalize the same to give it a unique touch. Yes, we encourage you to ditch the store-bought paper in favor of one of the wrapping designs that are more like 'you'. Click here to check out some trendy awe-inspiring gift box ideas to hold your wedding favors in style.
You would never want your guests to trash the favors as soon as they get home. Therefore, choose a wedding favor that is of their use or they would love to cherish after your big day. We hope these wedding favor suggestions will make your loved ones think twice about throwing them away. It's suggested that you do a litmus test on your unique wedding favor ideas.
Regardless of the type and price of your wedding party favor, you should definitely find a way to share a sweet note with your guests. Use it as a way to thank them for celebrating with you and express your gratitude for their love and support. A little bit of sweet sentiment can really go a long way. However, if the wedding favor you are planning to choose doesn't really represent you as a couple or express a unique part of your personality, then better move your 'favor funds' to another part of your wedding budget. Think of adding another element of fun to your day like a photo booth, caricature artist, tattoo artist, or simply to your post-wedding life like a big honeymoon in Switzerland!