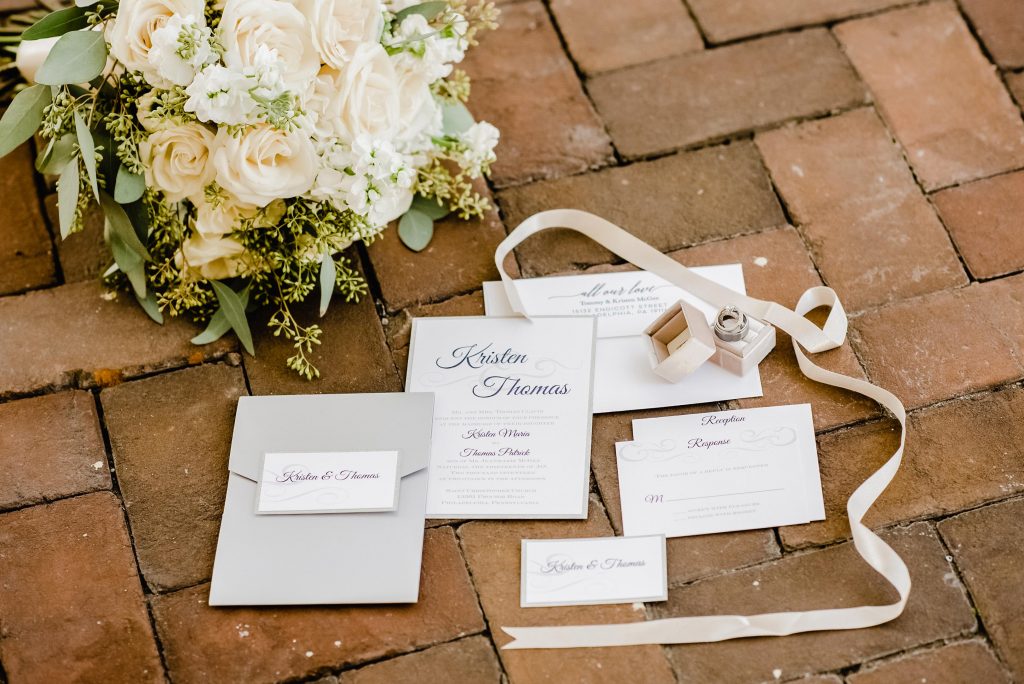 Long before your wedding day arrives, it's the wedding invitation that reaches your guests and graces their letterbox and then gets pinned on their refrigerator in anticipation. While it is easy to think that the wedding invitation is just what it is, an invitation to your wedding, it is, in fact, much more. It is essentially a trailer to your wedding day, a peek at the aesthetics that the guests can expect, a reason to anticipate for the day to come. Sometimes the wedding invitation can create an entire whirlwind of anticipation and curiosity among the guests, especially if you are living out breadcrumbs of hints for your guests to pick on and decipher.
A winter wedding is especially magical, with snow-dusted landscapes, crisp air, festive glow in the atmosphere, and the coziness of snug indoors. While there are many wedding invitation ideas for the warmer days of the year from blooming flowers to chirping birds, waterfront locations, and vintage garden weddings, the winter months are full of refreshing ideas as well when it comes to the wedding invitations. The winter wedding invitation will largely depend on the wedding theme that you have chosen- the colors of your choice, the vibe of your wedding day, the location, as well as your personal preferences. While winter wedding invites are generally assumed to be festive or dark, there are, in fact, many different ways you can go about this. From soft romantics to moody charcoal, from the celestial night sky to the mountain cabin feel, there are many different ways you can go about a winter wedding invitation, depending on whatever suits you the best. Below mentioned are some of our favorite wedding invitation ideas for the winter months.
Dark hues
Dark moody colors are something that is associated with winter forever. Not only does it coincide with the fact that most winter weddings have a darker color theme, but it is also dramatic, enthralled, and enchanting, all at once. Colors like charcoal gray, burgundy, emerald green, and midnight blue work especially well with the winter months. And it does hurt that these colors show off the metallic hues, perfect for metallic foiled lettering on the invite, making for a truly exquisite winter wedding invite!
Woodsy ferns

Preparing for a woodsy forest wedding? Winter tends to be the perfect time for forest weddings as the woods turn to a whole different vibe as the months turn colder. If that is your wedding theme, decorating your wedding invite with woodsy ferns can be a nice touch. One can never go wrong with a wedding invitation featuring foliage and whimsical ferns, both in summer as well as winter, but in winter it takes a cozier and a more magical allure which is perfect for a woodland winter wedding.
Woodland landscapes

Something about the pensive mood of the winter makes one daydream about heading out to the woods. If a woodland wedding is in your cards, featuring a woodland landscape on your wedding invite is a great idea. You can go for enchanting woodland sceneries or more neutral woodland animal landscapes featuring bears, raccoons, etc. For some reason, it is cozy, enticing, and makes one think of a camping trip. This can be a great idea of a wedding invitation if you are planning for a camping-themed winter wedding as well!
Snowy paradise

Look into the invitation suite which feels like stepping into a winter wonderland. An elevated color palette of blues, whites, and grays promise to be both sophisticated and whimsical, while the watercolor snowflakes framing the corners will add to the obvious wintery vibe of the invite. You can also have vintage snowy landscapes in your invite, like asking town, or a couple huddled up for hot cocoa!
Festive reds
Winter means that the festive season is right there, providing solace in the cold winter months. And what better way to bring the festive allure to your wedding day than by bringing the color red to your wedding invite! Whether it is a sparse addition of holly, or it is more intense velvety red with touches of gold, there are a variety of different ways that the festive red color can bring its own cheer to your wedding day. If your wedding day coincides with Christmas, this can be the perfect choice for your Christmas winter wedding!
Velvets
It's not really the style or color, but the texture which does the magic here! Gorgeous velvet finish stationeries feels luxe and indulgent and makes all the difference. You can also alternatively go for velvet ribbon tying up your invitation suite, wrapping it all in a luxurious bow! Velvet is timeless and perfect for the winter months and will add a bit of indulgence to even the most simple winter wedding invite! Keep it dark with colors like burgundy, evergreen or black and the effect will be enchanting!
Checked in
There is something about plaid and winter that seems like a marriage of its own! Using plain accents in your wedding invitation can be perfect for a winter wedding as it will bring out the festive flair while still being cozy and comforting! There are several checkered or plaid patterns you can choose from, be it black and white, neutral or red and green!
Icy blue
An article about winter wedding invites will be useless without the emotion of snowflakes and icy blue hues! Soft pastel blues reminiscent of the movie Frozen, sparkles, and snowflake designs are perfect for an ethereal winter wedding invite. Straight out of the fairytales and Disney movies, an icy blue wedding invite steeped in gold and silver will be gorgeous for a white wedding where you are expecting snow! You can add more snowy accents to add to them, whether it is a snowglobe with you and your partner featured in the middle, or a loose snowflake sparkles to add to the magic!
Rustic touches
Rustic theme is something that works gorgeously in all the seasons. However, in the winter months, it works especially well because of the neutral color tones that the rustic wedding theme brings about. Whether it is pine cones or burlap, candle lights and seasonal flowers, the true depiction of the bucolic beauty of the season will never disappoint. Think along the lines of hurricane lanterns, wood fires, and wintry landscapes, and put it down on the paper for a gorgeous winter rustic invite!
Marbled and elegant
There is something about a marbled pattern in the cold winter months that is not only seasonally fitting but also perfect for a minimal winter wedding, as there is a quiet elegance to it which is quite beguiling. Whether it is understated like white and smokey gray, or it is more lively like gold and blue, you can't really go wrong with a marble design on this winter wedding stationery. It is endlessly elegant and full of class, and says "winter" in an understated and sophisticated way! The best thing about the marbled pattern is that it is completely customizable as per one's wedding colors!
Bare minimalism
Nothing like the winter months to showcase a landscape that is stripped down to the bare skeletal trees and miles of snow ahead and there is a different area to the bare minimalism that winter brings in. Adorn your winter wedding invites with spidery branches of bare leafless trees and minimalistic accents. Sometimes the honest and true minimalism of the winter months is something that is refreshing for the soul and is appreciated by your wedding guests tremendously. This team can work especially well if you are hosting your wedding in the really cold months of winter.
Black and gold
Is there a color combination that is more classic than black and gold? A festive combo perfect for the festive season, black and gold is a duo that can easily be incorporated in many wedding themes. If you are hosting a minimal winter wedding with classic colors and timeless accents, without compromising on the glam factor, black and gold can be the wedding color combination for you! Not only is it easy to incorporate into our wedding day, but it also goes perfectly well with white and evergreen colors, which seems to be another thing that is favored during these months. Together they will work phenomenally for minimal yet fresh and glam wedding invites.
Watercolor illustrations
What's more welcoming than a soft, hazy color palette? A soft, hazy palette translated with watercolor paint for your winter wedding! Watercolor invitations are gorgeous and are sure to bring a smile to your guests due to the work put into them! Splash your paper goods with the romantic, whimsical winterscape design, whether it's a traditional winter scenery or a more specific one, and rest assured your guests will save your invite like a piece of art!
Christmas wreaths
It is hard to stay away from Christmas foliage like frosted greenery, holly leaves, or Christmas wreaths, especially in the festive winter months. Let the festive influences touch your wedding invites by committing to festive greeneries and know that your guests will break into a smile when your Christmas wreath invite reaches them! You don't essentially have to make it Christmas-themed, just a touch of snowy firs and garlands is enough to bring in some cheer!
Mountainscape
What says winter better than the snow-capped mountains and the whistling pines? Having the mountainscape be a part of your wedding invite is something that will add a chilly and welcoming atmosphere to your wedding day. This is especially fitting if your winter wedding location happens to be wrapped up with tall mountains and gorgeous fir, spruces, and pine trees. There are several mountain scape ideas that you can choose from depending on your specific taste, whether it is actually in the middle of the woods, a snowy paradise perfect for skiing, or a more modern hill town!
Gatsby it up
Bring out the ornate and the opulence with a wedding invite which is formal with gorgeous calligraphy writing, gold foiled design, and is packed with the most gorgeous layers fit for a wedding in the times of Great Gatsby. Whether your style is more vintage dark academia or a royal princess vibe, give your glam wedding the perfect kickstart with a wedding invite that feels like a royal invitation to have tea with the queen! So go for opulent colors with scarlet, royal blue, or purple to make a statement!
Celestial night
There is something about the night sky that gleams a little brighter on cold cloudless winter nights. If you are planning for a celestial-themed wedding, take inspiration from the boundless night sky, and you won't be disappointed! You have the whole of the universe to seek inspiration from, so while the wedding theme is quite particular, it is also abundant in options! While one can seek to be inspired with the familiar like the stars, the moon, clouds, and the magical midnight sky, there is a whole lot we are not familiar with too, which can add a bit of whimsy and mystic charm to a wedding! A celestial wedding is a perfect blend of whimsical and bohemian, and the deep blue and the sparkling silver will work perfectly well for a winter wedding!
While it is easy to label off a wedding as a winter wedding, there are many different nuances that define it. Whether the couple is hosting their wedding in a rural or an urban setting, whether they have planned for a casual or a more formal wedding, whether their personal style is bohemian or vintage, whether they are whimsical or glam, it is just some of the many factors that can influence the choice of their winter wedding invites. Winter is a beautiful time for a couple to celebrate their wedding day, however, winter can look different for different people. This is why the above-mentioned wedding invite ideas are just some of the many out there. You and your partner will find that there are different ways that you can express your wedding day, and the right wedding invite designer will ensure your specific thoughts are emblazoned in the paper in just the perfect way! After all, it is the wedding invite that whispers promises of what is to come, so a little effort to make it just perfect is worth it!