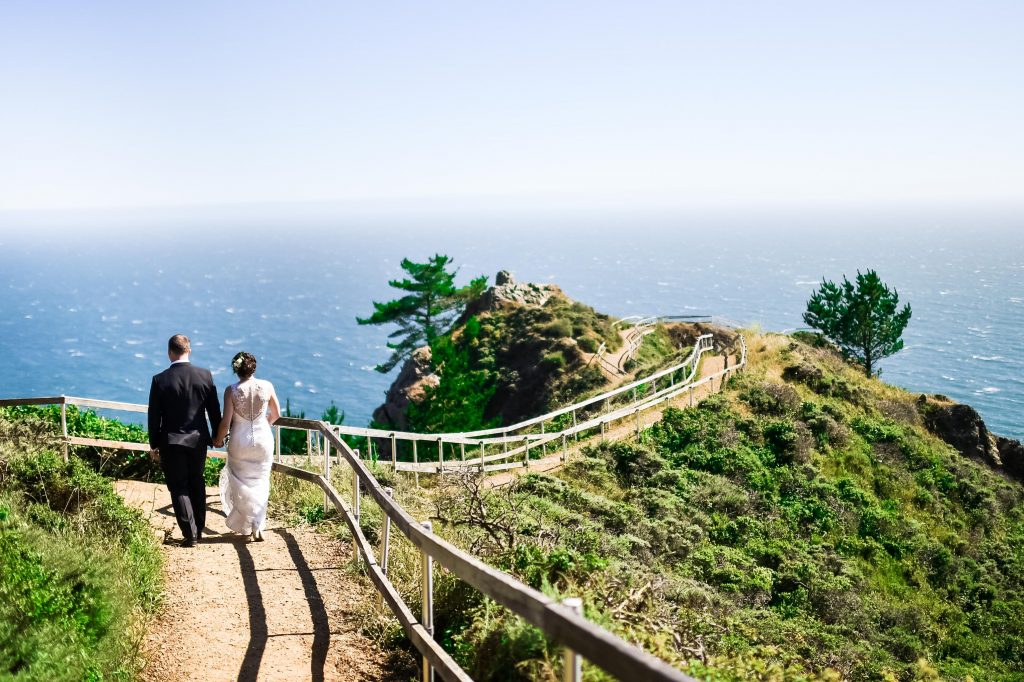 We have seen our fair share of weddings and we can say for sure that each wedding is special and unique in its own way. Whether a couple is tying the knot in a glamorous Christmas cruise while having a holiday honeymoon or getting hitched in their own backyard with rustic wedding details like dreamy string lights and mason jars, every detail leaves a lasting impression on us because of the unique chemistry that each couple brings with them to their weddings. It does not really matter whether you're getting married at a BnB wedding venue or tying the knot in a faraway dreamy destination, the best way to make a wedding stand out is to make it your own! After all, it is your love story and no one will tell it better than you. So it is very essential to take some time off your hectic wedding planning schedule and reflect on what represents you as a couple. And if you want something intimate and meaningful and want a big day that only focuses on you two solely, then maybe an intimate elopement is the answer you're looking for.
Let's face it, a big fat celebration with over-the-top wedding ideas is not for everyone. And whatever be the reason – whether someone's personality refuses to steal a lot of attention or they had to postpone their wedding indefinitely, having an intimate elopement can be the ultimate escape that they are looking for. For couples who want to focus on each other and for those who want to explore somewhere new (a strong nod to the globetrotters and traveling pants), having an intimate wedding can take you to a dreamy place without missing out on your ideal wedding ideas and inspirations. Unlike traditional times where intimate elopements did not include ceremonies and receptions, modern-day intimate elopements can be adjusted to include guests as well as other lovely wedding details. Getting in touch with an expert elopement wedding planner can be of great help, in this case, to help you navigate through the wedding planning process and get started on planning out an epic wedding saga.
Intimate elopements is a rising wedding trend that is witnessing a strong upward curve as it allows your wedding day to be an intimate affair. It is all about planning a wedding day at a location that is significant for you as a couple, whether it is a location near your hometown or a dream wedding destination that is halfway around the world. Having that said, a small wedding certainly does not mean that you won't feel special as we have come up with some of the most jaw-dropping elopement wedding destinations from around the world that are also considered to be some of the most romantic places to propose.
Our favorite romantic elements destinations for your spring saga:

Moab, Utah
The small town of Moab serves as a gateway to the southern desert's otherworldly red rock formations and massive mesas. Arches National Park and Canyonlands National Park are both located just outside of Moab. Massive arches and formations create an incredible backdrop for an intimate wedding ceremony and the ultimate place for a Utah elopement after a beautiful hike. The red rocks and desert landscape make for stunning wedding photos which means that you can have your ultimate wedding photography shot list right at this place, making it a truly remarkable place to elope.
Las Vegas
If you think of Sin City solely as a seedy locale for a quick wedding, you're mistaken. Yes, obtaining and using a Nevada marriage license is incredibly simple, and Elvis officiants and drive-through wedding chapels aren't for everyone, but the city is also full of excellent dining options, excellent outdoorsy activities beyond The Strip, and amazing wedding portrait backdrops at every turn. Our forever favorites for a dreamy Las Vegas elopement will always be the Seven Magic Mountains and the Neon Museum. To put it another way, you don't have to be a night owl to elope in Las Vegas, though it certainly helps!
New England
A spring elopement in New England can be breathtakingly beautiful especially for the adventurous couples with a high adrenaline rush. If you're willing to bundle up and brave the elements, New England has a lot of ethereal spring landscape views, so this could be a great option for you. There are many gorgeous options with a less strenuous hike, and one great option is to take the gondola most of the way up and then finish the hike. It's possible that microspikes or crampons will be required. New England's waterfalls and picturesque pools make it one of the most amazing places for glamping and spending some time away from the hustle and bustle of the mainland crowd. It's entirely up to you, but whatever you do in the spring season, make sure you're either prepared to work around the crowds or work with your photographer to find a more secluded location. It's sometimes as simple as going early in the morning to a location that will be very crowded later in the day.
Lake Louise, Canada
The out-worldly turquoise waters of Lake Louise mixed with its surrounding emerald mountains makes it one of the most jaw-dropping glamping places for a mini-moon or an intimate elopement in Canada. The entire landscape looks like a painting and to make things even more beautiful, this glacial lake is located within Banff National Park, so the snow-capped mountains in the background will take your photos to new heights. The best part is that once you say "I do," you and your new beau can go on exciting adventures together. Cross-country skiing, snowboarding, ice fishing, snowmobiling, hiking, and ice climbing are just a few of the activities available.
City Park, New Orleans
City Park in New Orleans is the ideal location for an elopement as it is brimming with charming landscapes and significant history. You won't run out of picturesque backdrops for your gorgeous elopement photography session with a 1,300-acre oasis full of centuries-old oak trees, a fragrant rose garden, lakes, a stunning greenhouse, and historic sculptures. The Langles Bridge in the park also makes an excellent backdrop for exchanging vows. After your ceremony, take some photos and take a stroll through the greenhouse. This romantic elopement location in New Orleans will appeal to nature lovers and green thumbs alike.
Vancouver Island, British Columbia
When Prince Harry and Meghan Markle first moved to North America, they chose this secluded island in British Columbia for a variety of reasons, one of which is its rugged natural beauty. In Avatar Grove, you and your loved one can exchange vows among the ancient Douglas firs and cedars before spending the night in a private cabin. The rest of your trip should be spent enjoying the great outdoors (think hiking, river pack-rafting, hot springs, and even surfing) and staying in a luxury lodge in Tofino overlooking the Pacific Ocean. This British Columbia elopement destination has our hearts for its rustic and rugged beauty which also reflects in the backdrop of wedding photography sessions!
Dunluce Castle, Ireland
Rivaling your favorite rom coms, this Irish elopement destination can be the ultimate pick for dramatic and hopeless romantics! Elope to the historic Dunluce Castle in Ireland, with its craggy coastlines and iconic ruins. Who wouldn't want to start their lives together with a little Irish luck? You and your lucky charm can marry in front of a crumbling castle straight out of a fairytale, surrounded by stunning blades of green grass and endless sea views. Can any under location beat the romantic quotient of this Irish elopement spot?
Tybee Island, Savannah
If you're planning an elopement in Savannah, Tybee Island is a great romantic and nautical setting, located just 20 minutes from downtown Savannah. Featuring clean white sand beaches that line the island, and the historic Tybee Lighthouse which was once America's tallest structure that now towers over the water, Tybee Island combines the seclusion of the seashore with the charm of a small town in one stunning location. The dreamy romantic sunsets alone are reason enough to have a lovely beach wedding with sand between the toes and a blanket of sparkling stars overhead.
Bora Bora
Bora Bora in French Polynesia is located in the South Pacific, halfway between Australia and South America. Known to be one of the best places for a tropical honeymoon, honeymooners have long flocked to this remote island chain for the white sand beaches and bungalows perched directly above the clear blue waters, and it's also a fantastic elopement destination for couples looking for the ultimate tropical island vibe. Whether you're looking to get to a private beach for a Polynesian-style wedding or spend some special time in a luxurious resort in Bora Bora, the options are endless for an unforgettable new beginning in this part of the world.
Bogus Basin, Idaho
You may not be aware of this hidden gem elopement destination, but trust us when we say that your Idaho elopement will look like something out of a fairytale. The Arrowleaf Balsamroot wildflowers light up Boise's wild rolling foothills with bright pops of yellow and green in the spring. With over 190 miles of trails, you can hike, walk, mountain bike, or drive to your ceremony location and say "I do" just as the high-desert sunsets, with panoramic views you won't soon forget and which will also pose as the backdrops for an unforgettable wedding photography session. And, because it's only a half-hour drive from Boise, you can enjoy the best of both worlds by visiting this artsy and urban mountain town.
Chugach Mountains, Alaska
Alaska remains one of our favorite places for intimate elopements because of how wild and untamed it feels! And we especially love it when our couples decide to fly out to the Chugach Mountains and land on a glacier in a helicopter or ski plane because the scenery is breathtaking for an unforgettable spring wedding photography session. Glaciers change seasonally, if not weekly, so what we see or experience will always feel new and unique to the exact time and place, which I think is a lovely detail for a memorable spring elopement wedding day.

The Rocky Mountain National Park, Colorado
Probably a no-brainer, but the Rockies will forever make to our list of picturesque elopement destinations throughout all the seasons. It is true that Colorado is one of the most beautiful mountainous regions in the country, making it an ideal location for an intimate elopement. Rocky Mountain National Park, located about 70 miles from Denver, is home to a stunning wilderness area with 150 lakes, 350 miles of trails, and 450 miles of rivers and streams. Couples seeking the beauty of the Western wilderness have a plethora of options here, including dazzling alpine lakes, sweeping mountains, and pine forests, all of which offer a long list of options for the quintessential Colorado elopement experience. Silver Dollar Lake, Lake Isabelle, Sapphire Point, and 3M Curve are among our favorites.
Iceland
This remote Nordic island, which can be accessed with a five-and-a-half-hour flight from New York, has a rich variety of otherworldly topography, including black sand beaches, beautiful waterfalls, rolling green hills, glaciers, hot springs, and even gurgling lava. Probably one of the most fascinating elopement destinations in the entire world, the remoteness of most of these natural locations only adds to the spiritual aspect of your union. And you don't need to worry about your wedding planning in Iceland, as it is not difficult to find an Iceland elopement service to assist you. After that, unwind in a room at one of the luxurious Icelandic retreats, which provides exclusive access to Iceland's most famous tourist attractions, and kickstart your Nordic honeymoon right after.
Tulum
If you are looking for alternative options of eloping under a waterfall in Bali, you can check out the clear Caribbean waters of Tulum, the popular destination on Mexico's Yucatan Peninsula. The town is especially popular with the social media influencer culture, and features cool hotels, a thriving wellness culture, and super-buzzy restaurants, not to mention gorgeous beaches and diving cenotes nearby. But all of these do not take away from the warm-weather romance it offers for smaller wedding ceremonies.
For some, a wedding entails exchanging vows in front of a huge guest list of relatives and friends. For others, something simpler, more scaled-down, and in a completely different location is desired. While the definition of elopement has changed over time, it is now most commonly used to describe the latter. The wedding is intimate – sometimes with just the couple in attendance, and takes place away from the couple's home. The best place to elope is determined by the couple and their preferences as there is no shortage of awe-inspiring elopement locations – from colossal mountains to beaches and painterly lake views around the world for intimate celebrations.
If you've decided that eloping is the right choice for you, the next question is, "Where are the best places to elope?" Finding the most beautiful elopement location depends on what you're looking for. There are beautiful coastal shores, towering mountains, and sprawling cities to choose from. Whether you want to elope on a mountaintop with just an officiant and photographer or have a destination elopement on a tropical beach, your wedding day is all about you and your partner, which means you can celebrate however you want. There are a plethora of ways to make the day memorable, from wearing a stunning elopement wedding gown to incorporating a variety of unique elopement wedding ideas, and it all starts with where you decide to tie the knot. The atmosphere you create will set the tone for the rest of your celebration, and without a large reception to worry about, the world is your oyster. The above-mentioned list contains our favorite places to elope right now, and it has everything from secluded waterfalls to vibrant desert towns. So go ahead and take your pick!