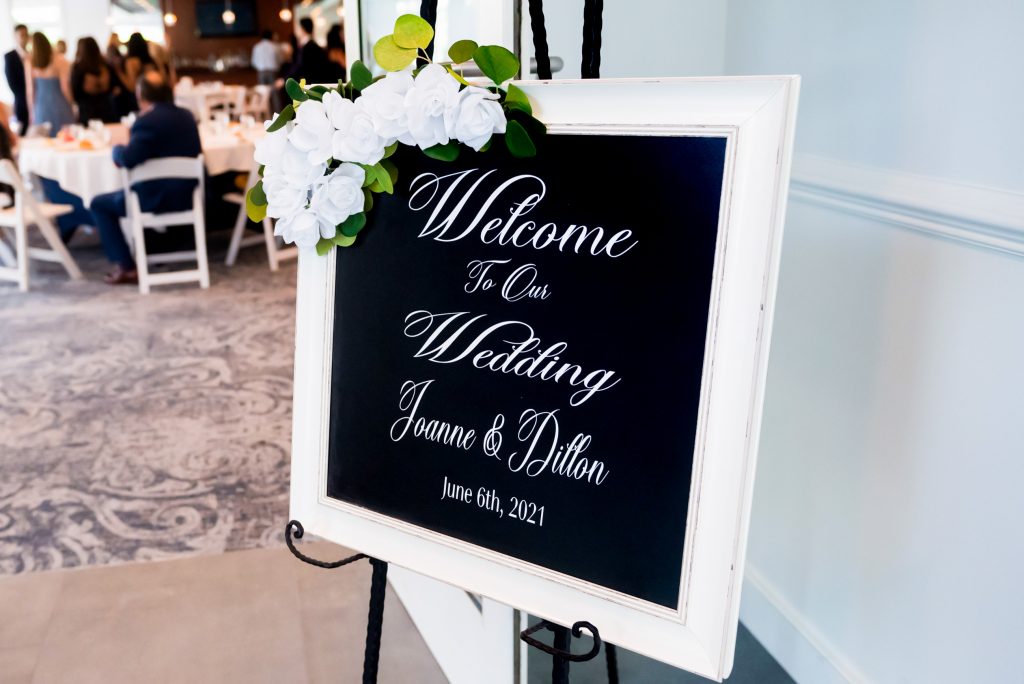 Are you also mesmerized by a calligrapher at work? If yes, then you are certainly not alone! There is something extremely romantic and mesmerizing about putting a pen to paper and watching swirly, artistic script come to life, especially when you leave it to the pros! So, if you are also captivated and enchanted by those viral videos of hands putting beauty to text, you might want to consider hiring a calligrapher to design each and every element of your wedding day, too!
An ideal option for all the brides who are looking ahead to adding a dose of elegance and something out-of-the-ordinary to their wedding day decor, calligraphy is indeed an age-old form of classic art that will surely impress all your wedding guests without any doubt! Calligraphy and weddings are indeed a beautiful and great combination and there are endless ways to incorporate script into your wedding day details! From your save-the-date cards and wedding invitations, to welcome signs, to romantic handkerchiefs for those sentimental moments and everything in between, calligraphy gracefully offers a luxe, and elegant feel to usher all your wedding guests into your romantic union of love!
So, if you are looking out for ideas to bring in the script to your wedding day, we have got you covered! We have rounded 12 unique and gorgeous ways to incorporate the script into your wedding day detail! From traditional wedding celebrations to classic and modern affairs, we are pretty sure that these gorgeous calligraphed ideas will surely step up your wedding decor game! Whether you are planning to go all out or want to keep it classic and subtle, we urge you to have a look at beautiful ways to weave in the art of the written world.

The Wedding Invitations and Envelopes
First thing comes first! Let's start with your wedding day invitations! Whenever we think of incorporating calligraphy into a wedding detail, the very first thing that comes to everyone's mind is the alluring envelopes adorned with stunning and beautifully calligraphed addresses! And, we are undoubtedly all in huge favor of going all out for the mind-blowing calligraphed envelopes but just a suggestion here, you can also use calligraphy for your entire wedding day invitations too! Going for a calligraphed wedding invitation will not only bring a wide smile to the face of your wedding guests whenever they will open your wedding invite but it will also give a brief idea about your wedding day and your personality! Depending on your budget and your wedding day guests' list size, you can ask your calligrapher to handwrite each wedding invitation entirely in calligraphy or even brush lettering (check out Pinterest for more ideas and inspiration for this calligraphy style). In fact, you can also commission something called pot calligraphy, where the calligrapher will write out a few words (usually your's and your sweetheart's name and most probably the wedding venue or the location of your wedding day) and then can digitally scan the lettering to add into the final wedding day invitation design! Whether you are a bride who is planning a classic and elegant wedding, or a die-hard fan of a modern wedding, or you have already planned your memorable bohemian wedding in advance, there are calligraphy styles to suit every style and wedding theme! All you have to do is pick one style that resonates best with your wedding theme and woos all your wedding guests! In fact, a stunningly calligraphed wedding invitation will also look flawless in all your wedding portfolio when it will be documented by our experienced and professional wedding photographers and videographers!
In short, lovely calligraphy on your wedding invitation packages and envelopes is nothing but absolutely timeless and gorgeous! Well, this trend is majorly followed in 2017, but is now making its come back in the ring again! Trust us, when we say that every calligraphy style is unique and all it will do is make your wedding day invitation suite one of a kind!

Wedding Day Signs
Large signs are not only visible from a distance but they are indeed the perfect way to welcome all your wedding guests to your wedding! We just want to tell you that wedding day welcome signs can be made out of anything from large pieces of plexiglass to reclaimed wood. Even an oversized tropical leaf will look stunning when calligraphed gorgeously! If these wedding welcome signs are not enough for you, you don't need to stress over them! There are millions of ideas waiting for you on Pinterest! Apart from welcome signs, there are other areas where you can consider bringing in calligraphy! Whether it be to sign your wedding day guestbook, what your wedding hashtag is, or that you are planning an unplugged wedding ceremony, or that your wedding has an open bar, signs are undoubtedly the easiest ways to get your messages across to your wedding guests! And when these signs are calligraphed in beautiful fonts they will definitely elevate your wedding day sign decor game to the next level! Beautifully calligraphed wedding signs and welcome signs will also look stunning in your wedding video and wedding photographs especially when captured by our talented wedding photographers and videographers! But, just make sure that you are not overpowering your wedding day signs by having calligraphy as the main design just to make them stand out!

Flawlessly Calligraphed Wedding Ceremony Backdrops
Using your and your's sweetheart's favorite quote, or the lyrics of your favorite song, or a meaningful phrase flawlessly written in beautiful calligraphy to serve as the backdrop of your wedding ceremony, is not only a creative idea to bring in calligraphy to your wedding day but is also a very romantic idea! This kind of wedding ceremony backdrop will give endless wedding photography opportunities to our professional wedding photographers and videographers to capture the romance between you and your partner in the best of frames possible! For this kind of calligraphy, the text can be painted onto a piece of fabric (white cotton curtains or even a bed sheet will do the trick) if a bohemian wedding is on your mind. Well, you can also consider writing the text onto a roll of art paper, or even printed.

Calligraphy for Your Romantic Wedding Vows
With every aspect of our life affected by technology, we understand that it is extremely easy to use a mobile phone to read your wedding vows to the love of your life during your wedding ceremony. But how about the idea of using a delicate piece of paper that is gracefully and artistically riddled with beautiful calligraphy and your affirmation of love! Isn't that great and incredibly romantic at the same time? This is indeed a great move to incorporate the script into your wedding day! Once you both are pronounced as the newly married couple, instead of throwing away that piece of paper you can reuse them and also get them frames so that you can hang them in your new home as a beautiful memory of your big and special day!

Calligraphy on Your Wedding Day Place Cards
Planning every aspect of your wedding day beforehand is important as it avoids last-minute chaos! For your wedding guests, a seating chart or escort card will surely help them to reach the appropriate table! But, if you are planning on assigned seating at your wedding, you will also need place cards! If you are hiring a calligrapher for everything, or you are planning to show off your calligraphy skills, you can handwrite each guess name in stunning calligraphy. Doing this will not only add a touch of personalization but will also showcase your love and romance in the best way possible! Just by this sweet gesture, your wedding guests will feel extra special on your wedding day! And this kind of wedding decor will look fantastic in your wedding photo album too! You can also consider adding colors to the place cards! Like some color-dipped place cards with deckled edges, or some beautiful calligraphy tags pinned to some kind of gold spray-painted faux fruit will be a great idea if you are planning to get married during the fall season!

Seating Charts & Escorts Cards
Your wedding day seating charts and escort cards undoubtedly serve the extremely helpful purpose of letting your wedding guests know where to sit at your wedding reception! You have full control over how creative and beautiful you can make it! Well, before you go ahead and wear your creative hat, let us tell you the difference between a seating chart and an escort card so that you plan your calligraphy style in that way and make your wedding day decor stand out! The seating chart is usually organized by the table number, with the names of each of your wedding guests at that table below, whereas escort cards are individual cards alphabetized according to your guest's name that will help them to reach their table! In both conditions, your wedding guests will be looking at a stunning and enchanting calligraphy style! Resonating with your wedding day theme, you can choose the color and style of the calligraphy for your guest's name! All you have to do is just make sure that the name pops out gracefully and must look mind-blowing when captured by our professional wedding photographers in the most cinematic frames!

On Wedding Menus
There is no better place to flaunt the best calligraphy than on your wedding day menu! No matter whether you are decking your place settings with menus or having a buffet with endless varieties of food choices with a menu at the beginning, you can always showcase the best of calligraphy to amaze all your wedding guests! In both options, you will have the opportunity to loop beautiful calligraphy into your wedding! Trust us, a well-calligraphed wedding menu will be a perfect decoration element to your wedding day decor which will be understated and classic at the same time!
You can also consider adding some calligraphy to your wedding day drinks menu! Planning to offer a signature cocktail to all your wedding guests for your cocktail hour? Well, you can easily share all the delicious options with your wedding guests with a beautiful calligraphy bar sign! In fact, you can also add individual dinner menus in the form of place cards just by creatively writing the name of your wedding guests at the top! This kind of idea will serve two purposes! One, your wedding menu will look different and unique, and secondly, you will be able to bring in the script to your wedding decor in the best way possible!

Pre-Wedding Cards
Are you thinking of a pre-wedding card for your love? Well, that is indeed a great idea! You can consider making it more picture-worthy and memorable to incorporate in your wedding album! All you have to do is adorn the cover of your card with alluring and enchanting calligraphy! This kind of gift will be something that your sweetheart will never forget and will not have enough of! It will be a romantic keepsake that your darling will treasure for the rest of their life!

Chair Signs
We are pretty much sure that you will love this idea that we are going to talk about right now! The idea of creating special signs for your and your partner's chair at your wedding reception! Elegantly calligraphed signs or some beautiful fabric banners are the perfect and best answers for this idea! This wonderful idea will not only look amazing but with a little posy of flowers to accent the sign it will definitely elevate the overall mood and setting of your wedding reception!

Stunning Table Runner with Whimsical Calligraphy
The idea of introducing calligraphy to your table runners into your wedding reception is not only unique but extremely amazing! This is indeed a bit outside the box, but don't you also think that a calligraphed table runner will indeed be a perfect addition to the head table for your romantic and memorable wedding? Trust us, this kind of wedding decoration idea, we have only seen a handful of times! For more ideas to bring calligraphy to your table runner, you can bring in your wedding vows, or the lyrics of your first dance song, or some religious verses that mean a lot to you and to your sweetheart! This kind of table runner idea will not only keep your wedding guests entertained and make your wedding absolutely one of a kind, but will also elevate your wedding photos in every possible way! Just make sure that whatever text you are choosing for your table runner, must appear only on each side of the table so that it is not covered by your centerpieces!

Calligraphed Wedding Day Cake Toppers
With changing bridal trends, our modern-day couples are moving away from the usual and traditional bride and groom at the top of their wedding cakes! These days our couples are getting more and more creative and thus are using phrases or names to get displayed on their wedding cakes! Our talented and creative team of wedding photographers and videographers have witnessed various phrases like "our adventure begins here", or "Mr. & Mrs." or even "Mr. & Mrs. (last time)". So, if this is the route you are going to take for your wedding day cake, make sure you are using enchanting calligraphy as it will definitely add a decorative element that will top off your cake perfectly! This kind of wedding cake idea will be soft, romantic, and will surely fit into your wedding theme of any season!

Calligraphy on Your Wedding Favors
Well, there is no denying that favors are hard to choose! You want something that not only woos your wedding guests and will make them remember your wedding day with every passing but also not break your bank! Sending your wedding guests home with a sweet little wedding favor is what marks the perfect ending of a memorable wedding celebration! And to make this moment unforgettable and the wedding favors more personalized you can add beautiful script to all your wedding guests' favors! You can consider writing cute little phrases like "let our love grow" on a pack of seeds or you can also think of taking it one step ahead and writing their individual name on a special card which you can attach to the wedding favors and make your wedding guests more special! You can also ask your calligraphers to make you a rubber stamp with your names or initials in calligraphy, then stamp it on cotton muslin bags and fill it with the delicious favorite treat! No matter what you are gifting to your wedding guests, with this incredible idea, your wedding favors will stand out and will make a big and remarkable statement to all your wedding guests!
Between your wedding decorations and invitations, peppering your wedding day with stunning and beautiful calligraphy will unquestionably ensure a timeless and romantic setting that will be nothing but just a perfect display of your love! With so many ideas there, you have endless ways to incorporate script to your wedding day details! If you like any of our ideas and decide to use one, two, or more, you are more than welcome!