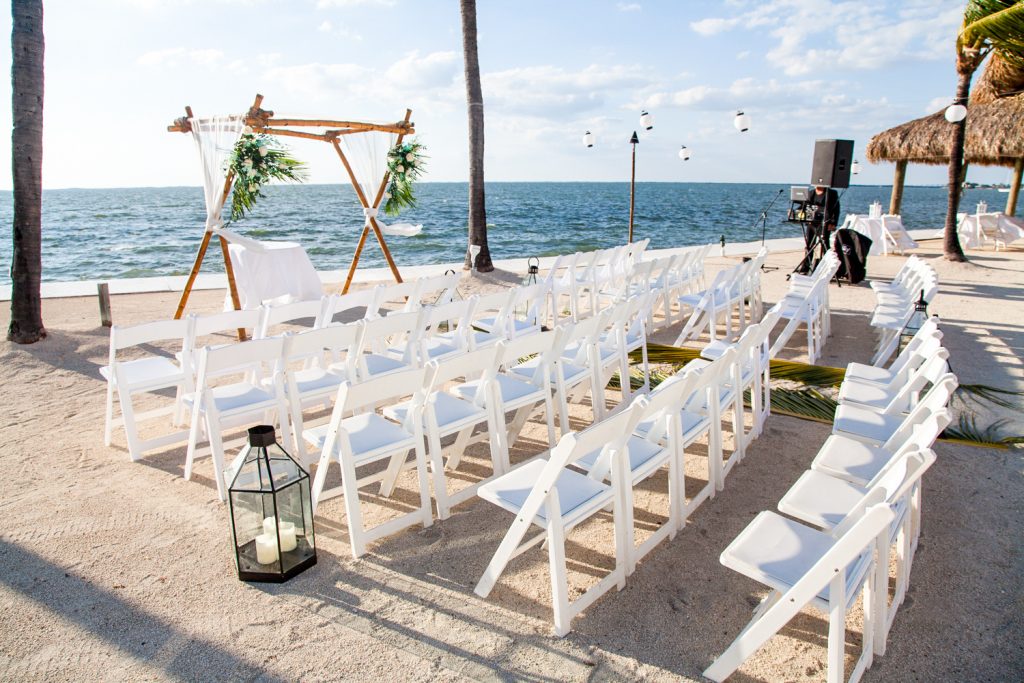 "Where should I get married?"- this is the first question that pops up the moment you get engaged to the love of your life. Your choice of wedding venue can make or break your dream wedding! It is no small feat to find your dream wedding venue that can reverberate with all your wedding visions that you secretly coveted for so long. Brimming with endless choices of unique wedding venues, America is filled with some of the dreamiest and most dramatic backdrops for your wedding ceremony and reception. The list of endless wedding venues in the US can make it a very hard decision to narrow down your choices and select one from the list that truly aligns with your wedding style, location, and budget.
After scouring for the best wedding venues in America, we have compiled a list of some of the most sophisticated and luxurious destinations to tie the knot in the US. Since it is a land of diversity in landscapes and cultures, the best destination wedding venues in America can truly surprise you. The master list of best wedding destinations in the US can take you to wonderful places from the cozy backdrops of hilly locales with panoramic views and rustic glamor of a mountaintop lodge in Colorado to a beachfront resort in Florida and everything in-between. From the chic landmarks of your all-time favorite cities and European chateaux to tropical beaches and unique stateside spots, the list of the best luxurious wedding venues in the US can inspire you to take the first step for this new beginning in the most desirable way.
Best Wedding Venues In The US
The Sterling Castle, Shelby, Alabama
For a fairytale-like wedding soiree in the castle, this luxurious castle wedding venue in Alabama can be a dream come true spot to exchange nuptials. This 14th-century castle wedding venue in the US is straight out of a storybook, as it features an impressive and romantic backdrop for themed wedding celebrations, from steampunk to Scottish, masquerade, Doctor Who, and anything you can think of! Featuring a customizable spacious hall for wedding receptions and the striking influences of medieval dwelling from the 14th century, this wedding venue in Alabama can be perfect for couples who wanted to get married in a castle.
Grand Hotel, Mackinac Island, Michigan
Nestled at a height of 660 Feet, the Grand Hotel in Mackinac Island is considered to be America's summer place located on Mackinac Island in Northern Michigan for over 130 years. This National Historic Landmark, a memorable wedding destination in the US, has a front porch which is considered to be the longest in the world and is generally covered in 2,500 geraniums during the resort's summer and fall season. Iconic wedding ceremonies can be held on the front porch itself that overlooks the waterfront or in the Grand Hotel Tea Garden while receptions can take place in one of the resort's five ballrooms. Slow down and unwind as you get married to the love of your life as this wedding venue is not surrounded by any cars or humdrum of the city but all you can hear here are nostalgic horse-drawn carriages, bicycles, and footsteps of your loved ones.
Terranea Resort, Rancho Palos Verdes, California
Fall in love with this magnificent 102 acres coastal resort in California situated on a bluff at the very tip of the stunning Palos Verdes Peninsula, overlooking the panoramic views of the sea. This coastal beach resort wedding venue in California is an earthly paradise as this oceanside sanctuary is designed for the most memorable wedding stories and has been an exotic setting for numerous films and TV shows. A picturesque destination for a memorable wedding photography session, this dreamy wedding venue in California is definitely the location for postcard-perfect celebrations for capturing and instilling indelible memories.
Mayflower Inn & Spa in Washington, Connecticut
From the endless photo ops in the Shakespeare Garden where you can exchange your wedding vows to the 58 acres of serene woodlands and manicured grounds, this New England country estate wedding venue is a breathtaking backdrop for wedding celebrations in Connecticut. The effortlessly romantic wedding venue in the US features cobblestone pathways, landscaped flowerbeds, and a bust of the Bard himself make up the "décor". The on-site luxury spa treatments are perfect for you and your love to pamper and relax.
Granite Ridge Estate, Norway, Maine
Located just an hour's drive north of Portland, the Granite Ridge Estate sits atop a 1000-foot high mountain. The breathtaking mountain top wedding venue in Norway, Maine is a rural retreat that offers classic New England events and spaces to host your epic wedding celebrations. The 3,500 square foot rustic wooden barn with a gable roof and glass walls feature stunning panoramic cliff views for a dreamy wedding in the mountains. Nestled amidst a forested wonderland, this peaceful wedding venue in Norway lets you exchange your wedding vows under a canopy of trees and surrounded by 200 acres of private natural surroundings that offer spectacular views of Mt. Washington and Shawnee Peak.
The Little Nell, Aspen, Colorado
Considered to be one of the most iconic places to get married in Colorado, The Little Nell in Aspen is a wedding deck atop the Aspen Mountain that can sweep you off your feet with its spellbinding and enchanting backdrops. Perfect for capturing iconic wedding moments, the breathtaking ceremony location is situated at an elevation of 11,000 feet and features sweeping panoramic views of the Elk Mountains and Highlands Bowl. Considered to be perfect for hosting winter weddings, this luxurious wedding venue in Colorado can give your snow-capped peaks as your backdrop for wedding ceremonies during the cold season. Each of The Little Nell's luxury suites and guest rooms comes with its own fireplace, making it a once-in-a-lifetime dream-like getaway for your loved ones.
The Nantucket Hotel and Resort, Nantucket, Massachusetts
Nestled on a tiny island off the coast of Cape Cod, The Nantucket Hotel and Resort in Massachusetts lets you exchange vows at the foot of Brandt Point Lighthouse. The stylish 1924 grand ballroom is a beautiful and light-filled wedding event space that boasts the original oak plank floors, a soaring whitewashed-beamed ceiling, and a raised stage. Give your guests a perfect weekend getaway for the wedding celebration as the hotel includes several traditional hotel rooms, multi-bedroom suites, and private cottages. This wedding venue has everything you desire for a magical, dream-like, Nantucket wedding experience!
Waldorf Astoria, Las Vegas
More than just eloping and chapel weddings, LA is home to some of the most premier US wedding venues that can be the perfect kickstart to marital bliss. The uber chic Waldorf Astoria in Las Vegas is a luxurious hotel wedding venue for your wedding celebrations that come with guest rooms featuring fantastic views from floor-to-ceiling windows that reveal the glittering Las Vegas Strip and beyond. The only ballroom setting in Las Vegas with floor-to-ceiling windows and an expansive balcony, this premier hotel wedding venue in Las Vegas overlooks the world-famous Las Vegas Boulevard. Home to Michelin-starred chef's only North American restaurant, this lavish LA wedding venue houses the Forbes Five Star Spa, which spans two guest floors, and the world-famous restaurant Twist by Pierre Gagnaire.
The Hay-Adams, Washington, District of Columbia
Located across the street from Lafayette Square overlooking the White House, The Hay-Adams is the premier wedding destination in DC designed with period ceilings, working fireplaces, and warm wood tones and featuring panoramic rooftop views. This historic home turned iconic hotel in DC not only overlooks the White House but also all the national monuments, that can make your iconic wedding videography session reverberate a sensational atmosphere. The premier event space features a newly renovated wedding space with walls of windows that can give unrestrained panoramic views of the iconic landmarks of Washington DC as your wedding backdrop.
Gramercy Park Hotel, New York
One of the most iconic places to get married in New York, the beautiful Gramercy Park Hotel is considered to be an oasis above the city, that is located on the 18th floor and features interior salons full of 20th-century art plus lush exterior gardens that wrap around the rooftop, as well as gorgeous views of Manhattan. The inviting ambiance along with a view of the historic Gramercy Park makes it an incredible location to tie the knot in New York. The luxurious hotel wedding venue in New York provides packages that come with a bottle of private champagne, a tour of the hotel's art collection, and candlelit rose petal turndown service. The sophisticated world-class cuisines can be customized to fit your preferences and the fun add-ons like a sushi bar and a gelato table add on to the premier vibe of this iconic wedding spot in New York.
The Don CeSar, St. Pete Beach, Florida
Located on the shores of St. Pete Beach, 30 miles west of Tampa, this glamorous Spanish-style treasure offers everything from beachside ceremonies to opulent ocean view ballrooms and terraces- plus Spa Oceana. Also known as the 'Pink Palace', this lavish wedding venue in Florida has played host to countless luminary wedding soirees since its construction in 1928. Ranging from beachside ceremonies and relaxing spa treatments for your wedding guests to opulent ocean view ballrooms and terraces, this premier wedding venue in Florida can be the most relaxing experience for your wedding weekend getaway for you and your loved ones. This dreamy destination venue in the US can be the ultimate destination for you to relax with your sweetie during a signature couple's massage or share welcome cocktails with guests in the opulent Lobby Bar, or just spend a lazy afternoon enjoying poolside concierge service or catching some rays on the pristine white sand beach.
Modern Honolulu, Hawaii
Featuring an array of distinctive event spaces for hosting wedding celebrations, ranging from a soaring 9,200-square-feet ballroom to a rooftop penthouse and an exhilarating suite, the scenic Modern Honolulu in Hawaii lets you walk down an aisle over water and features ocean and harbor views for an exotic wedding experience in the US. Set in a boutique Waikiki Hotel, the venue offers incredible beachfront, poolside, or ballroom options for the ceremony, including a sunset wedding setting in the hotel's Presidential Suite. Newlywed couples can start their honeymoon in Hawaii with the hotel's unique honeymoon registry, where they are gifted with spa and outing packages instead of traditional gifts.
The Plaza Hotel, New York
Nestled right in Lower Manhattan at the southern corner of Central Park, The Plaza Hotel in New York is a world-famous hotel that is known for its legendary opulence and glamor, with stunning details like Art Deco crystal chandeliers that replicate those found at the Palace of Versailles. The timeless and elegant setting features legendary opulence and old-world traditions boasting Italian Renaissance-style paintings and a carefully restored crystal chandelier from the 1920s. You can also pamper and relax at the hotel's Caudalie Vinothérapie Spa, which will allow you to de-stress before you walk down the aisle.
The top destinations in the US to tie the knot will make your wedding video investment worth every penny, as each and every corner of these amazing wedding venues is bound to create drama and dazzling effects in the background as you step into a new life altogether. Probably one of the trickiest wedding decisions that you will ever take, choosing the coolest wedding venue in the US needs some visionary and inspirational perspectives. Ranging from royal palace wedding venues where the Duke and the Duchess start their new beginning and impressive palatial wedding venues for inspirational South Asian weddings, to cozy winter weddings in the countryside for the couple who wants to get away from the humdrum of the city for a luxurious weekend getaway, whatever may be your choice, the inspirational American wedding venues are gorgeous locations where you will love to spend time with your family and friends as you begin your new life with your sweetheart. Whether you like to get inspired by some of the best online wedding inspiration sites or you want to plan your entire wedding on Instagram, if you are a bride who loves to do online research as part of a wedding planning process, we are here to bring you some of the best and wholesome wedding updates for you to pick. Happy wedding planning!