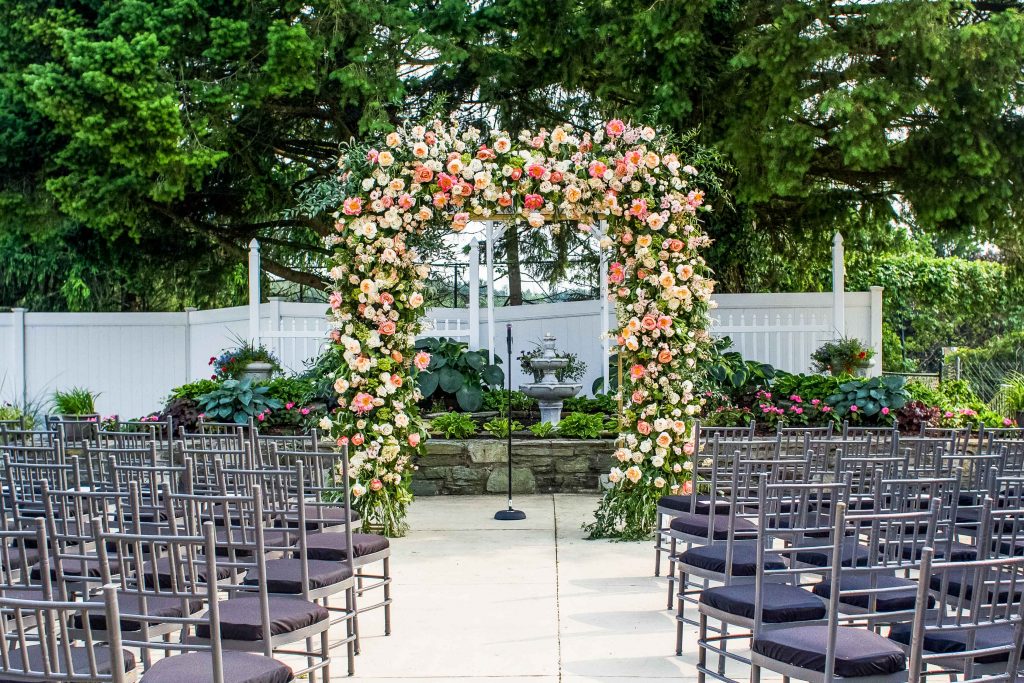 The perfect tune comes into play and that is your cue to walk through the door and make your way through the aisle. There is a hushed silence in the ceremony area, punctuated by gasps of awe and appreciation, and you can see your loved ones' faces light up as they see you in that perfect ensemble! For a second there, the earth spins a little slower and angels sing and you feel like you are the relatable main character in every romantic movie. Making a grand entrance is something that every bride wants for their wedding day, and there is nothing quite like swaying down that aisle, looking like a dream, making your way to the one whom your heart is promised, waiting at the end of the path. While the perfect dress, with the long enchanting trail, the gorgeous bridal bouquet, and the carefully curated accessories all help in bringing the picture to life, the way the ceremony aisle is dressed up plays an imperative role in this too! Keep in mind that your ceremony aisle is a path you will be walking through twice on your wedding day, the second being when you take your leave as newlyweds. Needless to say, this is probably where most of your ceremony pictures and videos will be shot, so paying close attention to the backdrop to your dream wedding ceremony and making it luxe and beautiful is extremely important so that you look back on your special day with nothing but fond memories!
Light it up:
Having candles light up the path can not only be romantic and add to the mood but can also give the bride an iridescent glow as she walks up the aisle to her forever love. Clear vases and candle holders carrying white pillar candles can add to the classically romantic vibes. This glass-meets-light element can work perfectly well for an indoor wedding or a wedding ceremony which is to happen in the dusk hours. You can mix up the candles with minimal additions of greenery and this will not only make for great photos but will be the first thing that your guests notice as they walk into the ceremony site.
Pampas grass:
Pampas is having its moment everywhere, from the bridal bouquet to aisle decor, and the effect is ethereal yet earthy. If you and your sweetheart are planning a boho-themed wedding, this might be a go-to way for your aisle decoration. This beautiful dried grass is currently representative of bohemian aesthetics in the decor department, and with its muted tones and airy feathery leaves, it is easy to blend it into any color theme that can instantly add personality to a setting. Placing bunches of pampas grass all along the ceremony aisle and at the altar can make your boho-inspired wedding a roaring success!
Overhead flower:
While flowers marking the way to the altar is the most expected way of decorating a wedding ceremony set-up, there is no denying that nothing truly works as well as flowers do. However. you can try to give the floral decor a complete 360 degrees revamp by incorporating levitating flowers, flower chandeliers, or overhead floral decorations instead. Enchanting, over-the-top, and perfectly romantic, overhead florals can add an air of unexpected to your "I do" moment!
Pastel florals:
Can you go wrong with pastel flower arrangements at a wedding? We think not! There is something about the fresh and dewy flowers in pastel hues of pinks, peaches, yellows, and blues that makes a heart sing! This is especially fitting if your wedding is arranged for those warmer months of the year, or is based around a soft and romantic theme. Large assemblages of romantic flowers like peonies, delphiniums, roses, and hydrangeas will add a special touch of magic to your special day.
Wood walkway:
There is something beautiful and practical about a wooden walkway, as it instantly eliminates the tripping incidents or walking challenges that can be brought about by an unlandscaped walkway, like a sandy beach or a fabric-lined walkway. While it is practical for walkability purposes, it is also mildly customizable, as you can have a monogram or wedding date marked for a personal touch. A customized wooden walkway is also perfect for a waterside venue, whether it is for a floating ramp effect or a bridge built across a pool. The possibilities are truly endless with this one!
Lush tropical palms:
What is a tropical or a beach wedding without the palms? Not very convincing. Tall and swaying potted palm plants which bring the seaside to the venue or monstera leaf and protea arrangements for a minimal yet tropical look make a venue perfect for a tropical beach wedding. The lush greens will stand out perfectly against a more neutral walkway or light-colored chairs for the guests. PS: Less is always more for a more breezy and beachy feeling.
Rustic fencing:
Make your rustic dreams come alive with a wedding aisle featuring white picket fences on both sides of the aisle. An ideal and charming idea that is perfectly romantic yet unpredictable, cute fencing paving the way to your sweetheart can be just ideal. Just ensure that the fencing is not too tall, and you are good to go! Since the fencing is completely customizable, you can accent the fence with cutesy floral bouquets, candles, drapes, or twine-hung mason jars to match your wedding theme perfectly.
Bloom from the ground up:
Is there a way to make blooming flowers more natural and romantic? Sure there is! This perfect natural-meets-romantic idea of having the flower installed in the ground along the aisle makes it look like the flowers are booming to form the perfect pathway for our bride to walk in, and isn't that just magical? This is perfect for a garden wedding or a romantic old-school outdoor wedding.
Glimmering chandeliers:
What says "grand" louder than chandeliers that shine like the night sky? Beautiful extravagant chandeliers swaying over your head as you make a grand entrance sound too good to be true, but are worth the effort, just for the look at your guests' faces! We assure you, with chandeliers over your path to the altar, you will feel like a true princess making her way to her prince charming!
Garlands of green:
Want to do something clean, natural, and minimal? Make a path on your wedding aisle with garlands of greenery, whether it is by using eucalyptus or olive leaves or something else, creating a refreshing palette for your guests, making a bold visual with minimal work! If you want to go the route of something more enchanting and forest-inspired, using vines and creepers can be magical and let you think of an enchanted forest! Let the vines entangle up the chairs and grow a little wild to add to the effect!
White wedding blooms:
A true classic and endlessly timeless, white wedding flowers used in aisle decoration is something that we love and will never get tired of. You can't ever go wrong with using white flowers in wedding decoration, and it works beautifully to create a pure and surreal environment. You can incorporate white drapes to create an angelic effect or go minimal yet impactful with pavement-style aisle blooms in white.
A doorway to "I do":
Let your guests walk through a beautiful French doorway as they enter the ceremony area, and it is sure to leave them speechless, and make the ceremony that much grander. While a vintage-looking doorway adorned by romantic vines and fresh blooms is a romantic go-to, you can use the same concept by going for cleaner and edgier choices for a different impact. Also, flags, arches, and other markings which insinuate the start of the path serve a similar purpose.
Vintage rugs and layers:
If boho is the theme of the day, vintage rugs rolled across the path, or scattered in a mismatched and layered way might deliver tremendously in impact. Not only that it provides the ceremony space an effortlessly cool undertone, while still apt enough to fit the theme. Teamed with pillar candles, cacti, and pampas, the rugs can also be a perfect fit for a desert wedding. It is safe to say that carpets and area rugs can be used to express several different vibes and can work wonders for a more relaxed and eclectic kind of wedding.
Drape it up:
Usage of fabric is just another excuse to incorporate some lovely color into your wedding day, and always comes out looking beautiful. Drapes are never out of style and can create a luxurious and elegant effect on a wedding aisle. You can use drapes in one of your wedding colors to tie the theme together beautifully in a bow and can go for simple luxe drapes defining the way or mix it up with flowers and candles for a more extravagant look.
Stick to succulents:
For the succulent-loving crew, a wedding aisle lined with different arrangements of succulents can be nothing but a dream. Perfect for a natural, greenery-themed wedding, succulent can add a lot of character to your backdrop. It provides a statement while still being minimal, and can add a serene and earthy vibe to a setting. Team up the succulent with a range of textured pots, and bursts of wildflowers for a cohesive look, as it will add depth and dimension to your decorations.
Make it look sharp with cacti:
Cactus are trending at the moment and are having their moment everywhere, from home decor to weddings! If you are hosting a wedding in the Southwest, having cacti as a part of your wedding theme will instantly elevate your special day. You can go all in and commit to the trend by having cacti lined up all through the walkway, or you can have two cacti plants marking the start of the path. Either way, it will add instant spunk and character to the wedding ceremony.
Barn-style walkway:
There will be barn-style decor, till the time there are rustic weddings, and that seems like a forever kind of thing! There is something timeless and beautiful about a wedding aisle decorated in the timeless rustic barn-house style. Whether it is the greenery-lined aisle or it is the lantern accents, the mason jar bouquets, or the white pillar candles, something about this style remains timeless, elegant, and never gets old, and we will surely be writing about this ten years into the future.
Let there be art:
While decor with flowers and candles is beautiful, there is nothing quite like a spark of unexpected in your wedding ceremony. Having the walkway decorated like a beautiful piece of art is something that seems just magical and apt for the big day that it is! This especially works beautifully in historic ceremony sites with a whole lot of story to its name or a ceremony chapel, as the art becomes a part of the setting! If you are a couple with an appreciation for arts in their soul, this can be a fun thing to try out!
Boulevard of trees:
A tree-lined entrance is breathtaking, doesn't matter whether it is indoors or outdoors. You can have tall sweeping trees as a part of your entrance, if you are hosting a forest wedding, and have a whole magical enchanting woodland paradise look to your ceremony. If having real trees lining your way is not a possibility, consider adding fake trees as a big statement to your wedding ceremony. Romantic cherry blossoms or trees with dry twigs lines with fairy lights, the options are endless and make an enormous impact on your special day.
A path with a twist:
We love how couples are coming up with wedding aisles that are a little different from the norm, and having a winding road leading up to the altar is enchanting, beautiful, and makes huge statements. Whether it is a path that winds around the seating arrangements or is carved out of nature, a path that is not a short straight walk but rather a stroll of a kind is truly memorable.
The wedding aisle is essentially a gateway to your happily ever after, and even though all eyes will be on you on your special day, it doesn't mean you should forgo wedding aisle decorations. The aisle is potentially the first thing your guests will see, even before they see you, and it will set the tone for the wedding. Your aisle decoration is an important extension of your overall wedding decor and will see when they arrive at your wedding, so let your aisle match your theme and color palette. While the most common ways might include romantic fresh flower arrangements, fresh potted plants, glowing candles, or tea lights, there are plenty of ideas that are out there for you to explore and commit to. There are a variety of options that will enable you to create a memorable walkway, regardless of your varying styles and themes. Whether you have a boho wedding planned or a beachside ceremony is in the cards, the options are truly endless when it comes to aisle decoration. We hope this read inspired you to explore both the classic and the unique ideas of aisle decoration, enabling you to bring your dream wedding aisle ideas to life.