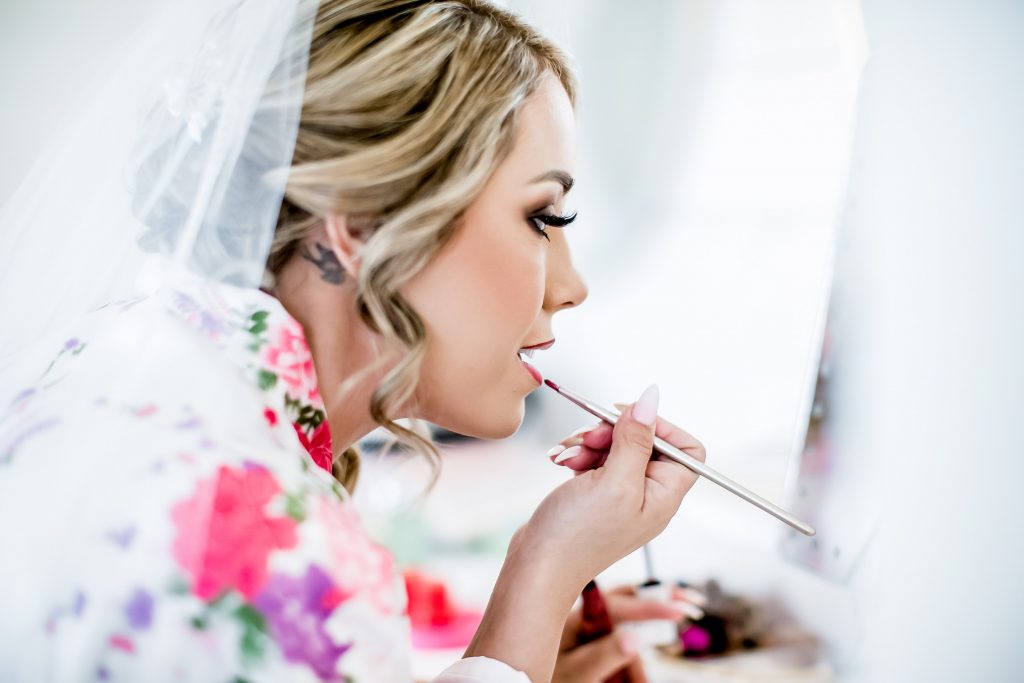 We know that by now you have spent months nailing down your ideal wedding venue, more months on the hunt for a perfect designer wedding dress that makes you look like the best version of you on the most important and special day of your life! And then some more time booking and hiring the best professional wedding photographers and videographers to capture every moment of your big day in the best of frames! We can assure you that our experienced and talented wedding photographers and videographers will not spare any wedding detail of your big day in documenting in their cameras!
So, now that every item on your wedding day checklist is being ticked out! You finally have found your wedding dress, had that stunning Cinderella moment with the perfect wedding shoes and also spent hours scrolling through Pinterest, Instagram, and other social media searching for just the right hairstyle and makeup inspiration for your wedding day bridal look! If you ask us, we would suggest that it's your wedding day, so everything has to be perfect and flawless! So, when it comes to your bridal day makeup look, you must take a similarly personal approach just the way you have done for the other things for your wedding planning! With almost every aspect of your bridal ensemble checked off your to-do list, all there is left to do is to find some stunning makeup inspiration that pulls it all together in the most elegant and sensual way!
Every year there is something different and trending and chic when it comes to bridal makeup trends! From bold brows to nude lipstick shades, the bridal makeup trend keeps on changing every year and bringing something new and extremely chic! This blog is dedicated to all the trendy brides-to-be, who are going to get married in the coming 2022 and are looking for chic, elegant, yet trendy bridal makeup ideas to rock their 2022 wedding day bridal look!
Bridal makeup trends 2022 is going to be all about being natural! As there are two types of brides: those that want to go full glam on their wedding day, and then those who are after a more natural, effortless wedding makeup look! If you ask us, there is nothing in between, and one is necessarily not better than the other! But, if we talk about 2022 bridal makeup trends then we are pretty much sure that our brides are going full natural! These days our lovely and modern brides are opting for makeup and hairdos that enhance their beauty than conceals their natural beauty on their wedding day!
In this blog, we will be talking about natural bridal makeup tips and ideas and how you can excel the same on your wedding day with utmost ease. These natural makeup ideas will make you look nothing but stunning and out-of-the-world on your wedding day! A natural wedding makeup look definitely seems very effortless, but any makeup artist can tell you that pulling off the perfect natural glam look for your wedding day is more daunting than it appears! So, to keep everything smooth and the way you want your bridal makeup to turn out, make sure that when you are meeting your makeup artist for your trials or on the day of your wedding, come prepared with ample inspirational pictures to clearly showcase what kind of look you want for your wedding day, and most importantly what you don't want!
Talking about the natural wedding day makeup look, then it was Meghan Markle who was the trendsetter for this natural bridal makeup look! Her wedding day bridal look was simple and classic! Meghan Markle's wedding day makeup had one thing that it was for everyone, like for every bride! Before we go ahead and inspire you with endless tips for your wedding day bridal look, just know one thing, that natural bridal makeup looks tender and utterly romantic! It is indeed the best choice for any bride and also for any wedding style! Using pastel colors, matte lipsticks, or even fresh face makeup can gracefully emphasize the eye's color depth or lip's form!
If you want to skip a winged liner style for something soft and smokier? Or are you curious about the coverage of the airbrush foundation? These are some of the things that you need to take into consideration if you are planning to have a natural makeup look for your wedding day! Here are some ideas and inspirations that will help you in achieving the natural look for your big day without any hassle!
Untouched Skin
The initial step that involves getting a natural makeup look for your big and special day includes getting fresh and clear skin! Don't be afraid to invest in good skin-care prep to make your skin look glowy and stunning on your wedding day! That way, your face will be so glowing on your wedding day and you will look marvelous in all your wedding photos! Investing in skin-care prep will mean that you wouldn't dream of covering a single freckle with a full-coverage foundation!
The natural texture of your skin will make you look nothing but flawless and gorgeous! Brides who have made their minds to have a natural bridal makeup look for their big day, here is a piece of advice, always opt for a tinted moisturizer or BB cream for a thin veil of dewy coverage which will make the skin look like skin!
Feathered Brows
It is believed and said that eyes are the windows to the soul! So, if that is true then your brows are the velvet drapes! Simply brushing them up and filling in the sparse area can actually add a natural depth to the entire face and will make a bride look nothing but natural and elegant!
If you want your wedding day bridal look to be simple, classic, yet natural, you don't need lipstick or a smokey eyeshadow on your wedding day! If these kinds of eye makeup are not your vibe, no worries, the natural makeup look has tons of ideas for you to look gorgeous! In short, bold, feathered brows are almost an even more glamorous statement that you will be carrying on your wedding day and will be rocking your wedding day bridal look!
Sun-kissed Glow
Sun-kissed pictures and sun-kissed glow are making a huge sensation on Instagram these days! Remember how stunning Monica (from Friends) looked when she got her spray-tanned!  So, if you are also looking for the shining post-honeymoon bronze in the days before you both actually go off to your desired honeymoon location, consider a pre-wedding spray tan! Just make sure that you opt for a trial run first so that you don't end up looking orange, a la Anne Hathaway in Bride Wars, or somewhat similar to Ross from Friends!
Apart from spray-tan, choose the right highlighter as it will also help you in achieving that natural-looking glow very easily! All you have to do is focus on the color where the sun would hit: like areas across the forehead, the tip of the nose, and the cheekbones!
Soft Contour
It's your wedding day! So, maybe it's not the right time for you to get experimental with a heavy Kardashian-caliber contour! But, you can always try and play along with some soft sculpting which can elevate and give emphasis to the natural shape of your face and make you look incredible on your wedding day and in all your wedding photographs and videos!
If you have a matte bronzer just a shade or two darker than your skin tone will look flawless! You can simply blend the colors into the hollows of your cheekbones for a soft contour effect that reads as a naturally stunning definition!
Flushed Cheeks
Well, there is no denying the fact that a well-placed cream blush melts perfectly and beautifully into the skin to leave the softest hint of the color which will make you look ravishing! For a foolproof match, you can dab a little bit of your lipstick onto your cheeks, and then blend it out until the color is perfectly seamless and just the right shade you want on your glowing cheeks!
Natural Lashes
Well, it's your wedding day, so of course, there are going to be moments which will make your eyes wet! So, make sure when you are picking up mascara, it should probably be waterproof, so that you can cry without having the fear of your makeup getting smudged! And the other important thing is that if you are planning for a natural makeup look for your wedding day, just make sure that you are using the natural formula that softly lifts and defines the lashes and makes your eyes look pretty!
If you don't wear mascara usually, and you have fair skin, a brown formula will definitely be your best bet for a natural-looking lash with barely-there any definition!
Glossed High Points
If dewy skin is your ultimate goal for your wedding day, then you can gently gloss the high points of your face in no time! Your eyelids, lips, and cheekbones are some of the high and most noticeable points in your face, so make sure you are choosing a shiny (not shimmery) highlighter, to bring the illusion that your skin is actually radiating light, not glowing with sparkles! It does not matter what kind of bride you are channeling for your wedding day, a nude lip gloss will definitely deliver the perfect finishing touch to your wedding day natural bridal makeup look! From a bohemian chill bride to a classic princess bride, glossy lips work for them all and always bring out the sexy and sensuous side of every bride in the best possible way!
Blurred Lip
It's a wedding, hence it is very clear that there is going to be kissing and too much champagne! Therefore, it might feel that lipstick is a bad idea! But, of course, wearing a lip color always elevates the overall look of the bride and in that case, you can consider wearing a lip stain and purposely blur the edges to have a long-lasting and smudge effect throughout the celebration!
You can choose whatever colors suit you the best for your wedding day bridal look! You can go with red, pink, nude, or berry shade! But just remember that if you want to keep your lip color lasting throughout the celebration, do not forget to blot, pat, and layer for that natural-looking, bitten effect!
Precious Metals
So, are you also looking out for one of the best ways to elevate your "natural" bridal makeup look to black-tie-ready status? Then here is the answer! All you have to do is focus on your eyes with a healthy dose of luster shadow! Well, luster here clearly does not mean that we are talking about disco dust, but just sheer metallic accents that never fail to create a modern, sexy smolder for your wedding day bridal makeup look! For your natural makeup look, you can choose warm metallics, like copper and gold, as they gracefully accentuate darker skin tones and bring out the best! A coppery eye gloss smudger from lash line to crease creates an alluring look that can be further enhanced and elevated by curled black lashes! If you want you can also work around your way with a golden highlighter as it lends definition to cheekbones, and a perfect nude lipstick is indeed the ideal contrast to all that sparkle! After all, for a bride, all the sparkles and blings are her best friend on her wedding day!
No-Makeup Makeup Look
Mastering the no-makeup makeup look is definitely an exercise in restraint! You can skip the lashes, contour, lip liner, and any other makeup steps you could do without and still manage to look flawless and sensuous! You can still excel your natural wedding day makeup look, with just something basic like a light coverage foundation, a hint of concealer, and some color on the cheeks and lips! Trust us, with this kind of makeup, you will look like the best version of yourself when you make your dramatic entrance while you walk down the aisle!
These are some of the incredible makeup tips for all the brides who are looking ahead to their 2022 wedding and are excited about the natural bridal makeup look! Gone are the days when bold brows, matte lip, and Instagram contour were in the trend and opted by the majority of brides for their wedding day! Our modern-day brides are preferring to slay their beauty in all its natural form!