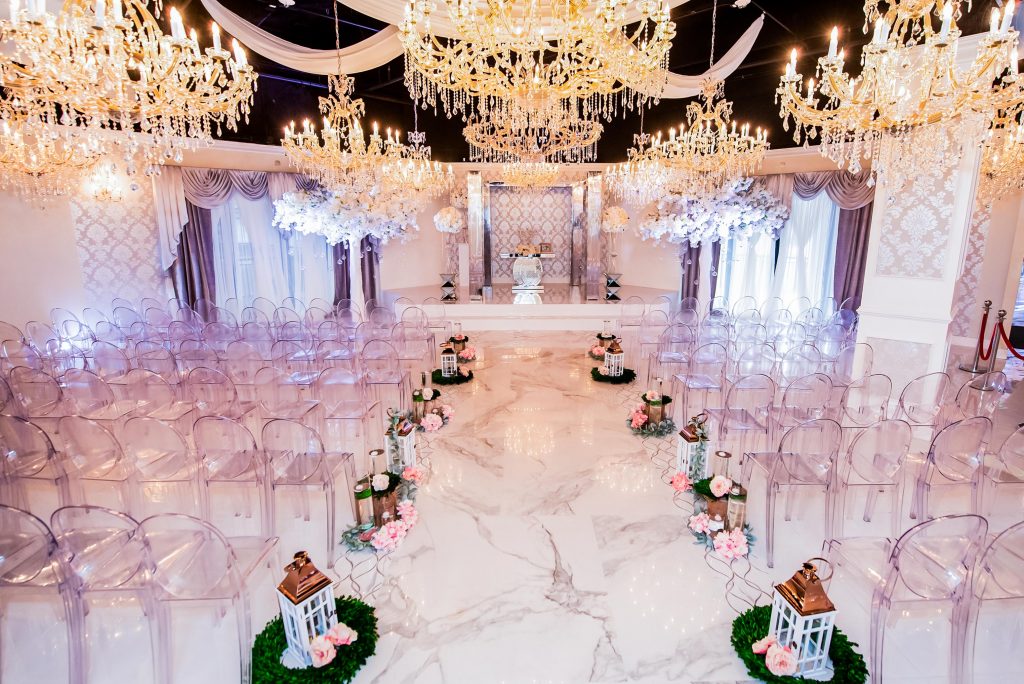 The changes we've seen in the post-pandemic wedding ecosystems are expected to reverberate through weddings in 2022. From important wedding decisions like choosing your honeymoon vacation destination to what kind of wedding parties you'll host and also who you'll invite, all these factors are going to carry over into 2022. The post-pandemic wedding industry's new developments will have a direct impact on the wedding trends of 2022. Everything that we do in life, from how we live to how we marry, will be directly proportionate to all the wedding decisions of 2022. As the year 2021 draws to a close, we may notice some significant changes in the wedding planning landscape, from wedding décor to attire.
We could see that couples who planned their weddings in 2020 understood the beauty of small-scale celebrations surrounded by the people who matter the most. From the rise of outdoor wedding events with social distancing guidelines still in place to the use of dried flowers and greenery in wedding decorative trends, things are likely to remain the same. With a striking increase in DIY wedding décor featuring details with an inflow of creative juices and a surge in nature-focused weddings, the post-pandemic wedding trends of 2022 will treat all of us with surprises in every corner.
Wedding Trends Of 2022 That Are Predicted To Be Big-
Wedding Venue Trends 2022
Some of the impacts of the 2020 pandemic will continue to show in our lives even in 2022 and with that, there will be certain wedding trends when it comes to the choice of wedding venue and style. As per wedding venue trends 2022, there will be an increase in outdoor wedding events with certain covid related restrictions and guidelines. Couples planning their wedding in 2022 are also choosing domestic locations instead of destination weddings considering that home is the safest for celebrations.
Wedding Dress Trends 2022
Bridal fashion weeks around the world gave us some amazing wedding dress trends for 2022! From bridal fashion designers using pre-recorded videos for their bridal designs as a means to adapt to the current post-covid trends to non-traditional bridal looks dominating the virtual runways, 2022 wedding dresses trends are all about new-age bridal fashion. The new-age bride of 2022 is looking for iterations to traditional wedding gown designs and designing their modern wedding dresses with an edge. Modern bridal fashion is all about high fashion bridal dresses and edgy wedding dresses that can focus on the bride's unique personality and looking for that princess moment on their wedding day.
Wedding Style Trends 2022
As per wedding style trends 2022, couples getting married are most likely to embrace the new normal, leading to the rise of pandemic micro weddings and small-scale intimate wedding celebrations like courthouse weddings, minimony, and elopements. As the pandemic gave us a chance to reconnect with nature, we are most likely to see a rise in nature-focused weddings with a newfound love for the great outdoors. Another wedding style trend for 2022 nods to intimate wedding guest lists where post-pandemic wedding guest lists will be limited to the couple's family and close friends only. Simplicity and non-traditional weddings are most likely to shine in 2022, meaning we will see simple and intimate wedding celebrations, unlike traditional extravagant and formal weddings. Virtual weddings became a thing in 2020 and the pandemic wedding trend is still going to continue in 2022 weddings. Intimate backyard weddings became very popular during the Covid-19 pandemic and will continue as a wedding trend in 2022. Minimalist wedding styles with creativity as the main focus will find their way in 2022 wedding style trends. Minimalist weddings will most likely include sleek and modern décor, neutral color palettes, pragmatic signage, and blank space wedding venues.
Bridal Style Trends 2022
We are seeing a surge of mini wedding dresses and a lot of feathers and floral accessories for 2022 fall wedding trends. For instance, bold floral motifs with three-dimensional textured appliqués are likely to dominate the bridal fashion scene with popular wedding gown designers like Alyne by Rita Vinieris and Marchesa coming up with over-the-top wedding dresses full gowns featuring florals, sequins, and beading. Vintage whimsical wedding dresses with dramatic feathers are providing rights with the opportunity to amp up their traditional bridal fashion look with noteworthy bridal fashion designers like Elie Saab and Naeem Khan coming up with wedding dress designs accessorized with dramatic further details. Bridal separates are one of the most loved modern bridal trends 2022. As a strong nod to non-traditional bridal wear, bridal fashion icons like Scorcesa, Nordeen, and Yolancris are coming up with trendy bridal separates in multiple pieces as an alternative to traditional wedding dresses. These bridal separates are the new alternative to traditional designs and new trending wedding dresses for brides who want to shine and make a statement at their wedding in 2022.
Wedding Cake Trends 2022
Wedding trends come and go and they come back again! And one of the biggest predictions regarding wedding cake trends for 2022 is that cool retro wedding cake designs will be a rage. In the luxury wedding cake trends, we will see more couples dabble in wafer paper wedding cakes to make a bold statement. As a nod to retro wedding trends, acrylic wedding cakes will arrive with confections featuring clear acrylic tiers along with a clear and transparent tier. This transparent cake tier will act like a divider which will create an amazing and never-before-seen floating illusion and add to the height of the wedding cake. Just like some of the most gorgeous wedding cakes of 2021, 2022 wedding cake trends will also see a rise in sculptural wedding cakes featuring wedding confections that will mimic an entire art gallery or act as a testament to some of the most timeless arts from around the world. And two of the most timeless wedding cake designs– semi-naked and fondant wedding cakes are going to stay for a while, but we will see certain versatile additions to this trend like beautiful sculpting techniques, hand painting, and an abundance of textures.
Wedding Color Trends 2022
According to the prediction by wedding experts, wedding color trends for 2022 will see a rise in powder blues and millennial pinks, which were considered to be prime color trends of the 80s. While the trendy wedding colors of 2021 also saw a rise in powder blue alongside lavender, matcha green, papaya orange, and Tuscany yellow, the prediction surrounding wedding color palettes of 2022 show a resurgence of vintage metallics and moody earthy tones. Color palettes of wedding reception trends 2022 will be a huge comeback from the art deco and all Hollywood eras. From warm earthy hues with colors like burnt sienna and marigold yellow popping up in wedding details to vintage accent colors like gold and midnight blue metallic paint are likely to make a comeback. Vintage accent colors will mostly be seen in details like metallic reception chairs, table sliders, or even Moscow Mule featuring as the signature cocktail and served in copper mugs. We are also most likely to see vibrant jewel tones and moody winter color palettes in the latter half of the year.
Wedding Flower Trends 2022
Non-traditional wedding flowers will be hot for 2022! Bohemian and eco-friendly wedding aesthetics like dried flower details will be one of the major wedding flower trends in 2022. Dried wedding flowers can come in many ways to reflect in your wedding color palette and be added to almost every element of your wedding reception- from bridesmaids' bouquets to reception tablescapes. As the floral industry is getting ready for a smashing wedding season in 2022, we are also seeing wedding greenery as an earthy floral element and one of the most emerging wedding flower trends for 2022. Greenery draped florals, ground installations, staircases, and even wedding altars and aisles are expected to be a gorgeous wedding flower trend for 2022. As dried florals and greenery details engulf wedding décor trends 2022, we are also expecting to see a surge in romantic and dreamy weddings that are reminiscent of the French countryside.
Wedding Décor Trends 2022
Wedding décor trends in 2022 will see the increased popularity of greenery and dry flowers in wedding details. As we are going to experience a surge in reduced wedding sizes, with a limited number of people, couples will opt for personalized elements and inspirations. 2022 wedding trends when it comes to wedding décor will be a display of vintage-inspired statement-making wedding details which will bring a dose of beatnik and unconventional flair. We are going to see a lot of statement-hanging wedding décor details like suspended lanterns in ceilings and high back peacock chairs in welcome tables, along with rattan lounge furniture and assorted wicker baskets decking up the wedding décor ideas. Organic style arrangements will also be an integral part of the celebrations as per wedding trends for 2022. This post-pandemic wedding trend in 2022 will be about creating free-flowing and organic style arrangements on a larger-than-life scale. Hence we are more likely to see organic and earthy wedding color palettes, the use of vines and greens instead of traditional wedding flowers, and hanging floral centerpieces as means to bring the outdoors in.
Wedding Food Trends 2022
Swaying away from traditional wedding food menu options, wedding food trends 2022 are showing a steep rise in comfort and homemade food, unlike high-end meals coming from big-named caterers. However, wedding food decisions differ greatly from couple to couple, as we see traditional couples still indulging in gourmet food prepared by renowned wedding caterers and budget couples opting for a homemade food menu that is prepared by their close ones. But one of the primary wedding reception trends for 2022 when it comes to food and drinks comfort food is likely to become a hit in 2022. As a nod to nostalgia, wedding food trends of 2022 will most likely have couples prepare their summer wedding cocktails with tasty recipes and served with childhood snacks like grilled cheese sandwiches and chicken sliders. Home staples like casseroles and fried chicken will become wedding staples in 2022! Couples are also most likely to go for vegan catering options and street food vans as a strong nod to DIY wedding trends.
Wedding Stationery Trends In 2022
If the pandemic in 2022 has taught us anything, it will certainly be how precious things are! As couples are becoming more environmentally conscious, they are most likely to incorporate digital trends into their wedding plans as a step towards eco-friendly wedding planning in 2022. As per wedding invitation trends for 2022 couples are choosing to go paperless. Hence, instead of traditional invites, we will see a rise in digital wedding invites and several paperless wedding choices like digital save-the-dates and announcements. Most of the traditional wedding stationery details are most likely to be replaced with digital wedding experiences in 2022, from digital reception table arrangement displays to online wedding announcements.
In the same way that small-scale wedding parties became more popular in 2020 and 2021, intimate wedding parties will most certainly stay popular in 2022. Outdoor wedding themes will be reflected in post-pandemic weddings in 2022 as couples rediscover the beauty of reconnecting with mother nature. Sustainable and eco-friendly wedding trends will gain traction, and with the advancement of technology, we will see paperless wedding details, digital announcements, and wedding suites replacing traditional wedding stationery.
Simplicity will shine in 2022 weddings, unlike traditional extravagant wedding celebrations. With the suspension of formal wedding celebrations due to safety reasons, couples are likely to realize the preciousness of small wedding celebration experiences with neutral and warm earthy tones along with vintage style settings. And due to guest list restrictions, intimate weddings with small wedding guest lists will be the new normal for 2022 wedding celebrations.
Minimalist wedding style is another wedding trend that says "less is more" and we are most likely to see blank space wedding spaces with creative wedding signage ideas and neutral wedding décor details. These post-pandemic wedding trends and predictions for 2022 will be flexible for couples and they do not have to compromise on anything related to their celebration. From hosting an extravagant wedding within your budget to going for an intimate staycation in a popular glamping site for your honeymoon, the sky's the limit when it comes to wedding planning details of 2022.