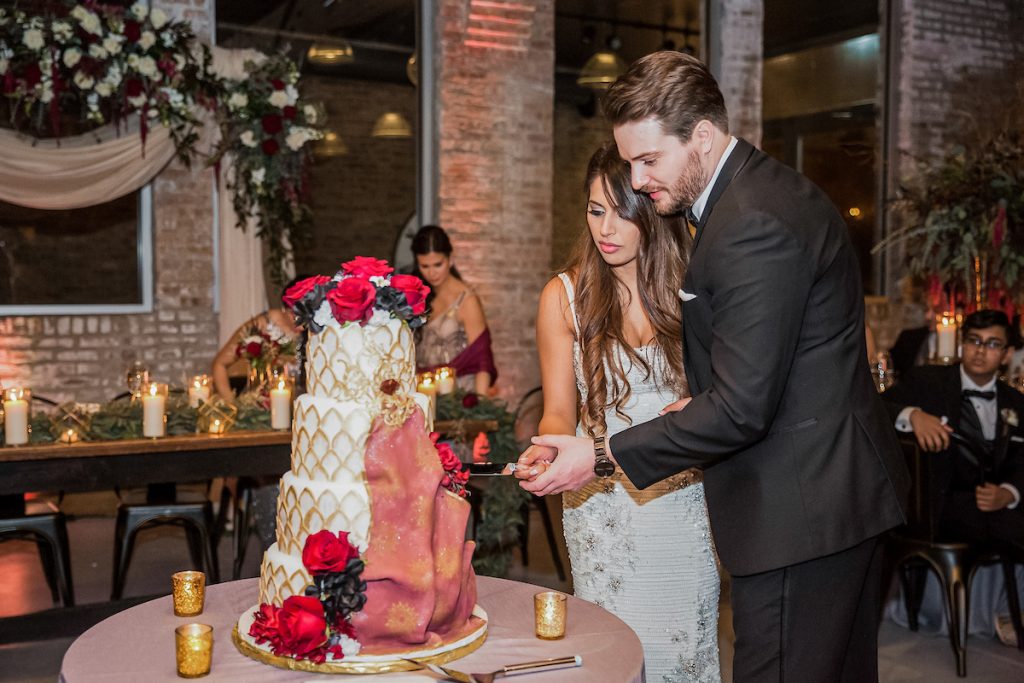 For a bride, there is so much that goes when it comes to choosing that one perfect wedding dress. From selecting who will accompany you for wedding dress shopping to the actual shopping process, a bride witnesses almost every possible emotion during this whole wedding dress shopping journey. After finding that one perfect or we say dreamy wedding dress a bride feels usually relaxed and relieved. But there is always one thought that pops up in every bride's head. And that question is, what if one wedding dress is just not enough for my big day? This question is something that always runs in the back of the mind of every soon-to-be-married bride from the very beginning (just raise your hand if you are soon going to be a bride who definitely wants two dresses for her wedding day!) or something you discover later, once you consider what it will be like wearing your wedding dress during the reception celebration!
We are very much certain that your wedding dress might be the ultimate choice for your first look moment or your walk down the aisle moment, but we are also sure of the fact that you may also not find it quite right for your first dance during your reception! It's usually this concern that leads a bride to opt for an outfit change, either at the starting of the wedding reception or mid-festivities! The idea to slip into a new dress is completely up to you. Some of the brides want to stay in their wedding dress and make it to the dance floor for their first dance moment. Whereas, other brides feel that it's best to get into something more comfortable before they hit the dance floor! But there are some fashionista brides who just want to wear two looks on their big night! Regardless what is your reason to change for your wedding reception, you are likely in the market for reception wedding dress inspiration!
We all know that being a bride is not a cakewalk. A bride is the center of attention on her wedding day. There are no ifs and no buts. All the wedding guests wait in huge anticipation and excitement for a bride to walk down the aisle in all her bridal brilliance capturing everybody's heart! And all this excitement and enthusiasm makes the wedding dress an incredibly precious and important aspect of the wedding day (and of course it is always special for a bride too). But here is a question, why have one breathtaking reveal, when you can actually have two stunning and glamorous ones!
Until recently, brides have only one dress to carry with them through their wedding ceremony and reception. But these days more and more brides are choosing and becoming an active part when it comes to the second-dress trends. Wearing a stunning and glamorous traditional wedding gown that will take everyone's breath away for the wedding ceremony and later slipping into something comfortable yet lovely and elegant like a frock for the reception is the latest trend that is taking the wedding world by storm. It's indeed a great and fantastic idea for all the brides who have always dreamed of wearing a Disney Princess ball gown while still hoping to dance all night during their wedding reception! Brides are surely loving these two wedding looks trend- one for each celebration!
After your wedding ceremony, you can always slip into something different and more comfortable if you want to have the best of the celebration with your darling and all your wedding guests. And of course, to have an amazing wedding photography session and videos too! You can simply show off your wedding dress all day and feel increasingly uncomfortable, or read our blog and know the advantages of donning a reception dress instead! Check out five top and incredible reasons why being a bride you should consider jumping on the two-dress train for your wedding day!
You will keep your wedding dress clean
Being a bride, we know how many emotions are attached to a wedding dress. Every bride dreams of preserving her wedding dress for years to come. It's more like keeping the memories of her special day alive for the rest of her life! Therefore, we suggest every bride out there make every effort to keep their wedding dress clean and in pristine condition so that whenever she wants to relive those special moments she can always slip into it and woo her boo! One of the best ways to preserve your wedding dress is to change it during the wedding reception time!
Changing out of your wedding dress and slipping into a new outfit during your wedding reception is surely a sensible and responsible move. This step will help you in keeping your wedding dress in the same condition it was when you put it on (especially when you are wearing a gleaming white wedding dress)!
We all know that wedding reception is all about these mandatory three things- dancing till everyone drops, plenty of food, and abundance of wine. And trust us, none of the above-mentioned wedding reception elements will help you in maintaining a spotless wedding dress. Changing your wedding dress and slipping into something more appropriate for the moment, will help you keep your wedding dress stain-free and have fewer wrinkles. This way you will not only save the most precious costume of your wedding day but will also maintain your peace of mind!
It will add some diversity to your wedding photos & videos
There is no doubt that you will likely have a bucket full of wedding photos taken by our affordable and professional wedding photographers of you in your expensive and gorgeous wedding dress. From the moment your wedding dress hangs over a hanger to the moment you are slipping into it and your mother and bridesmaids are helping you in attaining your final bridal look for wedding photography sessions, our wedding photographers and videographers never miss out on these kinds of wedding shots! Though your wedding photos in the same dress are making you think that your wedding portfolio is going to look too monotonous, then here is a pro tip, change it during the wedding reception time! Slipping into a different dress during your wedding reception will definitely add a variety to your wedding pictures! A bride wearing a different outfit and probably of a different color resonating with the decor and wedding theme (apart from white) will bring a lot of variation to the wedding portfolio!
After changing into a new dress for your wedding reception you can get creative and experimental with the new poses with your darling, your bridesmaids, and all your wedding guests. While giving endless wedding photography and videography opportunities to our wedding photographers and videographers! If time allows, another hairdo and different accessories will make wonders for your reception photography session! With different dresses, one for your wedding ceremony and the other one for your wedding reception, we can assure you that your wedding day will be truly elegant, memorable, and delightful!
It will bring your inner dancing diva out & will give more freedom on the dance floor
Dance is the super-duper and most fascinating element when it comes to a wedding reception. It is the moment when everyone comes together to rejoice in the celebration surrounded by amazing music and immersing themselves in it! This specific moment in a wedding reception is like, dance till your drop!
Everybody at the reception enjoys this moment to the fullest, but when it comes to the bride, it gets a bit overwhelming for a bride to dance her heart out during her wedding reception. The reason is, for the wedding ceremony, a bride chooses a very elaborate wedding gown which most of the time is bulky, restrictive, and makes it a bit hard to walk and dance freely in it! And here is another reason why a bride should change for her wedding reception- enjoy every moment of her wedding reception.
Slipping into something shorter, looser, and less formal dress for your wedding reception will allow you to savor every moment of the celebration without being wary of your hem dragging on the dance floor. Or if by chance you lift your arms a little too high, your stunning sequined bodice might come undone. So, here is a tip for all the brides, you can change into something a little less precious or we can say restricting so that you are flawlessly able to rip off the dance floor with greater freedom! Because excitement with loved ones and the love of your life awaits you on the dance floor.
But in case you are stressed about blending into the gathering, you can always go for a dress that is white in color while being more fancy and informal as you like, so that you can freely flaunt your choreographed moves and spins in the best way possible!
It will allow you to flaunt your stunning wedding shoes
Of course, your wedding shoes are as expensive and as valuable as your wedding dress. Your wedding dress gets everybody's attention but somewhere your wedding shoes stay intact from everyone's notice. Well, that's major because of the long hemline wedding dresses, the wedding shoes don't get that much attention that is required to them! No worries, if your wedding shoes didn't come to everybody's notice during your wedding ceremony, you can flaunt them during your wedding reception without any second thought!
Want to know how you can flaunt your wedding shoes during your wedding reception? Well, all you have to do is slip into a new dress and that too a shorter one for your wedding reception! If you are going for a shorter dress for your wedding reception, your beautiful wedding shoes will be the center of attention for everybody! As an added bonus, you can always pick a whole slew of new and shining accessories to match up with your wedding reception dress!
It will give you the time to be 'Yourself'
Being a bride is without any doubt a tough task. As a bride, your wedding day will be all about you (of course including your sweetheart, but you will always be the center of gravity for everyone). So, if you feel like that a traditional and authentic white formal wedding dress doesn't bring out the best in you during your wedding ceremony, be assured that your reception dress will do that job and that too gracefully!
There are times when a bride feels stuck in a formal wedding dress all night and it causes a little feeling of overwhelming. Just to feel more confident and relaxed, it is advisable for the brides to have a separate reception dress. Always free to express your unique personality without limitation on the dance floor and off!
Buying the right reception dress will allow you to be more comfortable and stylish at the same time. Besides this, you will be able to enjoy time with family and friends during your reception if you are more comfortable in the dress. After all, your special day is about much more than just a wedding dress, it should focus on what really matters to you.
A wedding reception dress will change your all-look in just a few seconds. For many brides, this is the only time when they can slip into an outfit that is not only fun and stylish but comfortable too, giving freedom to savor the reception throughout the night. Though the second look of yours during your wedding reception might feel extravagant, there is a vast variety of pocket-friendly reception dresses available in the market that actually feel and look like couture! Whether you are planning to have a casual backyard wedding ceremony or a stunning and luxurious black-tie affair for your wedding day, there are scores of reception dresses out there that will suit any and all bridal styles!