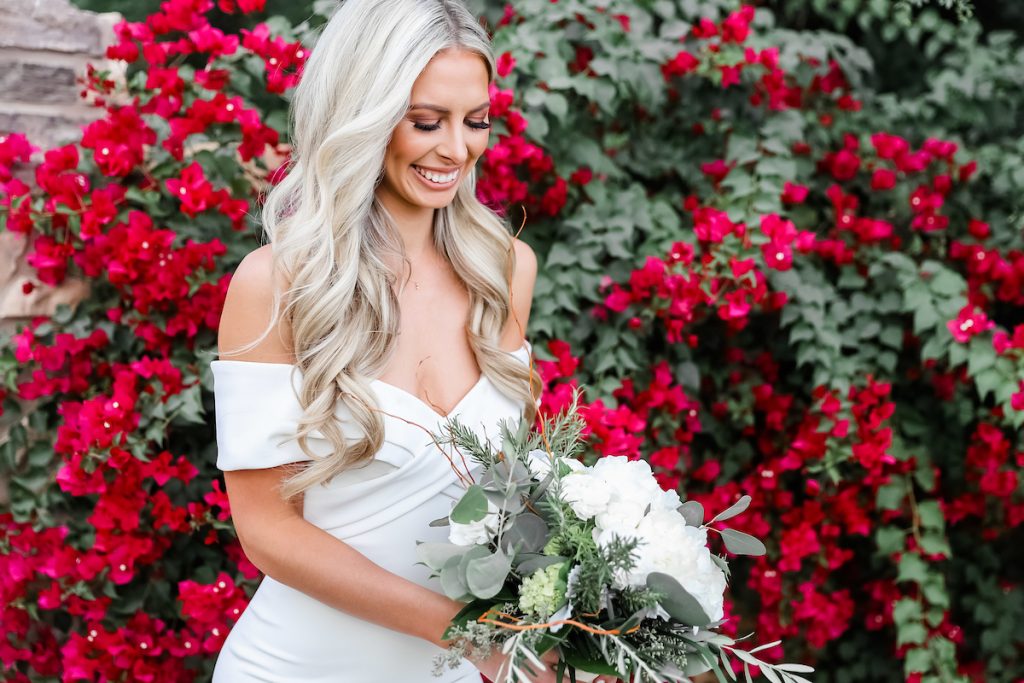 Great ideas are born from inspiration. From great artists to well-renowned songwriters, everyone has a source of great inspiration to thank when it comes to creating their best works. Whether it is a beautiful flower, or whether it is a visit to the exotic lands far far away, you never truly know where inspiration will strike you from. Planning a wedding is no less than a work of art, as it involves several diverse elements coming together to create a beautiful picture. Brides have always reached out to sources of inspiration when it comes to making their wedding. However, the way of seeking and documenting these inspirations has started to look a lot different now. While it used to involve flipping through magazines and photographs and cutting out bits to create a mood board, now it involves creating Pinterest boards and following wedding-related Instagram accounts which make your heart lift. In this age of inspired living and digital consumption, there is an abundance of creative minds making awe-inspiring content out there, all a click away and available for your benefit at all times! Isn't this a fascinating time that we live in? If you are newly engaged and are walking on the exciting journey of planning a wedding, from talking to wedding vendors to taste testing the menu, get comfy with Instagram and Pinterest, your best bets when it comes to inspiring content. From scrumptious cakes to flakey fabrics, you are in for a treat. Sit back, brew a cup of coffee and let's scroll through it all! From cutesy details to the biggest trends, they have everything in here, and we bet you will go "aww" over every post!
If perfect little bouquets are not quite your thing and you like your flowers a little wild and a lot untamed, this is the Instagram page that will have your heart. Kristen Caissie is a Los Angeles–based floral designer who creates stunning bouquets for blushing brides. Their Instagram account is a beautiful wedding inspiration feed which reminds you of wildflowers and bright sunny days, you are sure to find some gems of inspiration here. From delightful seasonal arrangements to artistic flat lays, you are in for a treat!
Balloons as wedding decor is not a new concept and are something that has been used for decades. However, their artistic flair and the dramatic installations will have you wooed and will want you to have pastel-hued balloons to be the main attraction on your wedding day. From perfectly matched balloons which pick up to the colors of your wedding flowers, to balloon arches that look like literary works of art, this is an Instagram page which will have you scrolling for hours in the end.
A well-known name when it comes to wedding planning, Budget Savvy Bride is all about maintaining that perfect budget while planning your special day. Whether you want to stick to a particular budget for your wedding day, or are looking for affordable alternatives for the popular options, this is the place where you should be heading to if you are a bride planning and penning it down to look for inspiration, whether it is cute stationery that you are hunting, or fun and easy DIY you are hoping for.
Swirly frostings and crumbly cookies, this Instagram page will surely make you a sugar high just by scrolling. From pastel-hued French macaroons and cupcakes to stunning wedding cakes, you are sure to find a lot of inspiration in here for your "sweet table". Co-owned by Jenna Rae and Ashley Nicole, twin sisters, this is a corner of the internet where everything is sweet and pretty and delicious!
Cakes that look like pieces of renaissance art, this is an account which will wow you with the insane creations which will trick your eyes! From delicate ruffles to strikingly realistic sugar flowers, Maggie Austin's designs are genuine works of art, and are almost too good to eat! A cake designer and a sugar flower artist, every post is a treat to the eyes and will leave you feeling a certain type of way. A touch of vintage, etherealism, and romanticism borrowed from blooms, this is a lovely source of inspiration for your wedding cake!
Purely fashion, and nothing else, this is the perfect place to be if you are looking for some amazing fashion inspiration. Reem Acre is a renowned international designer known for her breathtaking collections in Ready-to-Wear and Bridal. Your daily dose of stunning designs and sizzling glamor, this Instagram page will provide you fashion inspiration for beautiful silky wedding gowns, stunning accessories, and all things fabulous. With intricate details and rich hues, this is the place to find inspiration, when inspiration runs low.
Alicia and Adam Rico's Bows and Arrows Flowers is a platform that creates gorgeous floral arrangements which are little undone, cascading bouquets, and awe-inspiring centerpieces that feel like they are from a different generation altogether. Creating a remarkable mix of blooms for every occasion, this is an Instagram page that will have you falling for flowers all over again. Their kaleidoscopic range of colors, delicate textures, and moody personalities will charm you all over again with a renewed sense of zest.
Karen Tran knows how to leave a lasting impression, and their Instagram page is surely a close reflection of that. From lush ceremony arches to gorgeous aisles, from tall centerpieces to stunning floral walls, this floral designer's stunning floral displays will have you in awe. There is nothing ordinary or low-key about this page, and get ready to be struck by inspiration! PS, if you thought less was more, think again!
Brooklyn Blooms, owned by LaParis Phillips, is an NYC-based floral studio that specializes in unparalleled and customized bouquets for celebrations of all types. An artistic designer with an eye for out-of-the-box creations, the Brooklyn Blooms will keep you scrolling for hours and inspire you with their bouquets, wreaths, table arrangements, and headpieces, leaving behind a lasting impression.
If you are looking for bridal nail inspiration, you will be glad to stumble upon this stunning Instagram page. Explore nail inspiration which is equally individualistic, yet classy and glam, these chic nail art looks will wow you, whether or not you are a bride-to-be! Whether you are a girl with an edgy sense of style or someone who is inspired by art and is equipped with the latest ins and outs of nail trends, whether you are classy and understated or like all the attention, this account is sure to have something for every bride type!
Whether you are having a professional coming over to do your makeup or doing your wedding day makeup on your own, a little makeup inspiration never hurts! Check out Cassandra Garcia Makeup account for pretty examples and tutorials, whether you are hoping for a romantic makeup look or a dramatic one. There are so many looks to explore and so many trends to try, this makeup IG account will provide all the wedding makeup inspo a bride will ever need!
A tousled updo or an intricate braid? There are so many wedding hairstyles to choose from, that finding the perfect hairstyle seems to be challenging. Let Ulyana Aste's stunning Instagram account inspire you to create amazing hairstyles for your special day or something to ask your local hairdresser to recreate. Fashionably undone and alluringly classy, this Instagram account will provide all the hair inspiration that one could need, and a bride in the making can sure benefit from this IG account.
A wedding marketplace for designers and buyers to come together, One Fine Day Bridal Market is a one-stop-shop for all things wedding! Their Instagram page is an inspiring corner in the web, with enough revolutionary bridal content, to help a bride planning her wedding in the most perfect way. If you are looking for the perfect white dress to say "I do" in, head over here, and you will see a plethora of options to choose from.
Endlessly inspiring and always up-to-date on wedding trends, vendors, and more, Brides is an Instagram account for all brides to feel welcome and get spoilt for choices. From flower inspiration to table settings, to pretty poofy dresses to wedding theme ideas, this is a place to absorb and take inspiration from and you will surely find a gem or two here which is sure to make its way to your wedding day!
David Stark is a person behind the design and production of a full-service event design, planning, and production company that elevates ordinary events to extraordinary. While David Stark and his skilled team formulate beautiful large-scale events of every variety, Stark himself is a creative artist and his Instagram page is full of his own creations and images which incited him. A stunning account filled with art, color, inspiration, and promise of something brewing that will wow the spectators, this is a delightful place to find a change in perspective.
If you have a specific type of wedding in mind, the one that includes rustic wooden accents and warm lighting rather than glimmering chandeliers and tall elegant centerpieces, this is just the place for you to be exploring. If you are a girl with her heart in dirt and in nature's splendor, this page features stunning barn weddings with quaint twists that will leave you smiling ear-to-ear!
This New York City-based design studio concentrates on luxury custom invitations, stationery, and gifts. This Instagram page is filled with colorful and delicately curated merchandise shots to inspire your invitation choices and more. If you are a fan of papers and stationery and getting the perfect wedding invites out is something that you are passionate about, this is just the place you need to be at.
Like a candy factory for a kid, this IG account is a dreamland for a bride-to-be! From daily wedding inspiration to intricate ideas that are feminine and regal, Aisle Society is a place that will provide it all. Vintage regality mixes flawlessly with modern-day glam to create inspiring ideas that will take you by surprise and excite you! Reminiscent of a different time, yet delightfully current, Aisle Society is the kind of platform that will leave a massive impact!
It is no surprise that the perfect venue makes all the difference, and this IG account will give you a glimpse of some of the most stunning wedding venues out there. If you are looking for a ceremony or reception location, follow this account to get to know what a particular venue truly looks like, when it is all dressed up and made pretty! Featuring some of the most gorgeous wedding venues worldwide, this account is sure to leave you feeling inspired and full of ideas!
An endless pool of inspiration when it comes to wedding inspiration, Details Darling is aptly named to showcase all the big little details that go to a wedding, and how those details matter is everything! It is an unmatched source for little intentions to infuse character into your wedding day, be it calligraphy, artistic installations, something small as personalized cake toppers, or bridal party's getting-ready ensembles. With its inexhaustible supply of inspirations, a bride-to-be is sure to be benefited from this amazing account.
Considering that this is an event which you will look back at forever and will celebrate among friends and family for years to come, a wedding is a very special event. There is a lot of research that goes into planning and executing a wedding, and scrolling through Instagram, taking notes from your favorite wedding accounts is nothing less than research, and don't let anyone tell you otherwise! While inspiration doesn't have to be a direct representation of something, it can lead to similarly inspired or even better versions of the said inspiration, which is truly amazing when we think about it. It is fascinating to think that you never truly know how inspiration will result in. So it is important to keep in mind that while inspiration is a spark behind creativity, it is up to you what you make of the said spark, and where your special brand creativity takes it.